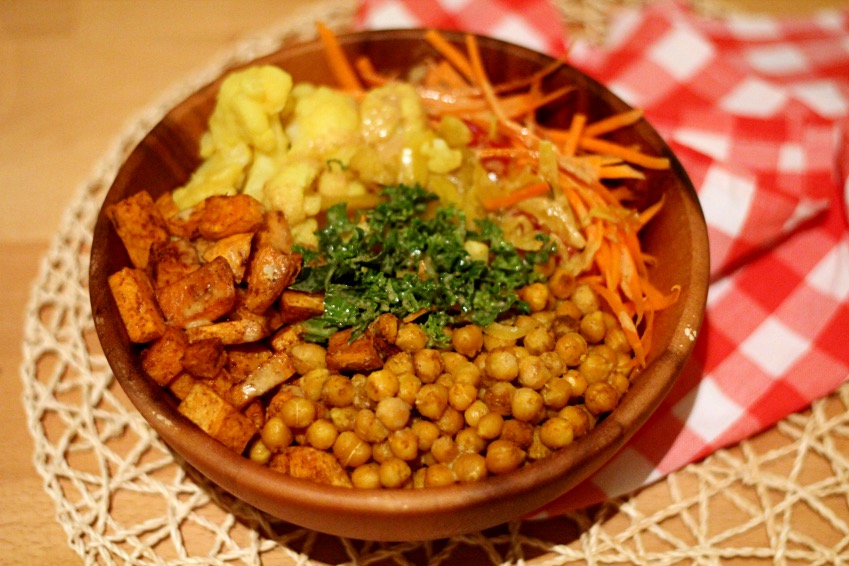 Ik ben tegenwoordig een enorme fan van de buddha bowl, of eigenlijk: een bak met allemaal groente, granen en peulvruchten bedekt door een heerlijke dressing. Het fijne van een buddha bowl is dat je hem helemaal naar eigen zeggen kunt samenstellen, kijk hier voor wat inspiratie. In dit recept laat ik je zien hoe je hem maakt met kikkererwten en zoete aardappel uit de oven met en waanzinnige dressing!
Wat heb je nodig voor 1-2 personen?
Voor de dressing:
3 eetlepels tahin (sesam pasta)
2 eetlepels citroensap
4-5 eetlepels water
1 eetlepel miso
peper, kurkuma
1 eetlepel honing / maple syrup
Voor de buddha bowl zelf:
1 zoete aardappel
2-3 handjes boerenkool
1/2 blik kikkererwten
1/3 van een grote bloemkool
1 winterpeen
Atjar Tjampoer
Olijfolie
Komijn, koriander, kurkuma, kerrie, knoflookpoeder, gemberpoeder, kaneel, peper en zout
De hoeveelheden zijn echt niet specifiek te benoemen, speel er gerust mee. Hetzelfde als met de kruiden, ik zou als basis alleen wel de komijn, koriander, kerrie, knoflook en zout aanraden.
Verwarm de oven vast voor op 180 graden Celsius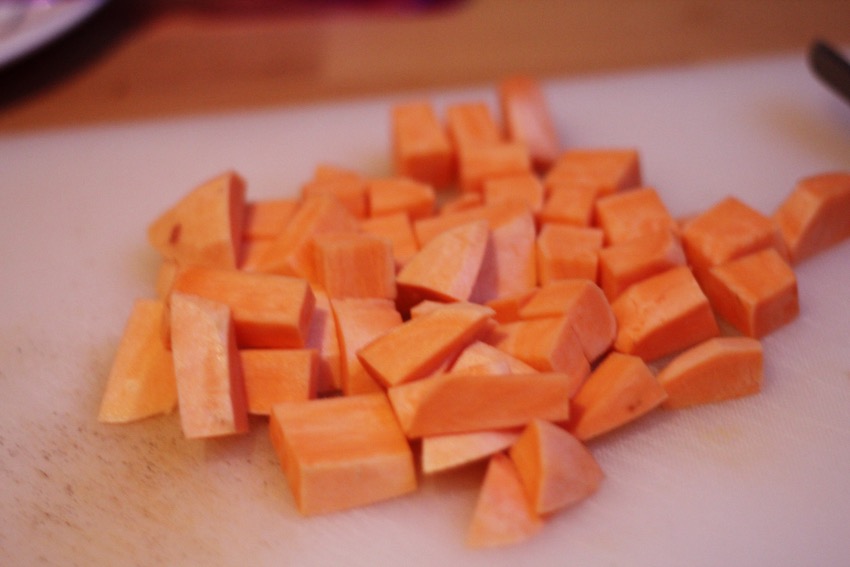 Schil de zoete aardappel en snijd deze in blokjes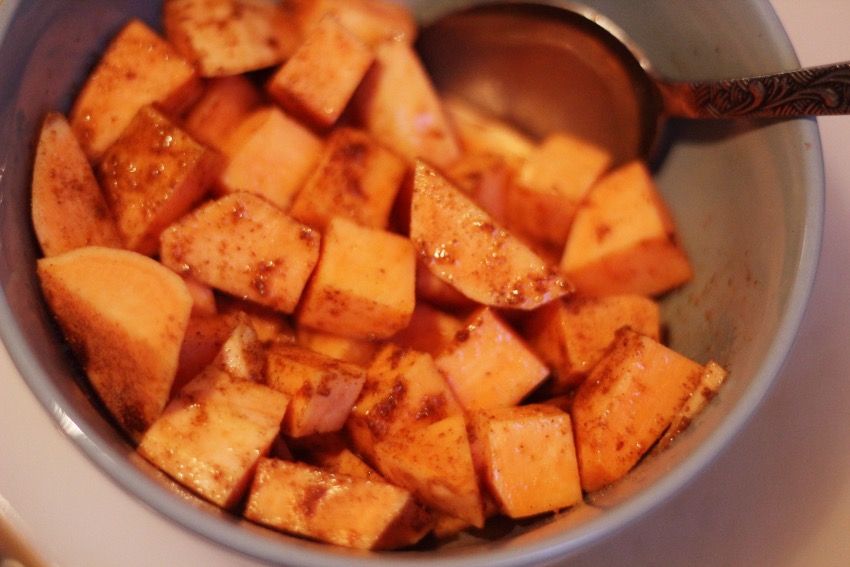 Doe dit in een schaaltje met wat olijfolie en de volgende kruiden: komijn, koriander, gember, knoflook, kaneel (heel klein beetje), peper en zout.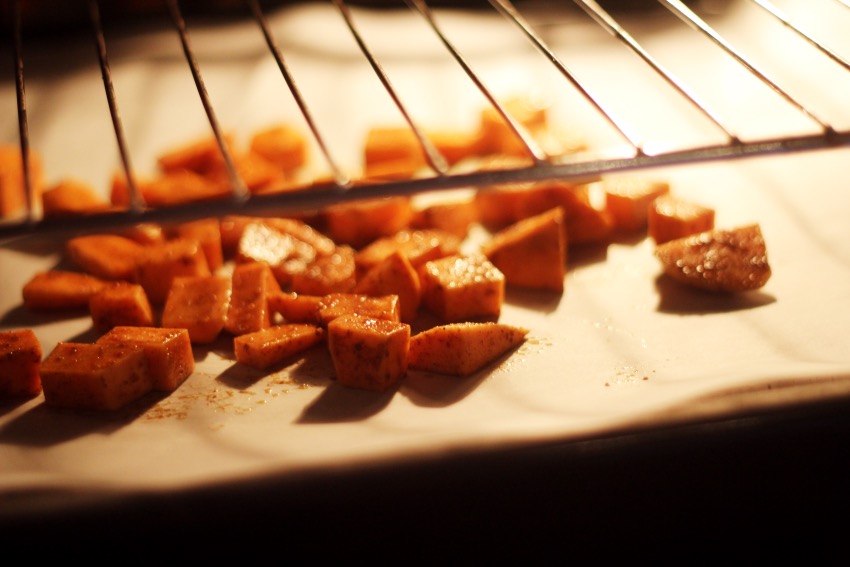 Leg ze op een bakplaat en plaats deze in de oven voor zo'n 20 tot 30 minuten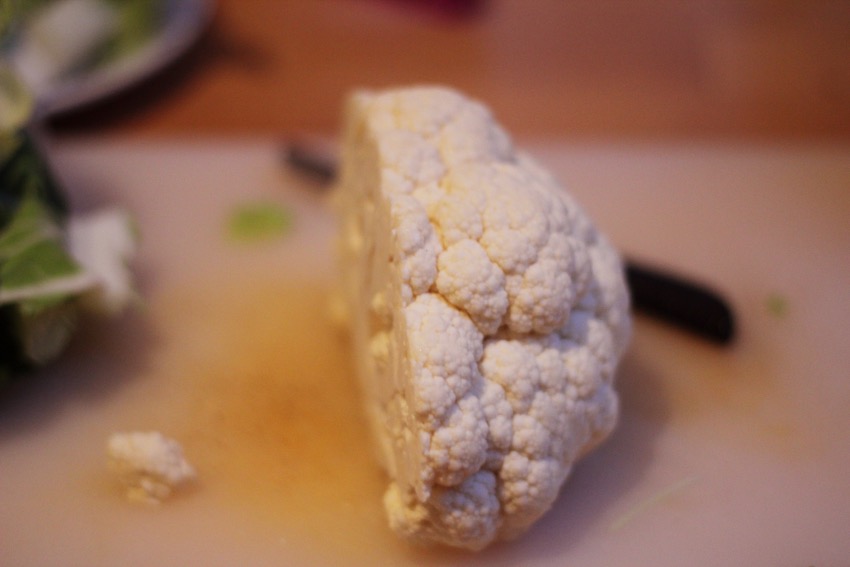 Ondertussen snijd ik 1/3 van een bloemkool eraf, was ik deze en kook ik hem in kleinere stukjes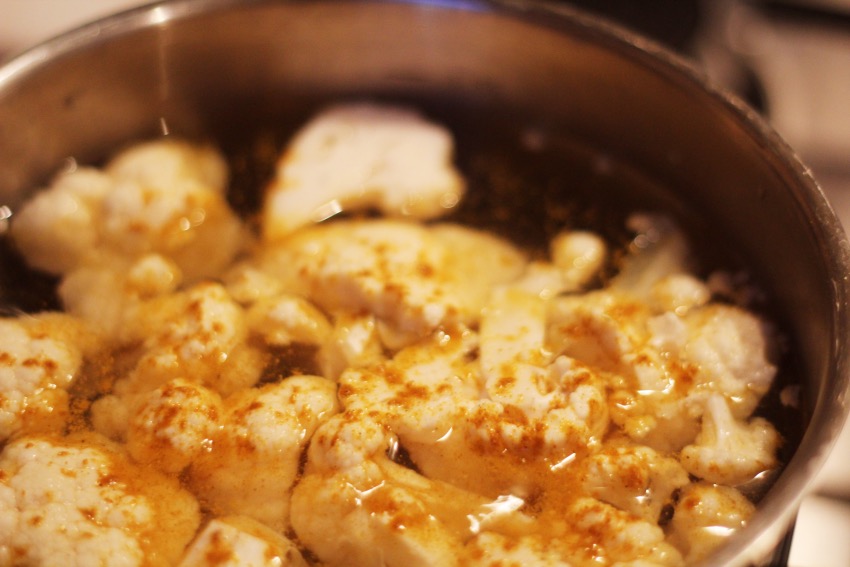 In de pan waar ik de bloemkool kook doe ik wat zout, kerrie en kurkuma. Kook de bloemkool tot hij beetgaar is (10-15 minuten)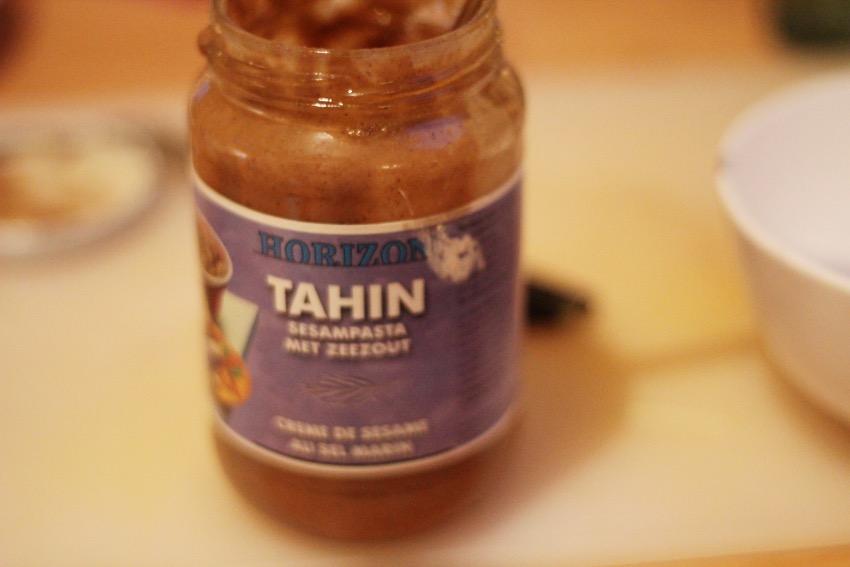 Tijd voor de dressing! Simpelweg alle ingrediënten van de dressing bij elkaar doen in de blender, en blenden maar!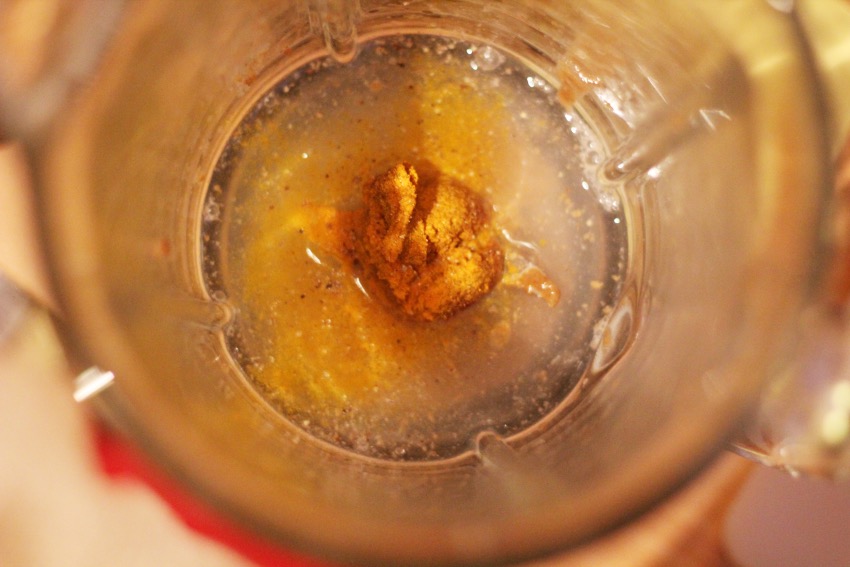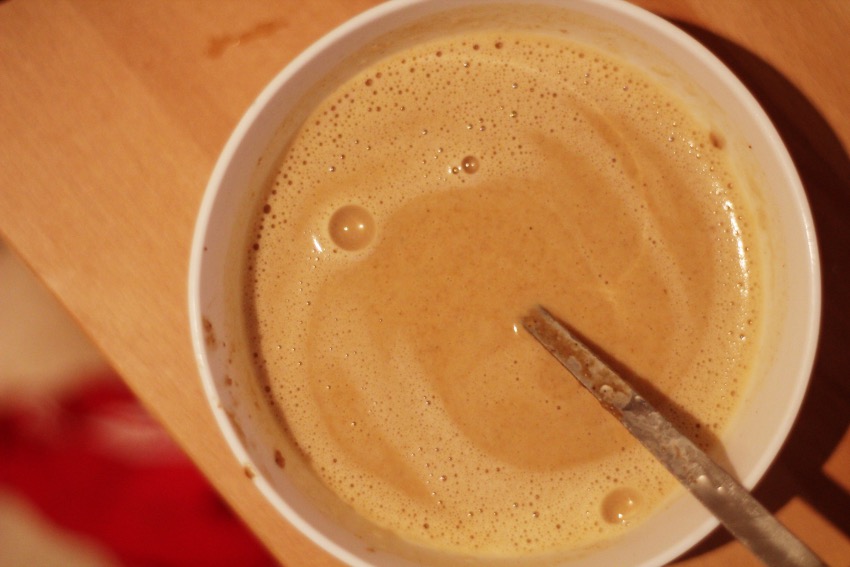 Doe de dressing in een schaaltje en plaats deze in de koelkast tot je buddha bowl klaar is, hij zal vanzelf wat dikker worden.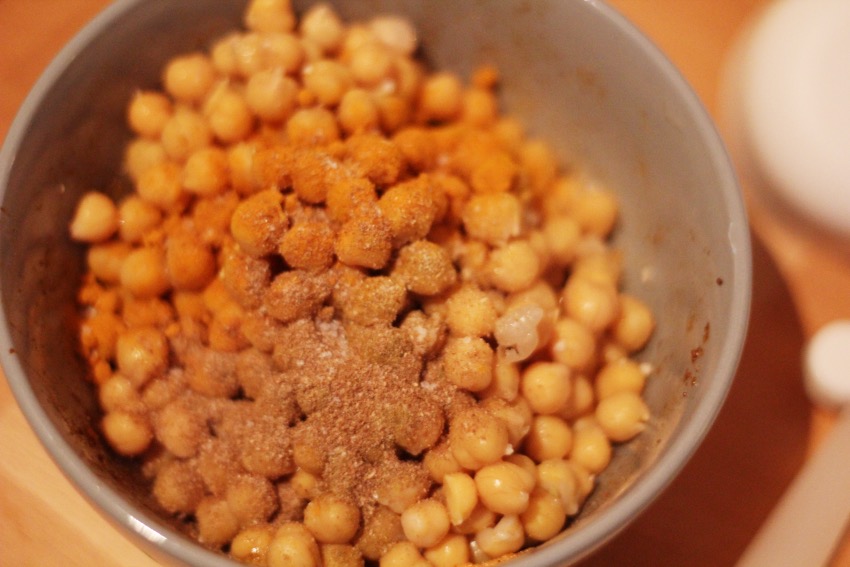 Ondertussen heb ik een half blik kikkererwten afgegoten en even afgespoeld. Deze gaan in een schaaltje met wat olijfolie en alle kruiden, behalve de kaneel. Meng dit door elkaar en doe de kikkererwten op een nieuwe bakplaat bedekt met een velletje bakpapier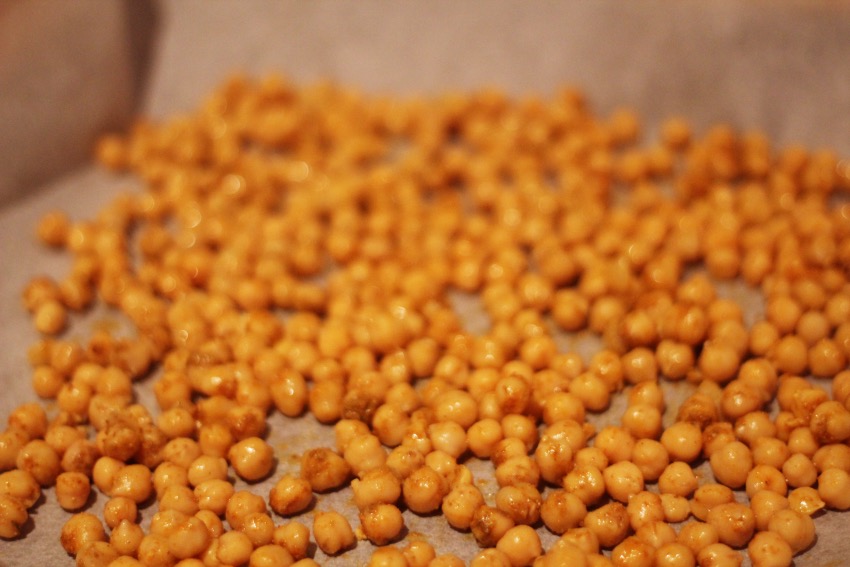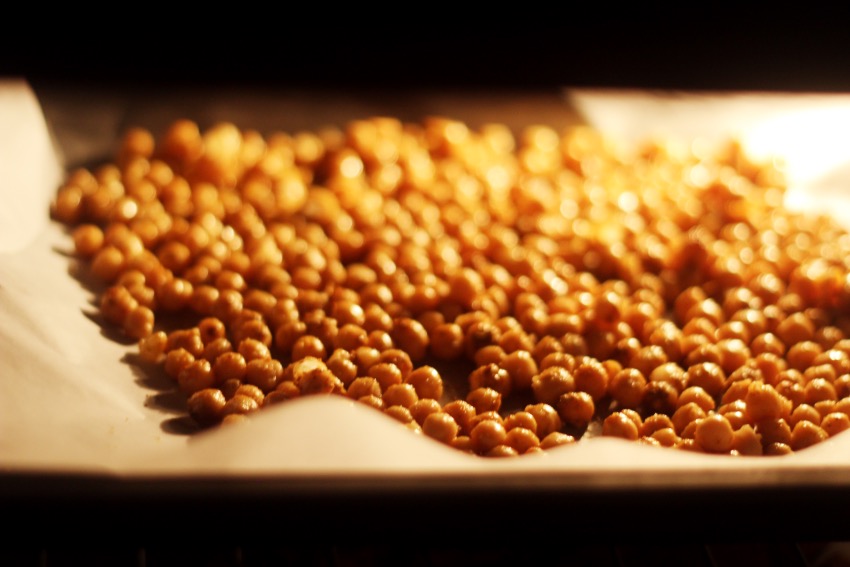 Plaats deze bij de zoete aardappel (die zit onderin) in de oven voor zo'n 15 minuten. Als het goed is komen de zoete aardappelen en de kikkererwten er dan tegelijk uit!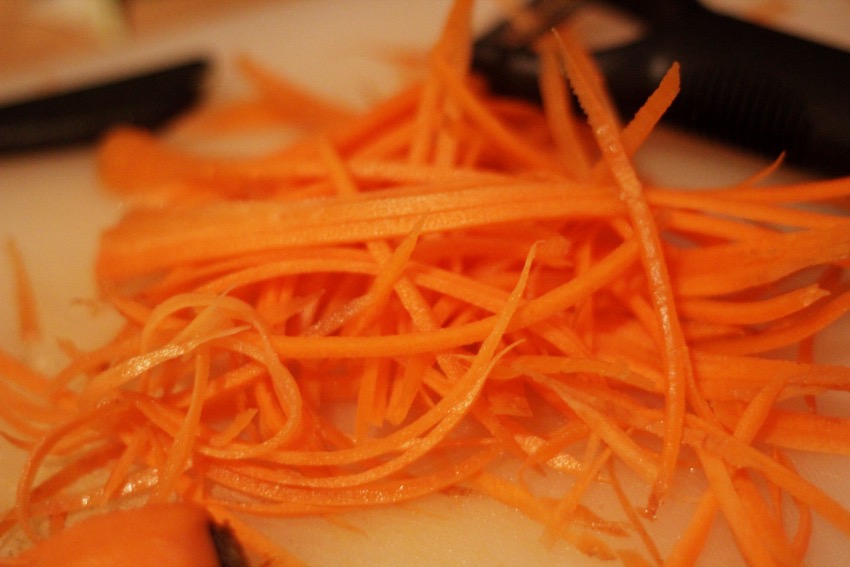 De winterpeen hoef je alleen maar door een julienne schiller te halen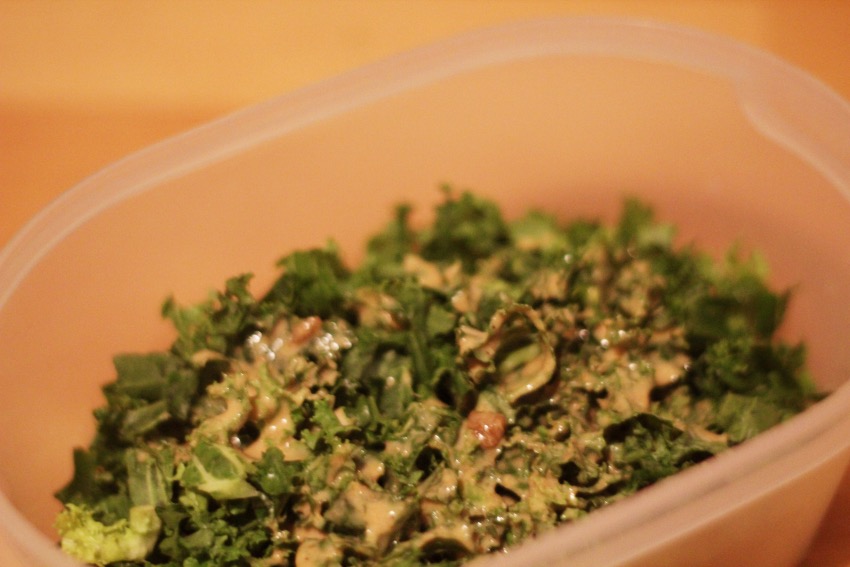 Doe de boerenkool in een bakje met wat dressing en 'masseer' de dressing erin zodat elk blaadje bedekt is.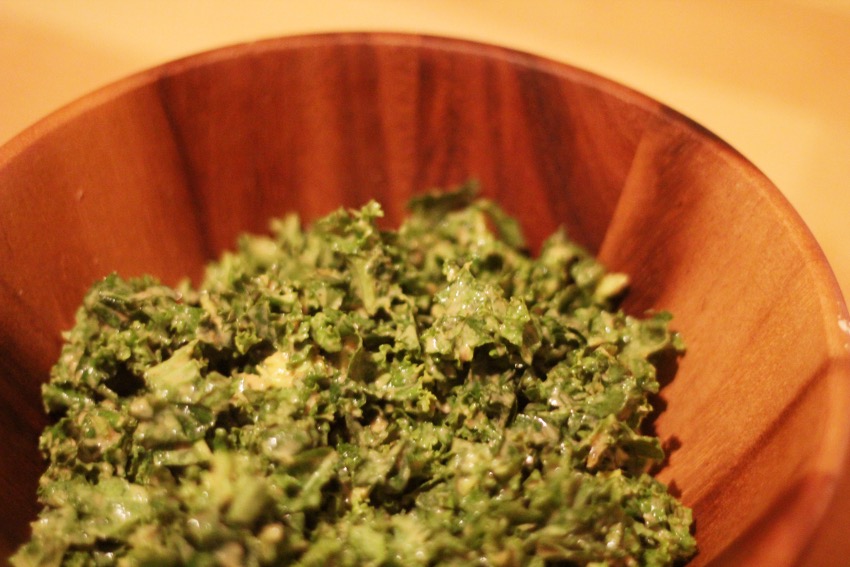 Nu is het tijd om de buddha bowl samen te gaan stellen, we beginnen met de boerenkool onderin
En daarna is het een kwestie van 'decoreren' zoals je dat zelf wilt!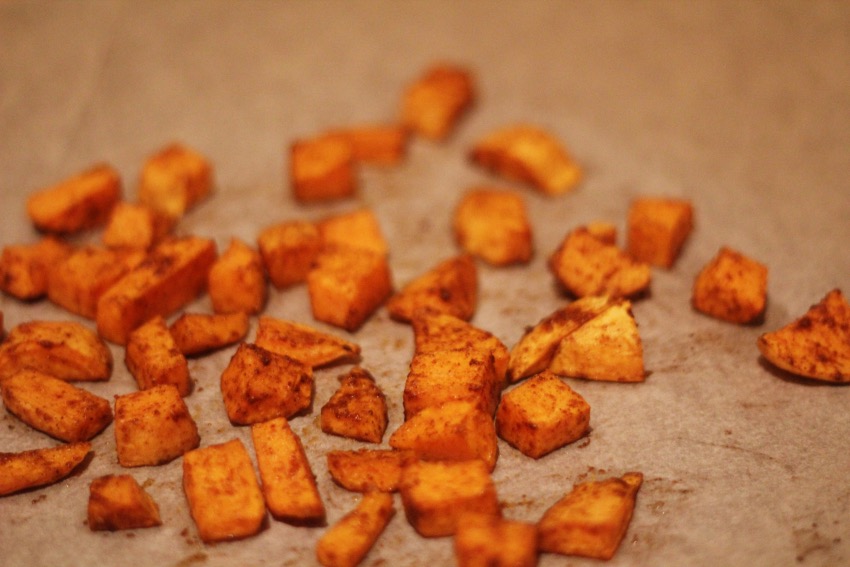 Hmmm, zoete aardappelen!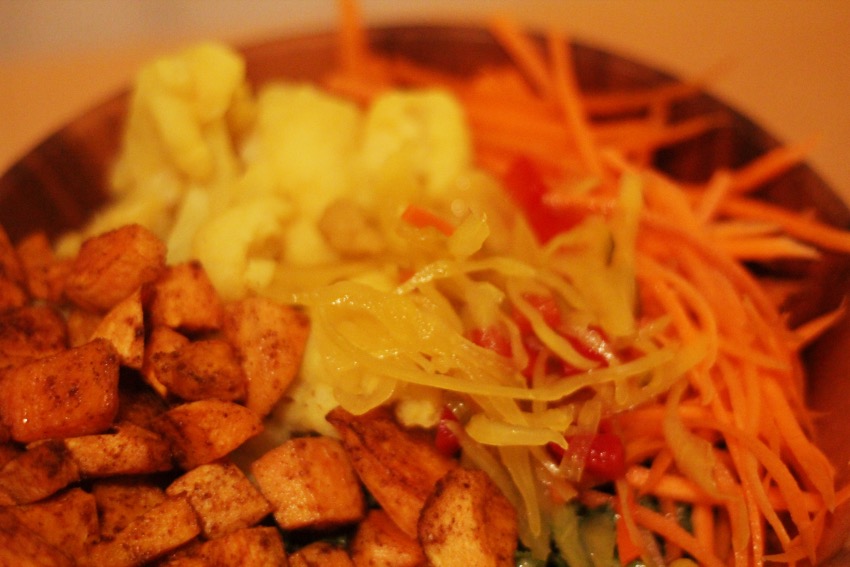 Beetje Atjar Tjampoer erbij geeft het geheel een verfrissende smaak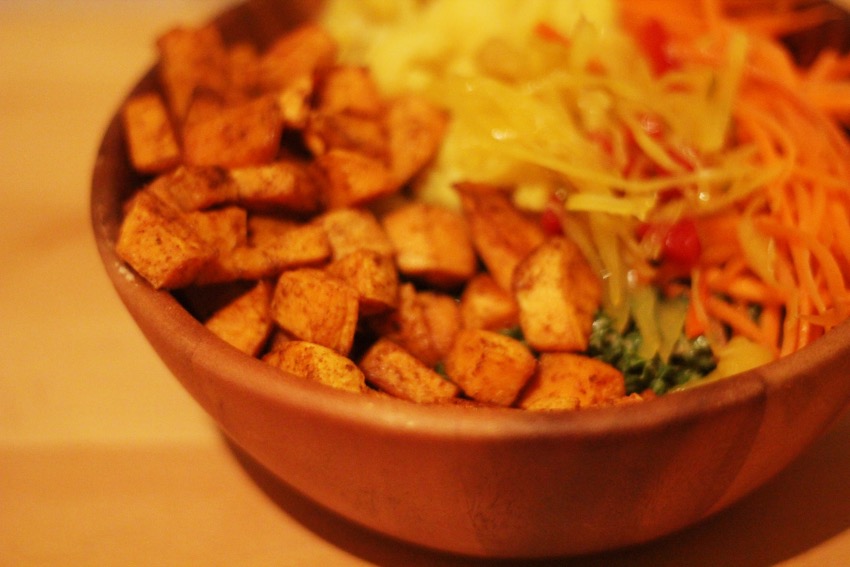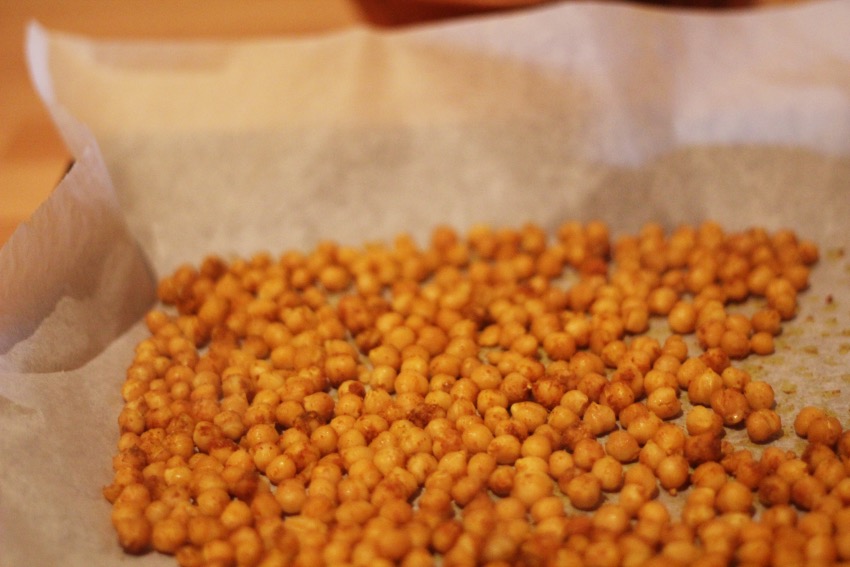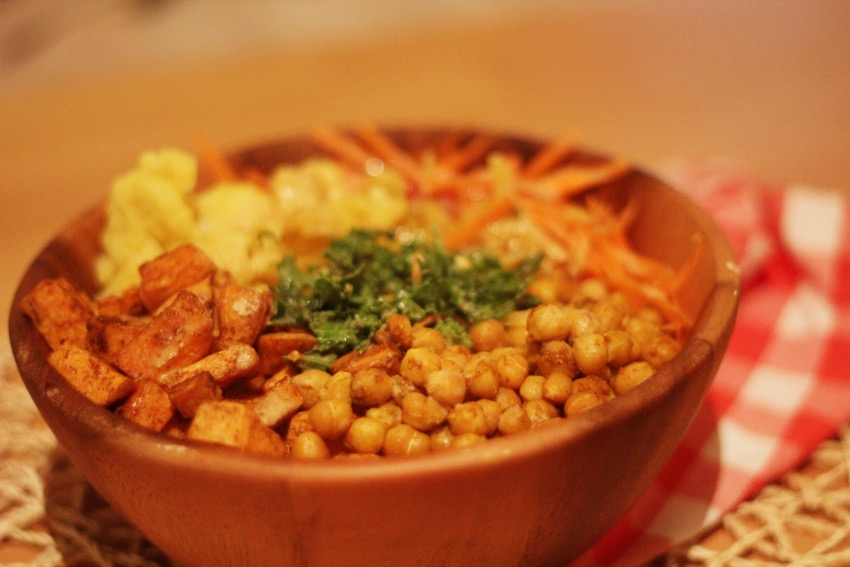 Bedek het geheel met dressing en klaar is je buddha bowl! Echt een smaaksensatie in je mond, heerlijk!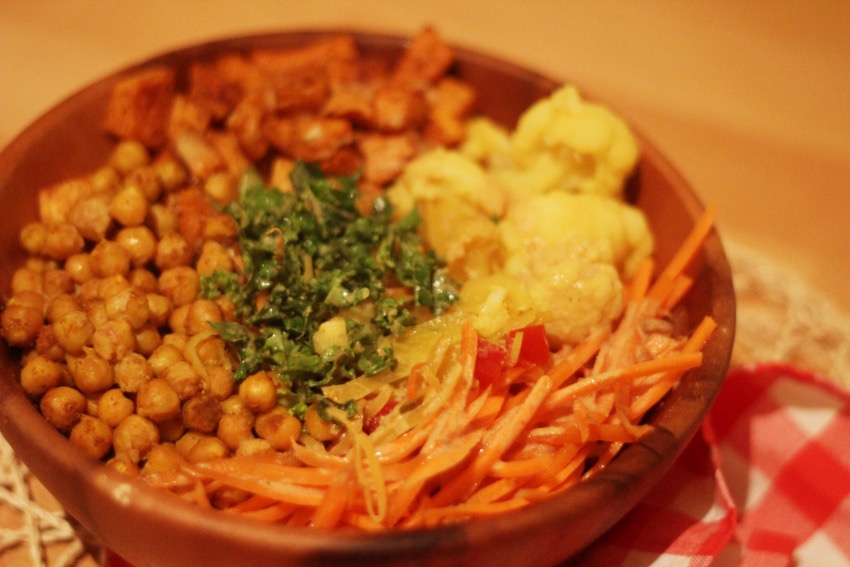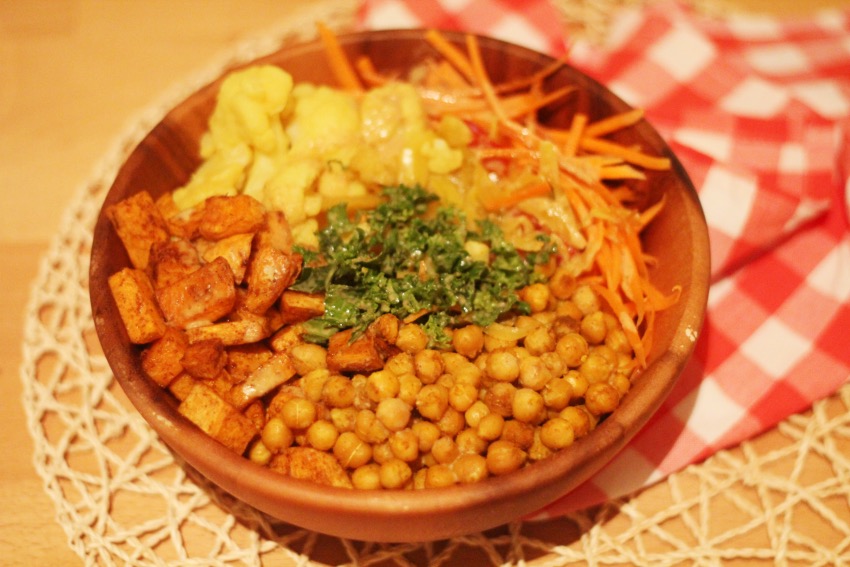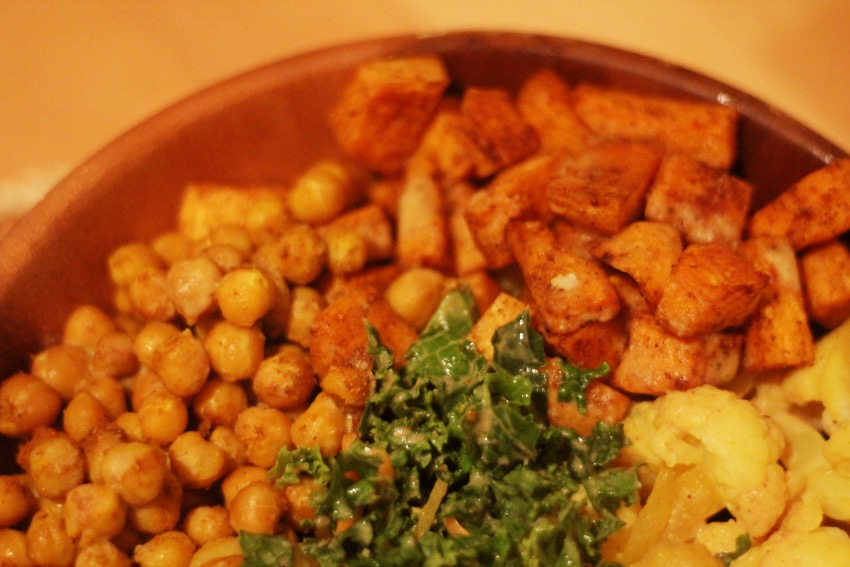 Ik krijg er geen genoeg van. En als je teveel van bepaalde ingrediënten hebt klaargemaakt, heb je een mini salade bar voor jezelf gecreëerd voor de volgende dag bijvoorbeeld.  En oja, helemaal vegan 😉 (moet je wel de honing weglaten en maple syrup gebruiken natuurlijk).
Eetsmakelijk!
Bewaar, Like, Tweet of Pin!