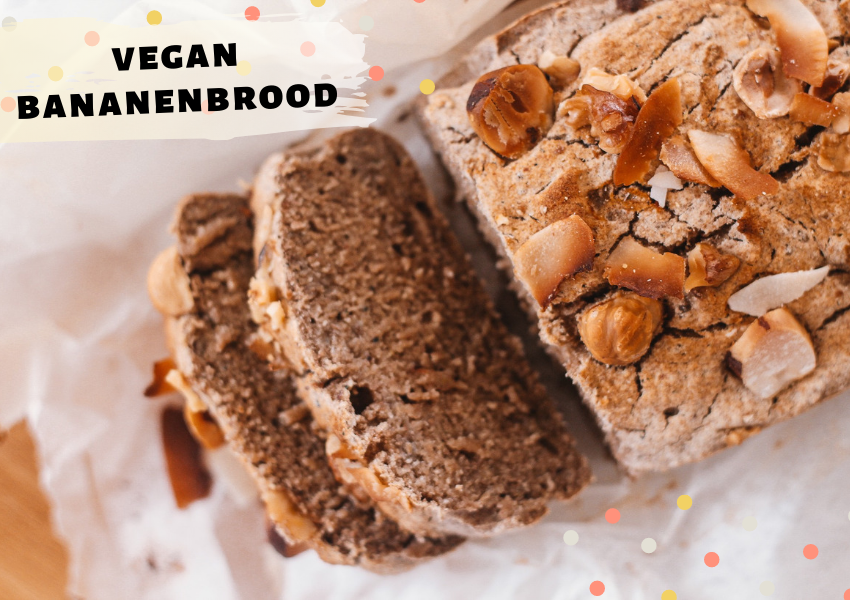 Het in huis hebben van bananenbrood vind ik altijd zo'n fijne gedachte. Je maakt zo'n brood (of cake, hoe jij het wilt) binnen no time, snijd het in plakken en vriest het in – of eet de helft die dag nog op, schuldig! haha.
Altijd binnen handbereik als je lekkere trek hebt en ook makkelijk om mee te nemen in je tas als je de deur uit gaat en geen idee hebt hoe/wat/waar met eten.
Stiekem verwerk ik er een halve courgette in voor een extra dosis aan groente – heeft niemand door! Op naar het stiekeme recept 😉
Wat heb je nodig?
2 eetlepels chiazaad (eventueel aanvullen met lijnzaad als je niet genoeg hebt)
1/2 courgette (rond de 120 gram)
3-4 overrijpe bananen
1 theelepel vanille extract
280 gram boekweit meel / (volkoren) tarwemeel / (volkoren) speltmeel
4 eetlepels maple syrup (/honing als het niet vegan hoeft)
2 dadels, ontpit
1 theelepel kaneel
Toppings naar keuze: kokos, noten, zaden.
Verwarm de oven voor op 180 graden Celsius. Doe het chiazaad (en lijnzaad) in een kommetje, voeg hier 8 eetlepels water aan toe en zet het 10 minuten opzij. Roer het af en toe even goed door met een vorkje zodat het gelijkmatig kan 'indikken'. Dit is je ei-vervanger.
Prak de rijpe bananen in een kom en rasp hier ook de courgette bij. Je kunt alles met een vork doen maar je kunt dit ook verplaatsen naar een keukenmachine om daar de overige ingrediënten bij te doen. Ik heb het allebei geprobeerd en het is in beide gevallen top!
Voeg de vanille, maple syrup, dadels, kaneel en meel toe en meng dit goed met elkaar tot je een beslag krijgt. Voeg als laatste het chia-mengsel toe dat lekker is ingedikt tot een soort 'gel'. Meng dit er goed door en laat het nog even 10 minuten staan voor je het verplaatst naar een cakeblik. Je kunt de cakeblik invetten met wat kokosolie maar je kunt er ook een velletje bakpapier in doen zoals ik heb gedaan.
Zet het velletje bakpapier vast met een elastiekje en wanneer je het beslag erin hebt gegoten haal je het elastiekje er weer af (niet vergeten, anders smelt deze in de oven!). Bestrooi je bananenbrood met wat toppings en zet het geheel voor 40-45 minuten in de oven, afhankelijk van je oven. Let wel; toppings als rozijnen en goji bessen (zoals ik heb gedaan) zullen gauw verbranden, dus mijn tip is om deze liever in het beslag te doen dan erbovenop.
Laat je bananenbrood even afkoelen als het de oven uit komt voordat je hem aansnijdt. Zet een kop thee of koffie, pak een goed boek en geniet van je plak(ken) bananebrood! Buiten de vriezer kunnen ze 4-5 dagen mee, in de vriezer kunnen ze wat mij betreft wel 2-3 maanden mee. Enjoy!