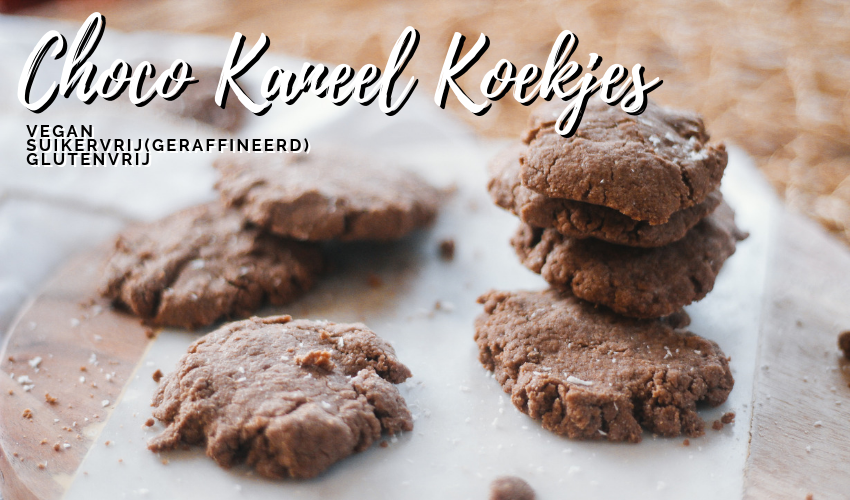 Heb je ook wel eens dat je na het avondeten op de bank ploft met Netflix op en je gewoon nét wat mist – wat lekkers. Maar ook weer niet teveel zooi naar binnen wilt werken. Dan zijn deze koekjes écht perfect.
Je kunt ze zelfs na het eten maken aangezien ze slechts 6 minuten de oven in gaan en je ze binnen 10 minuten gemaakt hebt. Oja, had ik ook al gezegd dat je maar 6 ingrediënten nodig hebt? Kan niet mis gaan dus!
Wat heb je nodig?
3 eetlepels kokosolie
2 eetlepels pindakaas / cashewpasta / amandelpasta
2 eetlepels cacao
1 eetlepel kaneel
2-3 eetlepels maple syrup of honing
120 gam boekweitmeel / speltmeel / tarwemeel
Verwarm de oven voor op 180 graden Celsius. Doe all ingrediënten behalve de meel in een kom en verwarm dit au bain-marie (of in de magnetron)  tot het gesmolten is en met elkaar gemengd is. Laat het niet koken! Het verwarmen zal supersnel gaan. Doe de meel naar keuze erbij (ik heb boekweit gebruikt) en meng het geheel met een vork tot het een koekjesdeeg of kruimelig is geworden. Plaats een velletje bakpapier of aluminiumfolie op de bakplaat en plaats hier je koekjes op – je kunt zelf kiezen welk formaat je wilt!
Bak de koekjes af in 6 minuten en laat ze nog even 2-3 minuten afkoelen nadat ze uit de oven komen zodat ze niet uit elkaar vallen.
Om dit recept vegan te maken, gebruik je maple syrup ipv. honing
Om dit recept glutenvrij te maken, gebruik je boekweitmeel
Kop thee erbij en genieten maar! Ik ben echt verslaafd aan deze koekjes!