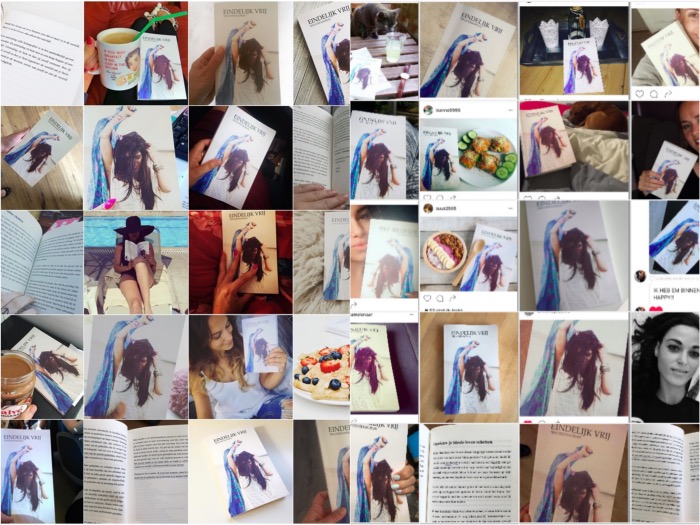 Inmiddels is mijn boek "Eindelijk Vrij" al enkele weken uit en ik ben elke keer weer zó verrast en emotioneel van de berichten die ik van jullie krijg hierover. Niet alleen het taggen van de prachtige foto's die jullie ervan maken op Instagram, maar ook de privé mails en berichten die jullie me sturen laten me niet koud.
Het leek me een goed moment om een update te schrijven over alles eromheen! 
Feestje?
Mijn lieve vriendin Dani heeft me een aantal maanden geleden ervan overtuigd dat ik een feestje moet geven. Ook al is het geen feestje voor de pers of een lanceringsfeest, in ieder geval om te vieren dat ik een boek heb geschreven. En daar was ik het dan wel mee eens. Ze stelde voor dit samen met haar team van fitgirls.nl te organiseren: zo ontzettend lief!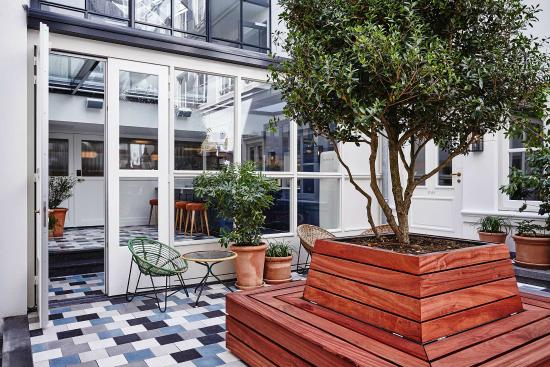 Het zal dus een feestje zijn waar ik vooral de mensen heb uitgenodigd die dierbaar voor me zijn met een aantal winnaressen die meededen aan de winactie waar ze een foto van het boek postten op Instagram of Facebook. Ze zijn allemaal inmiddels op de hoogte en ik kan niet wachten om iedereen te ontmoeten en te knuffelen!
Het feestje zal op woensdag (morgen) plaatsvinden in het Hoxton hotel in Amsterdam: wat een fijne locatie! Dus verwacht veel foto's van mij op Instagram die avond! Of eigenlijk: de volgende dag. Ik denk dat de avond heel snel voorbij zal vliegen.
Boek van de week SkyRadio
En dan nog een andere leuke verrassing, mijn boek is 'boek van de week' bij SkyRadio! Hoe cool is dat! Mocht je hem nog niet hebben, je kunt hem daar winnen!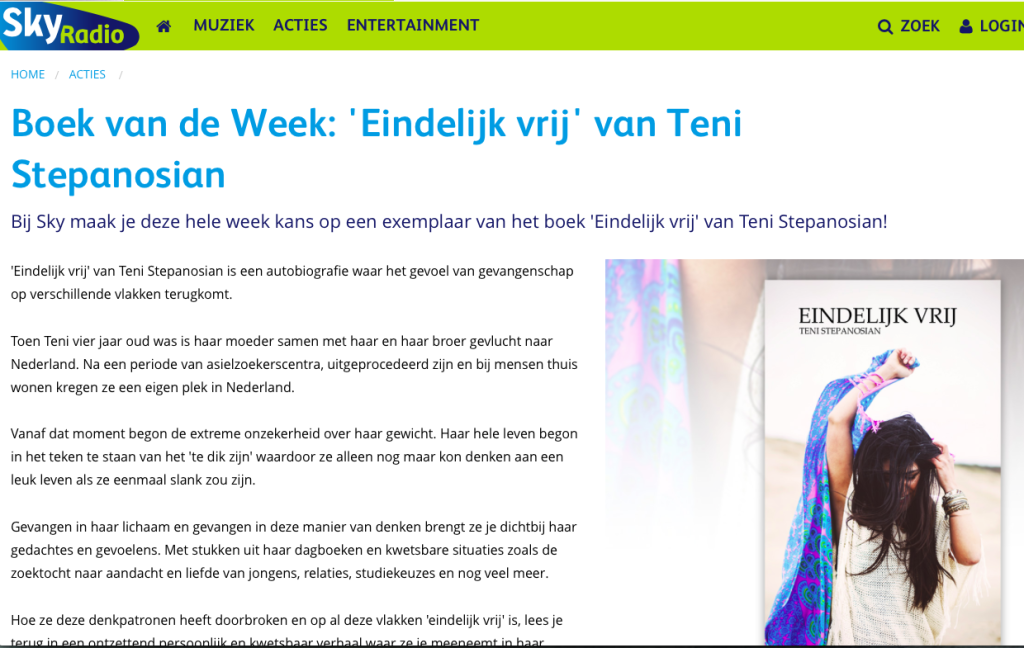 Is toch bizar, dat mijn boek daar gewoon staat.. !
Reacties en foto's
De foto's die jullie sturen zorgen er letterlijk voor dat mijn dag even stil komt te liggen en ik denk: "Huh, mijn boek ligt daar gewoon, bij die ander.. huh!"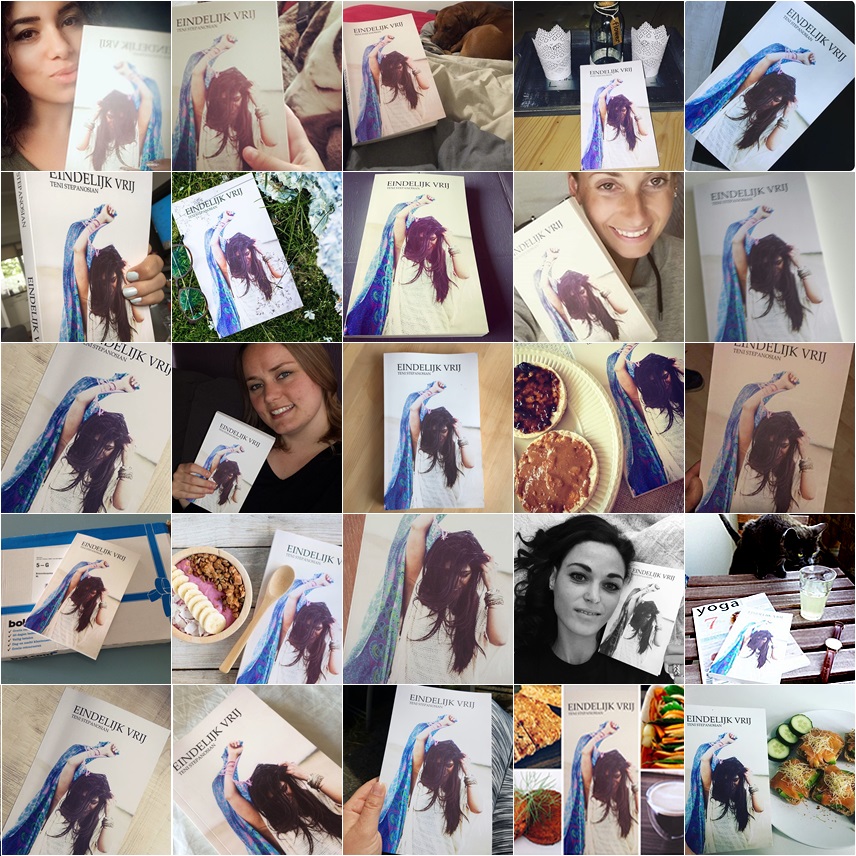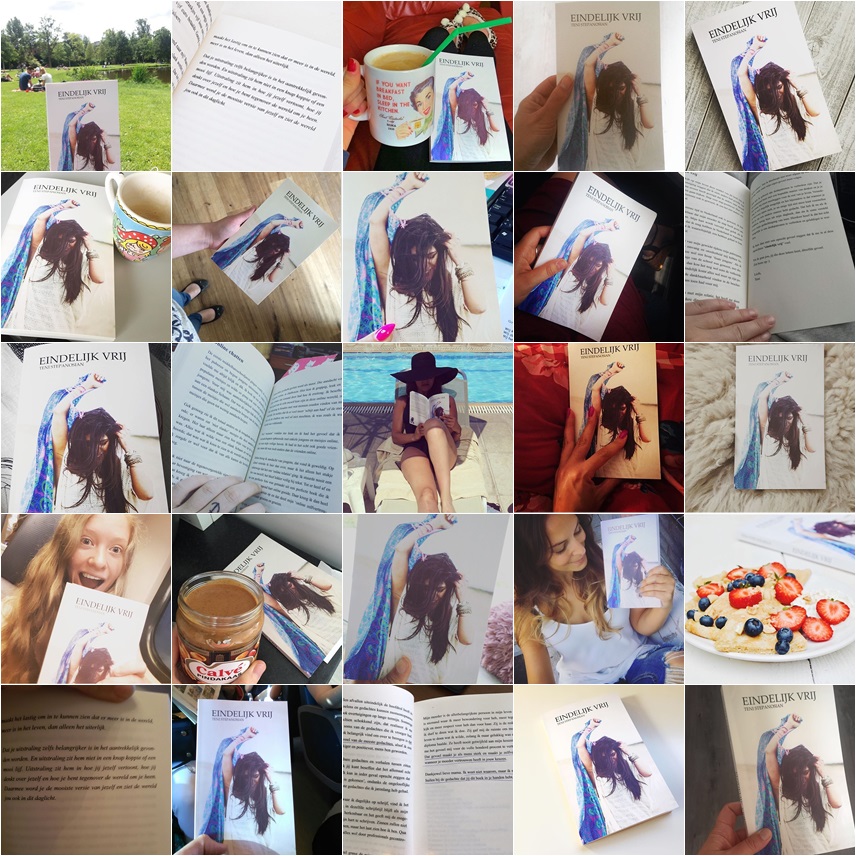 Echt heel gaaf! Ik blijf trouwens in herhaling vallen met dit artikel: gaaf, tof, geweldig!
En dan de reacties: ik vind de reacties allemaal zo overweldigend. Van privé berichten, mailtjes, comments tot mensen die me in real life aanspreken. Hier een aantal van wat reacties waar onder andere ondersteboven van was (privé berichten houd ik natuurlijk privé).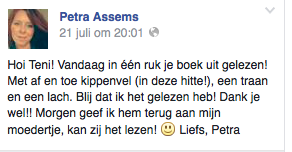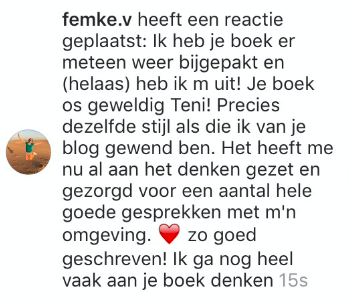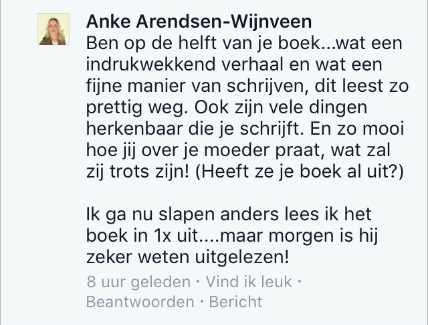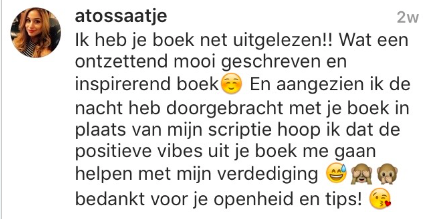 Reviews bol.com
Tot mijn verbazing zag ik ineens 4 reviews staan bij bol.com! Wat gaaf!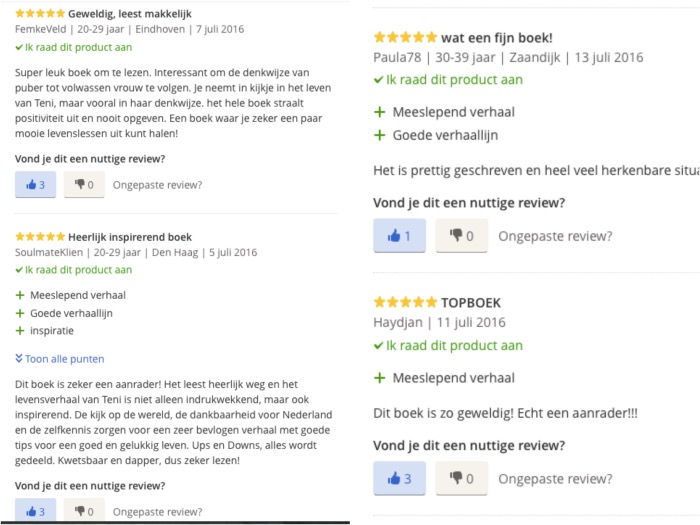 GELUKKIG MEISJE
Nou, jullie begrijpen wel dat dit me allemaal zo ontzettend gelukkig en dankbaar maakt. Het is heel gek hoe zoveel mensen mijn levensverhaal lezen, mensen die ik niet ken. Wat overigens nog gekker is, is dat ik de afgelopen 5-6 maanden helemaal klaar ben geweest met mijn boek en alles eromheen (edit, edit, edit, edit, edit, publicatie, wachten, wachten, wachten, wachten, etc.) maar het nu natuurlijk bij jullie terecht is gekomen en het bij jullie pas 'begint'. Ik pakte het laatst weer even op om er eens doorheen te bladeren: kijken wat ik ook alweer had geschreven hier en daar. Ik werd er een beetje kriegelig van en voelde me ongemakkelijk, snel heb ik het weer weggelegd. Dit komt omdat ik nu besef dat zoveel mensen het hebben gelezen en kúnnen lezen, daar waar het eerst nog echt mijn verhalen waren die nog niemand anders had gelezen. Oh well. Ik hoef het dan niet terug te lezen, maar ik ben er stiekem wel trots op! Bedankt voor al jullie lieve reacties, dat doet me keer op keer zo ontzettend veel!
Oja, boek 2 gaat er ook komen, ik heb inmiddels alweer een concept 🙂 Maar deze keer doe ik het lekker met een uitgeverij die 80% van de kopzorgen van me overneemt. Tot nu toe heb ik me nog niet heel 'vertrouwd' gevoeld bij een uitgeverij waar ik mee heb gesproken voor boek 1, maar mocht je een goede weten/kennen: laat het me weten! Of mail me vooral op info@fitbeauty.nl
Maak er een mooie dinsdag van! <3 Oja,

hier

kun je mn boek bestellen trouwens.
Nog even commercieel doen natuurlijk.