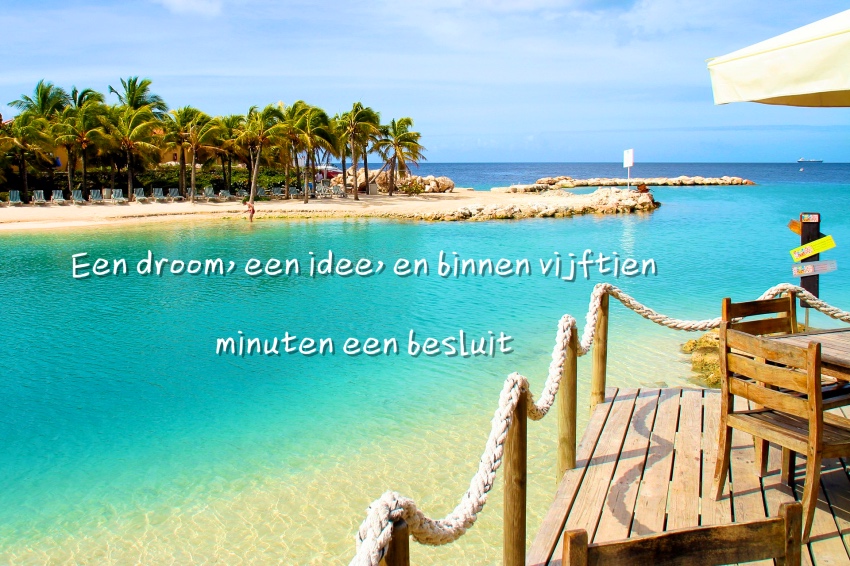 Vandaag ga ik de oceaan over, ver weg van mijn geliefde Nederland,
Een plek bekend om zijn vibe: Curacao, het eiland.
Nooit geweest, veel over gehoord en nu eindelijk die richting uit,
Een droom, een idee, een gesprek en binnen vijftien minuten een besluit.
Niets gepland vooral niet te lang over nagedacht,
Vol op goed vertrouwen en op zoek naar rust, hadden we bedacht.
Drie meisjes, twee jaar geleden ontmoet door het wereld wijde web,
Niet uit te leggen hoeveel ik jullie inmiddels eigenlijk lief heb.
Met een gerust hart stap ik zo het vliegtuig in,
Wetende dat er niets van mij word verwacht in zekere zin.
Of ik wil slapen, bloggen, filmen, selfies maken de hele dag,
Jullie die mij begrijpen, niets geks en alles mag.
In lange tijd weer een vakantie om uit te rusten,
Bij te tanken met het uitzicht op de zeekusten.
Voor jou, die dit leest, gelukkig geen verschil,
Elke dag een artikel, nee ik sta niet stil.
En ja, ook elke woensdag gewoon de wekelijkse vlog,
Schrijven, filmen en foto's maken is en blijft mijn passie toch?
Al jullie comments en berichten lees ik nog steeds elke dag,
Waar ook ter wereld, ik neem jullie mee als dat mag.
Zo heb ik jullie altijd dichtbij me, voor de nodige support,
Als jullie wisten wat dat voor me betekent, dan is dit gedicht te kort.
Hetgeen dat ik wel zal laten liggen zijn de zakelijke mails,
Deze zal ik met liefde vervangen met de toepasselijke cocktails.
Ik hoop terug te keren met een uitgerust hoofd, een hart vol creativiteit en passie,
Om jullie en mij weer te voorzien van mooie content vol energie.
Comments,  mails, berichten, ik word altijd weer gelukkig van,
Waar ik ook ben ter wereld, jullie zijn mijn vaste achterban.
Bewaar, Like, Tweet of Pin!