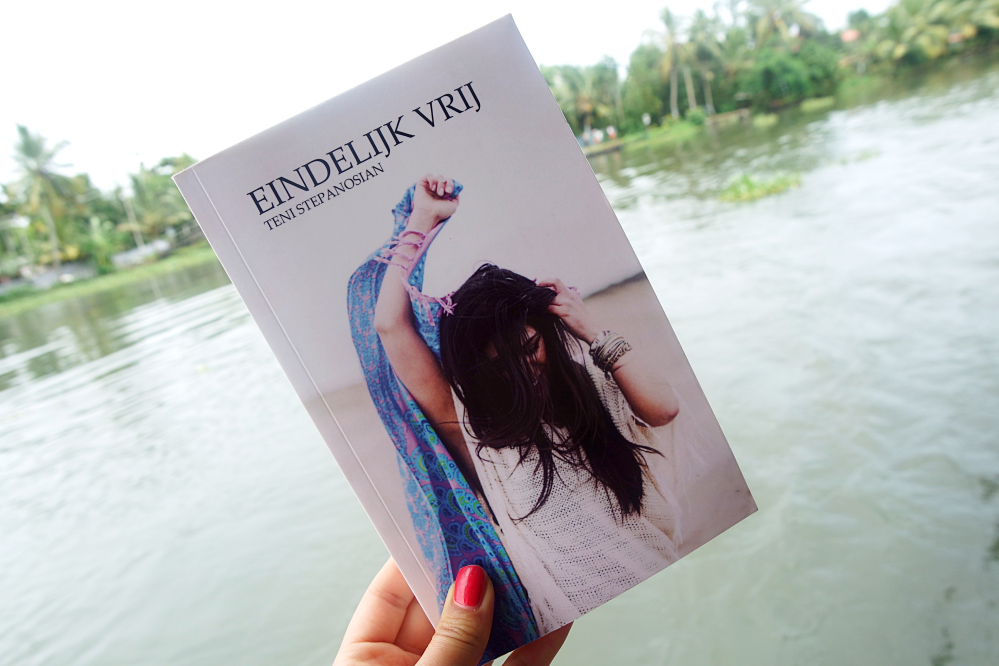 Ik weet niet of ik moet lachen of huilen van blijdschap. Maar ik hoorde hier en daar al wat berichten over dat mijn boek te bestellen was. En aangezien ik 'the hard way' heb moeten leren om niet direct enthousiast te worden en het van de daken te schreeuwen, bleef ik rustig. Ik checkte met verschillende partijen of het daadwerkelijk zo was en een aantal vriendinnen probeerden een bestelling te plaatsen.
Succes. Succes. Succes. 
Ik kreeg van niemand te horen dat iets niet lukte. Toen ik van Brave New Books een mailtje ontving "Teni, inmiddels kan je boek besteld worden via deze link!" wist ik het zeker: ik ga het nu communiceren op mn blog!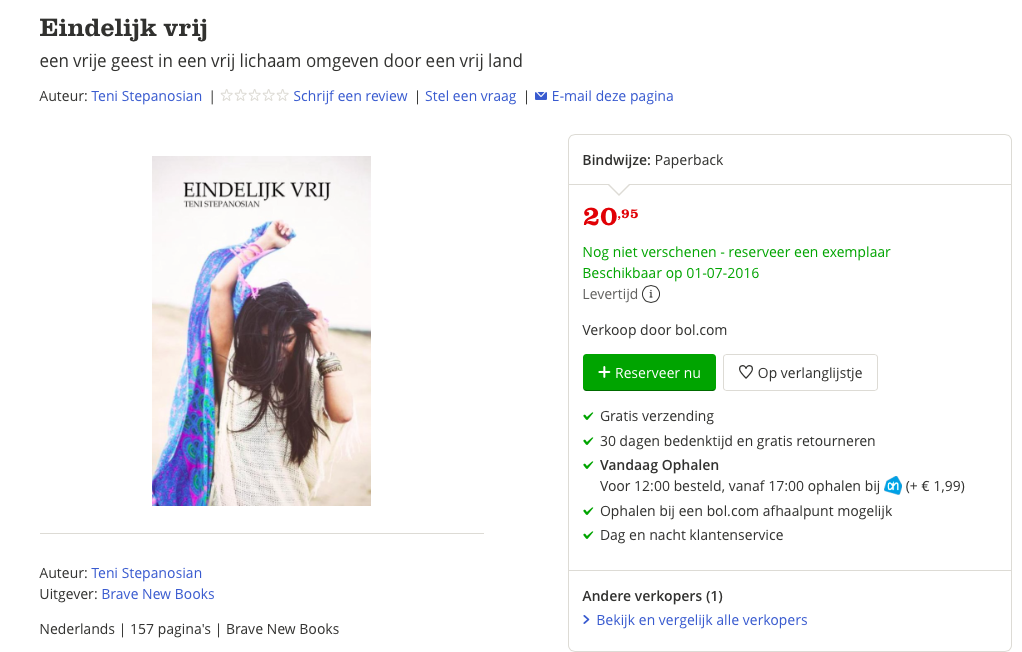 Mn boek zal ook via andere webshops te bestellen zijn zoals onder andere die van de Bruna en Eci (voorheen Cosmox).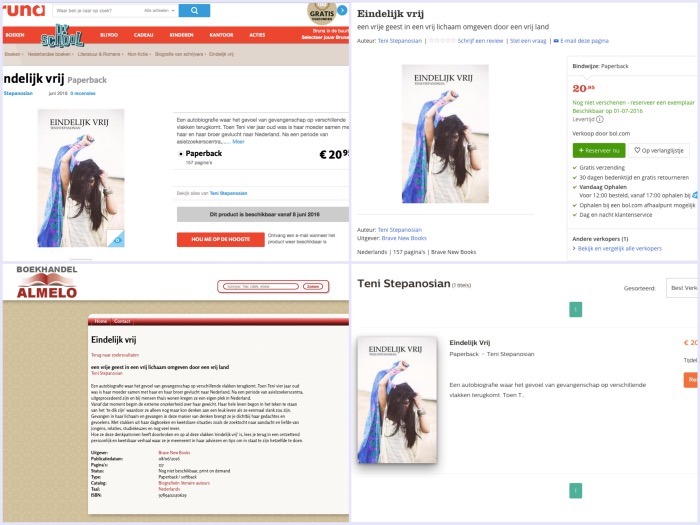 Wie? Wat? Waar? Boek?
Mocht je het helemaal gemist hebben of geen idee hebben van dit boek. Dan verwijs ik je graag naar "EINDELIJK VRIJ – MIJN BOEK IS TE KOOP" en "Wanneer komt het uit? Waar gaat het over? voor meer achtergrond info over het boek. Hier twee bladzijdes die ik eerder ook had gedeeld om toch een heel klein beetje een beeld te krijgen van de schrijfstijl en het type verhalen: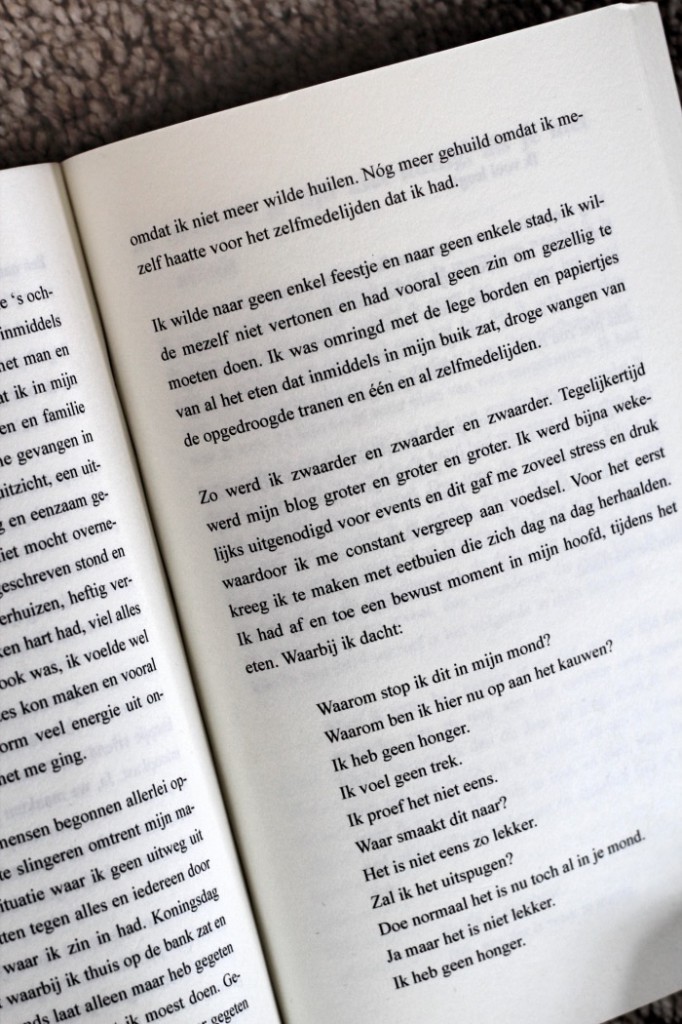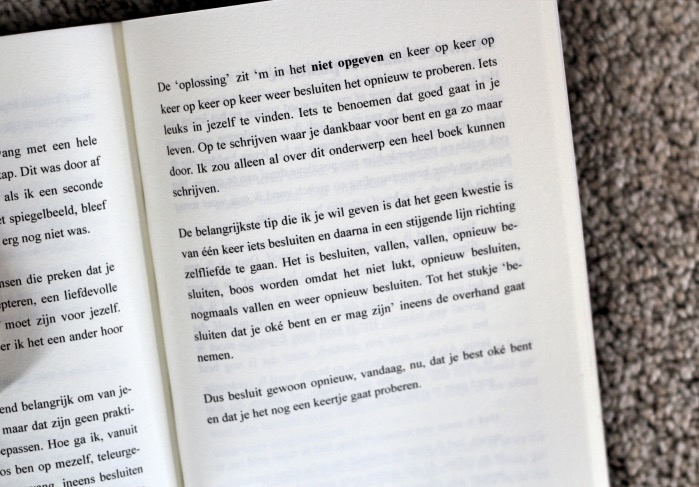 Het feestje?
De allerliefste Dani en Lizzy van Fitgirls.nl hebben voorgesteld om het "boek feestje" te organiseren. Dit feestje zal eind juli misschien begin augustus in Amsterdam plaatsvinden en 5 van jullie (ieder + 1 = 10 mensen) kunnen erbij zijn! Het lijkt me echt heel bijzonder om jullie te ontmoeten! Hoe kun je erbij zijn?
Door met het boek op de foto te gaan (je hoeft er zelf niet op)!
Instagram:
Post de foto op je Instagram account
Tag mij erin @Tenitje
Tag Fitgirls erin (aangezien deze chicks het hele feest organiseren! AAH) @Fitgirls.nl
Gebruik de hashtag #eindelijkvrijteni (sorry, kon geen betere bedenken)
Facebook:
Post de foto op je Facebook account
Belangrijk om wel de foto als 'zichtbaar voor iedereen' te plaatsen (privacy settings kun je per foto aanpassen) zodat ik hem kan zien.
Tag Fitbeauty Facebook pagina erin
Tag Fitgirls Facebook pagina erin
Gebruik de hashtag #eindelijkvrijteni
Let wel, als je het boek hebt besteld, kan het 4-5 werkdagen duren voor je hem binnen hebt. Dus het is nog even geduld hebben tot hij op je mat ligt!
IK BEN ZO GELUKKIG!
En zó dankbaar. Al jullie lieve berichten en mailtjes met dat ik me geen zorgen hoefde te maken hebben enorm geholpen. Bedankt voor jullie geduld, bedankt voor jullie begrip en bedankt dat jullie mijn site lezen. Echt, vanuit de grond van mijn hart: BEDANKT!