Waarom lukt het sommige mensen om zoveel "nuttigs" te doen en mij niet? We hebben allemaal 24 uur in een dag, wat doen de productievere mensen anders dan anderen? En hoe word ik productiever? Ik deel mijn tips over productiever worden, of het nu om je schoolwerk gaat, je baan, fit worden, doelen bereiken etc.
1. Leer NEE te zeggen
Weten wat wél en niet belangrijk is nuttig. Maar het lef te hebben om NEE te zeggen als je weet dat iets niet belangrijk genoeg is voor jouw tijd is nóg nuttiger. Oefen om nee te zeggen. Het hoeft natuurlijk niet bot over te komen, je kunt er ook een mooie zin van maken zoals;
"Het lijkt me heel erg leuk, maar ik weet dat ik daar nu geen tijd voor heb. Ik wil het niet afraffelen, dus ik zal het helaas moeten afwijzen"

"Leuk dat je mij hiervoor vraagt! Ik moet echter wel prioriteiten stellen anders kom ik om in het werk, dus misschien kun je er iemand anders blij mee maken?"

"Ik weet dat dit me niet zo ligt, dus helaas moet ik nee zeggen"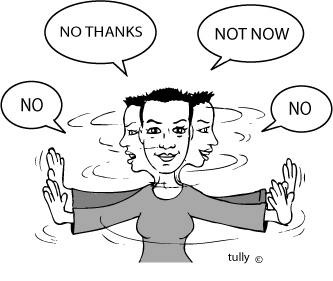 2. Ga met het openbaar vervoer
Je denkt waarschijnlijk meteen aan de chaos en vertragingen als je de twee woorden "openbaar" en "vervoer" hoort. Maar dit zijn maar enkele keren vergeleken met alle keren dat het openbaar vervoer wél goed functioneert. En weet je wat je voordeel daaruit is? ENORM! Ik heb zoveel boeken uitgelezen in de trein, to-do lijstjes gemaakt, voorbereid op presentaties, mijn ogen dicht gedaan met een heerlijk muziekje op, in mijn dagboek geschreven, ideeën uitgewerkt op papier, etc. etc.
Stiekem voel ik me héél gelukkig om ver van mijn werk te wonen. Ik zit elke dag 1,5 uur in de trein en 30 minuten in de tram (in totaal). En ik vind het, naast het vroeg opstaan, heerlijk om de tijd te gebruiken om te reflecteren en de onbelangrijke zaken te scheiden van de belangrijke zaken.
3. Gebruik de Seinfield X methode
Wanneer er aan Seinfield werd gevraagd hoe hij het voor elkaar kreeg om zulke goede shows te geven, vertelde hij over zijn methode met de kruisjes. Elke dag dat hij had geoefend zette hij een rode X in zijn agenda of op een kalender. Na een week was het zó geweldig om al die kruisjes te zien dat hij niet een dag wilde overslaan. "Practice makes perfect" zeggen ze, en dat is zeker waar!
4. Doe het maar één keer!
Dit is een van mijn meest effectieve sinds ik erop ben gaan letten. Ik zal het je uitleggen: krijg je een mail binnen en kun je er direct gauw op reageren? Doe het dan direct! Als je wacht tot een later moment, dan is de tijd die je kwijt bent aan het beantwoorden van de mail PLUS de tijd die je kwijt bent aan het herinneren dat je de mail moet beantwoorden (meerdere malen) zoveel groter dan dat je DIRECT de mail beantwoordt. Oftewel: stel geen onnodige dingen uit, ze blijven dwalen in je hoofd en kosten je alleen maar energie. Doe het direct!
5. Leer hoe je taken kunt maken voor jezelf
"Afvallen" is géén taak! Als je dit als doel voor jezelf stelt blijft het te vaag om effectief te kunnen behalen. Wat moet je doen om af te vallen? Je voeding opschrijven? Andere boodschappen doen? Workouts inplannen? Jezelf wegen? Hoevaak jezelf wegen? Bedenken wat je wel en niet kunt eten?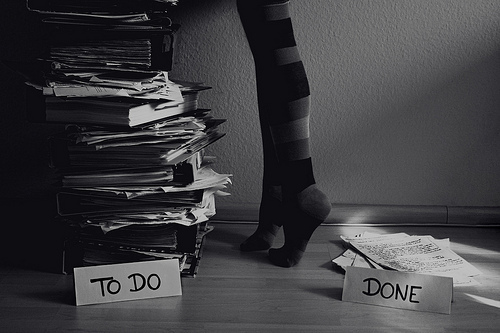 Een doel is alleen maar een benaming voor iets dat je wilt bereiken. Maar is niet daadwerkelijk de praktische stap die je moet onderenemen. Succesvol zijn? Een eigen bedrijfs starten? Zangeres worden? Diploma behalen? – Zie je dat dit geen directe stappen zijn, maar alleen benamingen? Schrijf alles op waarvan jij denkt dat nodig is om te doen om bij je doel te komen. Dan heb je al een hele grote stap gemaakt!