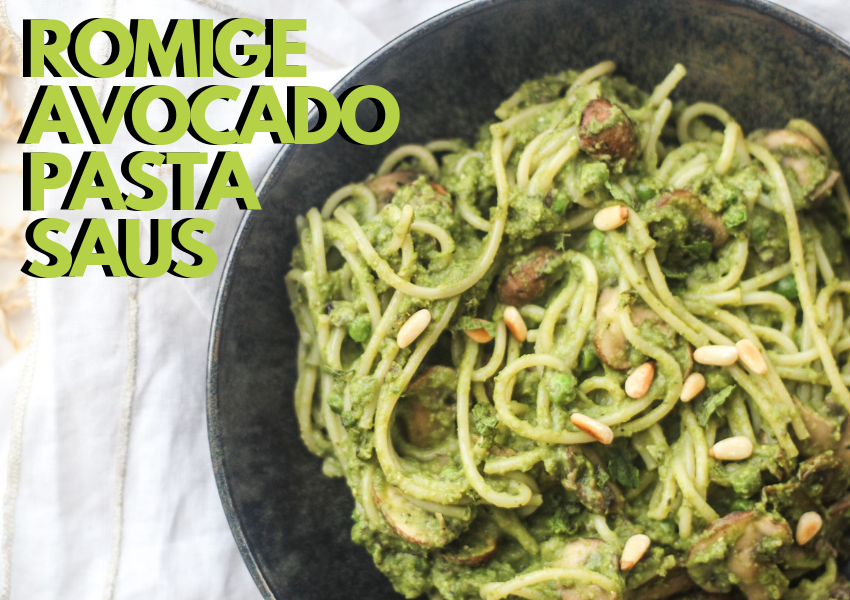 Om je vingers bij af te likken, deze saus! Ik experimenteerde met een groene saus voor de pasta die géén pesto zou zijn en kwam uit op deze romige avocado saus bomvol smaak. Heerlijk voor de pasta maar ook perfect te gebruiken in een wrap of om groente in te bakken. Deze ga ik deze week nog voor een derde keer maken, zo lekker vond ik hem en ik hoop jij ook!
Wat heb je nodig voor 2 personen?
Voor de saus:
1 rode of gele ui
1/2 avocado
2 eetlepels pijnboompitten
handje diepvriesdoperwten
handje spinazie
250 ml kokosmelk
1-2 eetlepels citroensap (naar smaak)
1 theelepel komijnpoeder
peper en zout naar smaak
olie om in te bakken
Voor de pasta:
50-100 gram droge pasta
100 gram champignons
1/2 rode of gele ui
klein handje diepvriesdoperwten
1/2 theelepel komijnpoeder
peper en zout naar smaak
pijnboompitten om het te toppen
Kook de pasta volgens de verpakking. Voor de saus: Verhit wat olie in een koekenpan en bak hierin de ui (gesnipperd), als deze glazig begint te worden voeg je de doperwten en pijnboompitten toe en bak je dit een paar minuten mee. Verplaats dit geheel naar een keukenmachine en voeg alle overige ingrediënten voor de saus toe. Blend het geheel tot er een gladde groene massa ontstaat. Proef even om te kijken of er misschien wat zout of citroen bij moet om het in balans te brengen. Mocht het niet romig genoeg zijn, doe er dan wat kokosmelk bij.
Bak in dezelfde koekenpan alle ingrediënten voor de pasta (behalve de pasta), als alles lekker aan het bakken is en de champignons hun vocht kwijt zijn voeg je de groene saus en de uitgelekte pasta toe. Meng het geheel lekker door elkaar tot alles goed gemengd en warm is. Je pasta is klaar! Je kunt het nog toppen met wat pijnboompitten (lekker om ze even te roosteren in een pan) en genieten maar!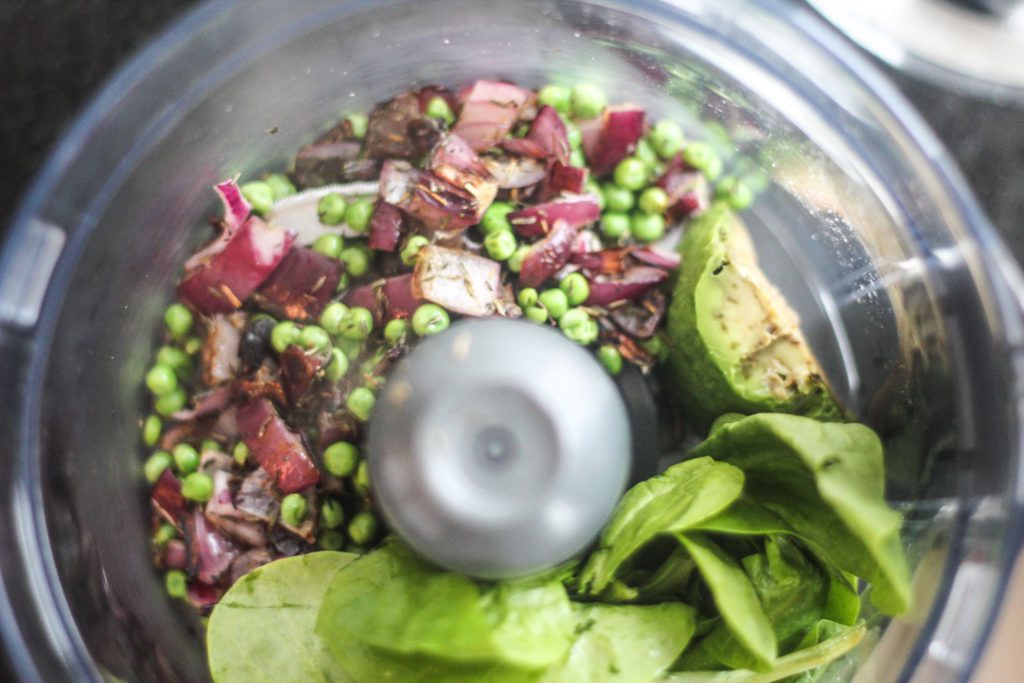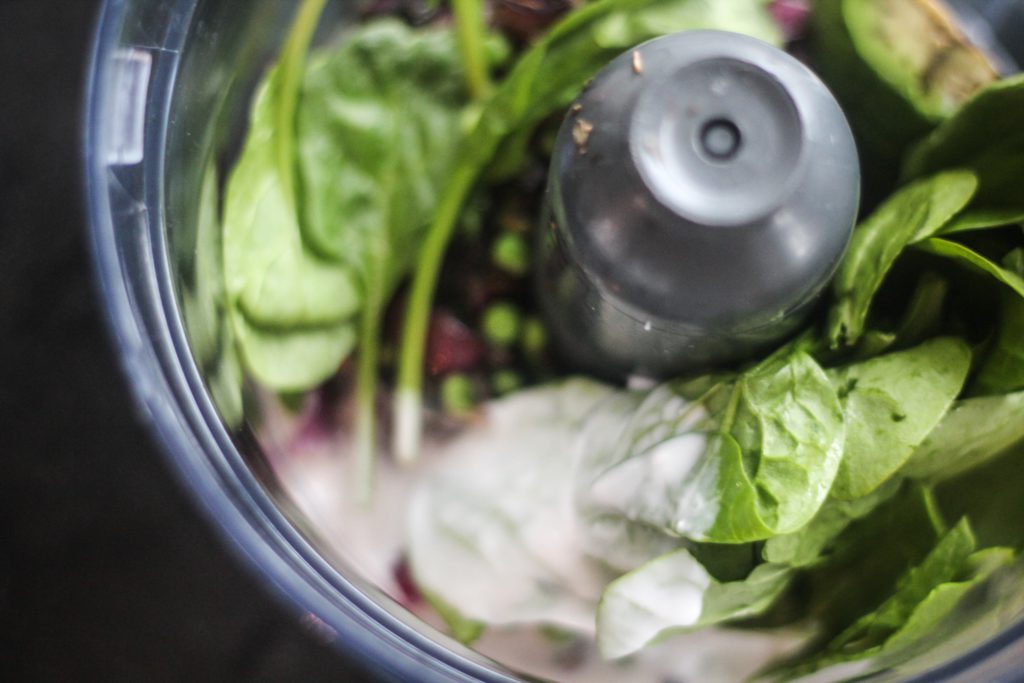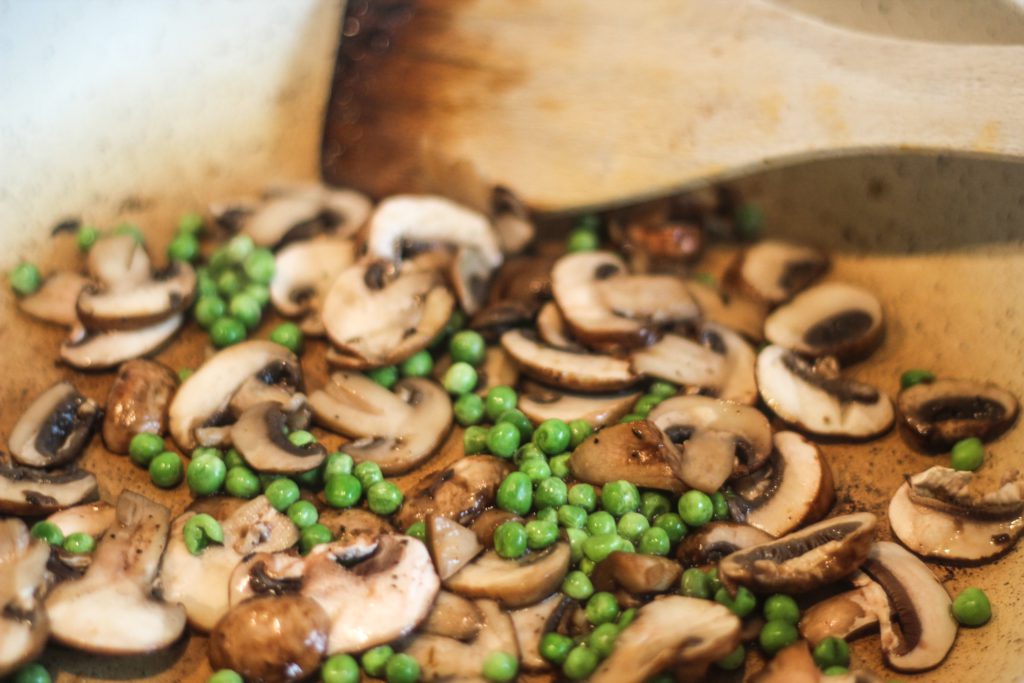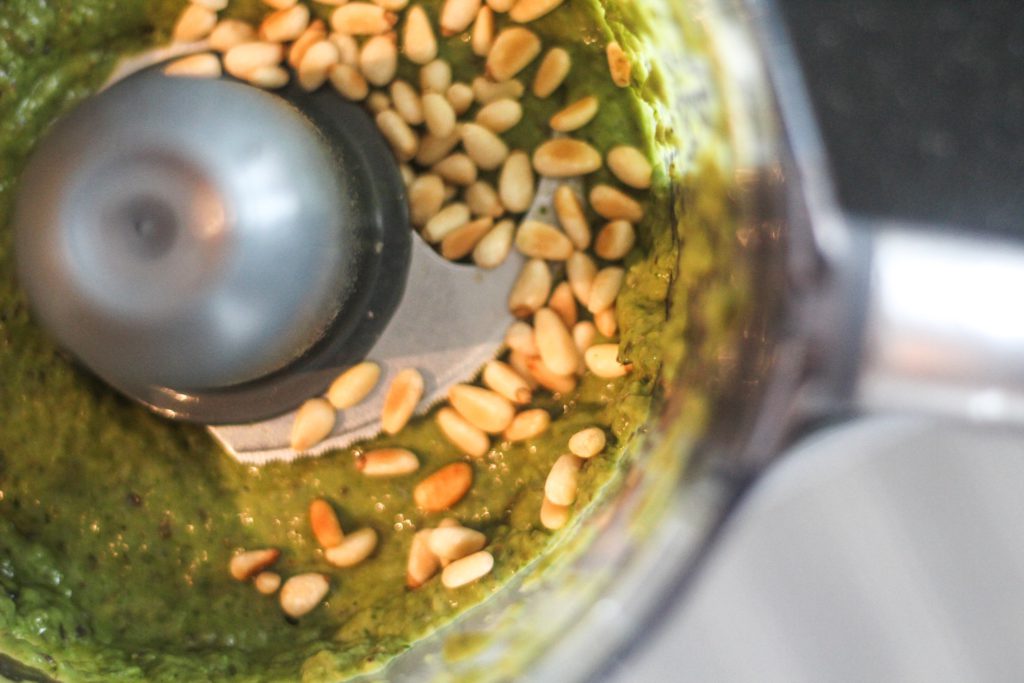 Oeps, hier was ik vergeten de pijnboompitten bij de saus te doen 😉 Geen probleem om ze nog toe te voegen en daarna weer te blenden!