Gister ben ik aan de slag geweest met het maken van pizza maar dan net anders. Zonder bloem maar met bloemkool als bodem! Ik heb dit recept al vaker geprobeerd maar telkens lukte het  net niet helemaal goed. Deze keer was het perfect! Ik heb helaas geen foto's van de stappen van het recept omdat ik niet zeker wist of het wel ging lukken. De volgende keer komen er wel foto's van het volledige recept. Voor nu, het recept zelf! 
Wat heb je nodig?
300 gram bloemkool
2 bollen mozzarella
300 gram geraspte kaas
1 blikje tomatenpuree
1,5 eetlepel olijfolie
oregano
champignons
uien
1 ei
Voor de bodem:
Snijd de bloemkool in grote stukken en dompel ze in kokend water voor 4 tot 5 minuten. Giet ze daarna af en doe ze in een keukenmachine. Mix het geheel tot de bloemkool een beetje op rijst lijkt. Doe dan een heel bolletje mozzarella in stukken gesneden in de keukenmachine en mix dit nogmaals goed door, doe nu nog een halve bol mozzarella erbij en mix het geheel weer.
Doe het mengsel in een kom en voeg er een ei en 20 gram geraspte kaas aan toe. Meng het geheel met een spatel tot het dik is.
Schep met een lepel wat van het mengsel op de ovenplaat die bedekt is met bakpapier. Je kunt net zoals ik 4 kleine pizza's maken.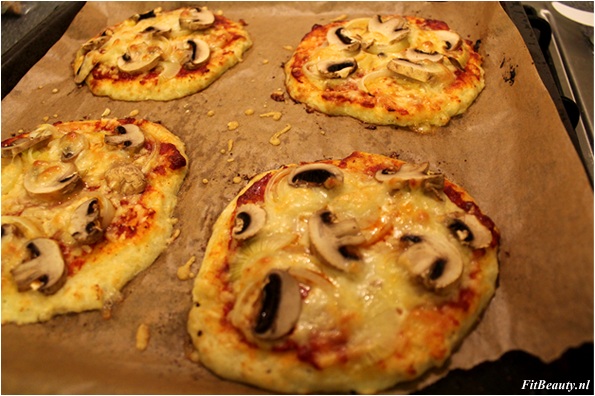 Meng in een kleine kom de tomatenpuree, olijfolie en oregano. Besmeer de pizzatjes hiermee.
Daarna is het een kwestie van geraspte kaas, champignon en uitjes erop!
Doe ze voor ongeveer 15 minuten in de oven op 220 graden Celcius. En.. Eetsmakelijk!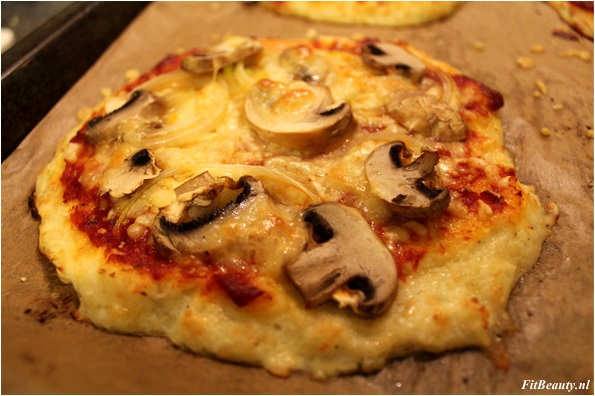 Bewaar, Like, Tweet of Pin!