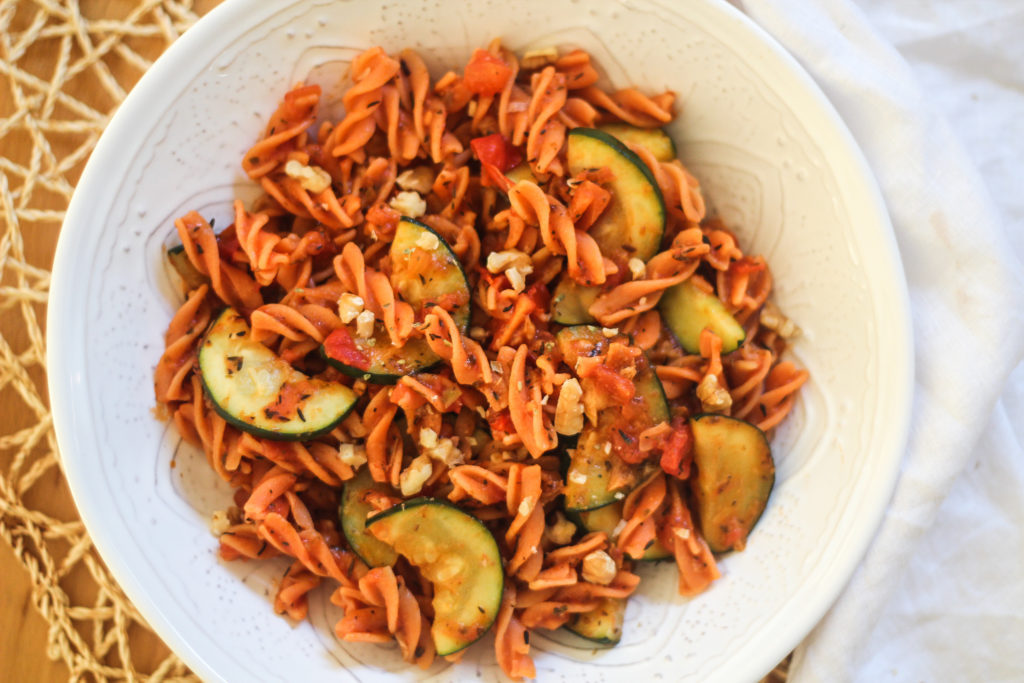 Vegan en kaas in één zin? Yes! In mijn experiment-fase wat betreft veganistisch eten is er een bepaald product dat al jaren binnen de vegan community bekend staat als een hele goede parmezaanse kaas vervanger. In Amerika zijn ze er al heel lang bekend mee: nutritional yeast. Vertaald naar het Nederlands kom je uit op "edelgistvlokken".
Het was nog een hele zoektocht om dit in de 'gewone supermarkt' te vinden maar het is gelukt! Slechts één merk ligt in de reguliere supermarkt; Bio Today. Laten we gauw door naar het recept en een klein beetje info over edelgistvlokken voor je in paniek raakt over het eten van gist in een grote hoeveelheid. Gist in plaats van kaas?
Misschien denk je in eerste instantie aan gist en vraag je je af of dat niet héél slecht voor je is om dat in plaats van kaas (qua hoeveelheid) door je voedsel heen te doen. Ik heb het antwoord voor je: Nee, integendeel. Edelgistvlokken zijn geen actieve vorm van gist en ze bevatten juist ontzettend veel gezondheidsvoordelen. Even een kleine greep uit waar ze goed voor zijn voordat dit artikel niets meer heeft van een recept 😉
Het is een compleet eiwit: oftewel; het bevat alle negen essentiële aminozuren (

leer hier meer over voedsel met alle aminozuren

) die je via je voeding moet binnen krijgen (je lichaam kan deze niet zelf aanmaken). Eén eetlepel bevat zo'n 2 gram eiwit.
Het bevat verschillende vormen van vitamine B: best handig als je veganistisch eet! Aangezien vitamine B vooral in dierlijk voedsel voorkomt.
Recept
En nu op naar het recept! Ik ben zo simpel mogelijk begonnen en dat is goed gelukt! Verwacht in de toekomst dus meer 'gevorderde' vegan recepten aangezien ik het graag met baby steps aanpak.
Wat heb je nodig voor 2 personen?
100 gram (onbereide) pasta, ik heb linzenpasta gebruikt
1-2 tomaten, in blokjes gehakt
3 teentjes knoflook, fijngehakt
1/2 courgette, in halve ringen gesneden
1/4 blik tomaten
1 theelepel gedroogde tijm
1 theelepel gedroogde oregano
1/2 theelepel gedroogde basilicum
handje (geroosterde) walnoten, gehakt
3-4 eetlepels edelgistvlokken
peper en zout naar smaak
olie om in te bakken
Kook de pasta volgens de verpakking. Verhit wat olie in een koekenpan en bak hier de kruiden voor 2-3 minuten op een middelhoog vuur. Doe vervolgens de knoflook erbij en laat het geheel lekker geuren. Na een minuut of 2 kan de courgette erbij. Als laatste voeg je de tomaat en de tomaat uit blik toe en meng je het geheel zodat de smaken verspreid worden in de gehele pan. Giet de gekookte pasta af, spoel hem even met koud water en voeg het toe aan de koekenpan.
Je kunt nu ook de edelgistvlokken toevoegen maar dit kun je ook pas doen op het geserveerde bord, aan jou de keuze!
Serveer de pasta, strooi er wat gehakte walnoten overheen en klaar is je maaltijd! Enjoy!
Als je denkt; "Huh, waar is mijn eiwitbron in dit gerecht?" – dan kun je er altijd wat bonen / kikkererwten of vlees toevoegen als je geen veganist bent. Maar zoals je ziet gebruik ik een linzenpasta, dit is mijn eiwitbron bij dit gerecht!

PS: De edelgistvlokken van Bio Today bevatten ook volkoren tarwemeel en zout. Ik ben benieuwd of ik een variant kan vinden in de supermarkt zonder deze twee toevoegingen (online heb ik er al een paar gevonden).