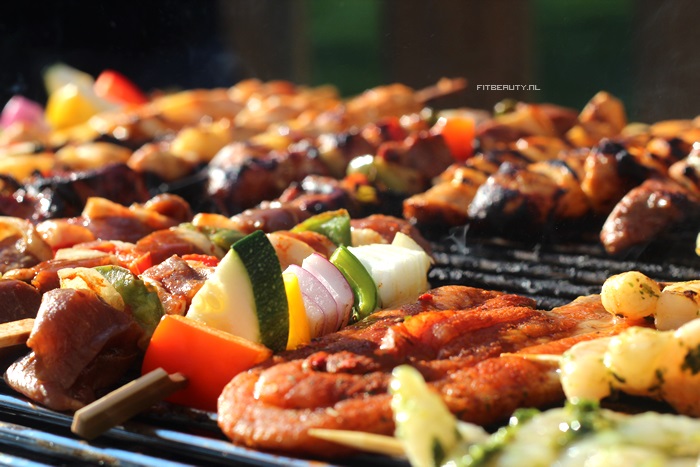 Als je me op Instagram volgt dan wist je het al; ik ben het afgelopen weekend weg geweest met het bedrijf waar ik werk (Byte!). In een paar woorden: geweldig, lachen, alcohol, feesten, eten, spelletjes en genieten! Hierbij de foto's van al het lekkere eten dat er was!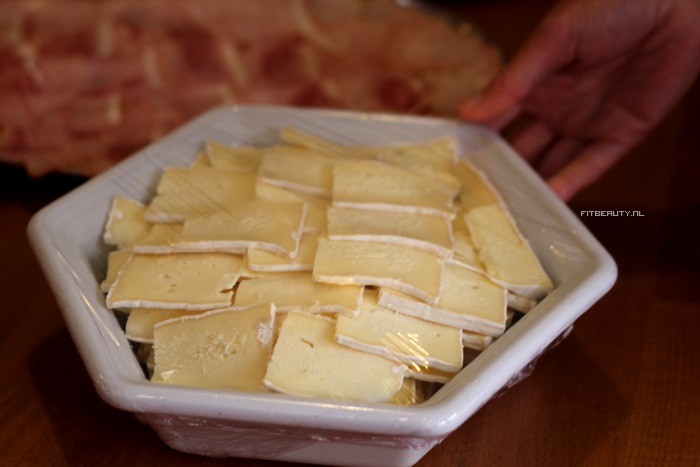 De eerste avond werd de groep in tweeën gedeeld en ging de ene helft een pasta maken en de andere helft pizza. Guess who made pizza? Ik! Inderdaad. We hadden heel veel lekker beleg voor de pizza, onder andere brie.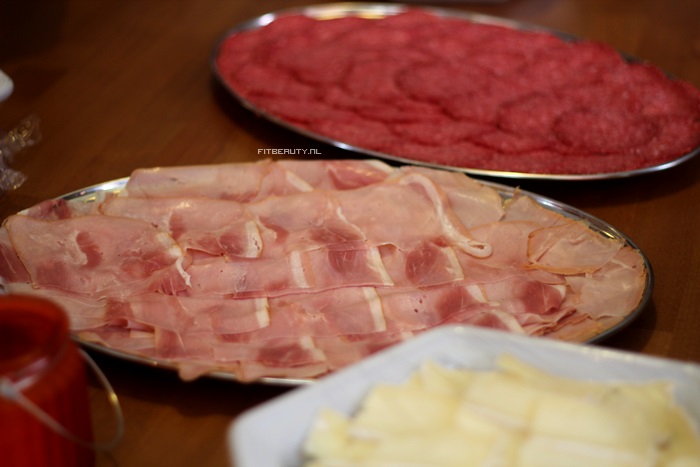 Ham en salami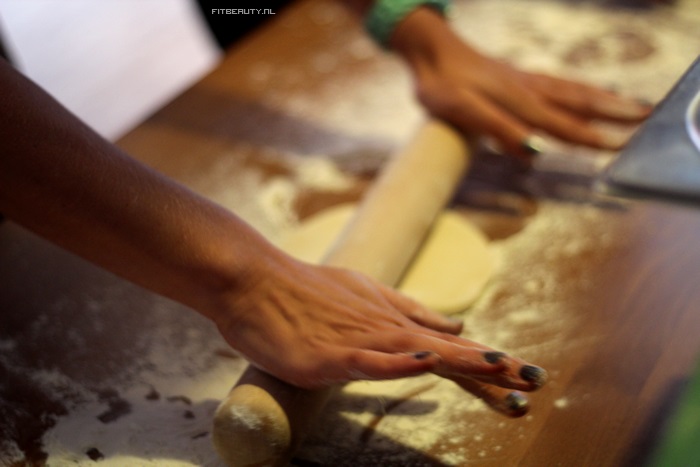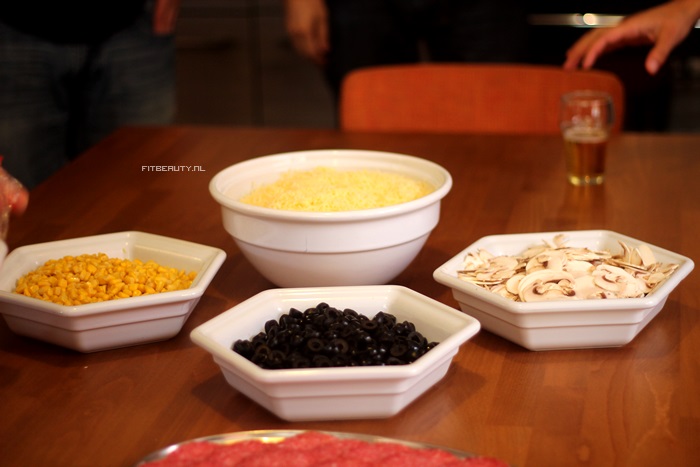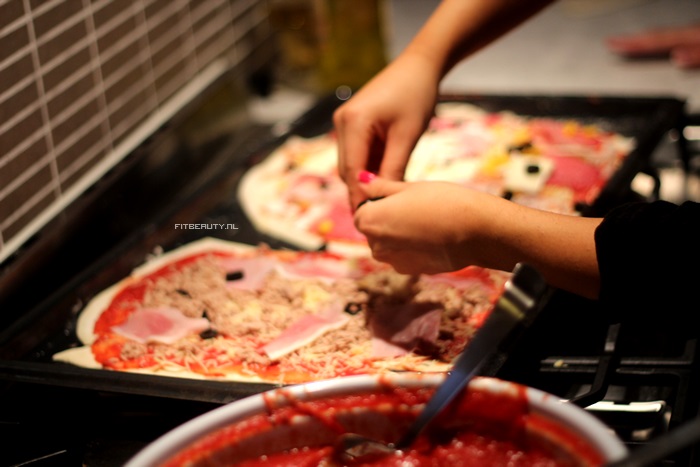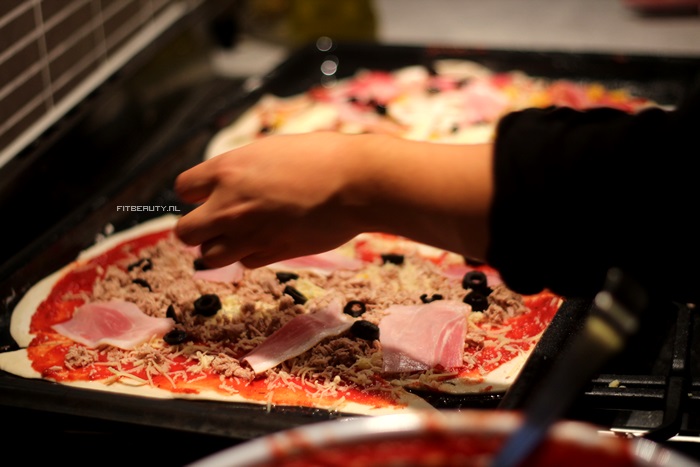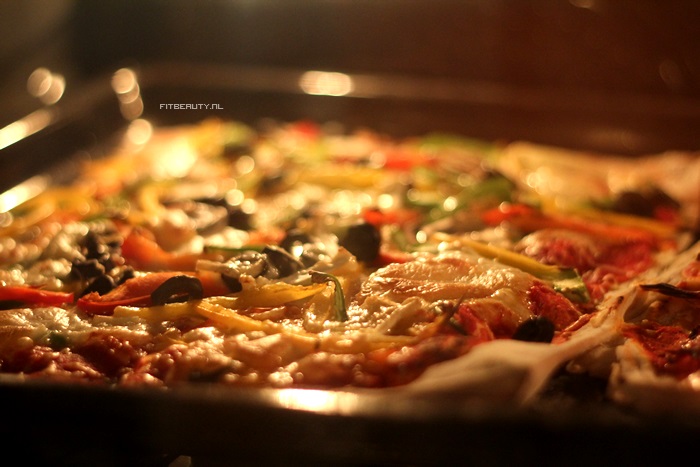 Oeh! 😀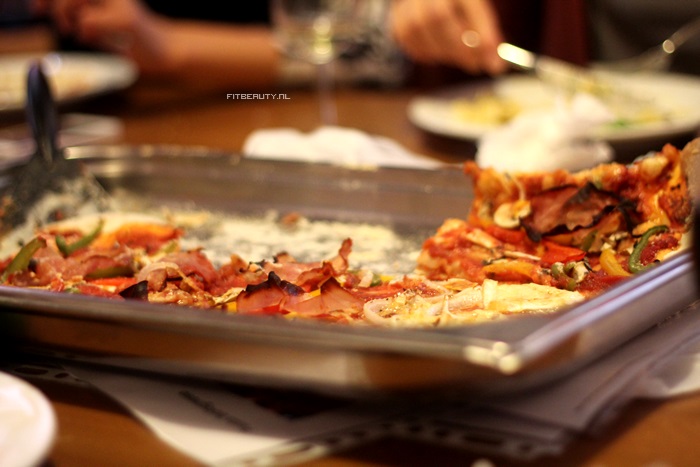 Het was heerlijk!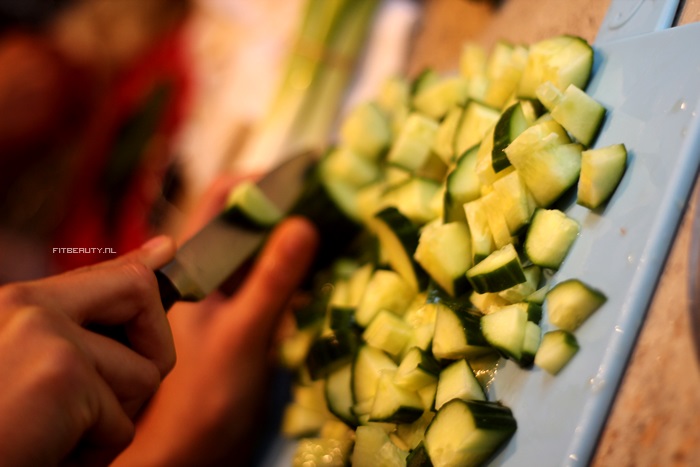 Salade in the making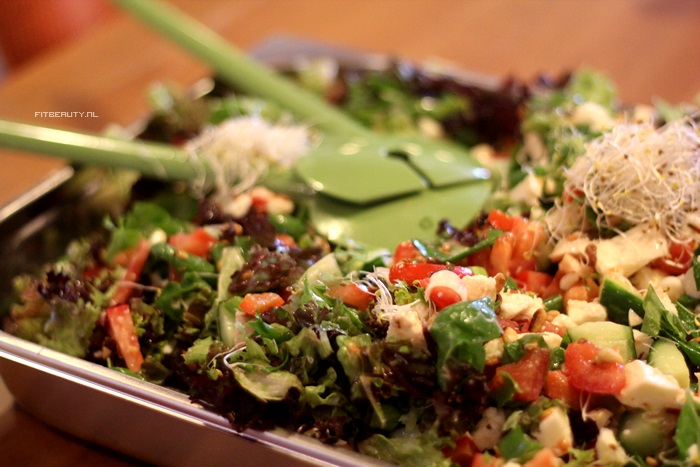 Deze salade was echt geweldig!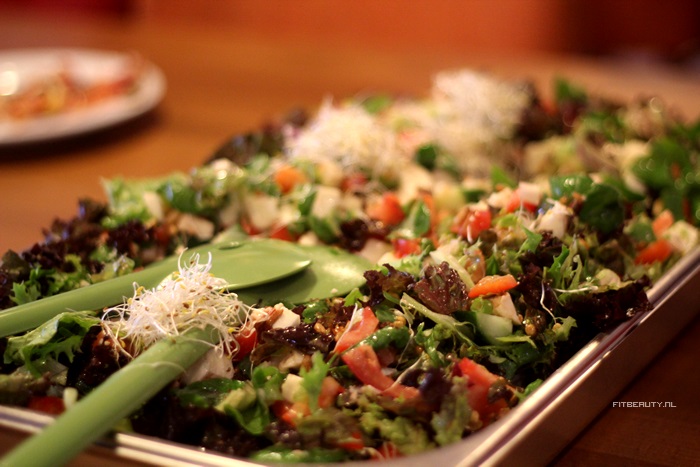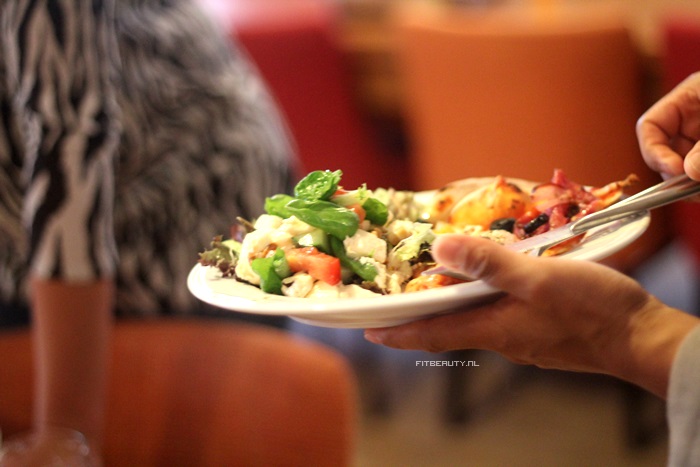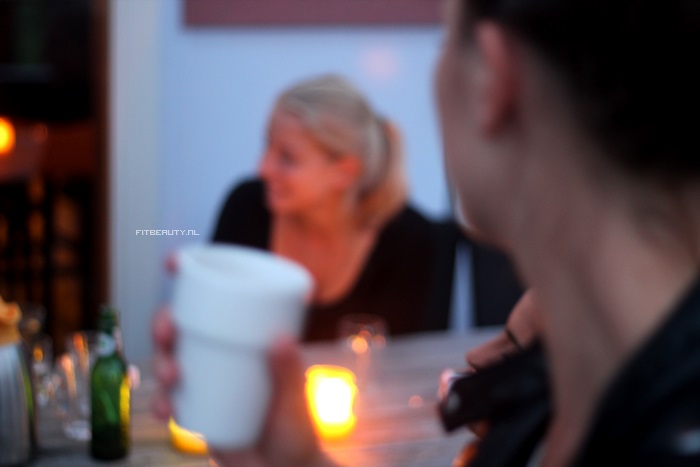 Het wordt donker dus langzamerhand tijd om te beginnen met het feestje..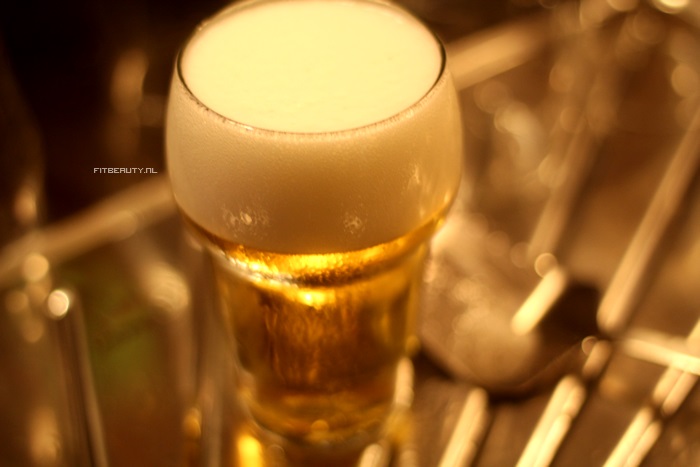 En de drankjes! Ik drink zelf liever geen bier (smaak, geen gezondheidskeuze 😉 ). Dus dit biertje is ook niet van mij, niet elke foto die je tegenkomt is ook iets wat ik daadwerkelijk heb gedronken/gegeten trouwens!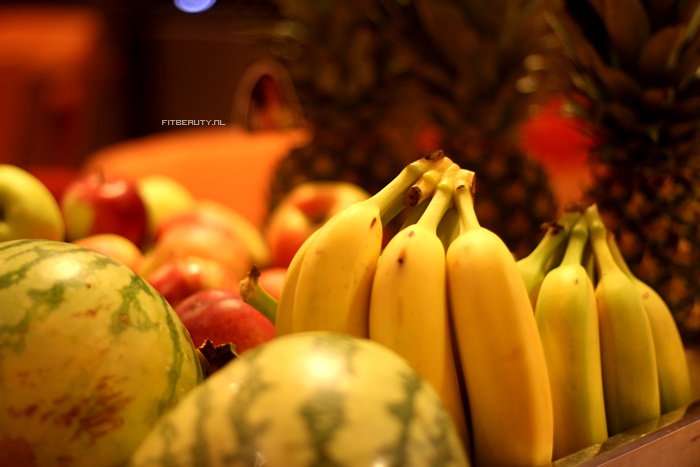 Altijd fruit in overvloed! Zo fijn!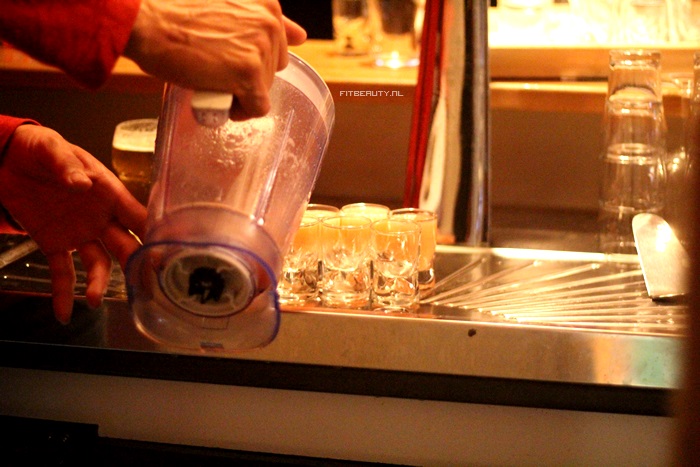 Het werd later en later op de avond en we besloten om een vreemd mixje te maken met wat bevroren aardbeien en wat ander drank dat hier en daar lag. Natuurlijk staat iedereen wel bekend om zijn eigen karaktereigenschappen en hobby's, bij mij is dit vrij duidelijk: voedsel/afvallen/gezond/maarooktaartjesenzo! Ik heb zó gelachen toen dit drankje werd gemaakt in de blender en er op het laatste moment een koekje doorheen werd gedaan en er werd gezegd "pas op, dit drankje is niet glutenvrij!" hahah geniaal!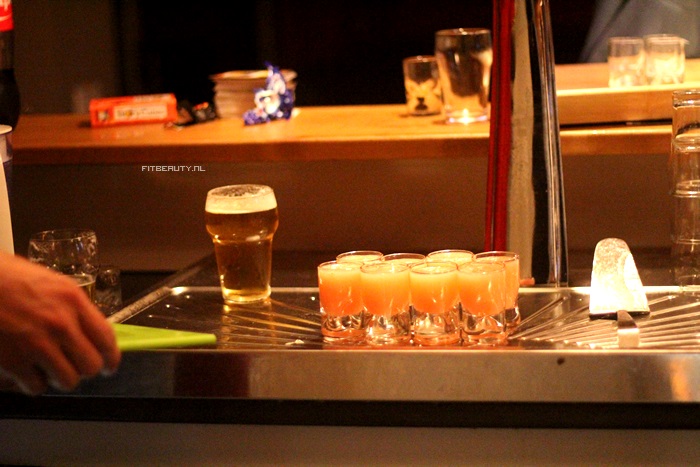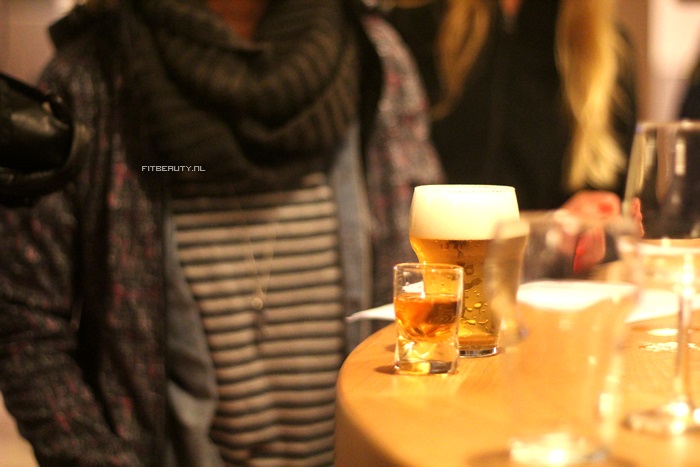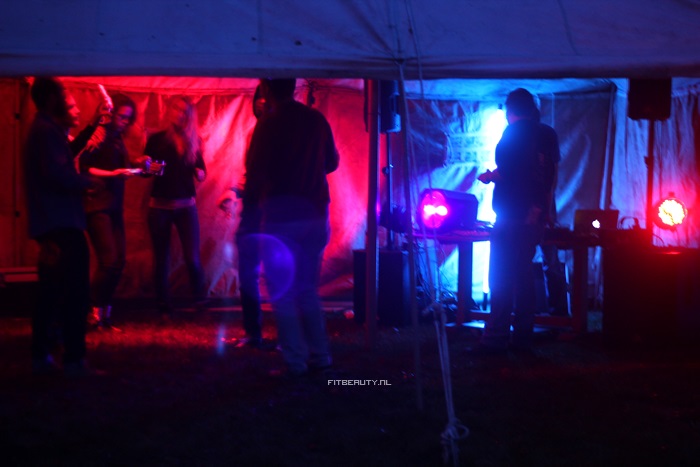 Er worden al wat beatjes gedraaid zodat het al wat warm kan lopen voor het feest helemaal losbarst, haha.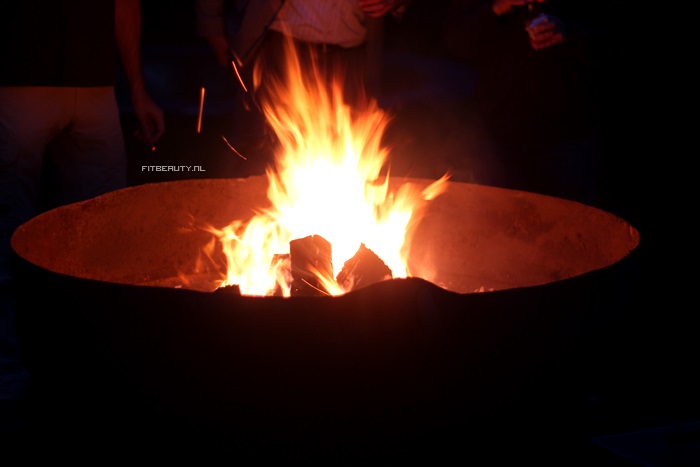 Kampvuurtje voor als je even wilt bijkomen van het dansen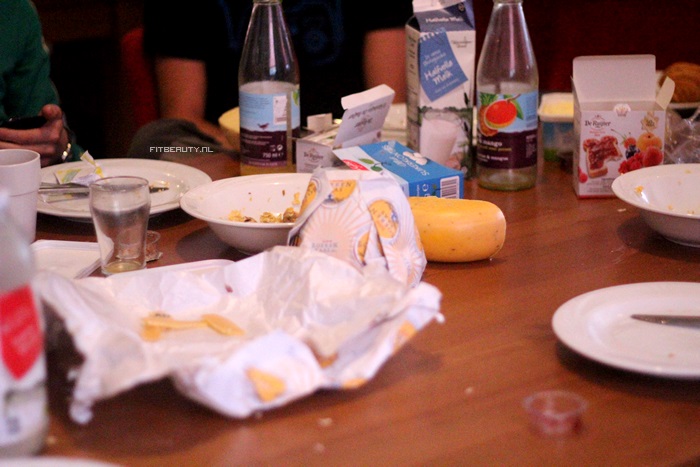 Het ontbijt de volgende ochtend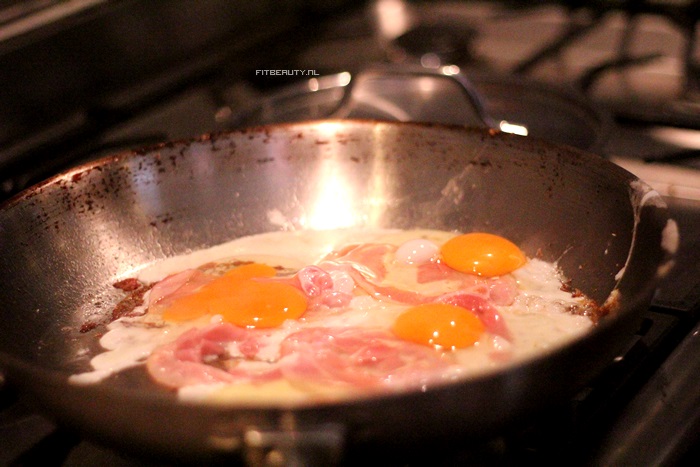 Sommige mensen bakken een ei, met ham. Ik hield het bij beschuitjes!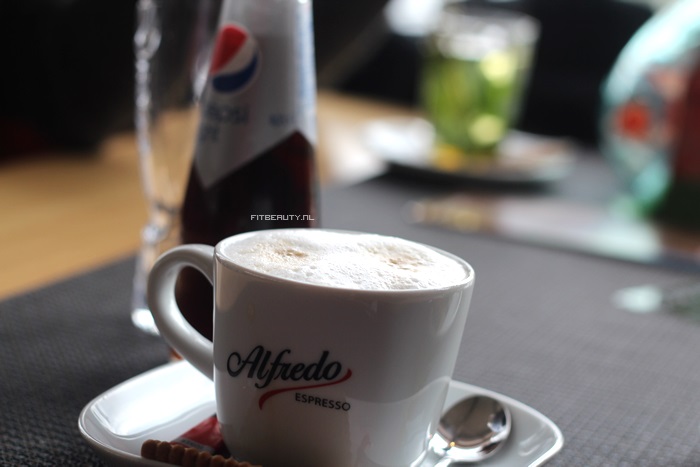 We maakten een boottochtje en vooraf lunchten we in een tentje.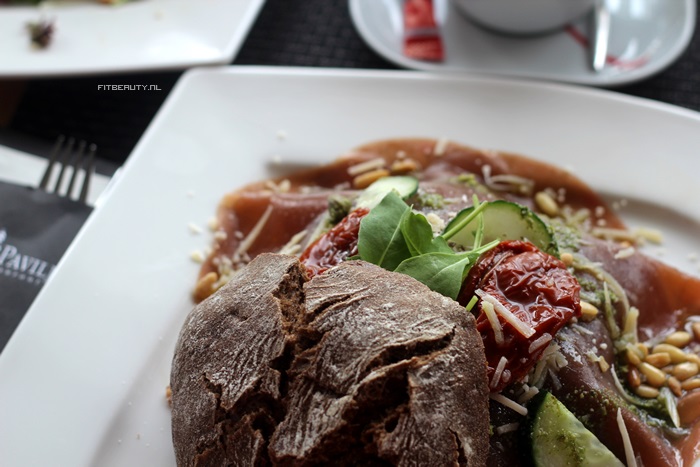 Ik bestelde hier broodje carpaccio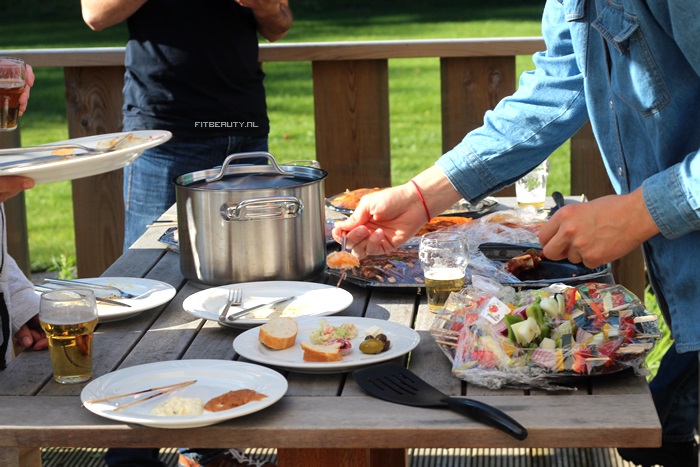 Bij terugkomst gingen we lekker barbecueën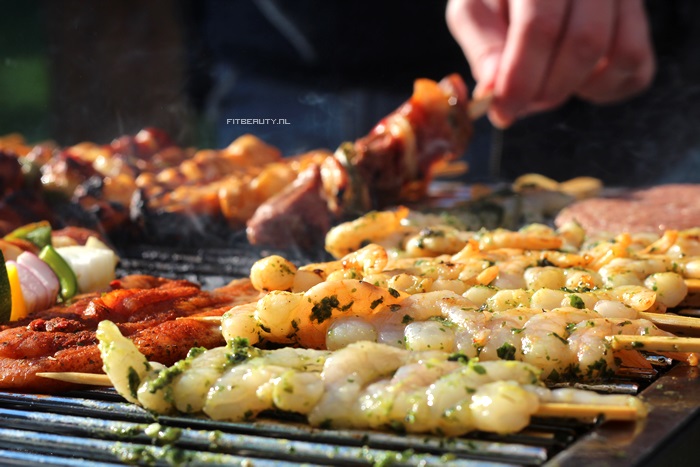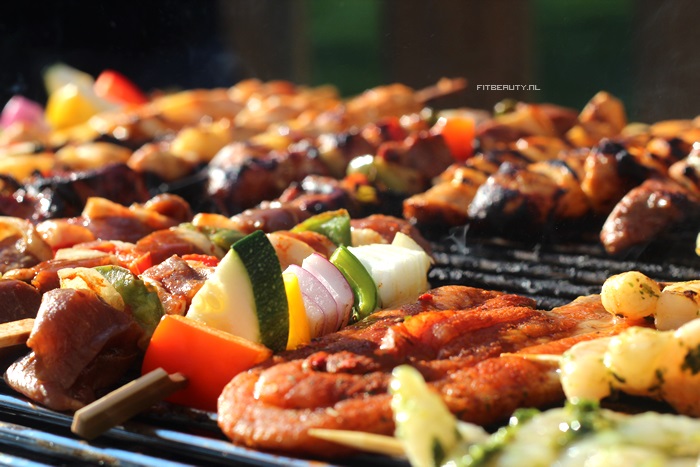 Oeh!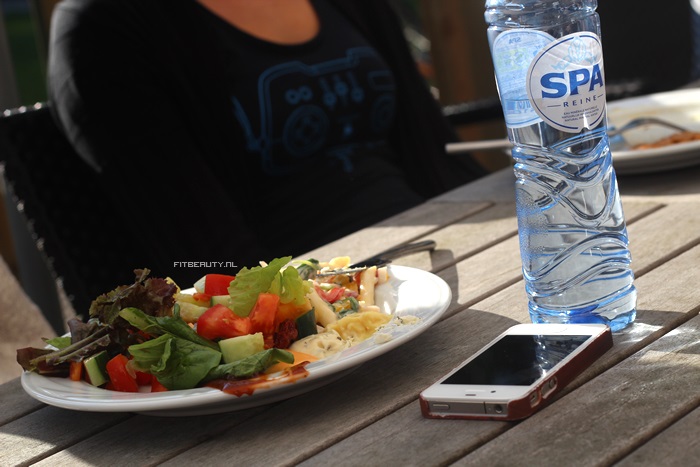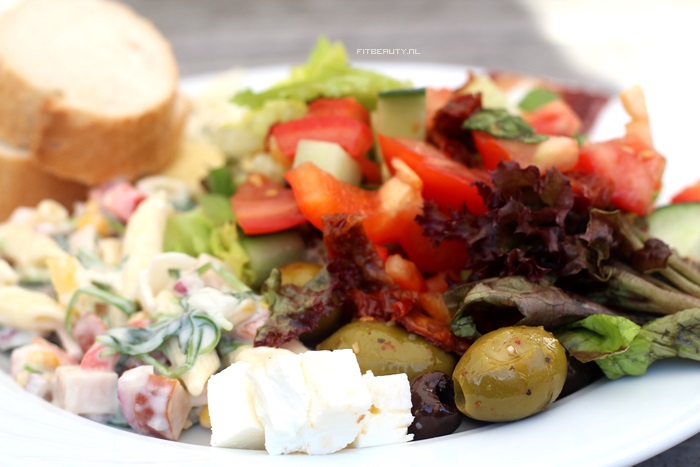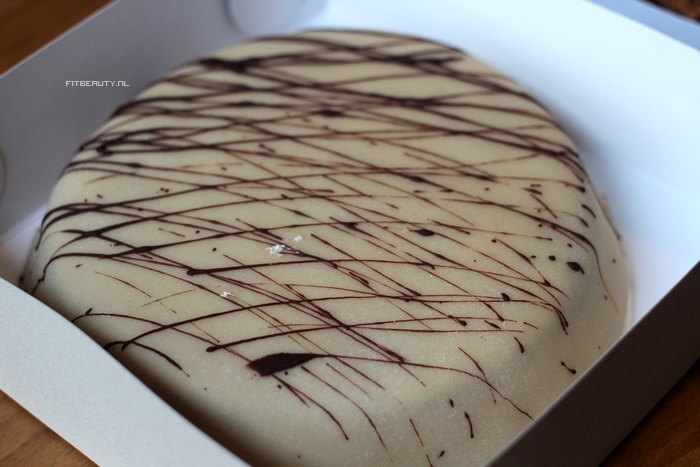 Als toetje waren er twee taarten, en niet zomaar wat taarten! Een perzik-marsepein taart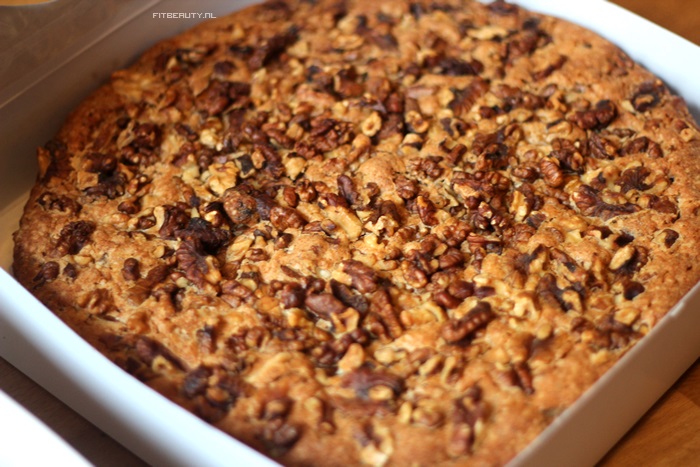 en een walnotentaart! Deze was goddelijk!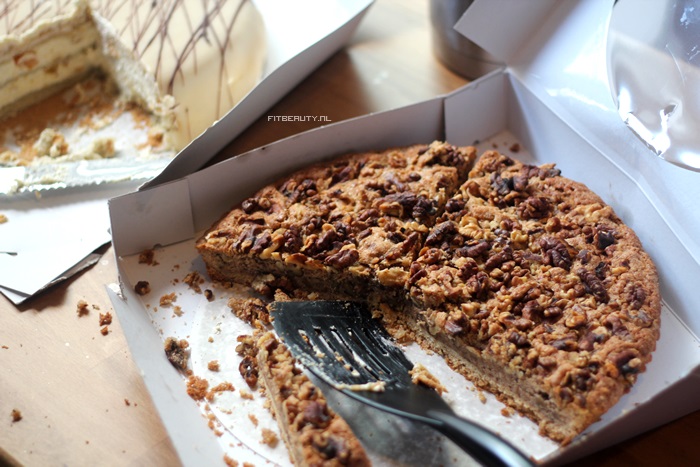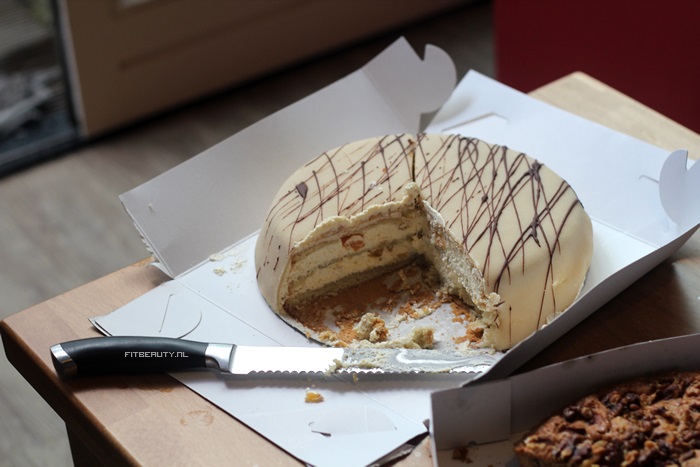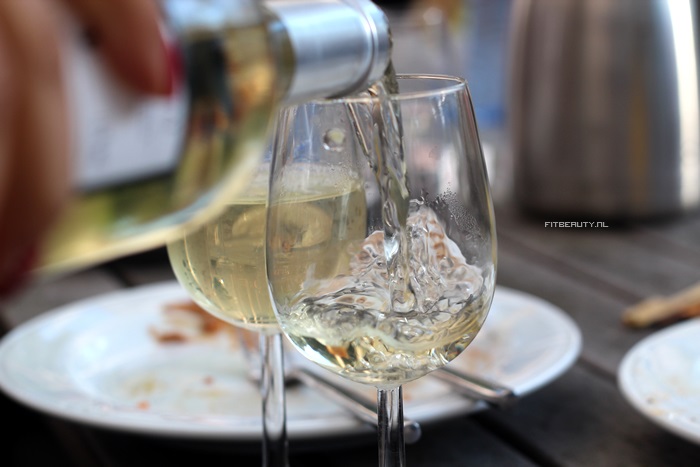 En daar gaan weer wat wijntjes, avond nummer 2 om te feesten!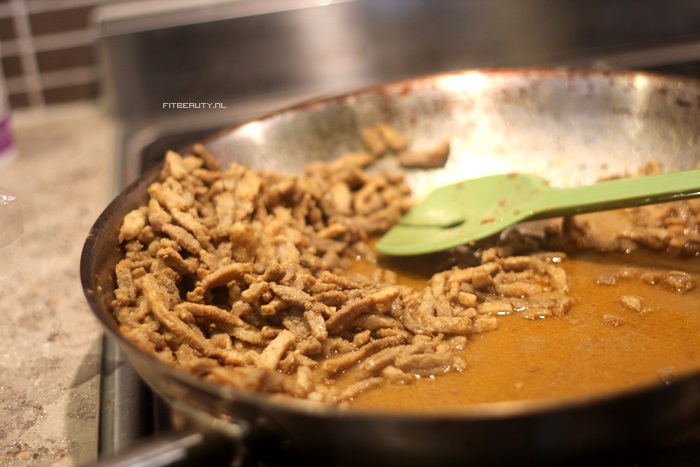 De volgende ochtend aten wat mensen shoarma als ontbijt. Dit is blijkbaar traditie van iemand en hiervoor was van te voren shoarma besteld om het "the day after" als ontbijt klaar te maken! Haha. Ik vind shoarma sowieso niet lekker, dus zonder enige pijn in mn hart afgestaan, haha.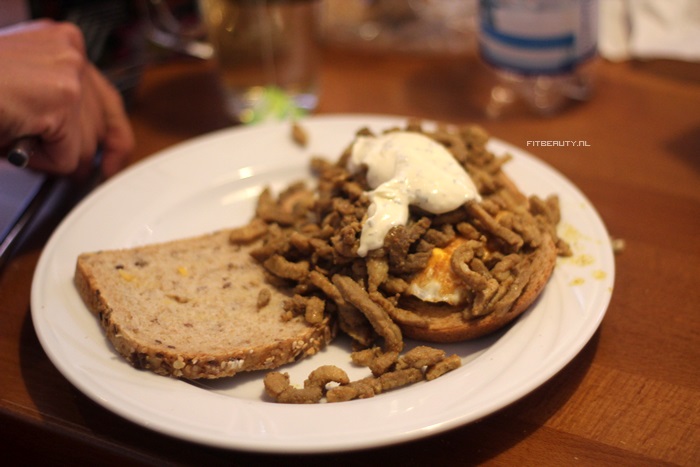 Ik denk dat anderen er voldoende van hebben genoten!
Wat een weekend! Hier gaat nog lang over nagepraat worden en ik ben blij dat ik flink foto's heb kunnen maken; van het eten maar ook van de herinneringen. Dit soort weekenden zijn belangrijk voor mij, het zijn momenten om van te genieten en herinneringen te maken. Druk maken over mijn gewicht of over wat ik wel en niet ga eten staan alleen in de weg van lol hebben met mijn collega's/vrienden, als ik over 20 jaar terug denk aan het weekend, dan wil ik terugdenken aan de geweldige grappen, kattekwaad, feestjes, verhalen, blunders en de spelletjes die we hebben gespeeld. Ik wil niet terugdenken aan een weekend waar ik constant bezig was met wat ik wel/niet "mag" eten en of ik wel/niet blij ben met mezelf en mijn gewicht.
Het blijft altijd een deel van mijn leven en gedachtes, maar ik ben nu op een leeftijd (poeh wat klink ik oud) waarbij ik het niet de overhand laat nemen en het niet de leuke dingen laat verpesten. Want laten we eerlijk wezen, iedereen op deze planeet heeft zijn onzekerheden, als het niet het gewicht is, dan is het vast wel wat anders. En uiteindelijk komt het allemaal op hetzelfde neer: laat je gedachtes niet het echte leven dat zich voor je neus afspeelt belemmeren, waar je ook mee in de knoop zit bij jezelf.
Geniet!