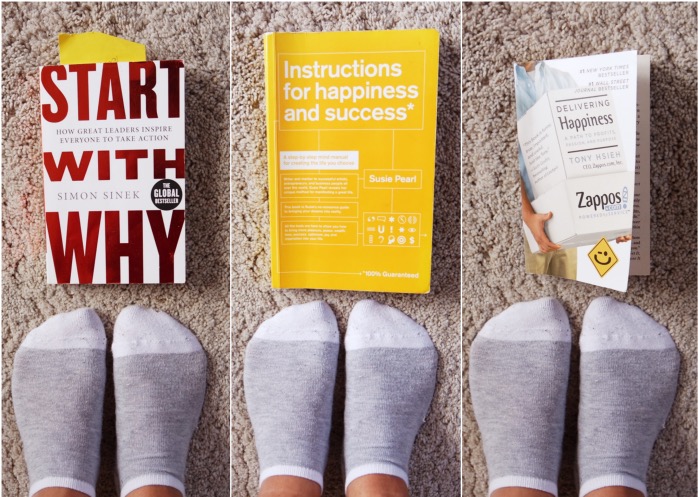 Ik ben niet het type dat een boek in één keer uitleest. Ik heb een boekenkast met half-gelezen boeken waarbij ik om de zoveel tijd weer een bijpak omdat dat boek toevallig aansluit op mijn humeur, doel, motivatie of gewoon op mijn gevoel. Zo lees ik als het ware altijd een aantal boeken door elkaar en dat bevalt me prima.
Op dit moment zijn er 3 boeken die echt de hoofdrol spelen en daadwerkelijk positieve veranderingen in mijn hoofd en gedrag veroorzaken. Extra reden om het met jullie te delen, dit zijn de 3 boeken die ik nu lees en echt AWESOME vind! 
START WITH WHY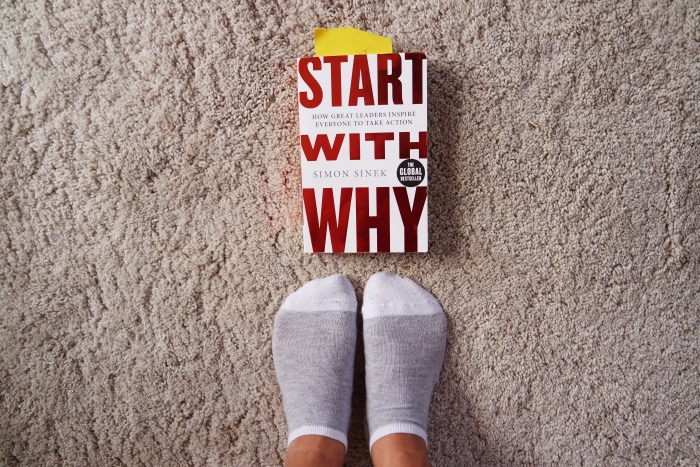 Dit is al heel lang een van mijn favoriete boeken alleen vind ik het lastig om hele hoofdstukken tegelijk te lezen. Het laat aan de hand van talloze voorbeelden zien waarom sommige mensen en ook bedrijven op de één of andere manier succesvoller zijn dan andere mensen en bedrijven. Hoe is het mogelijk? Wat is het verschil? Wat wordt er anders gedaan?
"Because in business it doesn't matter what you do, it matters why you do it"
En vandaar de titel "start with why". Waarom wil je je droom achterna? Is het geld? Is het vrijheid? Is het omdat je verschil wilt maken? Belangrijk boek om na te gaan wat echt je intentie is. Door het gebruik van vele voorbeelden uit het dagelijkse leven en bestaande bedrijven krijg je een goed beeld van waarom sommige bedrijven het stiekem toch beter doen.
"When the WHY goes, WHAT is all that you have left" – Simon Sinek
Delivering Happiness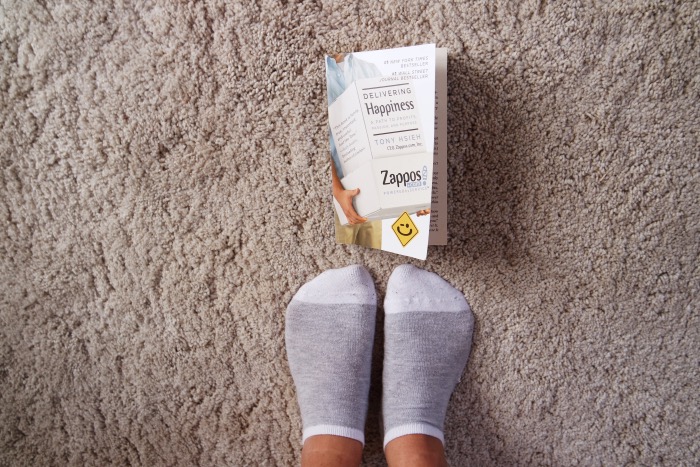 Een jaar geleden toen de grootte van mijn blog ineens bij mijn collega's en directeur begon op te vallen kreeg ik ineens een pakketje afgeleverd met dit boek. Ik wist het direct; deze is afkomstig van mijn directeur! Toen ik het hem vroeg was dit ook zo. Wat een support voelde ik! Het heeft me 9 maanden gekost om het uiteindelijk op te pakken en te lezen omdat het een klein, compact maar echt dik boek is. Ik had het zelf nooit uit de schappen gepakt maar inmiddels is het een beetje mijn houvast in deze periode. Zo ga ik dus "op gevoel" af wat betreft het lezen van boeken.
"A path to profits, passion, and purpose"
Klinkt bekend? Het komt een beetje overeen met het vorige boek. Ook hier wordt weer laten zien hoe een bepaald bedrijf, in dit geval Zappos.com, succesvol is geworden met de focus op het gelukkig houden van je personeel, goede arbeidsvoorwaarden, een onderliggende passie en vooral een doel dat bijdraagt aan een betere maatschappij. Geen achterbaks gedoe, geen manieren om klanten en medewerkers te manipuleren. Ik ben blij dat nogmaals bewezen wordt dat deze insteek ontzettend belangrijk is voor langdurig succes. Het mooie vind ik ook dat de schrijver begint met het beschrijven van zijn leven, opgroeiend in een Aziatisch gezin in Amerika waarbij de eisen vrij hoog zijn voor het behalen van hoge cijfers, naar een goede school gaan en het bespelen van een muziekinstrument op hoog niveau.
Hij vertelt hoe hij hiermee is omgegaan en daarnaast heeft geprobeerd op verschillende manieren bedrijfjes op te zetten. Faal na faal na faal na faal na faal. En precies dat, vind ik inspirerend. We denken vaak dat succes één rechte lijn omhoog is, maar Tony Hsieh laat zien hoeveel 'geniale' ideeën hij heeft gehad, hoevaak dit is gefaald en hoevaak hij gewoon weer opnieuw, wat anders is gaan uitproberen. Zonder zich zorgen te maken over zijn 'reputatie' of de mening van anderen. PRACHTIG. Daar word ik nou blij van 🙂
Instructions for happiness and success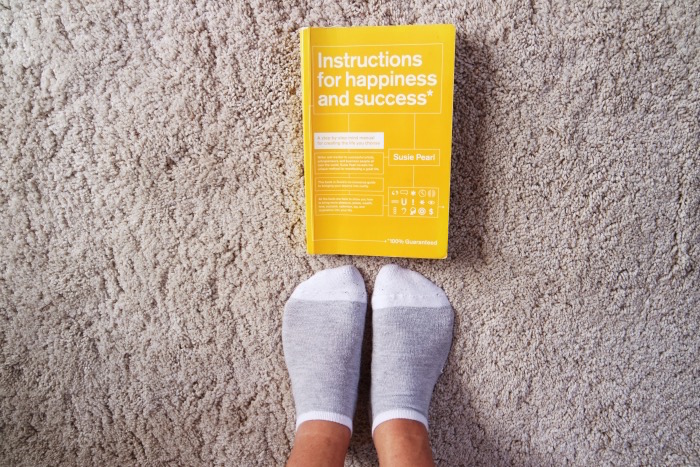 Oké dit boek heb ik wel uitgelezen en dit boek heeft een speciaal plekje in mijn hart. Hoe cheezy de titel ook is, dit is het boek dat ik kocht vóórdat ik The Secret kende. Dit boek heeft mijn leven in beweging gezet in een periode waarin ik alleen maar huilbuien had (dit komt terug in mijn eigen boek, haha). Het gaf me voor het eerst inzicht in hoe je denkwijze je leven kan beïnvloeden. Het was een perfect opstapje naar de boeken van The Secret omdat dit boek stap voor stap alles langs gaat en je ook nog eens praktisch op weg helpt. Check even de binnenkant: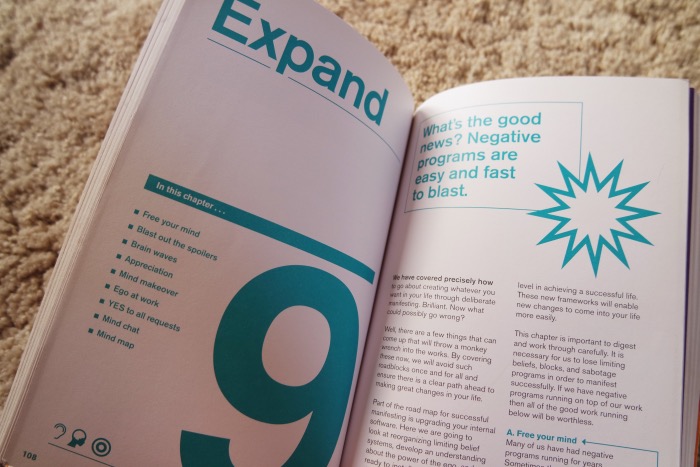 Het is heerlijk overzichtelijk met duidelijke termen, regels aan de onderkant waar je notities kunt maken, uitklapbare 'worksheets' en ook nog een audio tool online voor verschillende hoofdstukken. Je wordt dus echt aan het werk gezet in plaats van dat je een boek leest en denkt: "Oja, dat ga ik doen als ik thuis ben" en het vervolgens vergeet.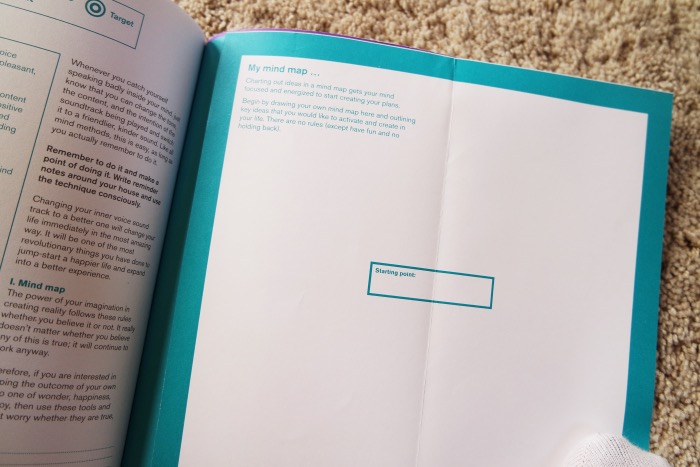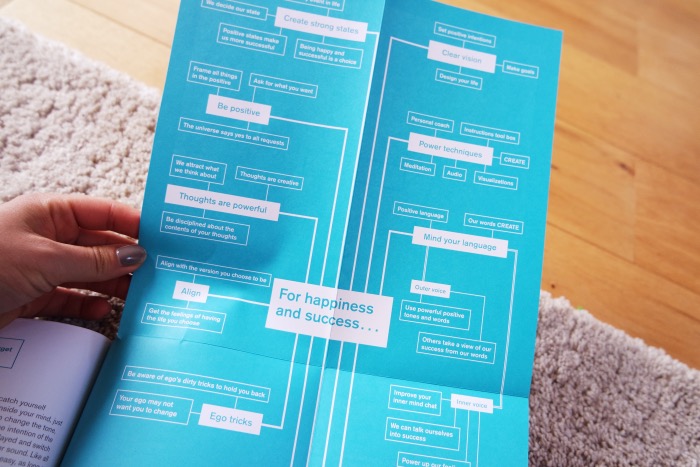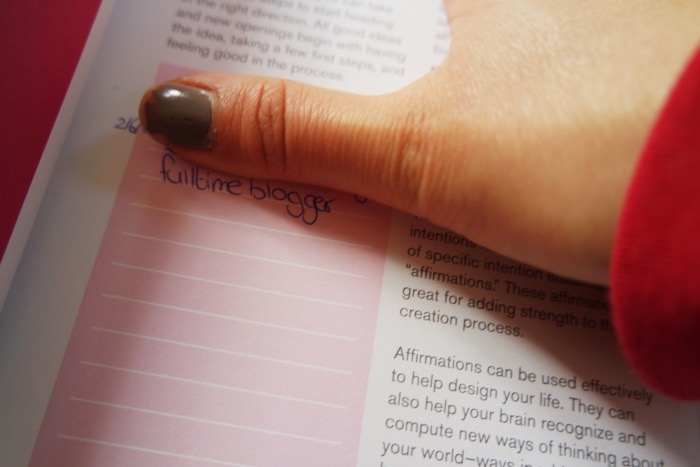 Haha, het kon ook niet anders he 😉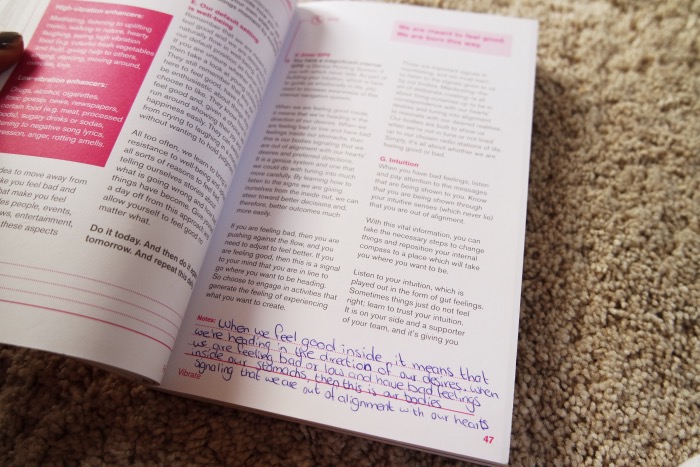 En zo schreef ik ook wat stukken over uit het boek die ik wilde onthouden. Geloof me, als je een beetje nieuwsgierig bent naar 'the secret' methode en denkwijze maar je vindt die boeken nog wat 'zweverig'; lees dan eerst deze! Mijn gouden tip, als ik die mag meegeven dan 😉
Hopelijk zitten er wat boeken tussen die je niet kende of nieuwsgierig naar was! En misschien heb jij zelfs tips voor mij en anderen; let me/us know! 🙂