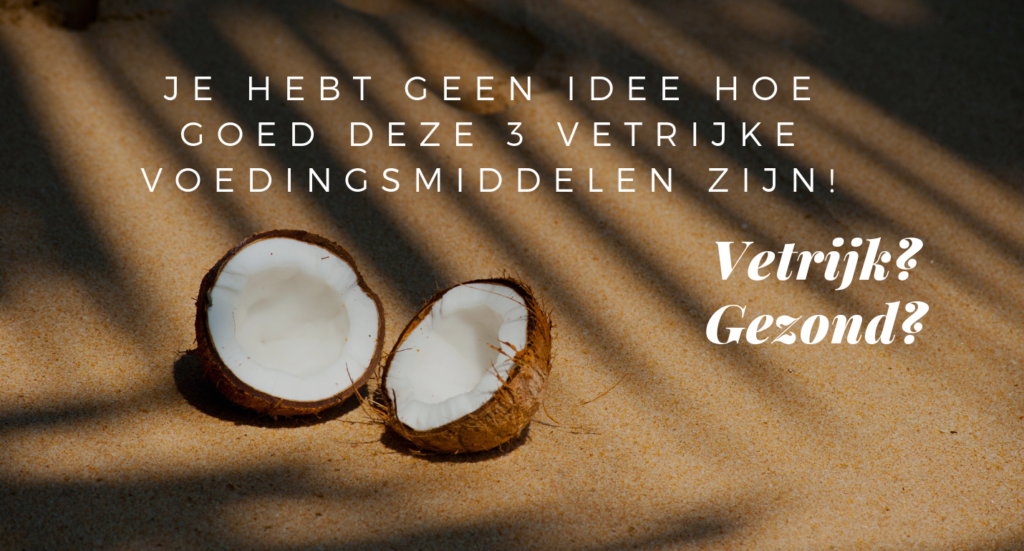 Ik krijg nog steeds wel eens vragen over avocado's en noten, of ik niet bang ben dat ik teveel aankom door ze te eten. Dat zou betekenen dat alles dat veel calorieën en/of vet bevat je automatisch dik zou maken, of de kans op aankomen zou verhogen.
Hoewel dat enerzijds logisch klinkt, want hoe meer calorieën je binnen krijgt, hoe groter de kans op aankomen als je deze calorieën niet verbrandt. Maar anderzijds is het geheel afhankelijk van waar die calorieën dan vandaan komen. Niet elk voedingsmiddel is namelijk gelijk. Het ene voedingsmiddel met veel vet (patat) kan heel anders reageren in je lichaam dan het andere voedingsmiddel met veel vet (avocado). Vandaag ga ik je hopelijk wat gerust stellen met 3 voedingsmiddelen die VEEL vet bevatten maar zo ontzettend goed zijn voor je lichaam.
Echt. Maar echt.
1. Avocado
Natuurlijk moet de avocado op nummer één staan. Een avocado bestaat voor ongeveer 77% uit vet (1). Het grootste gedeelte van dit vet is enkelvoudig onverzadigd vet genaamd oliezuur. Dit is ook het soort vet dat in olijfolie voorkomt en geassocieerd wordt met talloze gezondheidsvoordelen (2)(3). Avocado's zijn één van de beste bronnen voor kalium uit je voeding, ze bevatten 40% meer kalium dan bananen – die al als een hoge 'kaliumbron' wordt gezien. Ook bevatten avocado's geweldige vezels – ze kunnen hierdoor je LDL waardes (slecht cholesterol) en triglyceriden in je bloed verlagen en tegelijkertijd je HDL (goed cholesterol) verhogen (4)(5)(6).
Als je bang bent om ze te eten om aan te komen, dan heb ik hier een interessant onderzoek waarbij wordt geconstateerd dat mensen die avocado's eten minder wegen en minder buikvet hebben dan mensen die ze niet eten (7). Dit hoeft niet per se wat te zeggen en is natuurlijk een vrij simpel onderzoek, maar het geeft wel een hele belangrijke indicatie en weet je welke dat is? Dat mensen die zich niet zo druk maken om vet of elke calorie, veel meer geneigd zijn te eten wat goed voor ze is en niet te 'overeten' (als we het even over gezond eten hebben). Als je je druk maakt om een gezond voedingsmiddel die volgens jou op zichzelf 'dikmakend' is, dan is je relatie met eten verstoord. Daar zit dan het probleem, niet in de avocado (of noten of wat dan ook) 😉
Avocado consumption is associated with improved overall diet quality, nutrient intake, and reduced risk of metabolic syndrome. Dietitians should be aware of the beneficial associations between avocado intake, diet and health when making dietary recommendations.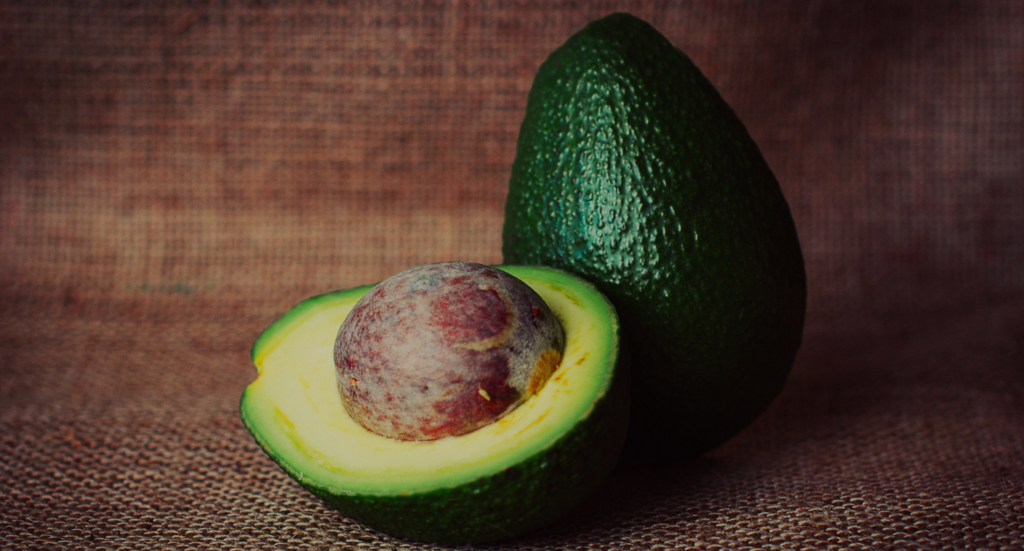 2. Pure Chocolade
Ja! Er staat chocolade in dit rijtje en absoluut met een reden. Chocolade bevat vet, dat weten we allemaal. Maar waar pure chocolade (met minstens 70% cacao) voornamelijk mee komt, in tegenstelling tot melk en wit, is een mindere hoeveelheid suiker en meer cacao. Ongeveer 65% van de calorieën van pure chocolade komen uit het vet. Het bevat zo'n 11% vezels en meer dan 50% van de ADH (aanbevolen dagelijkse hoeveelheid) ijzer, magnesium, koper en mangaan (9). Ook bevat het ontzettend veel antioxidanten, zoveel dat het in het rijtje met bessen komt te staan (voornamelijk bosbessen) en dat betekent écht wat! (10)
Uit een paar onderzoeken blijkt dat mensen die 5 of meer keer per week pure chocolade eten een lager risico hebben op het overlijden door een hart- en/of vaatziekte vergeleken met mensen die geen pure chocolade eten (11)(12).
Het is een beetje een gekke uitspraak, maar dit soort onderzoeken zijn vooral fijn om als inspiratie te hebben van hoe een eventueel voedingspatroon het beste kan zijn voor de gezondheid. Of zoals deze kleinere onderzoeken die laten zien dat pure chocolade je brein functie zou kunnen verbeteren en je huid kan beschermen van schade door de zon (13)(14).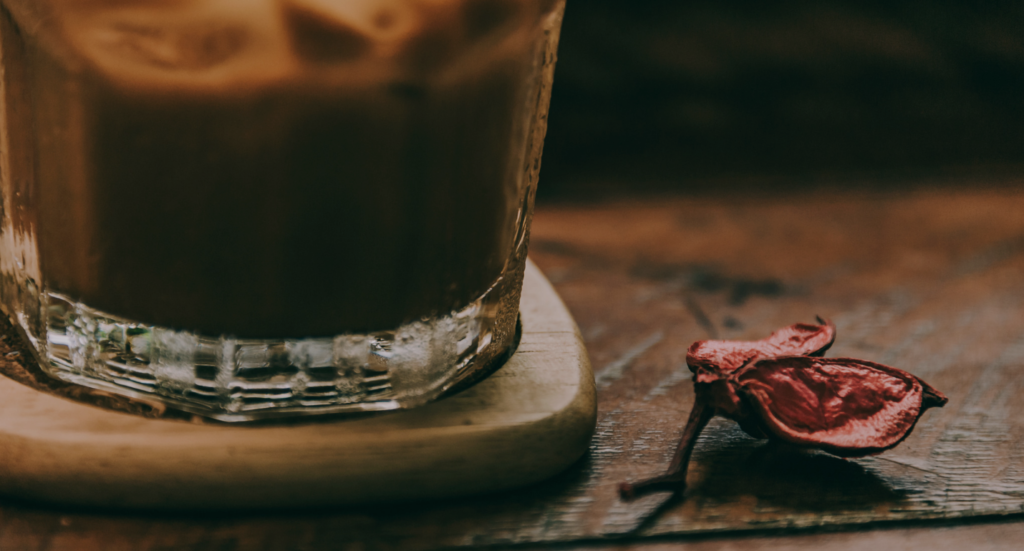 3. Kokosnoot en Kokosolie
Dit goedje is een van de rijkste bronnen van verzadigd vet op onze planeet. Sterker nog, zo'n 90% van de vetten in een kokosnoot en kokosolie zijn verzadigde vetten. Nu denk je waarschijnlijk – dat is toch helemaal niet gezond?
Ik ben sinds enkele jaren een grote voorstander van verzadigd vet uit natuurlijke voedingsmiddelen, zoals kokosolie. Ik pleit voor meer verspreiding van informatie en wat is de beste manier om dat te bewerkstelligen? Door het zelf ook te verspreiden, wel onderbouwd met wetenschappelijk onderzoek natuurlijk. Zoek op "verzadigd vet" in het zoekbalkje op mijn site en lees talloze artikelen die wetenschappelijk zijn onderbouwd. Vandaag wil ik weer enkele nieuwe onderzoeken delen met je.
Want hoe gek is het dat gehele populaties die een grote hoeveelheid kokos en kokosolie nuttigen géén hoge hart- en vaatziekte cijfers kennen? Sterker nog, ze zijn kerngezond (15)(16).
Vascular disease is uncommon in both populations and there is no evidence of the high saturated fat intake having a harmful effect in these populations."
Tubers, fruit, fish and coconut are dietary staples." .. "Stroke and ischaemic heart disease appear to be absent in this population."
De vetten in kokosvet zijn anders dan in de meeste oliën, ze bevatten namelijk een grote hoeveelheid middel keten vetzuren. Deze vetten worden anders gemetaboliseerd, ze gaan rechtstreeks naar de lever waar ze als directe energie gebruikt kunnen worden of omgezet worden tot ketonen.
Uit dit mini onderzoekje blijkt dat middel keten vetzuren de eetlust remmen en je kunnen helpen om over de dag minder calorieën binnen te krijgen (17). Alsof dat nog niet genoeg was kunnen ze je stofwisseling ook nog eens een boost geven tot wel 120 calorieën per dag (18). Lees even de conclusie van het onderzoek om te begrijpen hoe zwaar of mild je het wilt opvatten;
This study suggests that relatively low-to-moderate intake of MCT (15-30 g per day) as part of habitual diet may play a role in the control of human body composition by enhancing daily EE (energy expenditure), and that this effect is mediated at least in part through activation of the sympathetic nervous system.
Uit andere onderzoeken blijkt dat deze type vetten positief kunnen zijn voor mensen met Alzheimer maar dat ze ook kunnen helpen bij het verliezen van buikvet (19)(20).
It appears that dietetic supplementation with coconut oil does not cause dyslipidemia (aandoening waarbij men hoge concentraties triglyceriden, vrije vetzuren en LDL-cholesterol, wat slecht is, en lage concentraties HDL-cholesterol, wat juist goed is, in het bloed heeft)  and seems to promote a reduction in abdominal obesity.
Allemaal aan de kokosolie dus! 😉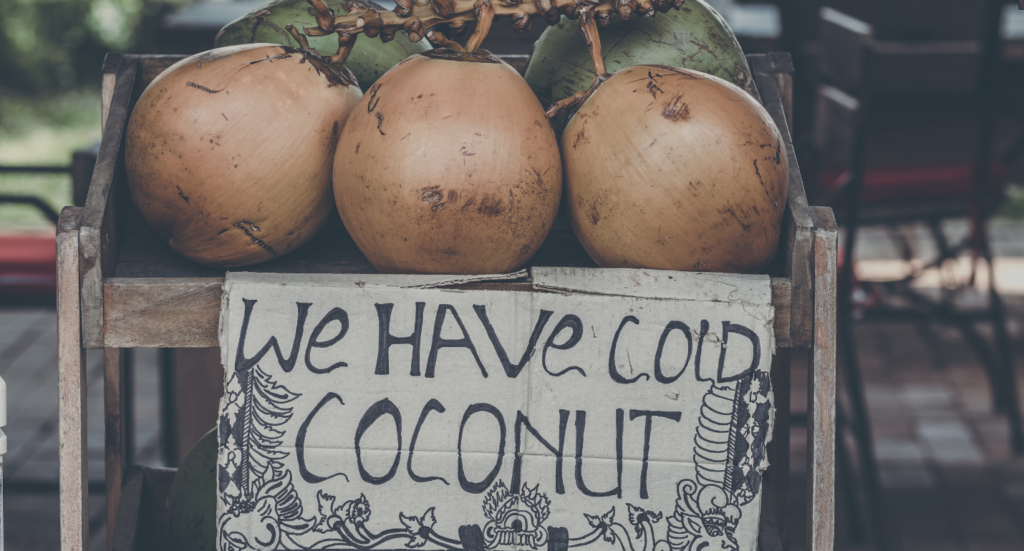 Wat betekent dit nu voor jou?
Wat ik hopelijk heb kunnen overbrengen met dit artikel is dat het niet altijd maar gaat om hoeveel calorieën je binnen krijgt en vanuit dit perspectief je voedingsmiddelen te kiezen (dan eindig je met gelatine pudding) maar dat je bewust je voedingsmiddelen kunt kiezen op basis van je behoefte, wat je lekker vindt en de gezondheidsvoordelen – hiermee creëer je een voedingspatroon dat meestal uit zichzelf zal aanpassen aan je calorische behoefte. Waarom? Omdat het je lichaam zal voeden met alle benodigde voedingsstoffen waar je lichaam naar verlangt. Je kunt jezelf leren begrijpen hoeveel calorieën deze voedingsmiddelen bevatten en hoe je dit het beste kunt integreren in je voedingspatroon als je je druk maakt om aan te komen bijvoorbeeld.
Benader het geheel luchtig, soepel en met flow. Je lichaam zal dan eerder meewerken dan wanneer je constant stresst over elke hap die je van iets neemt met de gedachte dat het allemaal 'perfect' moet zijn. Voeding is iets om je lichaam mee te voeden en van te genieten, niet iets om controle over te hebben en wanneer dit 'mis gaat' een schuldgevoel te krijgen.