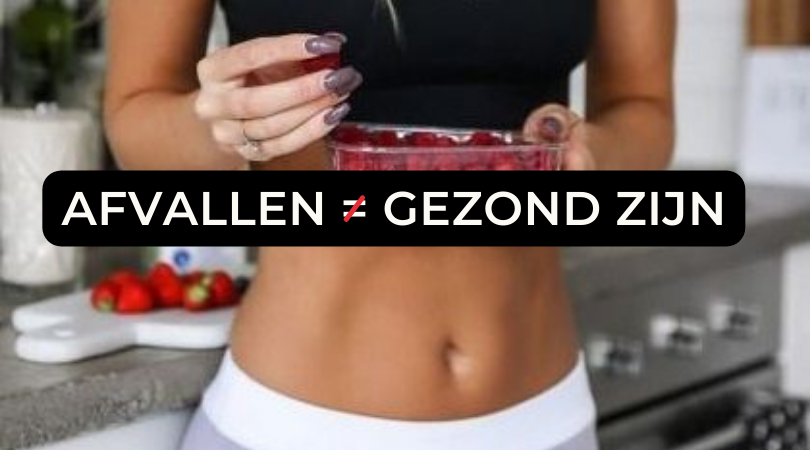 Veel mensen zien nog steeds een slank lijf als gezond. Nee ik zeg het verkeerd, ze zien het als automatisch gezond. Veel mensen gebruiken de termen gezondheid en afvallen ook door elkaar, terwijl het absoluut geen synoniemen van elkaar (hoeven te) zijn.
Als je afvalt, dan is het afvallen een bijproduct van je leefstijl. Je leefstijl hoeft niet gezond te zijn om te kunnen afvallen.
Slanke mensen zijn niet altijd gezond & vice versa
Oftewel, we moeten stoppen met het automatisch bestempelen van 'slanke' mensen als gezond en 'niet slanke' mensen als ongezond. Zo zwart wit is het nou eenmaal niet.
De meeste mensen zien dit dus precies omgekeerd, dat wanneer ze overgewicht hebben – ze automatisch ongezond zijn of overkomen. De kans is zeker groter dat je meer gezondheidsklachten hebt als je overgewicht hebt. Maar wanneer deze mensen vervolgens afvallen, worden ze gezien en gewaardeerd als gezond. Zelfs als ze ongelooflijk ongezonde keuzes hebben gemaakt om af te vallen.
Afvallen gaat vaak gepaard met het ontvangen van complimenten, ook al is afvallen óók een bijproduct van een verslechterde mentale gezondheid of soms zelfs een bijproduct van verschillende ziektes.
En toch, blijven we elkaar complimentjes geven als iemand is afgevallen. Slank zijn lijkt een heleboel gezondheidsfactoren te overtreffen terwijl het niets zegt over iemands leefstijl, fysieke én mentale staat.
Jammer he? Dat we zo'n verward beeld hebben van slankheid.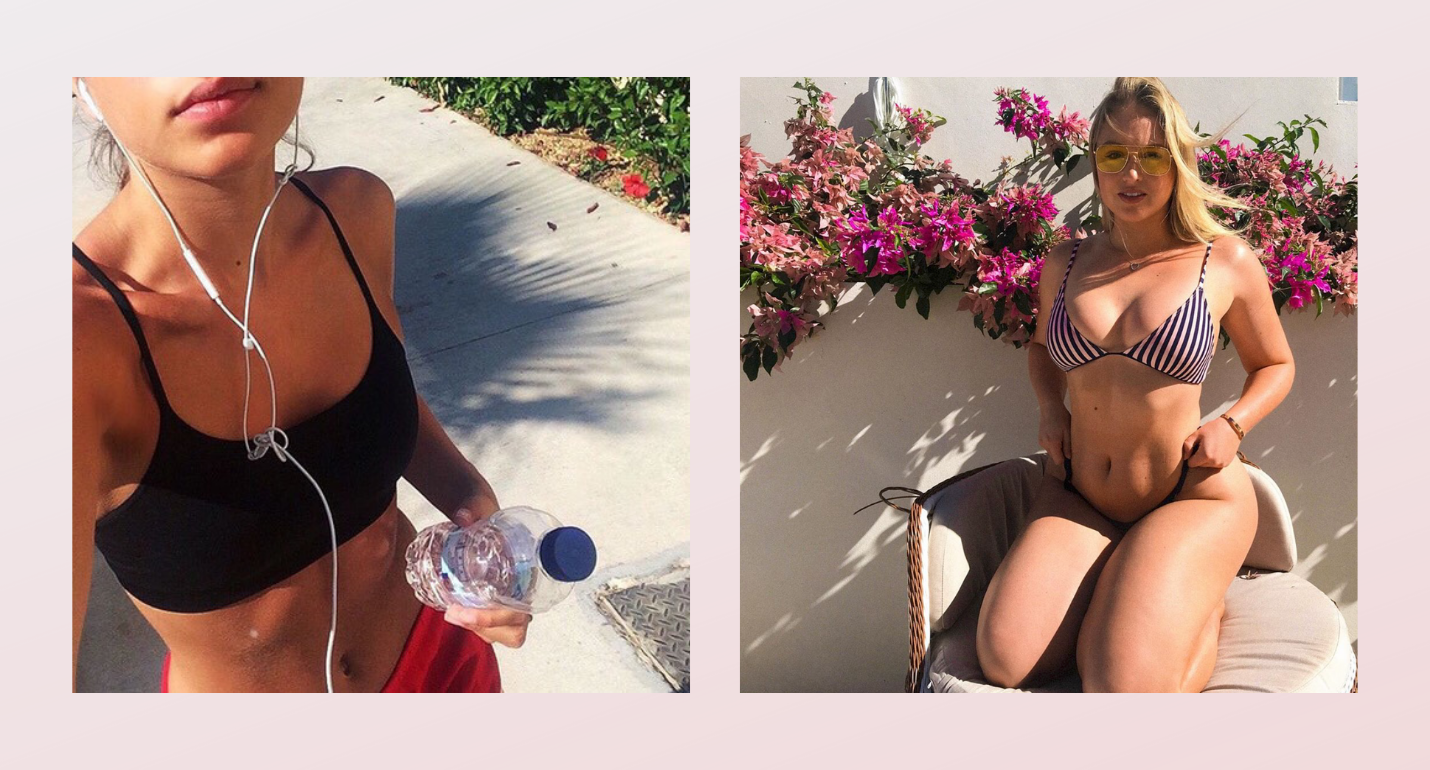 Als je op dit moment kampt met gezondheidsklachten die te wijten zijn aan je leefstijl, dan is je gewicht niet de reden dat je ongezond bent maar je gewoontes. Zelfs als je BMI binnen 'gezond gewicht' valt.
Gewoontes die je aanneemt voor een verbeterde gezondheid, hoeven niet een afvalproces te ondersteunen. Het kán wel, maar het is niet een direct gevolg. Gewoontes die gefocust zijn op afvallen hebben  de weegschaal en calorieën in de basis. Als je deze twee dingen in de basis hebt, is de kans groot dat de keuzes hieromtrent snel richting ongezond gaan. Want ja, waar eindig je als je kijkt naar zo min mogelijk calorieën om zoveel mogelijk te verbranden en het getal op de weegschaal omlaag te zien gaan?
Extreme workouts, bewerkt voedsel met zoetstoffen (nabootsen van suiker) en verdikkingsmiddelen (nabootsen van vet).
De behoeftes van je lichaam kunnen makkelijk worden genegeerd hierin en dat is waarom de combinatie van afvallen en gezond eten zo snel over het hoofd wordt gezien. Of te ingewikkeld met teveel uitzoekwerk wordt gevonden. Dat is het ook, dat snap ik als geen ander. Maar als je er eenmaal in verdiept, dan is elk stukje informatie er weer een. In het Body Boost programma noem ik dit onder andere de bouwstenen voor je leven. In een afvalproces heb je bouwstenen nodig rondom je fysieke gezondheid en je mentale gezondheid, beide zorgen voor langdurig afvallen. Oftewel: elke kilo die je verliest, komt er niet meer bij 'in principe' en dát is het 'geheim' van afvallen.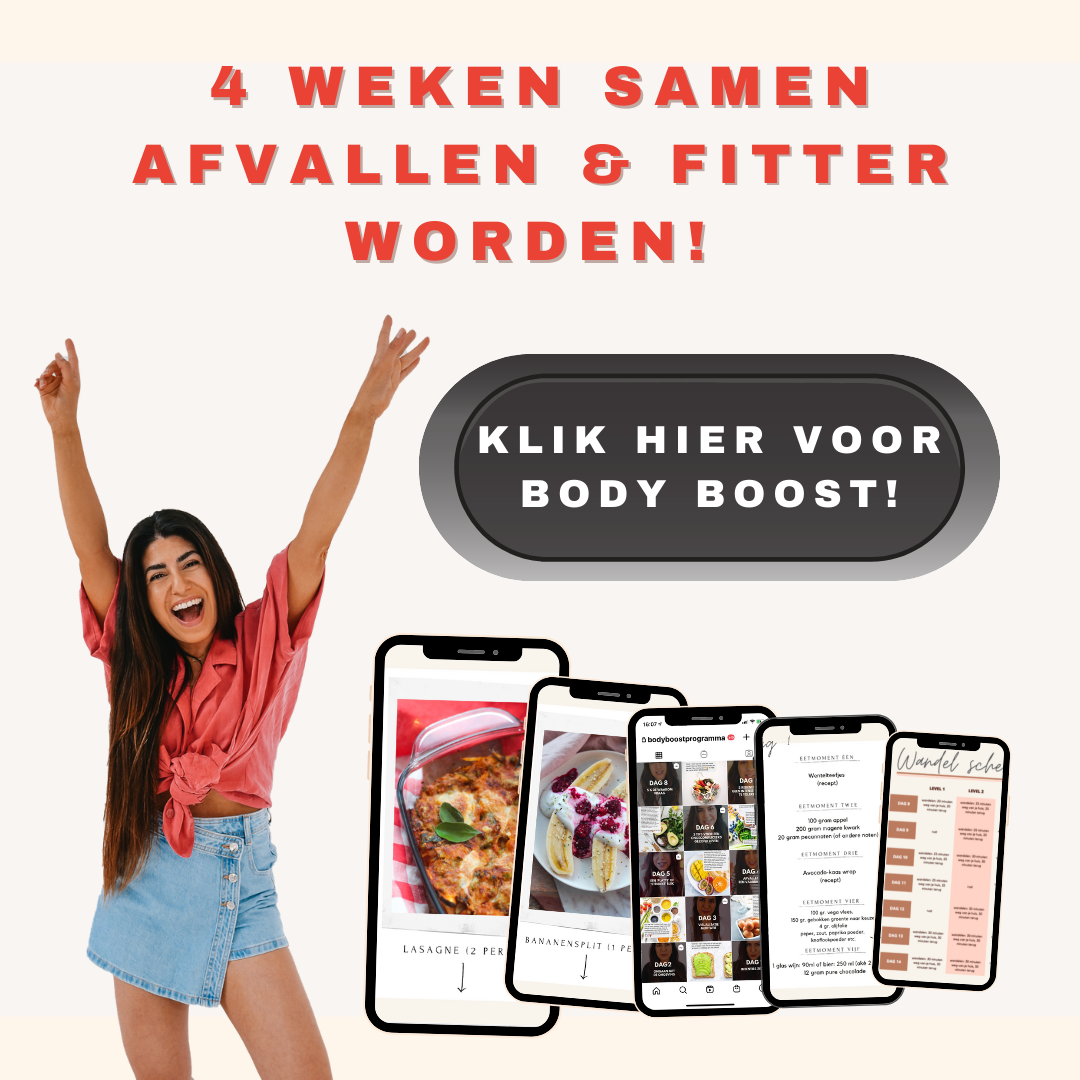 Focus je op je gezondheid. Doe dat als allereerste en kijk dan hoe je kunt fine tunen om af te vallen als je dat wilt. Je speelt anders met je gezondheid en zonder gezondheid, wat heb je dan? Gezondheid is een must, afvallen is een luxe. 😉
Geen idee hoe je dit moet aanpakken? Ik kan je helpen met mijn Body Boost programma waar inmiddels meer dan 250 mensen aan hebben meegedaan!  En als je vragen hebt, stel ze gerust in de comments!