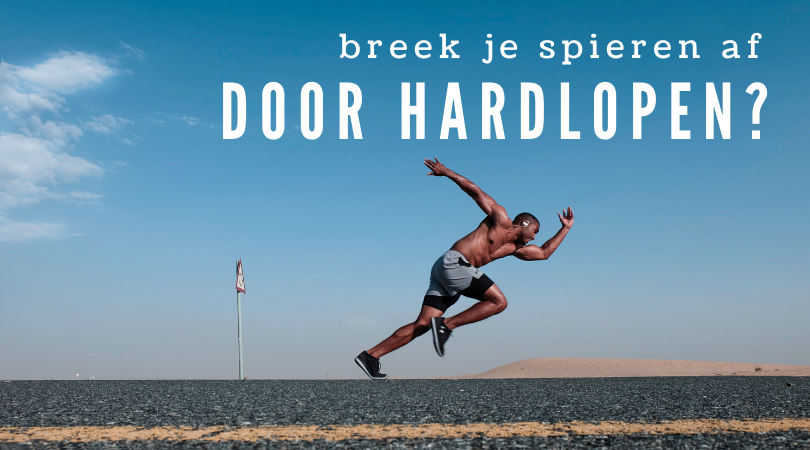 Krachttraining doe je om spieren op te bouwen. Cardio, waaronder hardlopen, doe je om..dat je het leuk vindt?
Dat is een grapje natuurlijk. Er zijn heel veel vooroordelen over cardio en hardlopen, maar feit is dat het een vorm van beweging is wat goed is voor je gezondheid (even een aantal punten zoals je heupen en knieën daar gelaten) maar ook goed voor je mentale staat.
Als je denkt aan een hardloper tegenover iemand die aan krachttraining doet, wat zie je dan voor lichaamsvormen? Meestal zie je bij een hardloper een smaller en minder gespierd persoon voor je, toch?
Hierdoor is het logisch dat sommigen zich afvragen of je door het hardlopen eventuele spiermassa verliest. Op die vraag, geef ik vandaag antwoord.
Hoe hardlopen invloed heeft op je spieren
Hardlopen kan de spieren van je onderlichaam ontwikkelen, maar dit is grotendeels afhankelijk van hoe intens en hoe lang je trainingen zijn.
Een klein onderzoek keek naar mensen die aan HIIT (high intensity interval training) deden met 4 hardloop sets waar ze op hun allerhardst moesten rennen voor 4 minuten, gevolgd door een actieve rust van 3 minuten (1). Na 10 weken van deze HIIT workouts, die ze 3 keer per week deden, bleek dat er een stijging was van 11% in spiermassa in hun quads vergeleken met de controle groep.
Dus je zou kunnen zeggen dat hardloop workouts zoals het sprinten en HIIT kunnen bijdragen aan spiermassa ontwikkeling  blijkend uit dit kleine onderzoek.
Bij aërobe trainingen zoals hardlopen wordt gedacht dat het de spiermassa kan ontwikkelen doordat het bepaalde eiwitten remt die de spiergroei verstoren en hierdoor er minder spieren worden afgebroken (1)(2)(3).
Maar waarom zijn hardlopers over het algemeen dan niet veel gespierder? Hoor ik je denken. 
Dit komt omdat langdurig hardlopen (dus lange afstanden) de spierafbraak significant kan verhogen en het dus heel moeilijk wordt om spieren 'erbij te bouwen'. Dat zou je dan dus op een ander moment moeten doen wanneer je niet aan het hardlopen bent.
Uit een klein onderzoek met 30 amateur hardlopers die 10, 21 of 42 km renden, bleek bij allemaal een significante spiermassa afbraak (4). Hoe langer de loopafstand, hoe meer spiermassa afbraak tot aan 3 dagen na het hardlopen.
Deze resultaten suggereren dat HIIT trainingen en korte loopafstanden spiermassa in de benen kan ontwikkelen en dat lange loopafstanden juist de spiermassa kan afbreken.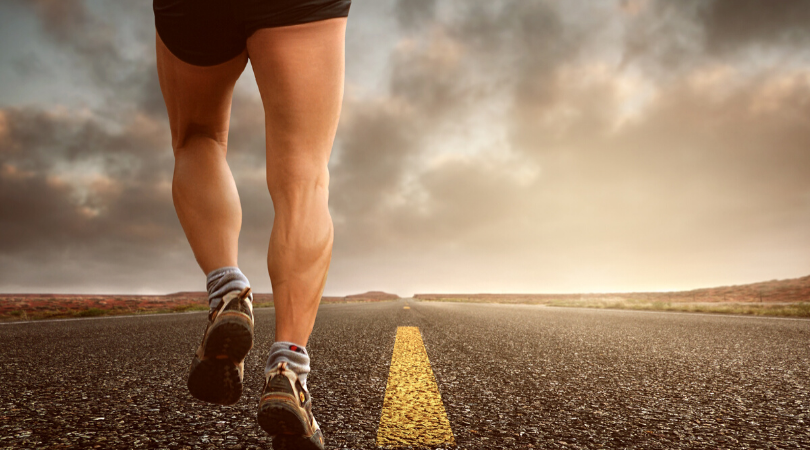 Hoe je lichaam spiermassa opbouwt
Spieren worden opgebouwd doordat eiwitsynthese (opbouw van eiwitten) in de spieren de afbraak van spiereiwit overschrijdt (5). Deze twee processen zijn constant gaande, en het één is op een gegeven moment groter dan het ander. Bij spieropbouw is dus de eiwitsynthese groter.
Eiwit is een belangrijk component van de spieren en kan toegevoegd of verwijderd worden aan de hand van factoren zoals beweging en voeding (6).
Als je over eiwitten denkt als losse bakstenen dan is de eiwitsynthese het bouwen van een muur met die bakstenen. De eiwitafbraak is het stuk maken van de muur, baksteen na baksteen. Als je meer bakstenen plaatst dan weghaalt, word je muur groter.
In andere woorden: om spieren op te bouwen moet je lichaam meer eiwitten opbouwen dan weghalen.
Sporten, voornamelijk krachttraining, is een sterke stimulant om eiwitten op te bouwen en dus meer spieren te ontwikkelen. Ook al is sporten tegelijkertijd ook een stimulant om eiwitten af te breken, de opbouw is groter wat resulteert in meer spieren (5)(7).
Klopt het dus? Conclusie?
Hardlopen kent dus verschillende variaties: van sprinten tot HIIT tot lange afstand hardlopen (zoals 5K, 10K, marathon etc.) Hoe langer de afstand is die je rent, hoe groter de spierafbraak. Maar doe je aan HIIT trainingen of sprinten, dan zal de opbouw van spieren de afbraak overschrijden, dit gebeurt voornamelijk in je beenspieren. Hier ontwikkel je de spieren het meeste in bij het sprinten en HIIT trainingen.
Als je een hardloper bijvoorbeeld vergelijkt met een zwemmer en afvraagt waarom beide vormen van 'cardio' een andere spiermassa met zich meebrengen, dan is de voornaamste reden dat het bij het zwemmen constant aankomt op je spierkracht om water weg te duwen. Dit heb je niet of minder met hardlopen – daar helpt de zwaartekracht je elke keer weer terug naar de grond waardoor je spieren niet op een bepaald level ontwikkeld hoeven te zijn om de sport te kunnen uitoefenen.
Hopelijk geeft dit een beeld van wat verschillende sporten doen met je spieren met de focus op hardlopen.
Vragen? Laat ze gerust achter in de comments!