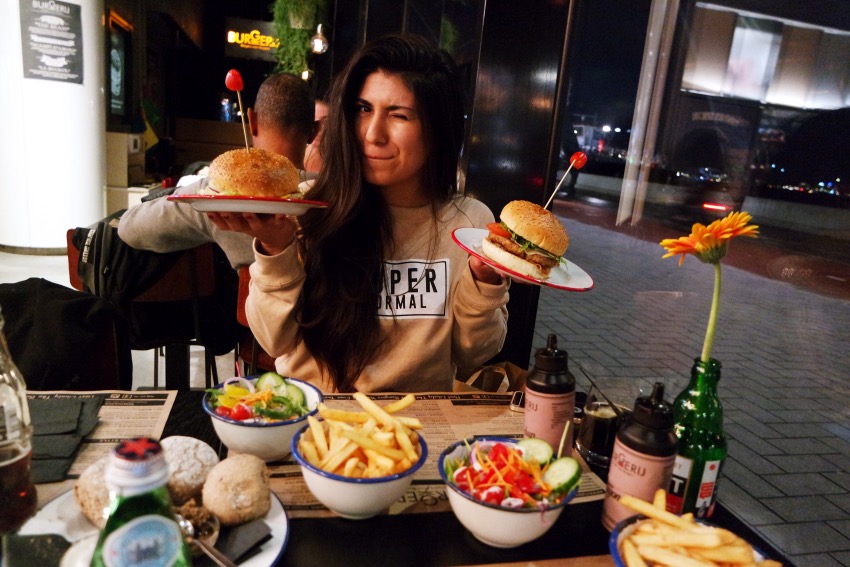 Een hotspot op een plek waar je het in eerste instantie niet zou verwachten: Amsterdam Centraal Station. Het idee van eten op stations is vaak nog dat het snel, vettig en vooral niet erg gezond is. Maar langzamerhand komt daar verandering in en toen ik hoorde dat er een hamburger restaurant, genaamd "Burgerij" geopend werd op het station stond ik te popelen om deze eens uit te proberen! Hoe dit was? Dat lees je hier!
Aan de IJ-kant van Amsterdam Centraal kun je de Burgerij herkennen aan het mooie open interieur, de glazen wanden zorgen ervoor dat je meteen naar binnen kunt kijken en de sfeer kunt ervaren: planten, coole lampen en vooral ongedwongen. Via de meiden van ThreeGirlsOneKitchen kwam ik bij deze burger tent terecht waar ik eerder eens in haast snel een burger had besteld omdat ik honger had én mijn trein moest halen. Dat beviel goed en maakte me nieuwsgierig om deze tent zonder haast te testen voor een Hotspot artikel voor jullie! Waar hij nu dus bij staat 🙂
Je kunt ook deels een blik werpen op de keuken.
We kregen een fijn tafeltje aan de glazen muur wat écht zo leuk is; mensen spotten en tegelijkertijd de zon zien ondergaan en de lampjes over het water aan zien gaan. En dan te bedenken dat je op een station zit, niet te geloven 🙂
Keuzes, keuzes, keuzes. Wat erg leuk was, was dat de eigenaar die avond even belde om me te spreken en ik van hem, vol passie, kon horen wat hij nou zo belangrijk vond bij het runnen van deze zaak. Goede kwaliteit, goed vlees en eerlijkheid. Ik zal je zometeen vertellen wat ik van de burger vond, maar voordat ik er één bestelde heb ik hem gevraagd welke ik moest nemen aangezien ik er niet uit kwam:
De Dolce Vita moet je nemen!
Als ik me niet vergis, was dit zijn favoriet.
Versgemalen rundsvlees

Provolone

tomaat

rucola

pancetta

gegrilde groentjes

basilicum-mayonaise
Klinkt heerlijk! Maar zoals jullie misschien weten ben ik een enorme ketchup-fan bij een burger. Dus ik vroeg of de mayonaise vervangen kon worden door ketchup en de keuze was gemaakt!
Vooraf heerlijk wat brood met tapenade en aioli 🙂
Blij meisje, dat weet dat ze een burger gaat eten!
Bij de burgers nog friet en salade besteld.
Omdat het uitzicht zo fijn en gezellig was buiten wilde ik het zo goed mogelijk vastleggen zodat je de sfeer een beetje meekrijgt door de foto's. Ik ben fan van deze plek!
Aanvallen!
Het eerste dat opmerkte en ook direct zei was;
Dit smaakt écht naar een huisgemaakte burger. Het vlees proeft en 'voelt' met de hand tot een burger gevormd; héérlijk!
Genieten dus.
Fijn gezelschap, fijn uitzicht en een heerlijke burger. Zeker de moeite waard om hier te komen eten aangezien het makkelijk te bereiken is met het OV (Amsterdam Centraal station) en het helemaal niet voelt alsof je op een station aan het eten bent, het proeft zelfs niet naar station voedsel, wat een upgrade! Ik ben hier blij mee 🙂
Hier zie je de Kukellekurrie, leuke naam voor een kipburger met zelfgemaakte curry-kokos-saus 🙂
Wat sfeerfoto's zodat je een idee hebt van wat je qua interieur kunt verwachten.
Ik ben gek op de lampen 😉
Ik zeg; tot heel gauw Burgerij! Je bent een geweldige oplossing voor een échte hamburger liefhebber (geen fastfood-zooi) die met honger en eventuele haast graag lekker wil eten op het station! Love it 🙂
Mocht je Burgerij ook eens willen proberen, dan kan dat in Amsterdam maar óók in Rotterdan op de volgende locaties zijn:
IJhal, de Ruijterkade 40B, Amsterdam

Botersloot 24B, Rotterdam
Bewaar, Like, Tweet of Pin!