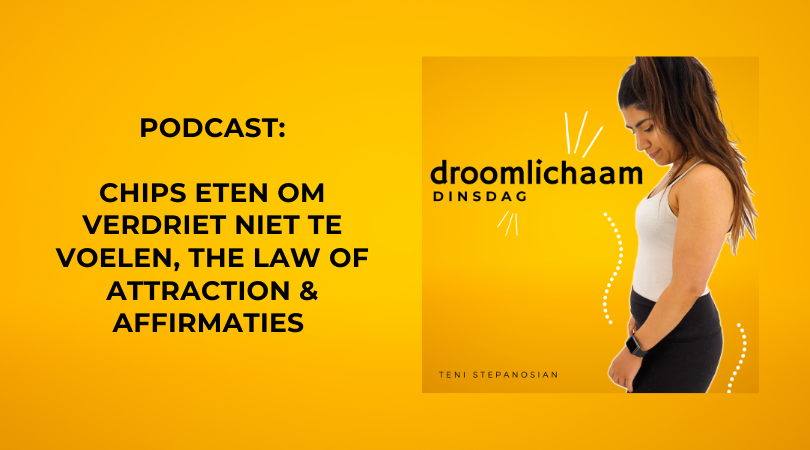 Joeeeehoeee!! Eindelijk is het zover, een wekelijkse podcast helemaal in het teken van Droomlichaam! Ik zal je eerlijk zeggen dat ik wel 5 x een nieuw podcast seizoen ben gestart omtrent droomlichaam en tijdens het editten ben afgehaakt omdat ik teveel zeg waar ik me achteraf een beetje voor schaam.
Maar ik besloot toch de knoop door te hakken en het maar het thema te maken van dit seizoen. De plek waar ik rauw, eerlijk en schaamteloos ga zijn; bij mijn wekelijkse podcast genaamd Droomlichaam Dinsdag! Deze wekelijkse podcast zal eerst voor een seizoen gaande zijn, daarna kijk ik even aan hoe dit gaat, hoe het wordt ervaren en of hij in deze vorm doorgaat. Maar voor nu is dat niets om je druk over te maken want je kunt elke dinsdag een gloednieuwe Droomlichaam Dinsdag podcast verwachten.
Deze eerste staat in het teken van the Law of Attraction, een nieuwe identiteit aannemen en delen wat er zo zwaar was de afgelopen 1,5 jaar van de 2 jaar dat ik Droomlichaam ben gestart. Ik word zelfs een beetje emotioneel. Dit had ik er eerder uitgeknipt, maar ik moet weer even uit mijn comfortzone en deze dingen met jullie delen. Ik denk dat het belangrijk is en ik vertel je in de podcast waarom.
Je kunt de podcast op alle podcast platformen beluisteren als je zoekt op "Teni Stepanosian Podcast". Hier alvast de meest bekende: