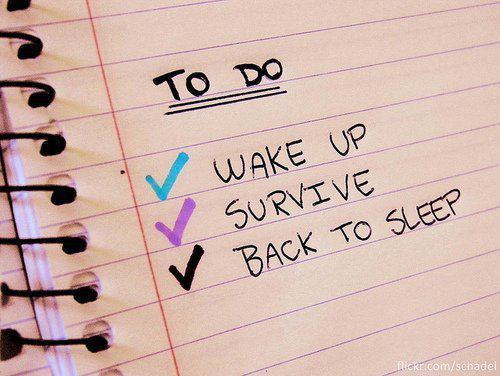 Van mensen die vloeren aanleggen tot mensen die in de bouw werken tot schilders etc., allemaal einidgen ze de dag met het zicht op iets wat er die ochtend anders uit zag. Oftewel: ze zien het resultaat waar ze de gehele dag aan hebben gewerkt. Maar wat als je een "denk werker" bent, achter je computer (zoals ik), of ervoor zorgt dat andere bediend worden, of achter de kassa zit? Hoe kunnen wij zien wat we hebben gedaan en welke vooruitgang we hebben geboekt? Gemotiveerd blijven is nou eenmaal lastig, vooral als je overspoeld wordt met lange lijsten van "to-do's", projecten en taken die aan het einde van de dag alleen maar langer lijken. Hoe kun je dit nou verhelpen en gemotiveerd blijven?
Ik ben dol op to-do lijstjes. Echt. Ik vind het heerlijk om ze te maken en overzicht te behouden van wat er op een dag moet gebeuren. Maar het risico van to-do lijstjes is dat als je ze niet afkrijgt, om wat voor reden dan ook, ze je motivatie enorm naar beneden kunnen halen. Heel erg zonde natuurlijk! Dus probeer ik sinds kort iets nieuws: een "done-lijstje".
Als ik iets heb gedaan waarvan ik denk dat het nuttig was, hoe klein dit ook mag zijn, schrijf ik dit op mijn "done-lijstje".
Aan het einde van de dag kijk ik naar mijn lijstje en voel ik me trots om wat ik allemaal heb gedaan.
Het is het simpele stukje waar je een pauze neemt om te reflecteren en erkennen dat je moeite hebt gestoken in de dingen die je hebt gedaan wat je motiveert en je weer gefocust maakt. Als je dit niet had gedaan zou alles wat je die dag had gedaan verdwaald raken in de drukte van de dag zelf en had je er niet eens stil bij gestaan.
Wil je het zelf eens proberen? Vraag jezelf de volgende dingen af:
Wat heb ik af gekregen vandaag? Kijk terug op je dag door een soort van "voltooide lens". Alles wat je hebt afgerond/voltooid zal je stiekem een gevoel van bevestiging en vreugde geven.
Waarin heb ik vooruitgang geboekt vandaag? Zelfs op frustrerende, onproductieve dagen, kun je wel iets vinden waar je vooruitgang in hebt geboekt. Al is het dat je hebt geleerd hoe iets NIET moet of hoe iets mislukt, dan hoef je dat de volgende keer dus ook niet meer te proberen; leermoment!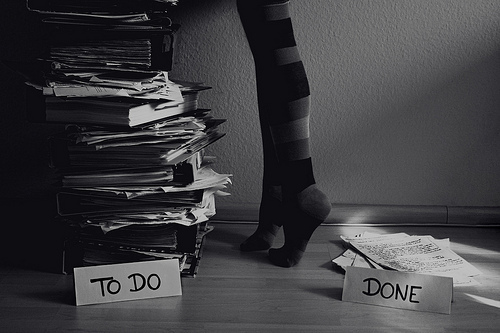 In tegenstelling tot een to-do lijst heb je hier veel meer vrijheid om te kiezen hoe je iets wilt opschrijven. Je kunt het gaandeweg bedenken, met een to-do lijst begin je al met een vast stuk tekst en hoef je dingen alleen maar door te strepen (als je het behaalt).
Schrijf dus lekker alles op waarvan jij vindt dat je daarmee opgeschoten bent. Al is het een nieuwe ingeving "eindelijk een titel bedacht voor mijn site" bijvoorbeeld, als dat iets is waar je al maanden lang tegenaan hikte.
Probeer het eens! Mij heeft het goed gedaan 🙂 Al moet ik wel zeggen dat ik nooit helemaal van een to-do lijstje af ga stappen, maar wel vaker een "done" lijst ga gebruiken.