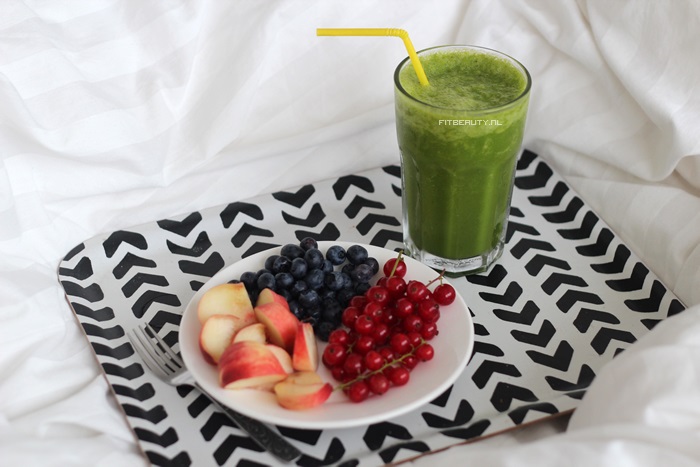 Oke, dit wordt een enorme post met heel erg veel ontbijt/lunch foto's! Allemaal verzameld voor dit ontbijt en lunch artikel. Vergeef me alvast voor alle rijstwafel+pindakaas, banaan-ei pannekoeken, havermout en EXPLOSIES van fruit! Haha, enjoy!
Oja, ik zal hier alvast de linkjes plaatsen naar de meest voorkomende recepten: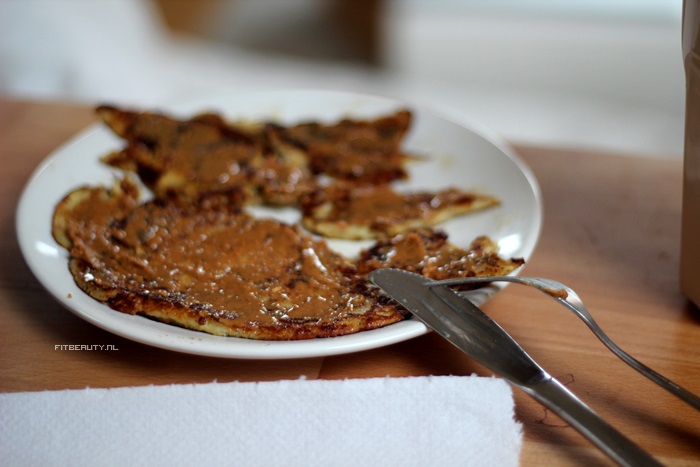 Banaan ei pannekoek met een laagje pindakaas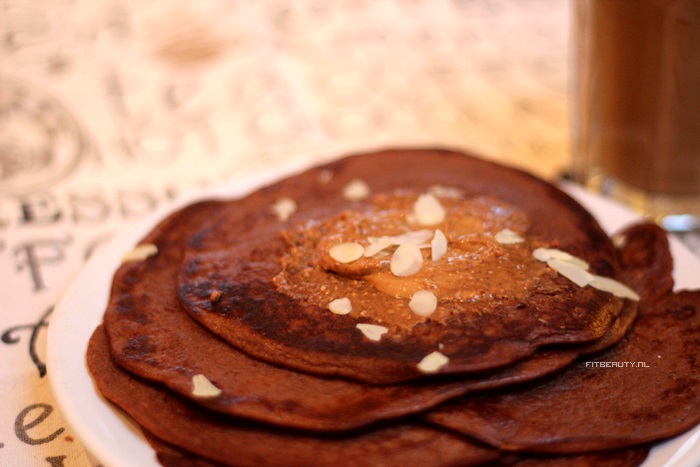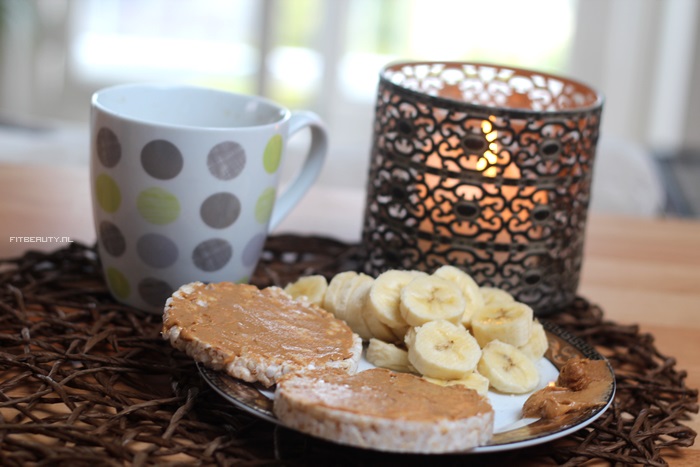 Rijstwafels met pindakaas, banaan en een beetje pindakaas om de banaan in te "dippen".. #pindakaasverslaafd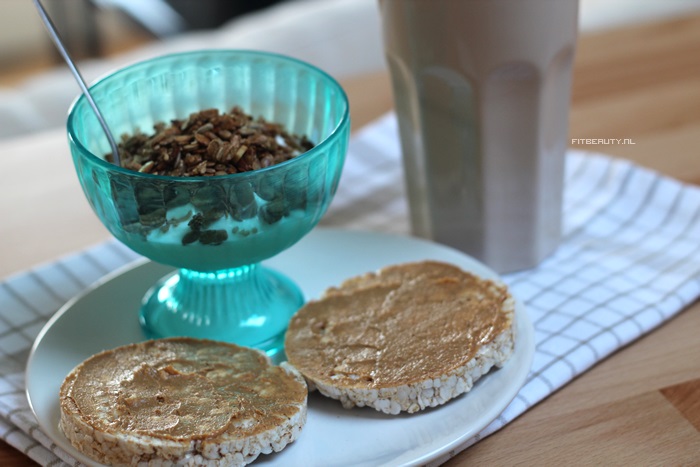 Kwark met granola van de Marqt, en natuurlijk: rijstwafels met pindakaas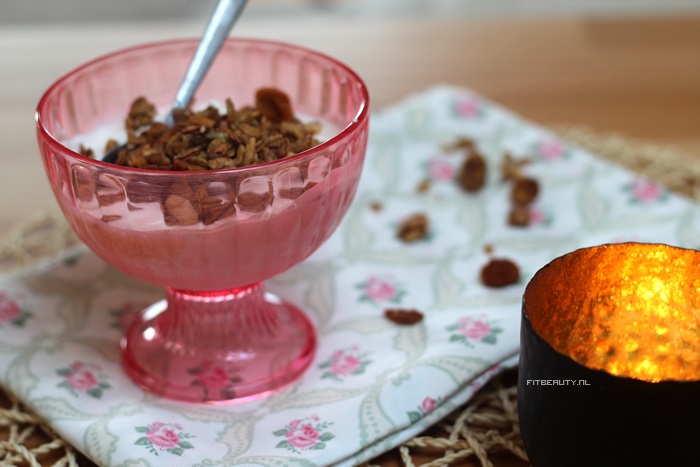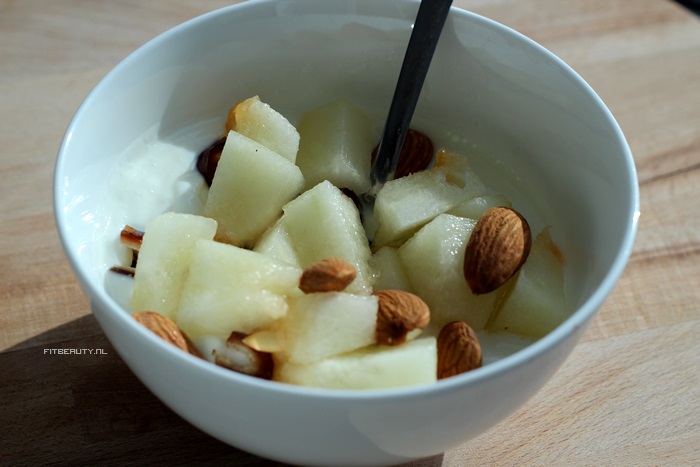 Kwark met meloen en amandelen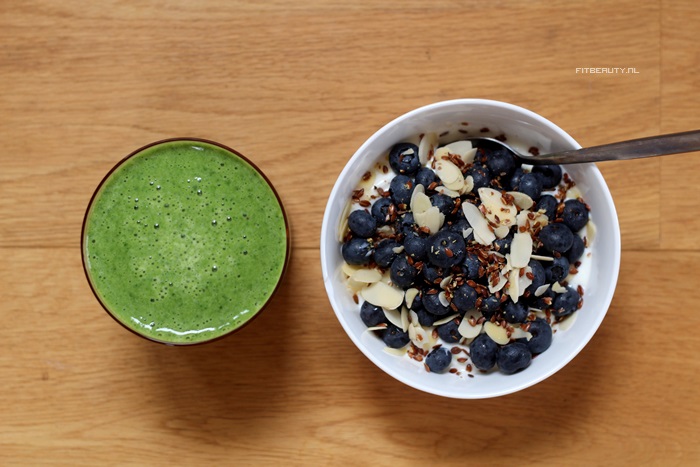 Groene smoothie en kwark met bosbessen, lijnzaad en amandelschaafsels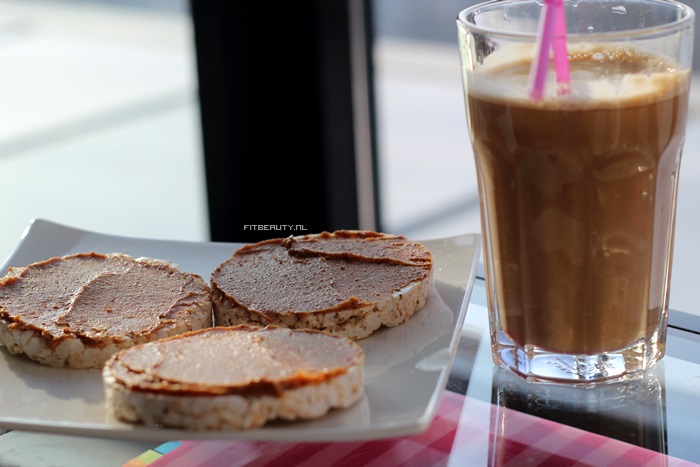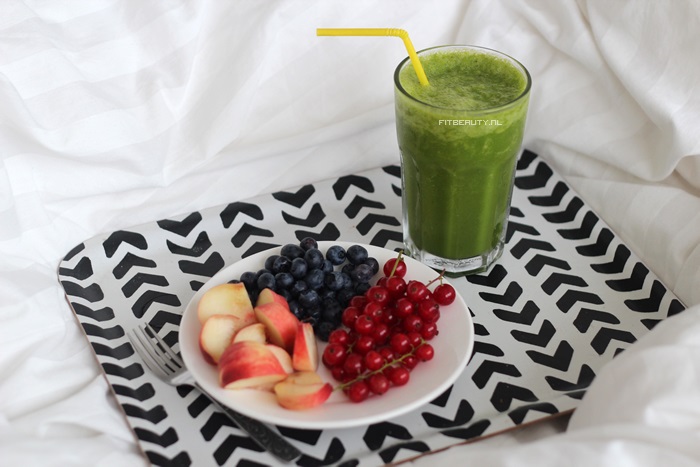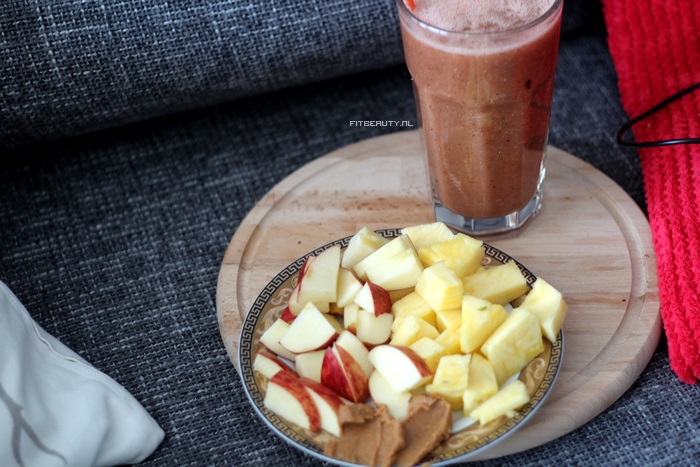 Fruit, met pindakaas (deze is vooral voor de appel) en een smoothie van.. Geen idee! Ik denk iets van meloen, munt, ananas.
Ik had weer eens koekjes lopen bakken met chocolade erdoor. En dan blijft er wel eens wat over. Lekker voor bij de yogurt of kwark!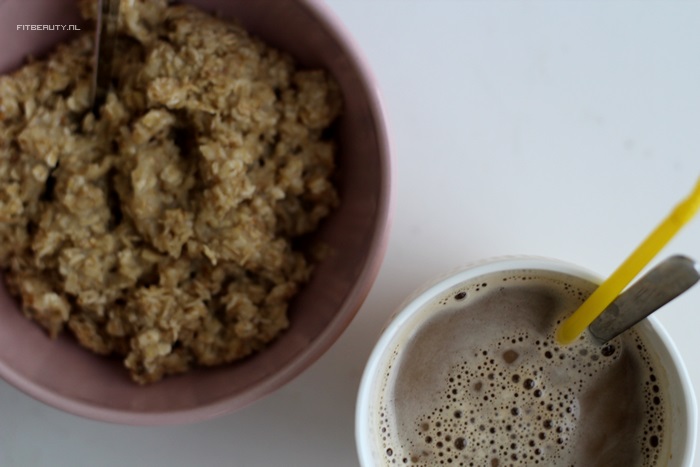 Havermout en koffie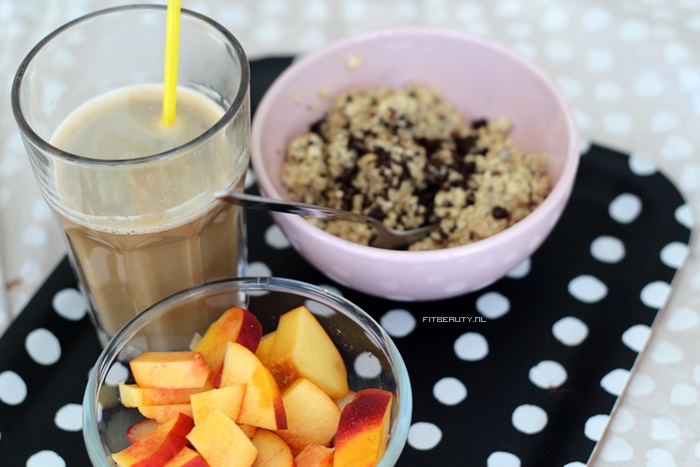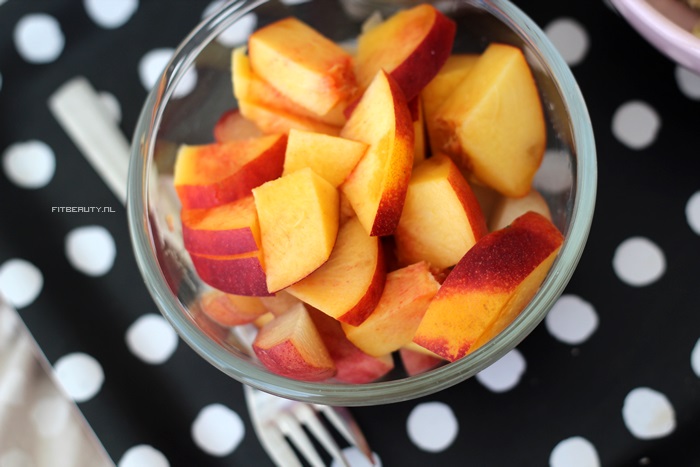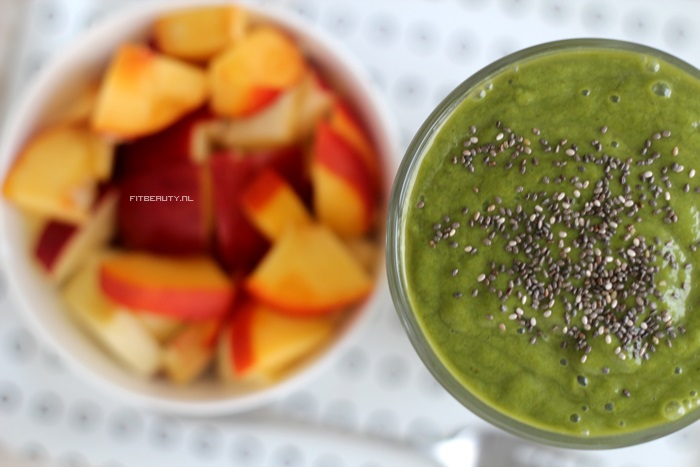 Groene smoothie, chia zaadjes puur ter decoratie er bovenop gedaan, haha.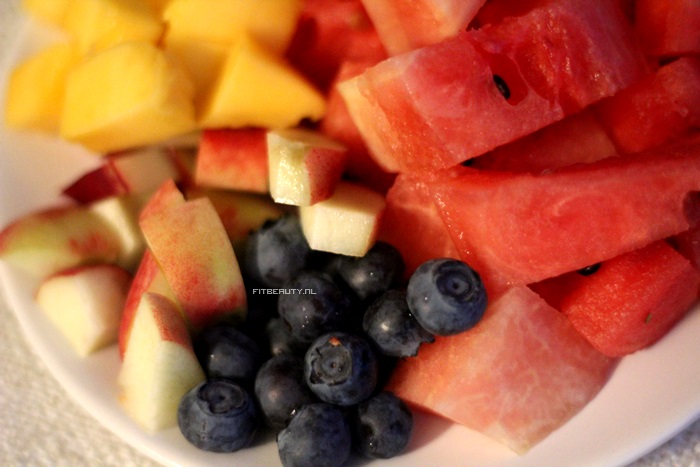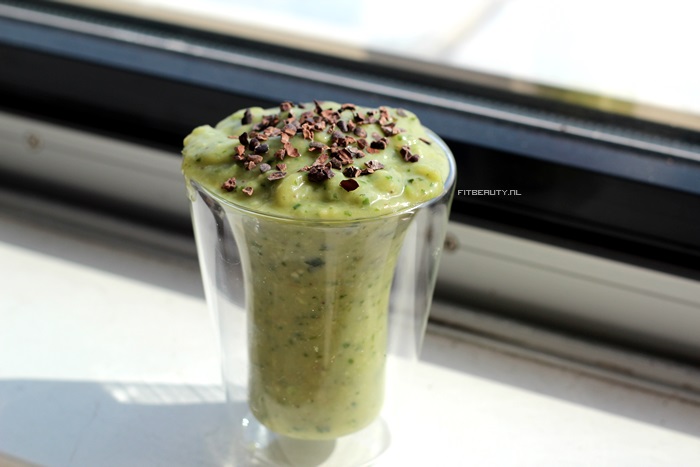 Een andere groene smoothie met druif, kiwi, munt, avocado, banaan en wat water.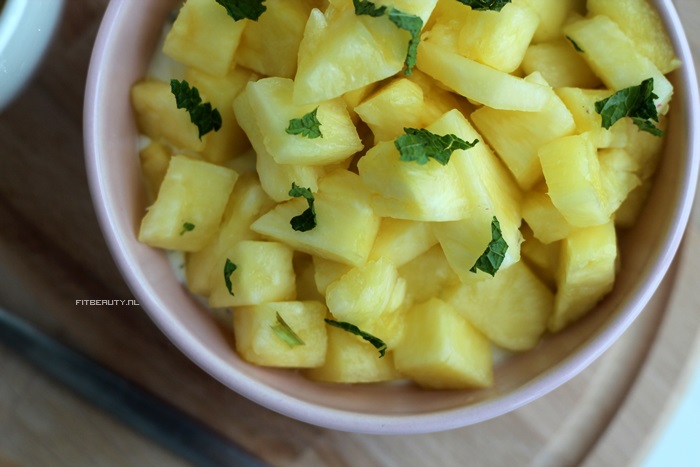 Wel eens ananas met munt geprobeerd? JUM! Ik krijg hierdoor gewoon zin in de zomer….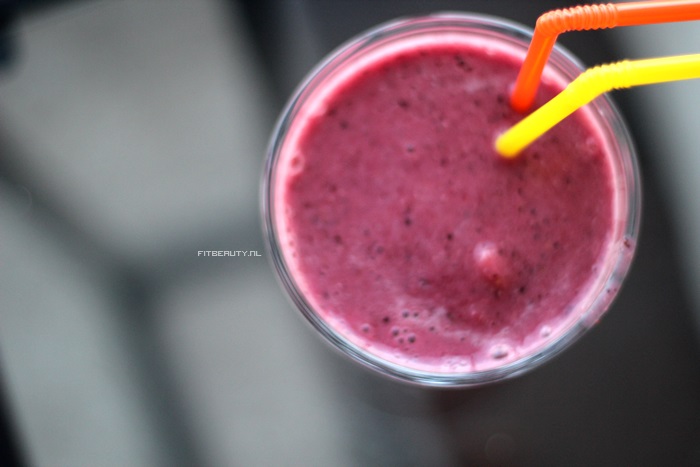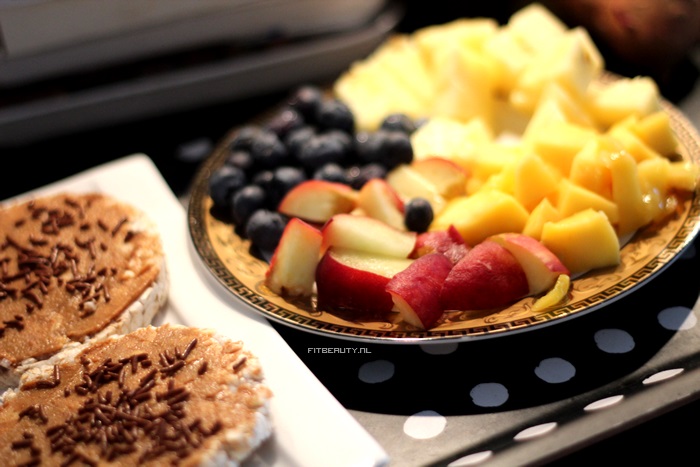 Soms doe ik stiekem hagelslag op mn rijstwafels met pindakaas..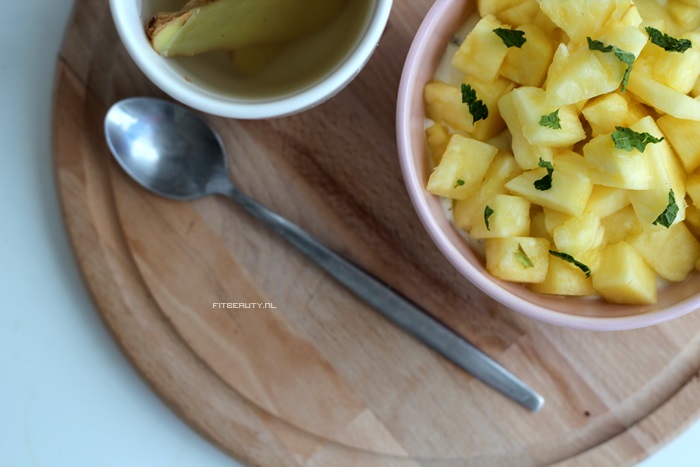 Thee met een stukje gember erin.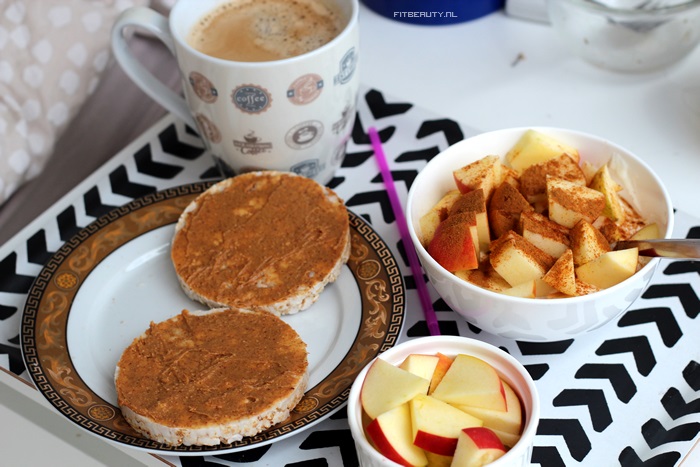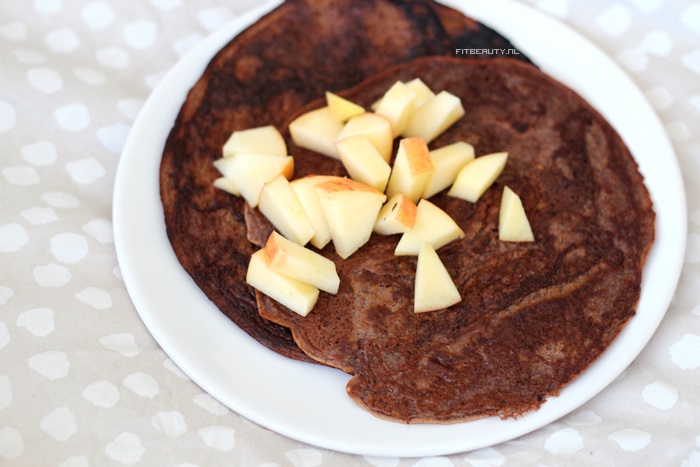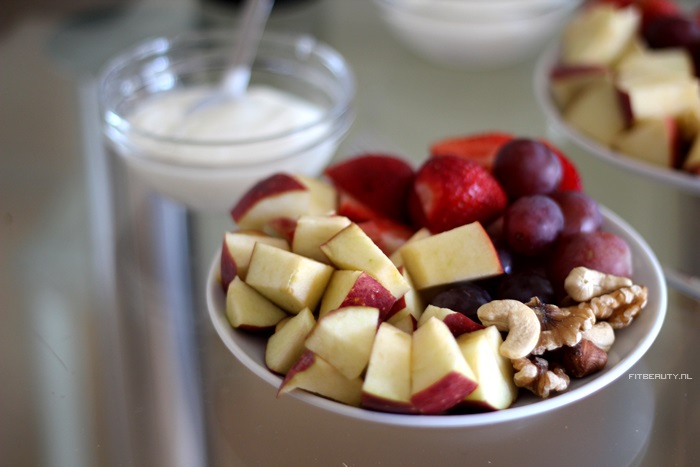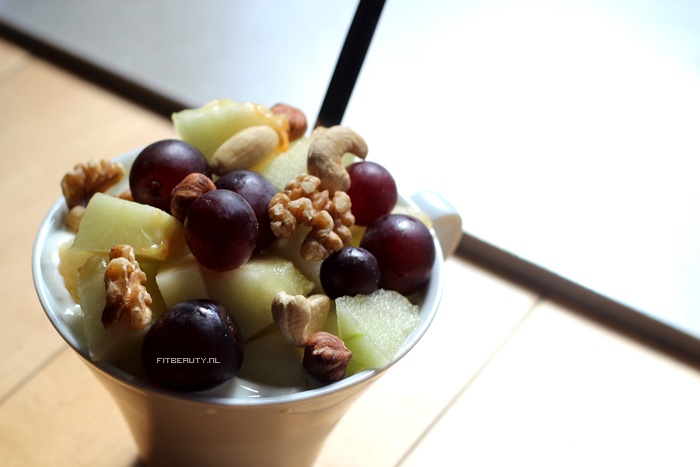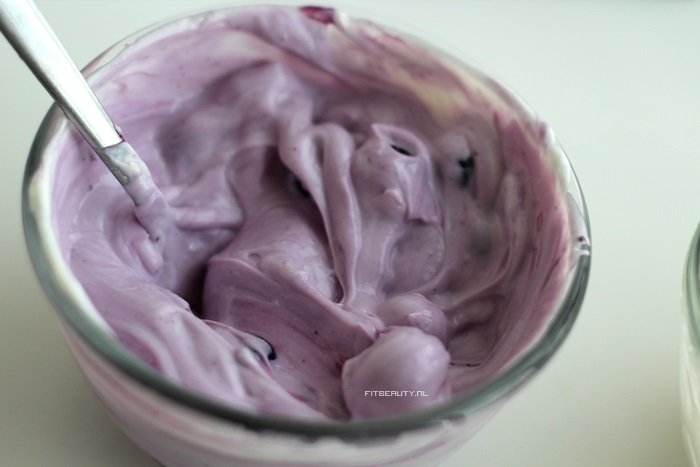 Als je bevroren bosbessen in je kwark of yoghurt doet en dit eventjes 10 minuten laat staan; kun je even roeren en wordt het helemaal paars. Woohoo!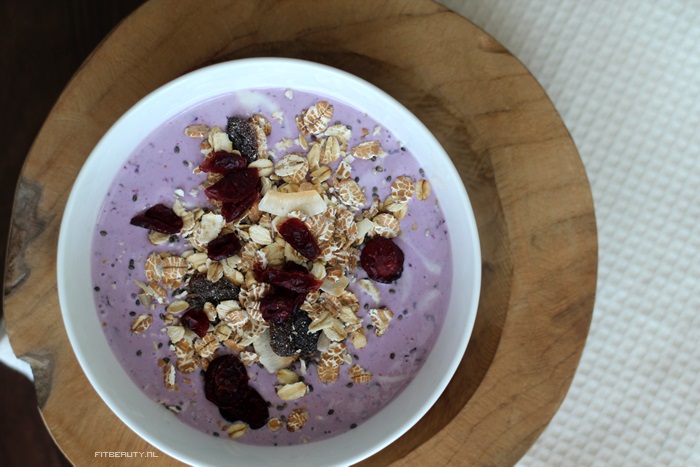 Paarse kwark, zoals ik net beschreef met muesli, chia zaad en cranberries.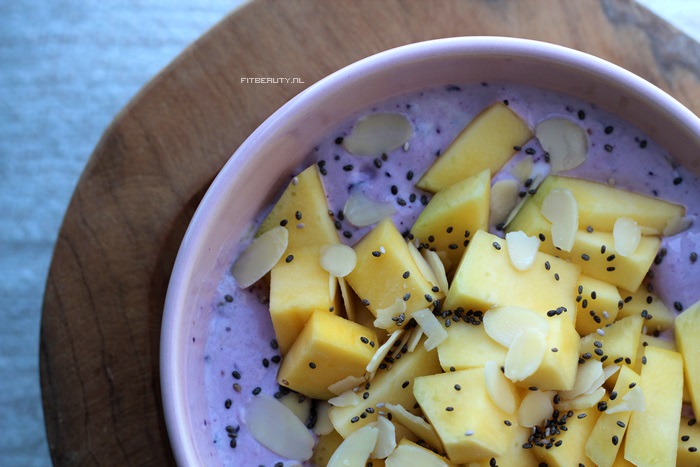 Dit was duidelijk een fase: paarse kwark met mango, amandelschaafsels en chia zaad.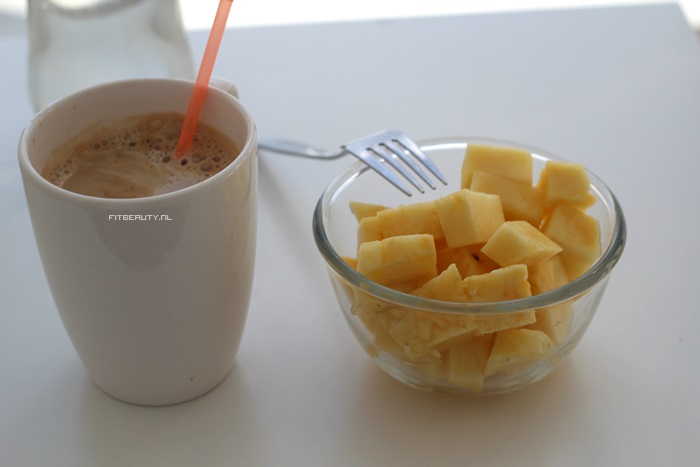 Koffie en ananas. Zo simpel kan het soms zijn.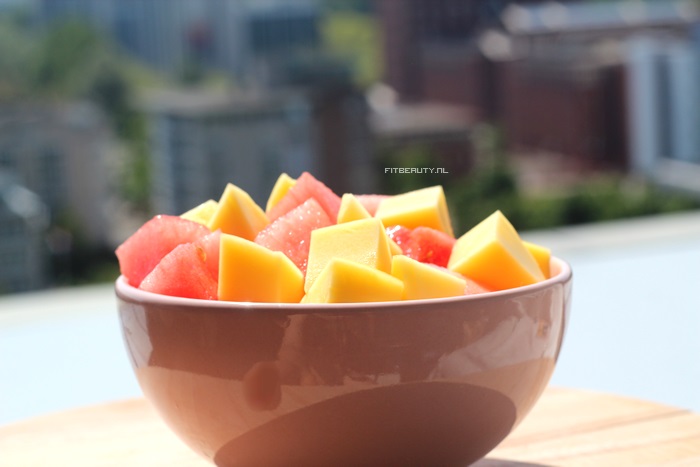 Fruit! Watermeloen en mango. Ah, met het uitzicht vanuit mn oude huisje 🙂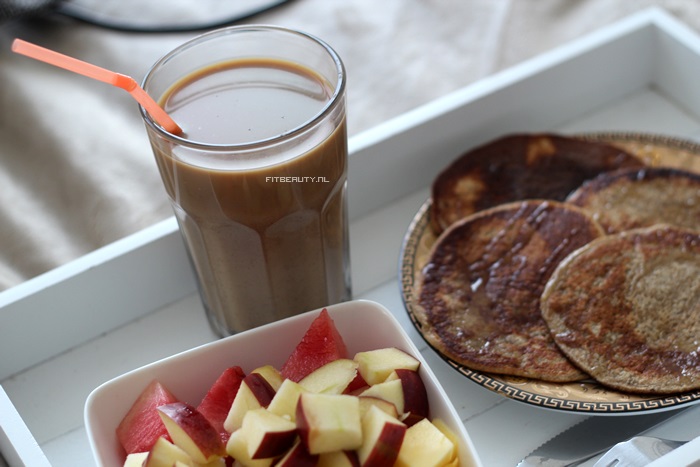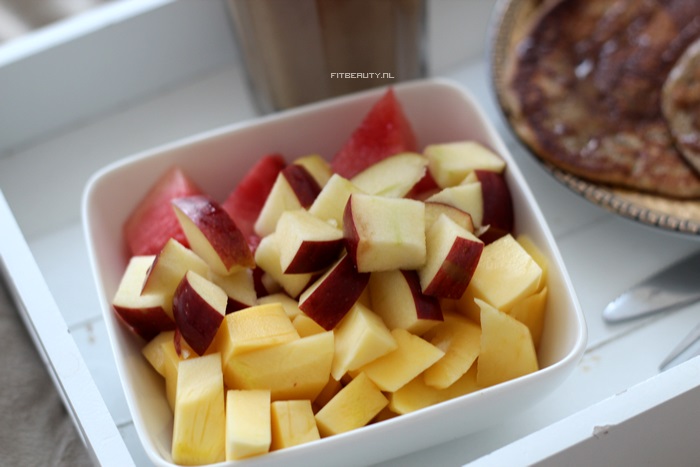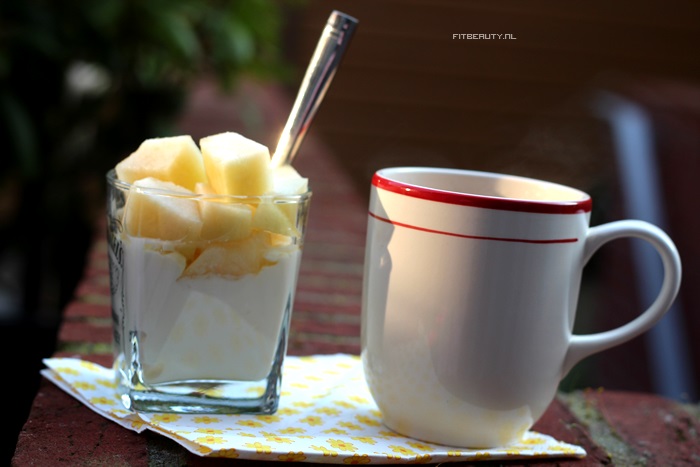 Buiten ontbijten afgelopen zomer.. Kun je het je voorstellen? Het is zo koud nu!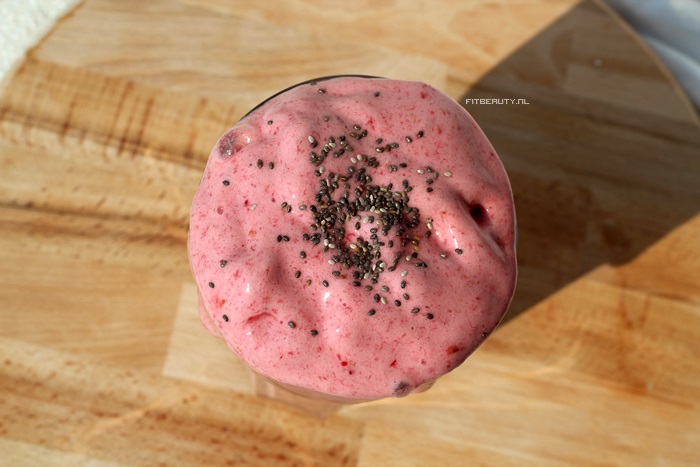 DIKKE VETTE SMOOTHIE! Waarschijnlijk iets met banaan, bevroren rood fruit en kokosmelk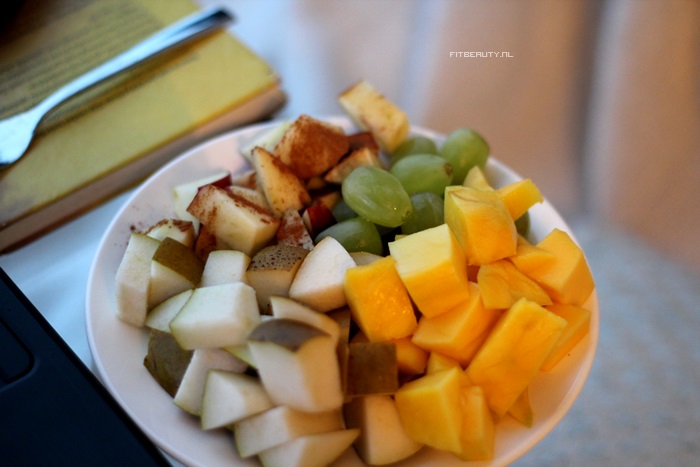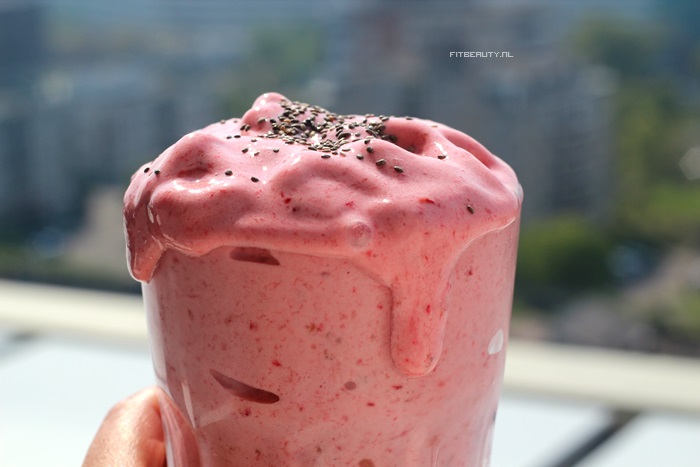 oh helluppp…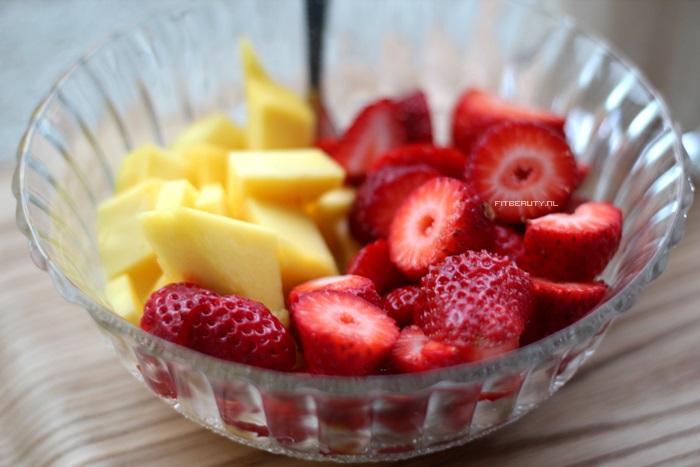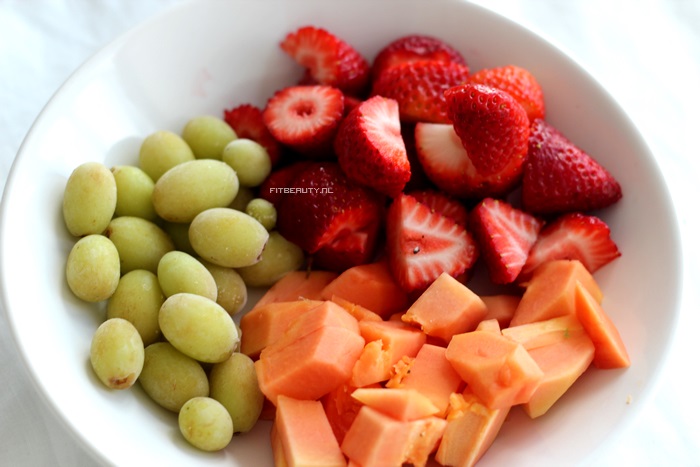 Wat zei ik je over de fruit explosie? Haha. Dit zijn trouwens bevroren druiven, heel erg lekker! Het zijn dan net snoepjes waar je op kunt zuigen, dus je doet er ook nog eens langer over.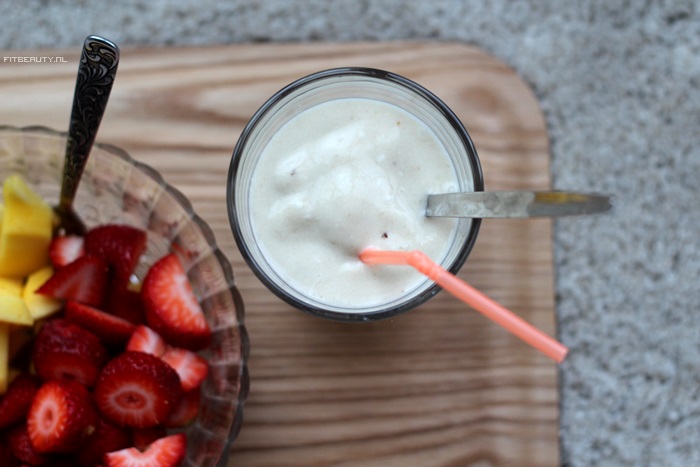 Bevroren banaan in de keukenmachine met wat amandelmelk.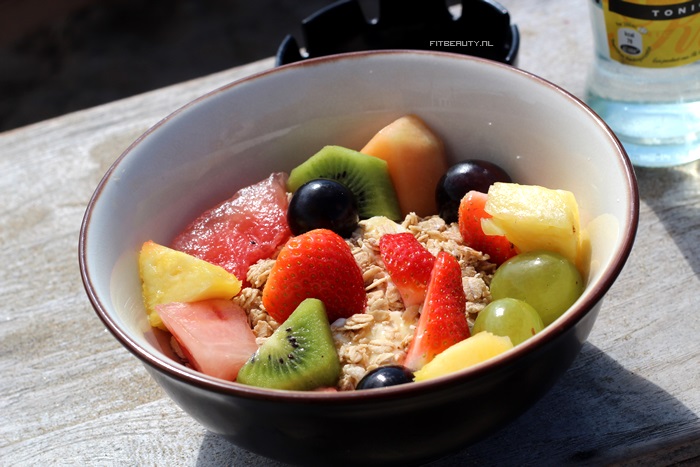 Ontbijten op het strand met yoghurt, muesli en fruit.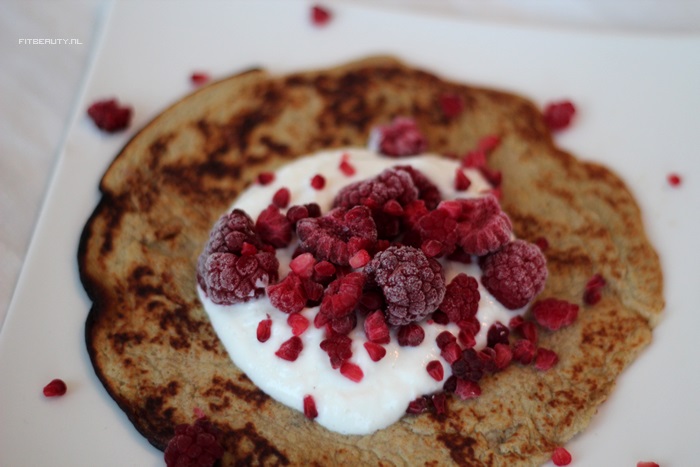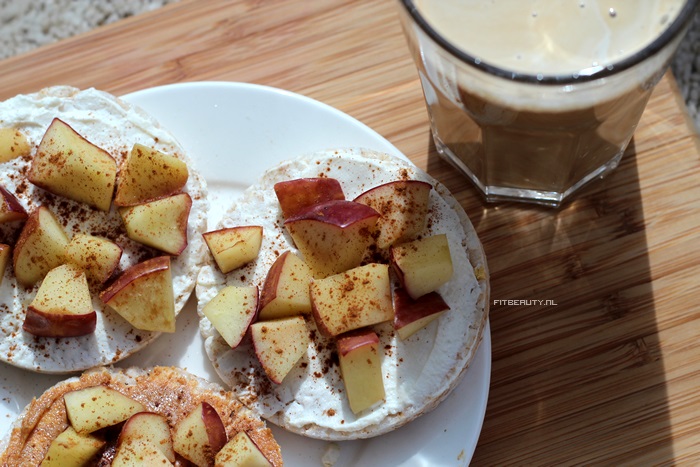 Rijstwafels met verwarmde appel is zo lekker! Vooral op een rijstwafel met pindakaas. Je doet de appel in stukjes in een pan, met een klein beetje water. Dan verhit je het tot ze wat zachter beginnen te worden (wel blijven roeren!) en doe je er wat kaneel bij. Daarna kun je ze op een rijstwafel met bijvoorbeeld pindakaas doen, de pindakaas wordt dan ook warm en zal een beetje smelten… HEAVEN!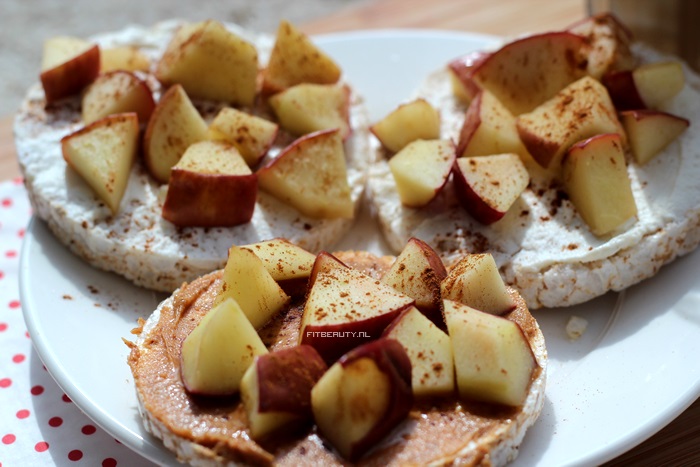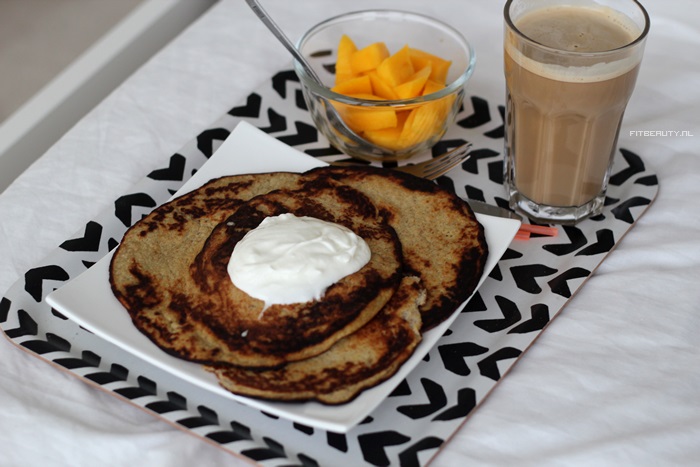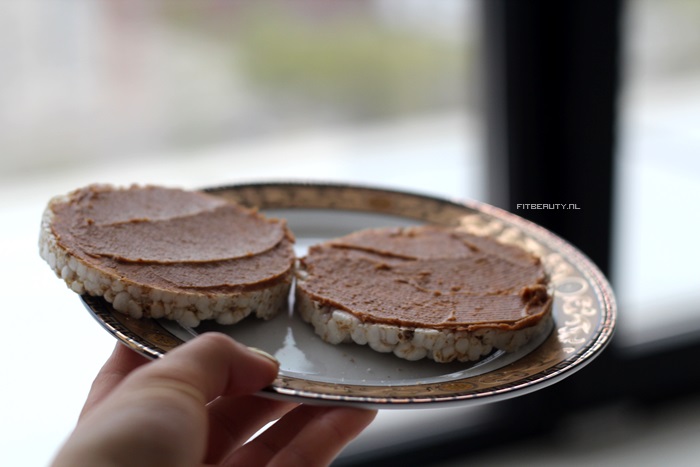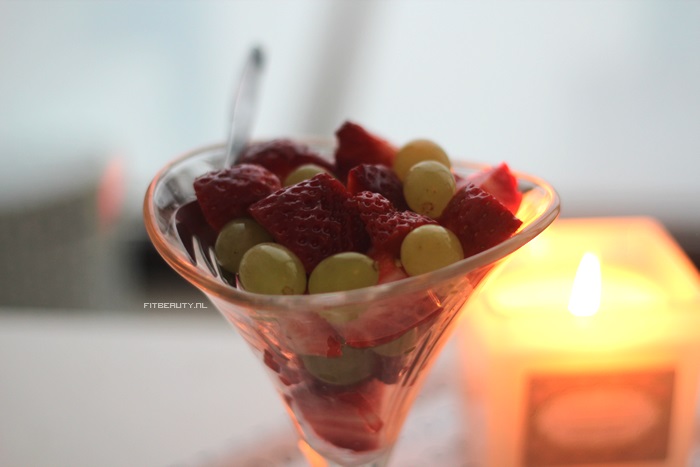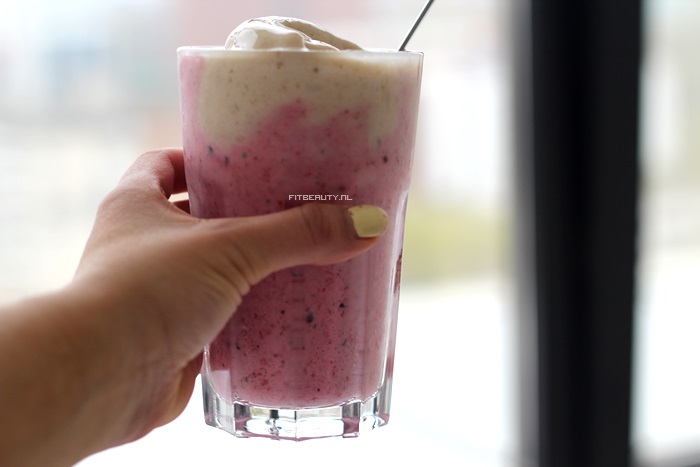 Ijs! Het recept vind je hier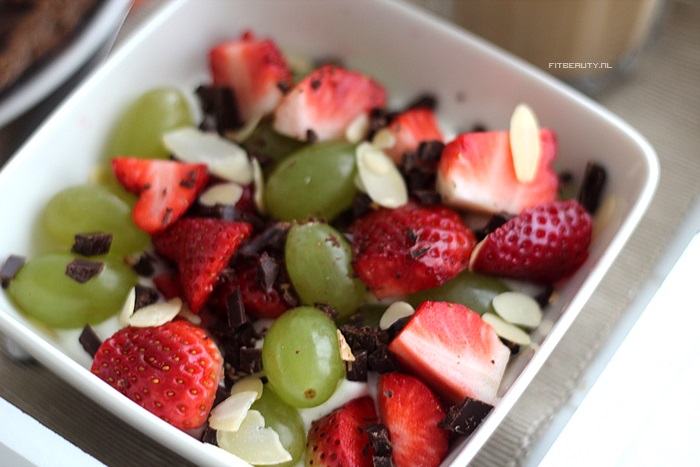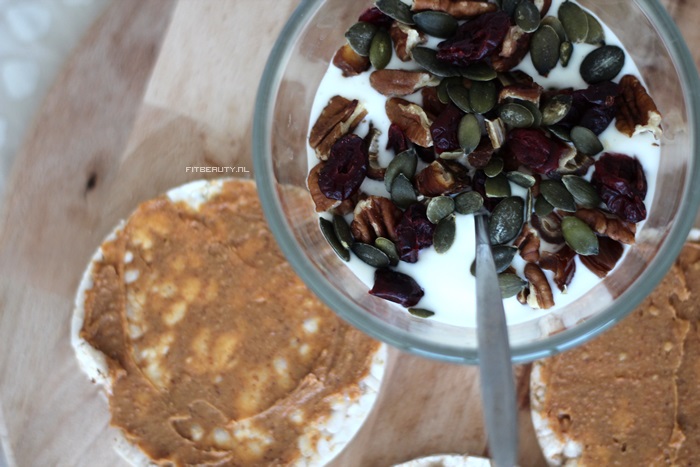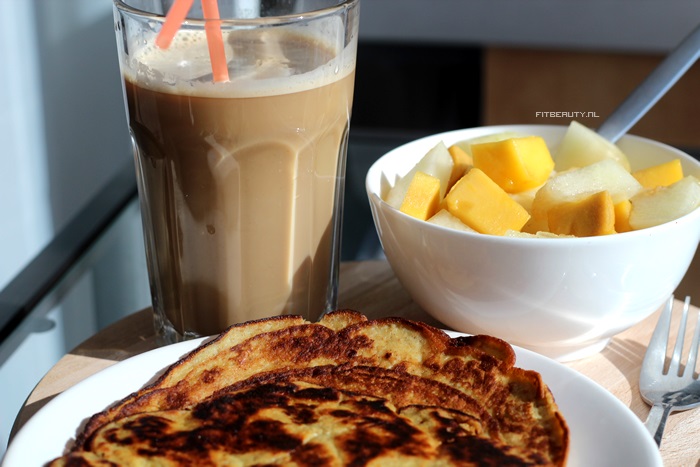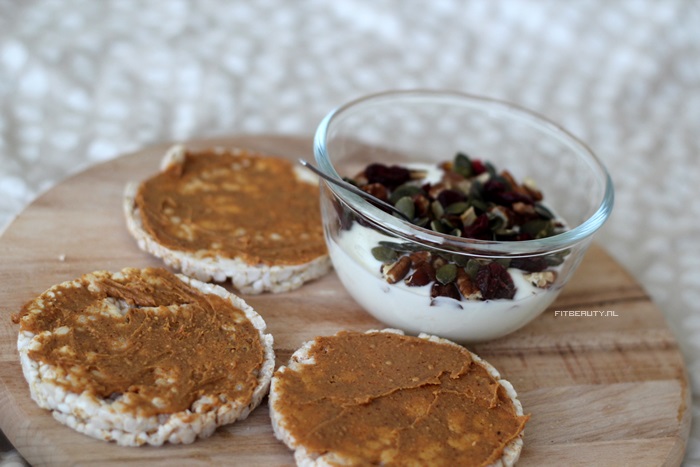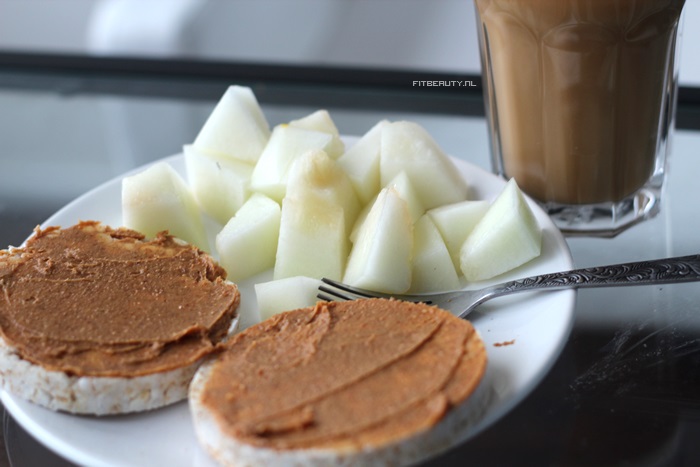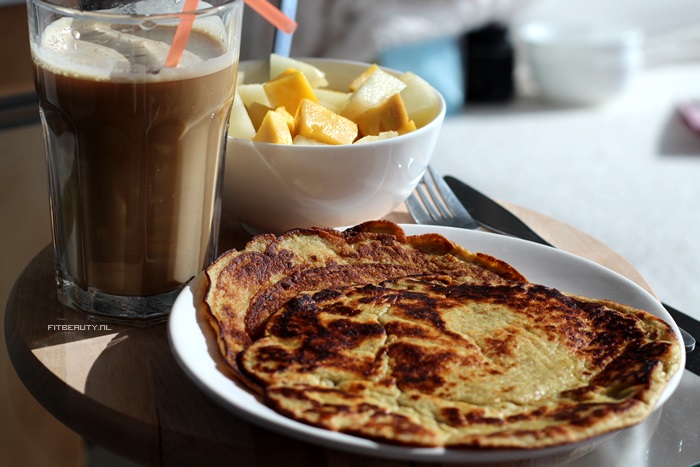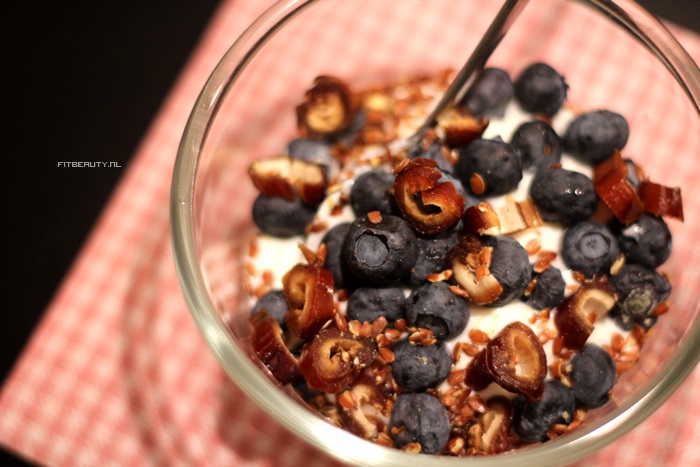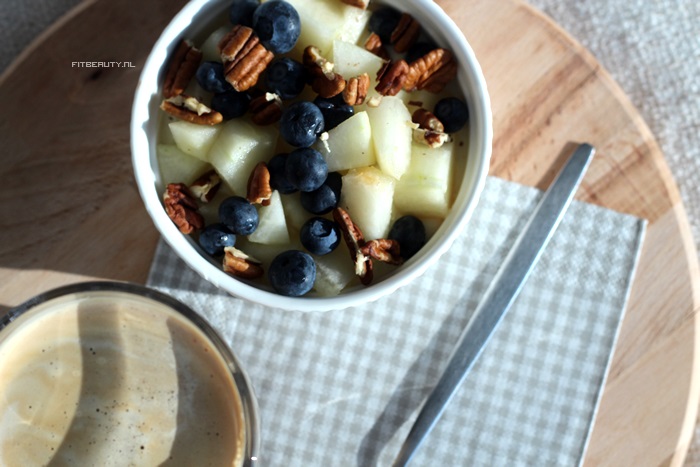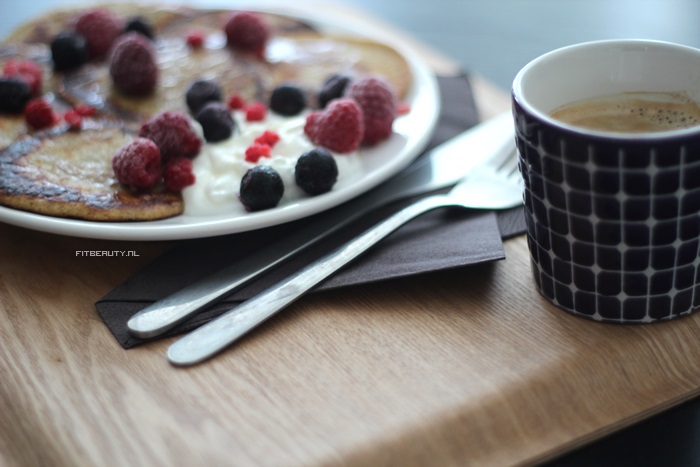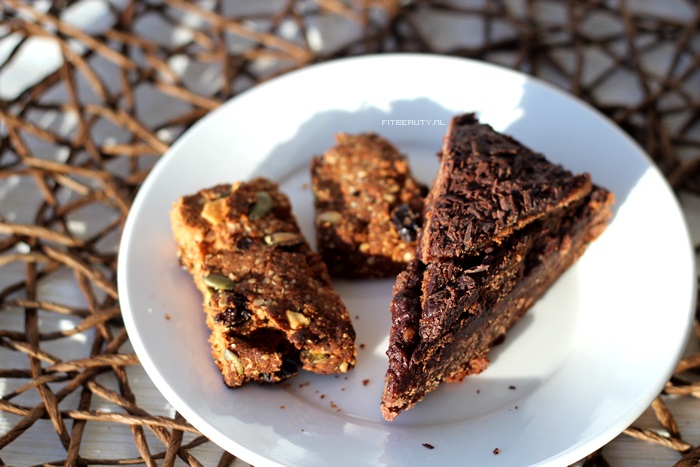 Oeh! Ontbijten met leftovers! glutenvrije, suikervrije, vegan Biscotti! En glutenvrije, suikervrije, vegan Chocoladetaart!
Oh.. ik moet echt weer aan het bakken slaan, vinden jullie niet?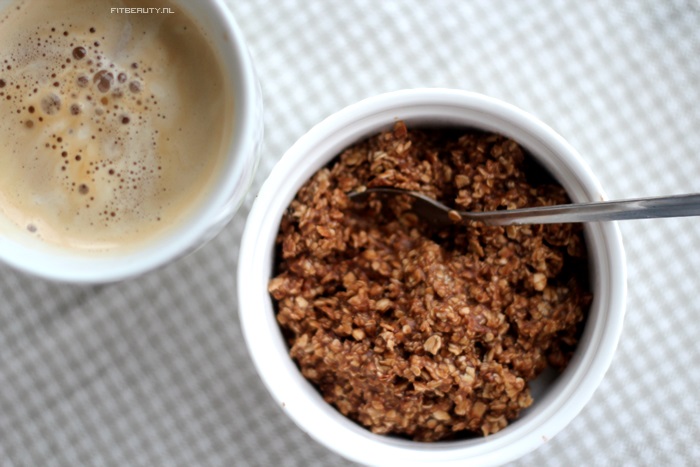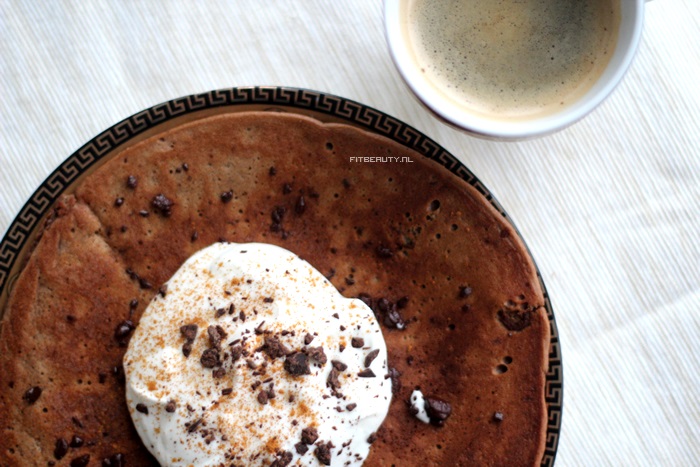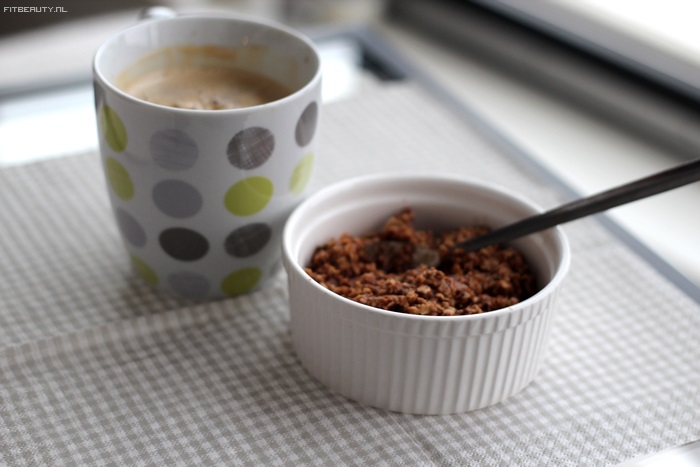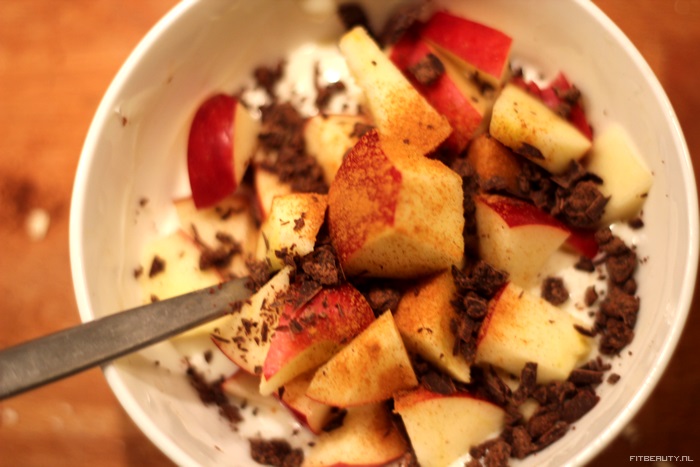 Hopelijk geeft dit weer een extra boost aan inspiratie! Voor mij ook weer een reminder: koffie en fruit als ontbijt is te lekker! Dus dat ga ik weer wat vaker doen. Niet de beste combinatie voor je maag voor veel mensen trouwens; veel "zuur" tegelijk. Maar ik kan er prima tegen.
Oja, en banaan ei pannekoeken moet ik ook weer eens maken. Of havermout, jumm.. Oke, ik heb honger nu.