Meenemen? Ik laat achter!
Tenminste, dat is stiekem mijn hoop voor deze reis. Ik hoop dat ik een heleboel achter kan laten aan vervelende gedachtes, ingewikkelde vraagstukken waar ik de laatste tijd mee zit en vooral heel veel stress. Maar wat ik een beetje meeneem, laat ik ook zien.
Een kleine greep uit wat er allemaal mee gaat heb ik in foto's voor jullie: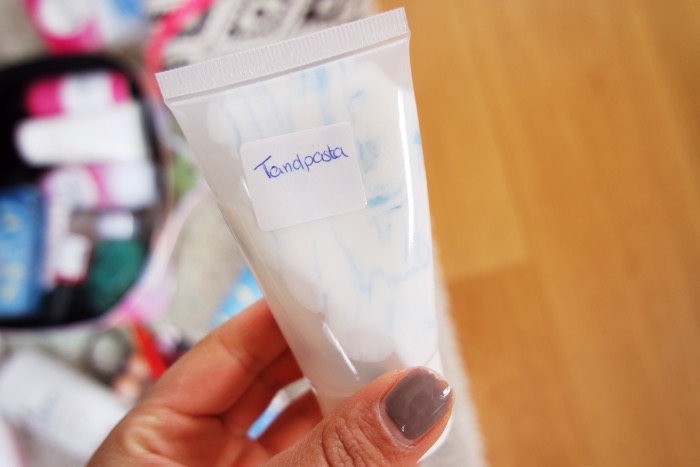 Ik wil zo licht mogelijk reizen en aangezien ik geen kleine tandpasta heb, heb ik een deel in dit kleine tubetje gedaan. Deze gaat trouwens mee het vliegtuig in, ik vind het bij zo'n lange reis echt heel fijn om mn tanden te kunnen poetsen.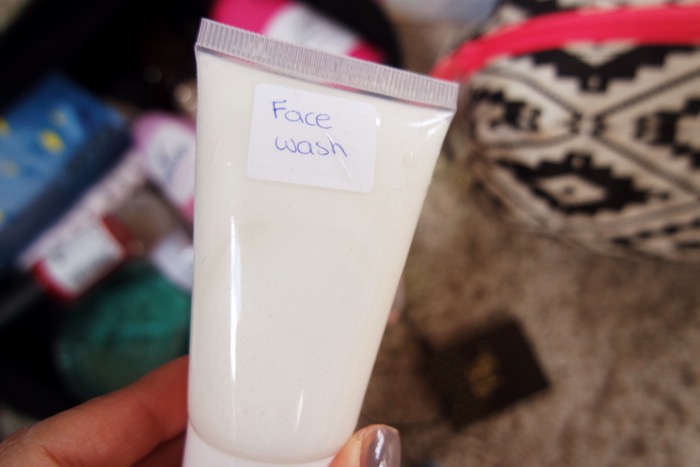 Face wash ook in een kleinere verpakking gedaan. Deze gaat gewoon in de koffer.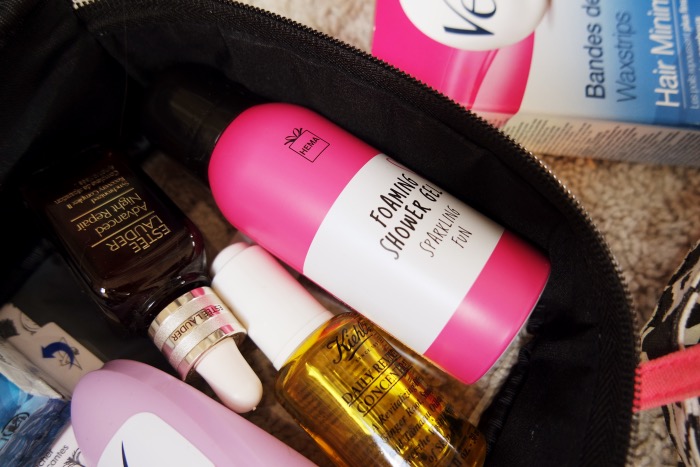 De badkamer spulletjes die in de koffer mee gaan. Ik heb in mijn leven nu al aardig wat gereisd (van 2 x backpacken door Europa, tot Mexico, Australië, Amerika, Canada etc.) en elke keer merk ik dat ik het fijn vind als ik mijn 'gezicht-reinigingsroutine' zo goed mogelijk houd en niet laat verwaarlozen op reis. Dus alles gaat mee zoals ik het thuis ook gebruik.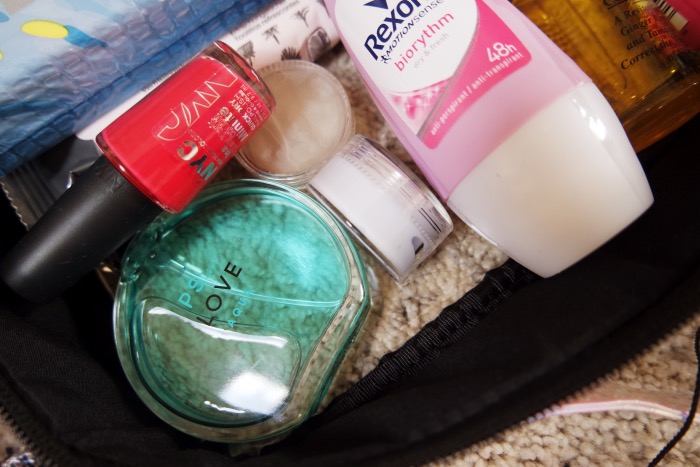 Ik wil ook vaak één bepaald luchtje mee op reis zodat ik later de herinnering heb aan die vakantie als ik het luchtje weer ruik. Hier zie je nog een nagellakje voor op mijn tenen, dag- en nachtcrème in kleinere potjes en een roller deo.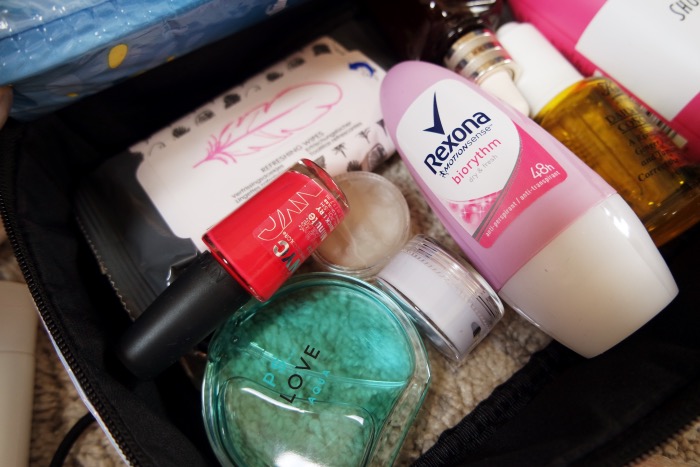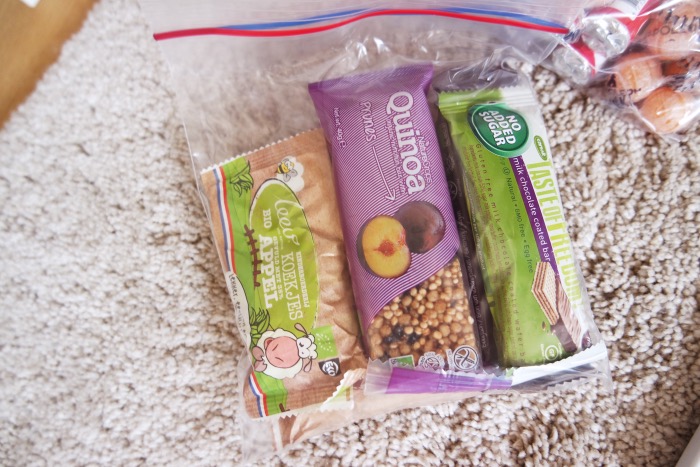 Ik heb zoveel repen, laat ik ze maar meenemen! Altijd fijn om gewoon bij je te hebben. Ook straks in India, misschien krijg ik wel enorme trek in de hotelkamer ofzo.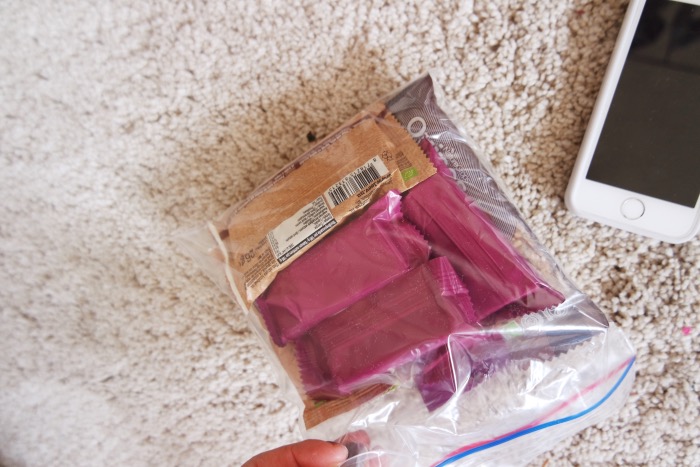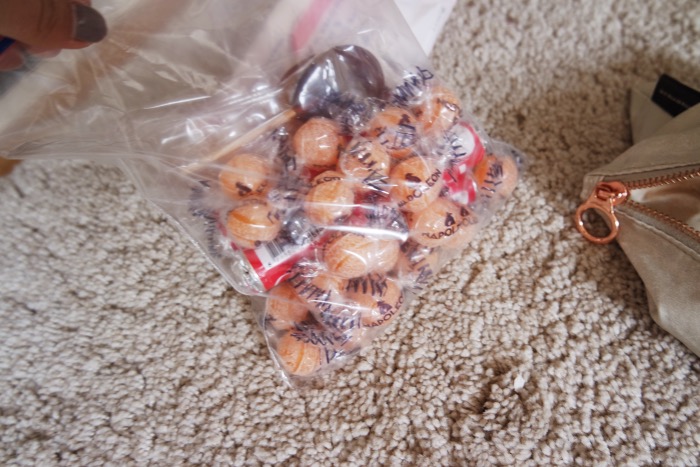 Ik heb de laatste tijd ZO weinig gesnoept en ongelooflijk veel fruit naar binnen gewerkt. Toen ik vandaag een zak snoep haalde en een aantal snoepjes nam kon ik me niet meer herinneren waarom ik het zo lekker heb gevonden.. Gek besef. Maargoed, die gaan gewoon mee mocht ik er zin in krijgen, zo niet, dan eet ik ze niet op. Deze snoepjes die je hier ziet zijn andere die ik heb gehaald, puur voor als ik me misschien eens suf begin te voelen of wat misselijk word onderweg. Voorbereid op alles! Ik ga namelijk busreizen maken van 5-6 uur naast het vliegen, dus ook weer handig om bij je te hebben.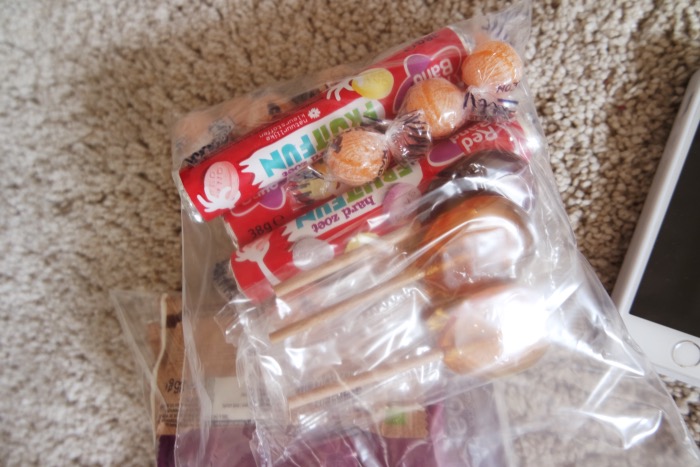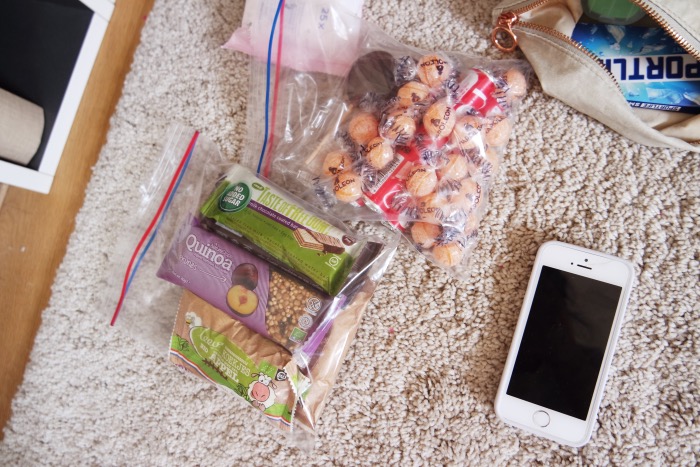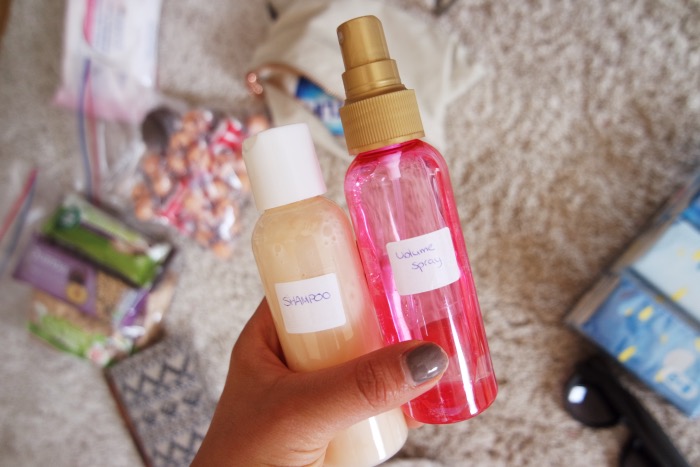 Volume spray moet mee! Ik vind mn haar al 'plat' omdat het net even te lang is geworden waardoor het zwaar wordt: en dus plat. Dus de spray gaat van pas komen. Ook weer allemaal overgegoten in kleinere flesjes.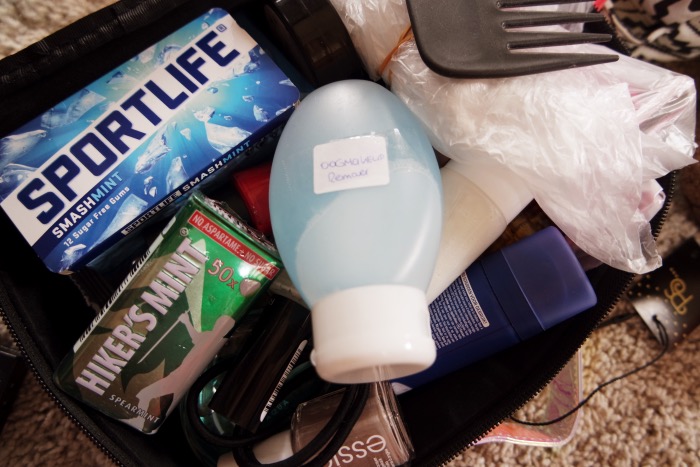 Oog make-up remover overgegoten, wat smintjes, kauwgum, nagellak, deo, kam.. etc.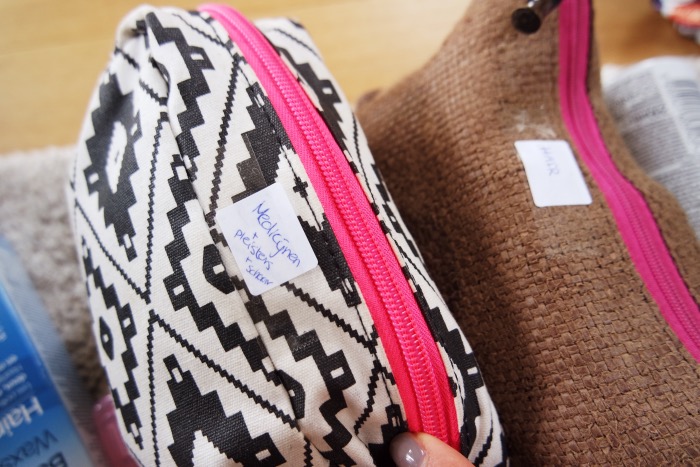 Op de tasjes plak ik ook nog stickers met wat erin zit. Ja, ik houd van 'ordenen'.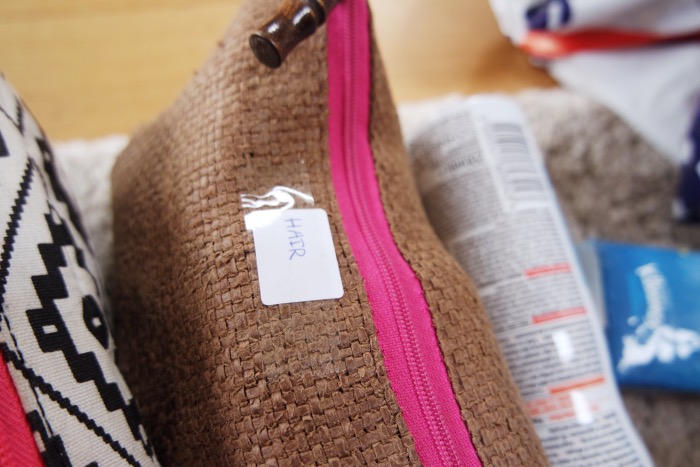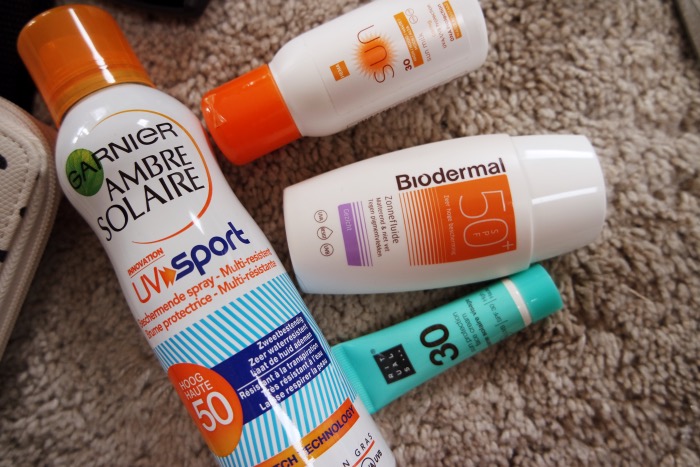 Zonnebrand mee!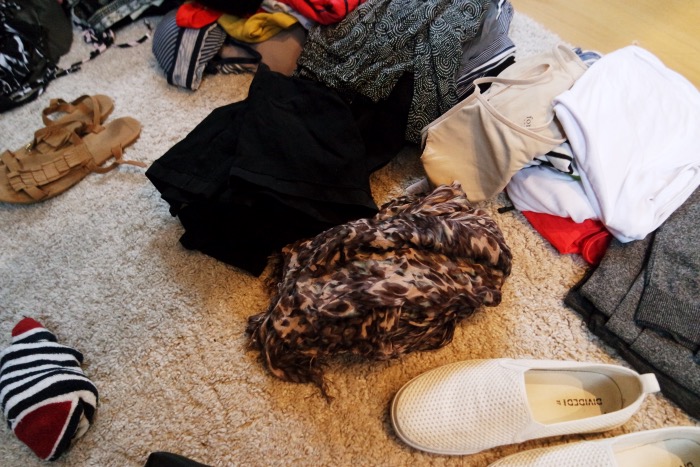 Kleding gesorteerd en dit mag mee!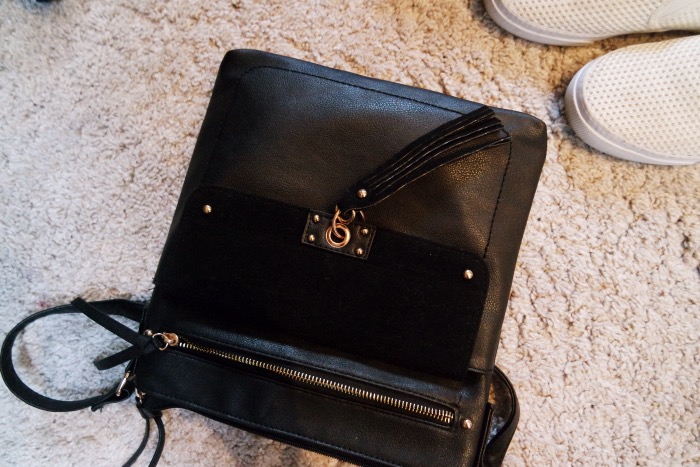 Kleiner tasje mee voor de 'dagtrips'. Altijd een met een rits voor als je naar het buitenland gaat.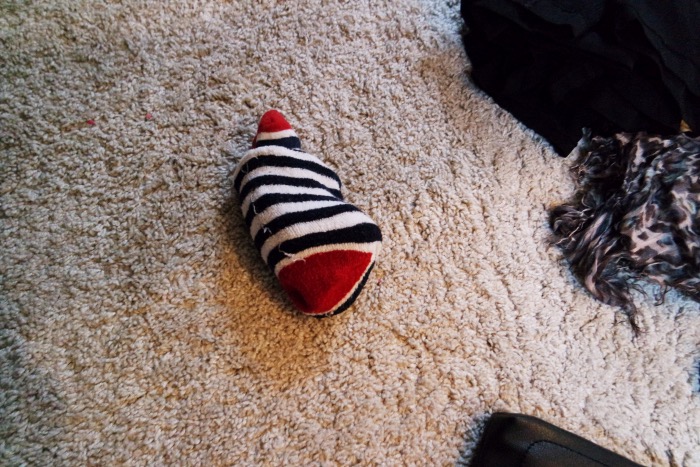 Dikke sokken, in India? Niet voor India inderdaad, deze zijn voor in het vliegtuig. Ik doe dan graag mijn schoenen uit en doe dikke sokken aan.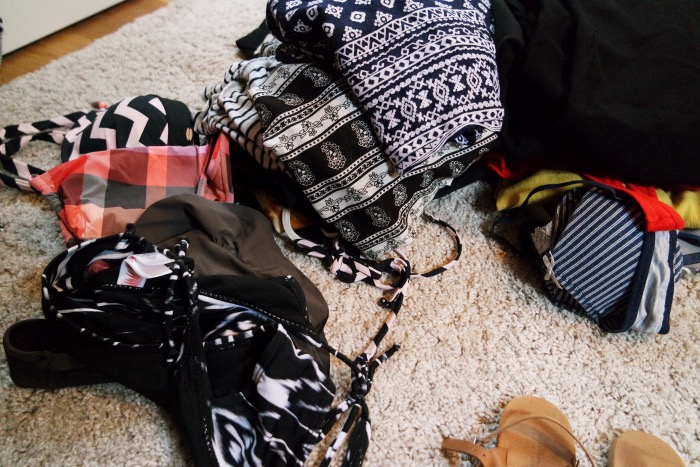 Bikini's, rokken, sandalen.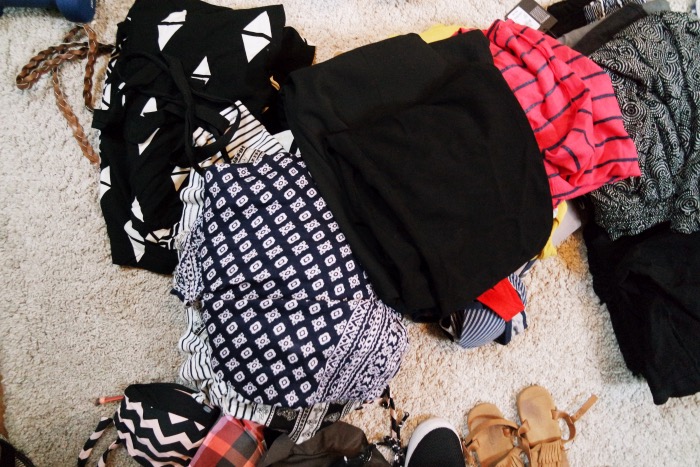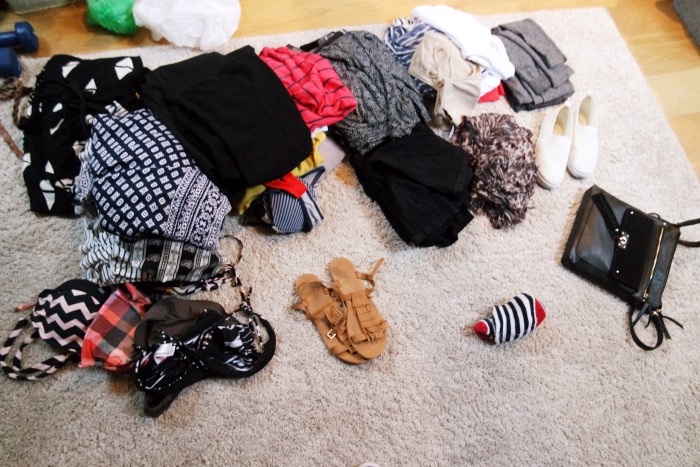 Best goed georganiseerd zo toch?! Nu moet het nog in de koffer en dat doe ik het liefst op de dag van vertrek. Zo kan ik alles nog een keer in handen hebben voor ik het in de koffer doe en lig ik niet 's nachts wakker met de gedachte 'heb ik dat nou al ingepakt of niet?' wat resulteert in: koffer open, alles overhoop halen, zoeken, koffer dicht.
Boeken
Ik wil heel graag meerdere boeken meenemen op deze reis, ik twijfel een beetje tussen Miracles Now, Big Magic, May Cause Miracles, 4-hour workweek, Delivering Happiness, Start With Why.. ooooh, lastig. Ik wil er maximaal twee mee. Natuurlijk gaat ook mijn dagboek mee.
Ik hoop..
Ik hoop dat deze reis precies is wat ik nodig heb nu. Zonder dat ik weet wat ik nou echt nodig heb. Ik hoop dat ik door het geforceerd 'rusten' en mediteren op een ander continent, zonder constant mijn laptop of internet op mijn telefoon, ik een diepere rust kan vinden in mezelf. Heel gek om dit zo te zeggen maar ik ben bijna benieuwd naar wat er aan de hand is op dat level bij mij.
Ik hoop dat ik het allemaal zo mooi mogelijk weet te omschrijven en dat voor jullie ook nuttig kan zijn. Ik heb werkelijk waar géén flauw idee wat er op me te wachten staat aan de andere kant van de wereld en ik besef het nu net.
Ik neem je zoveel mogelijk mee door de reis maar ook door mijn gedachtes tijdens de reis. Ben benieuwd wat we hier 'gezamenlijk' uit kunnen halen!

Ik wil jullie nog achterlaten met deze prachtige video:
[embedyt] https://www.youtube.com/watch?v=LVM9KqNkVdA[/embedyt]