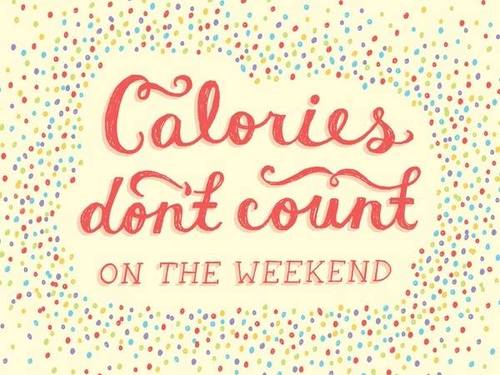 De weekenden zijn zo fijn. Gezelligheid met vrienden en familie en vooral vaak eten, en lekker ook! Als je hard je best aan het doen bent om een gezond voedingspatroon te ontwikkelen wil je natuurlijk niet elke keer tegen dat weekend aanlopen. Hoe toch te genieten en niet je gezonde voedingspatroon in de war te brengen!
Blijf zoveel mogelijk gezond eten – maar houd ruimte over voor..
Als je op allerlei momenten in de week even "loslaat" van je gezonde voedingspatroon, dan kan het zijn dat je er niet fitter van wordt. Ook geniet je minder van het lekkers als je dit vaker dan nodig eet. Probeer daarom zoveel mogelijk gezond te eten zodat de keer dat je wat ongezonds en lekkers gaat eten, het extra lekker en genieten is! Ik bewaar deze momenten het liefst voor in het weekend! Maar de keuze is natuurlijk aan jou hoe je dit indeelt in je voedingspatroon.
Maak je eigen gezonde snacks/eten
Ga je op visite? Komt er visite? Je ouders? Je vrienden? Je familie? Hoe dan ook, het is nooit erg om zelf ook 'lekkers' mee te nemen of klaar te maken als extraatje. Zo kun jij in ieder geval van je eigen gezonde snacks eten en kunnen de anderen meeproeven als ze dit willen. Zo ben je niet genoodzaakt ongezond te eten omdat er andere mensen zijn die dat ook doen.
Zorg voor gezond eten in huis
Als je alleen woont is dit natuurlijk makkelijker te realiseren dan een huis vol met mensen. Iedereen wil weer wat anders eten en er moet van alles in huis zijn. Zorg ervoor dat je je eigen keuzes niet overslaat en haal gezond eten in huis! Dan hoef je je nie te vergrijpen aan koekjes van je vriend/man/vrouw/kinderen. 🙂
Besteed tijd samen door te bewegen
Samen zijn wil niet altijd zeggen dat je op de bank zit met thee en koekjes. Je kunt ook een wandeling maken! Of gaan winkelen, sporten, fietsen etc. Je bent zo toch samen, maar beweegt ondertussen ook samen!