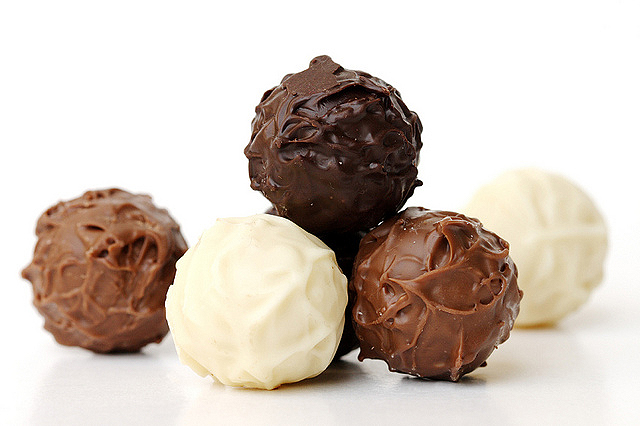 Een van de leukste onderwerpen om een artikel over te schrijven is chocolade. Niet alleen omdat het zó lekker is, maar ook omdat het heel veel positieve effecten kan hebben op je gezondheid (mits je echt teveel eet). Waarschijnlijk weet je al dat je gelukkiger wordt van chocolade omdat het je hersenen stimuleert om de stof endorfine aan te maken. Maar er zijn nog veel meer voordelen! Na dit artikel zul je zonder schuldgevoel (af en toe) lekker genieten van wat chocolade, als je dat nog niet deed tenminste.
Chocolade eten geeft je hersenen een boost. Het helpt je meer gefocust te blijven en je cognitieve vaardigheden ( kennis, waarnemen, denken, taal, bewustzijn, geheugen, aandacht, concentratie) op kort termijn te verbeteren.
De cacao in chocolade verhoogd het goede cholesterol (HDL) in je bloed en verlaagt het slechte cholesterol (LDL)
De cacao verlaagt je bloeddruk
Chocolade heeft net als rode wijn, een hoge dosis flavonoïden. Hier zijn nog steeds veel onderzoeken over bezig omdat het erop lijkt dat deze stofjes wel heel veel goeds kunnen betekenen voor het lichaam. Bijvoorbeeld voor het gezond houden van je hart. Wat daarbij komt, is dat chocolade ook nog heel veel andere belangrijke vitamines en mineralen bevat en zelfs het vet in chocolade blijkt een neutraal of zelfs positieve effecten te hebben op het cholesterol gehalte. Hier zijn nog geen keiharde bewijzen voor, maar er zijn onderzoeken die dit wel suggereren. En zoiets hoeft niet twee keer gesuggereerd te worden; we vinden het maar al te fijn om aan te horen!
Nog een weetje: chocolade bevat ook een stofje dat stress kan verhelpen!
Om het beste resultaat te krijgen is het belangrijk, ik herhaal: belangrijk, om kleine hoeveelheden te eten. Ook maakt het uit hoe de chocolade is bewerkt. Hier spelen de verschillende soorten chocolade een rol.
De regel is: Hoe meer de bewerkte chocolade lijkt op de originele vorm van cacao, hoe beter het is!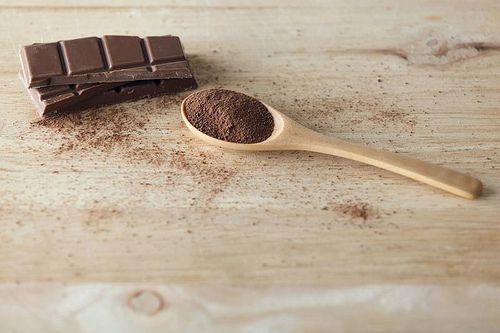 Ja, dat betekent dat pure chocolade (minimaal 70% cacao) het beste effect kan hebben op je gezondheid.  Sommige mensen houden niet van pure chocolade.
Voor de mensen die niet van pure chocolade houden een tip! Koop pure cacaopoeder. Dit is bitter als je het proeft, maar dit is bedoelt om te mengen met andere producten zoals warme melk of een zelfgebakken taart. Hierdoor krijgt de warme melk écht een chocolademelk smaak en de zelfgebakken taart ook (in de taart zit toch al genoeg suiker, de smaak van de suiker word vermengd met de cacaosmaak: chocolade!).
Cacaopoeder heeft echt een hele hoge voedingswaarde is dus zeker een aanrader om in je keukenkastje te hebben staan. Ook heel handig als je hele zoete trek krijgt: meng dan wat cacaopoeder in een bakje yoghurt, in warme melk of maak een ijskoffie met koffie, melk en cacao of een zelfgebakken brownie met cacao in plaats van chocolade. Je kunt er allerlei kanten mee op. "Heerlijk!
Het beste effect krijg je dus als je pure chocolade eet, alles wat minder is of geen puur is heeft nog steeds een positief effect, maar in een mindere mate. Let wel, witte chocolade heeft eigenlijk geen positieve effecten meer van de cacao. Waarom? Simpelweg omdat witte chocolade geen cacao bevat (anders was het wel bruin). Witte chocolade is namelijk gemaakt van de cacaoboter waarbij alle cacao al is verwijderd. Het is uiteindelijk gemengd met melk en suiker waardoor er witte chocolade ontstaat.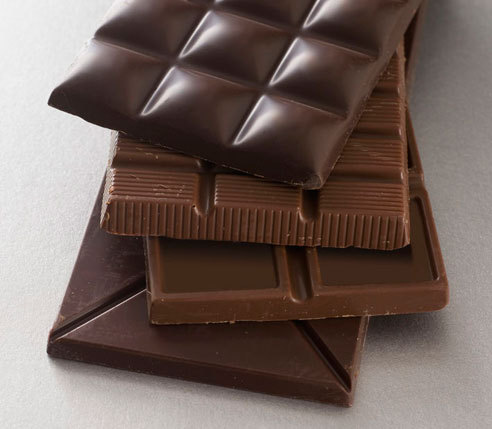 Dus wanneer je echt wilt profiteren van de goede stofjes in chocolade, ga dan in eerste instantie voor pure chocolade of pure cacaopoeder. En anders voor melk chocolade. Aan witte chocolade heb je niet heel veel behalve dat het lekker is net als allerlei andere lekkernijen die niet per se een toevoeging hebben aan je gezondheid.