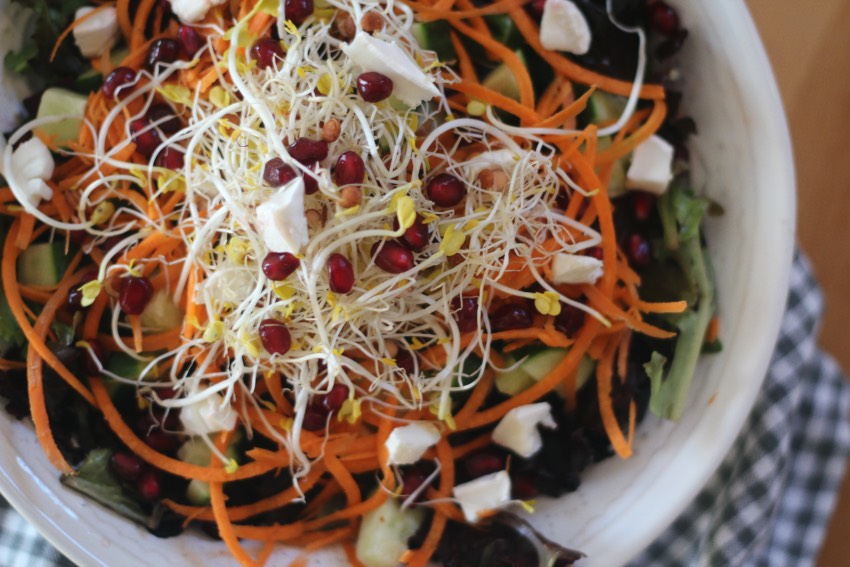 Als er iets is waar ik naar snak met warm weer, dan is het wel een salade. Allerlei soorten salades zelfs. Ik krijg er geen genoeg van en de mogelijkheden zijn eindeloos. Daarom heb ik vandaag een salade die boven verwachting smaakte, geen truttige salade maar rijk, vullend, en bomvol keur! Je weet wat dat betekent: mega veel voedingsstoffen! Daarom noem ik hem de regenboog salade 😉.
Voeg er gerust een eiwitbron zoals peulvruchten of kip aan toe als je dat wilt. 
De hoeveelheden hoeven totaal niet precies, dus doe wat lekker voelt voor jou. Dit heb je nodig:
Sla; rucola mix bijvoorbeeld
Komkommer
Rode biet
Geraspte wortel
Kiemen
Granaatappelpitten
Geitenkaas
Avocado
Dressing:
Sap van 1 citroen
2 theelepels honing of maple syrup
1-2 theelepels olijfolie
peper en zout
Ik 'masseer' de sla met ongeveer 3/4 van de dressing, de rest giet ik over de salade als hij 'af' is. Het enige dat je dient te doen is alles in stukjes te snijden en je salade op te bouwen zoals jij dat wilt. Een half rood uitje erdoor is ook echt heerlijk!
Geniet van al deze smaken en texturen die perfect bij elkaar komen in een salade. En je lichaam zal je ook bedanken 😉 Enjoy!
Laat me weten als jij deze salade een twist hebt gegeven, ik ben altijd op zoek naar nieuwe manieren om mijn groentes te eten (niet dat het me moeite kost 😉 haha).
Eetsmakelijk!