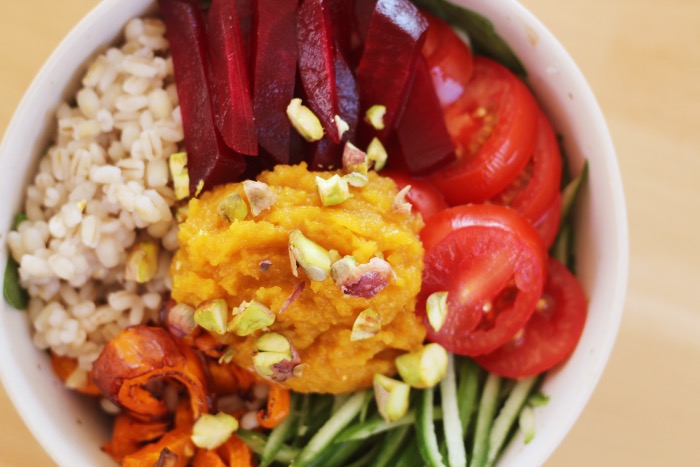 Een aantal jaren geleden had je mij nooit wijs kunnen maken dat ik oprecht zou genieten van het maken en eten van verschillende salades. Waarschijnlijk omdat mijn beeld van een salade eigenlijk altijd hetzelfde was: sla, komkommer, tomaat en misschien nog een boeiende toevoeging zoals feta kaas.
Goh, wat is er toch eigenlijk veel mogelijk met salades als dat je standaard is nietwaar? Zo hebben de maaltijdsalades in verschillende winkels én de salades van SLA me inspiratie gegeven om mijn horizon te verbreden omtrent salades. Wie zegt dat het niet een bak vol met restjes mag zijn? Wie zegt dat het niet een zetmeel component mag bevatten (couscous, pasta, gort, etc.)?
Vandaag heb ik dus ook een superlekkere salade combinatie gemaakt die ik wil delen; Bomvol vitamines en mineralen (niet dat het de meeste mensen boeit, zolang het lekker is). 
Wat heb je nodig? De hoeveelheden mag je echt zelf bepalen dus ik benoem alleen de ingrediënten:
Bieten, voorgekookt + in vacuüm
Parelgort
Spinazie
Komkommer
Cherry tomaten
Paprika
Pistache noten
Citroensap
Pompoen hummus/spread
Het geheim van zo'n lekkere salade is voor mij vaak een hummus / spread erbovenop (ooit bij SLA gegeten?). Nu kun je dit natuurlijk zelf maken, maar je kunt ze ook kopen. Het tweede is wat ik heb gedaan.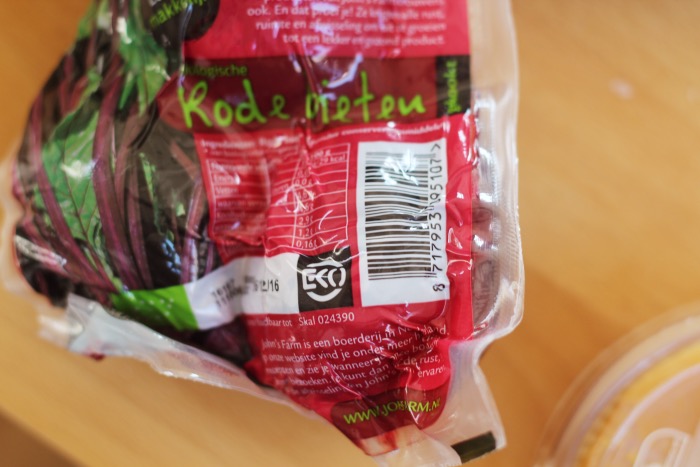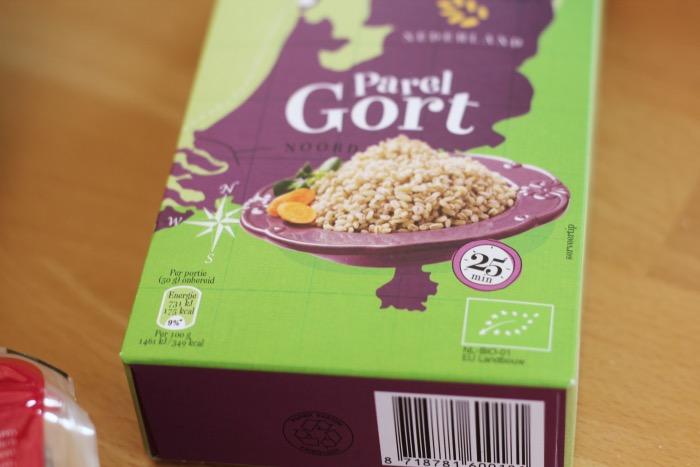 Eigenlijk is het een kwestie van alles bereiden en mooi bij elkaar plaatsen in een diepe kom waar je veel in kwijt kunt.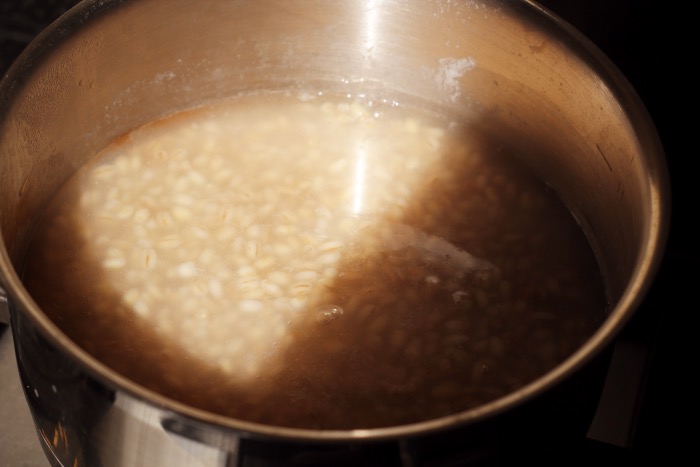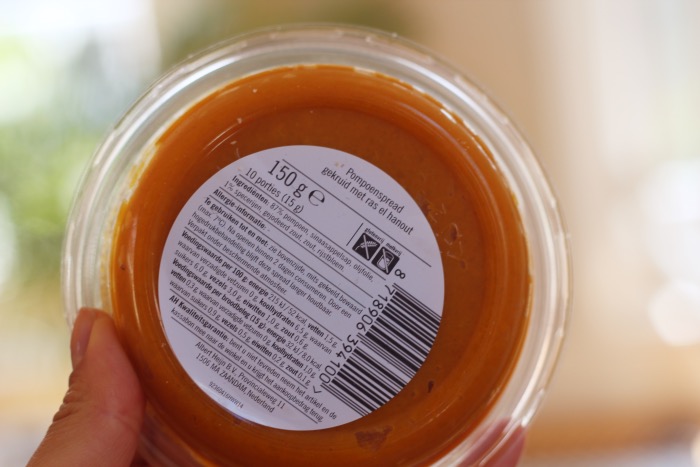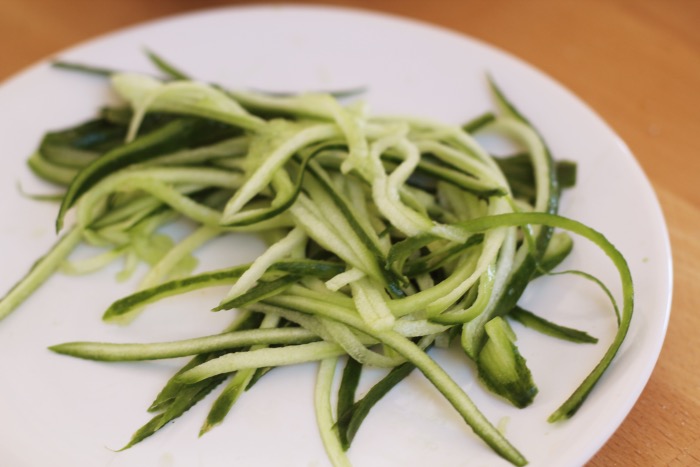 Omdat ik er ook een mooi plaatje van wil maken, heb ik de komkommer met een julienne schiller gesneden. Geeft het weer een leuk effect.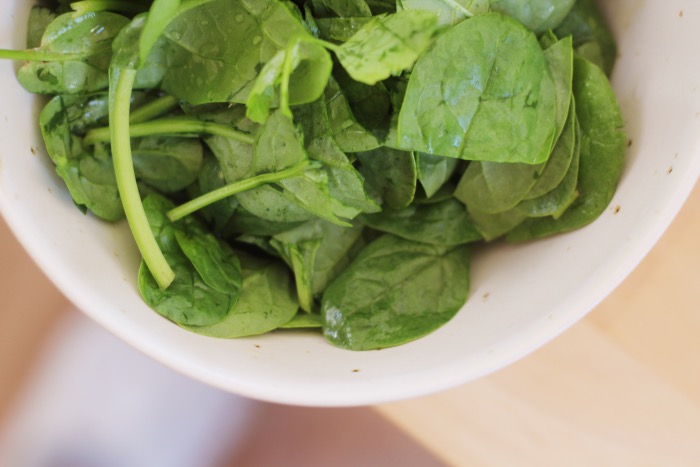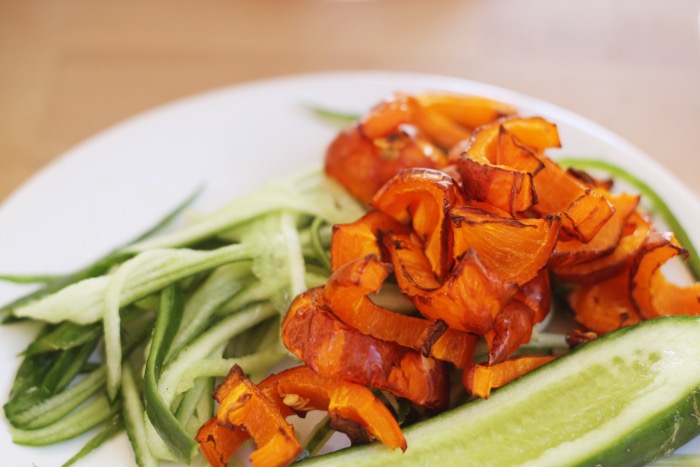 De paprika heb ik in stukjes gesneden en in de Airfryer gedaan voor 8 minuten op 180 graden Celsius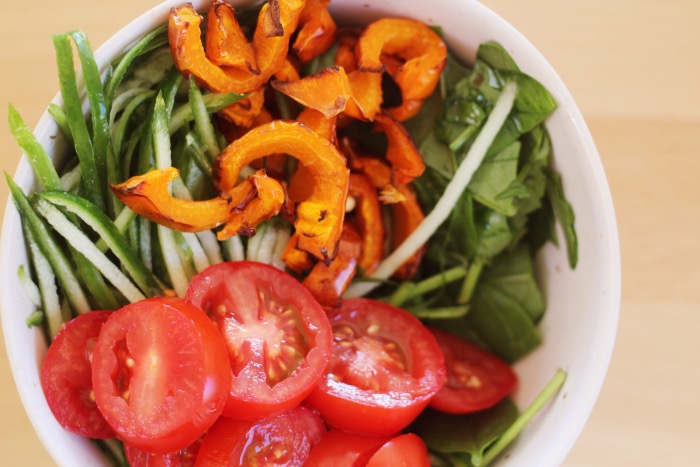 Vooral eerst veel spinazie onderop. Je kunt ervoor kiezen hier al wat citroensap of andere dressing overheen te doen zodat de spinazie niet 'kaal' smaakt. Maar met alle ingrediënten en toppings zal dat niet snel gebeuren.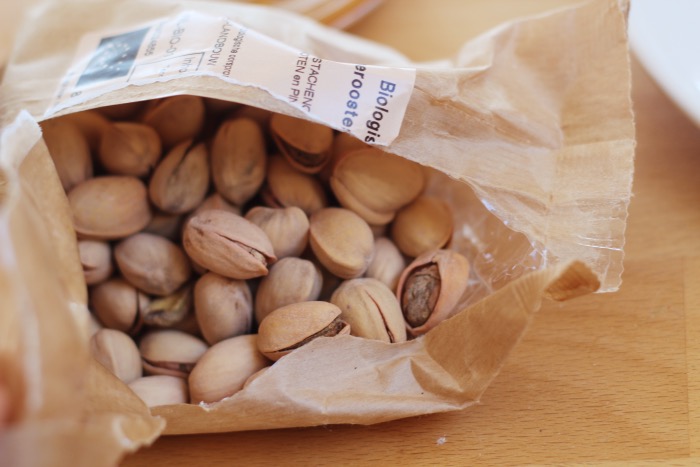 Nootjes door een salade vind ik heerlijk!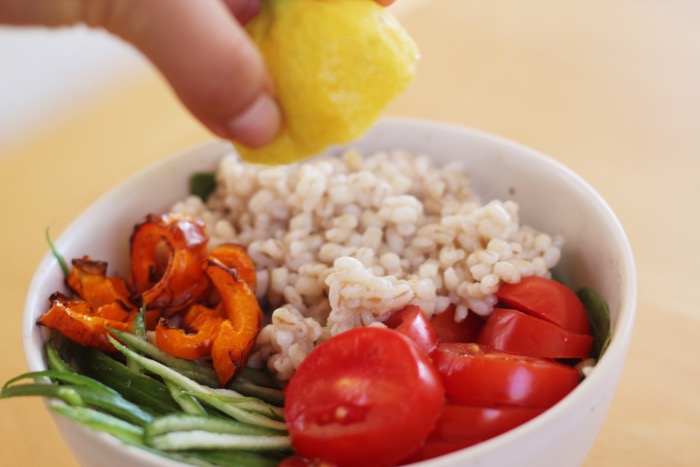 Als de parel gort klaar is, doe ik hier een beetje zout en citroensap overheen; perfect voor een salade.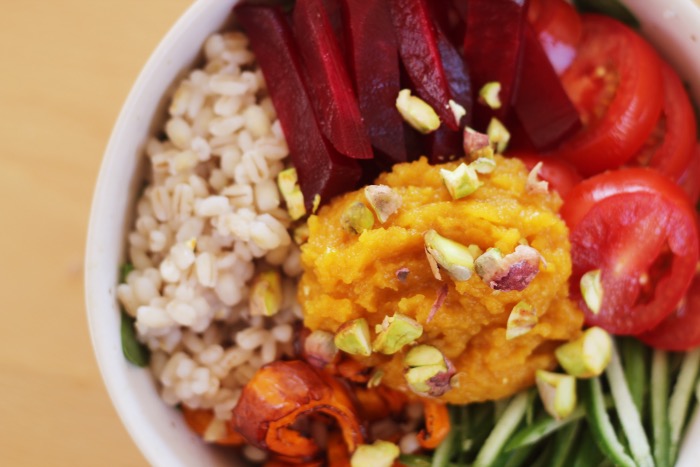 In het midden komt de hummus / spread en daar bovenop heb ik de pistache noten (beetje fijngehakt) gestrooid.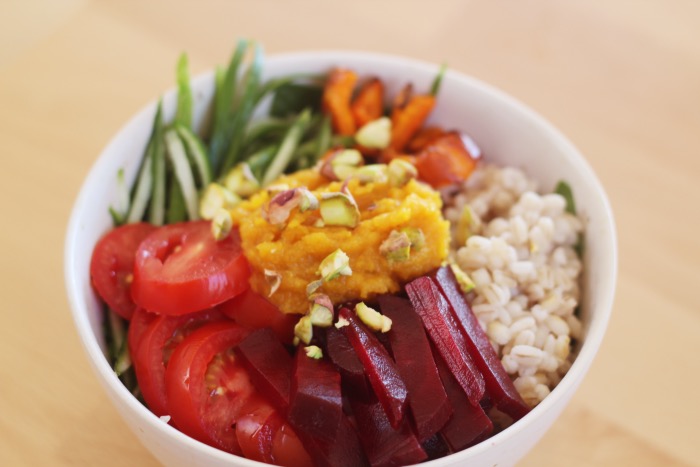 De bietjes heb ik in reepjes gesneden, zo zijn het net allemaal 'andere' vormen.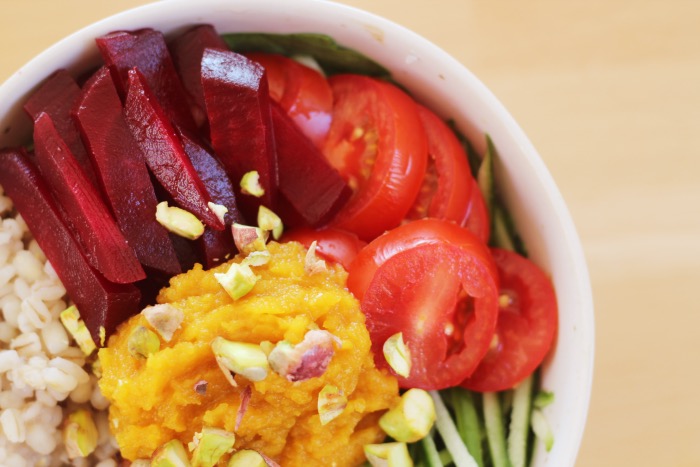 Ik wil hier opnieuw in duiken, het is zó lekker. Eetsmakelijk!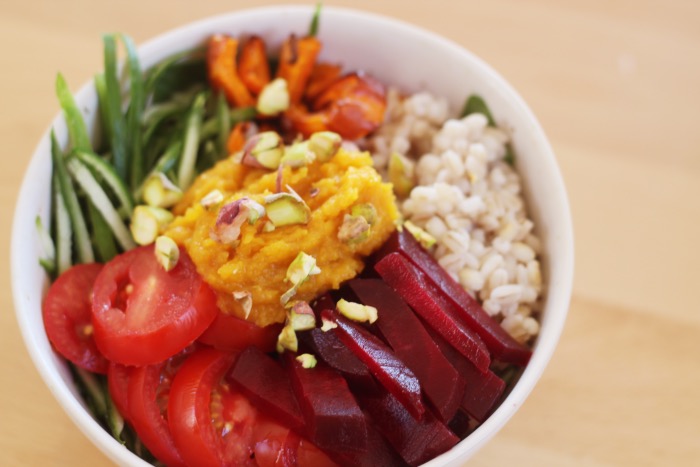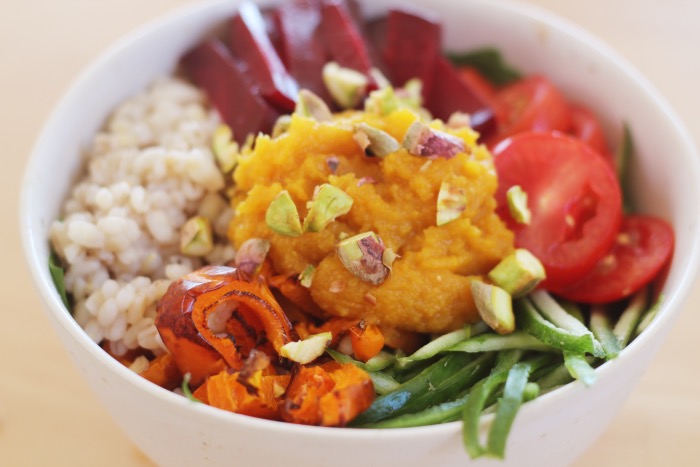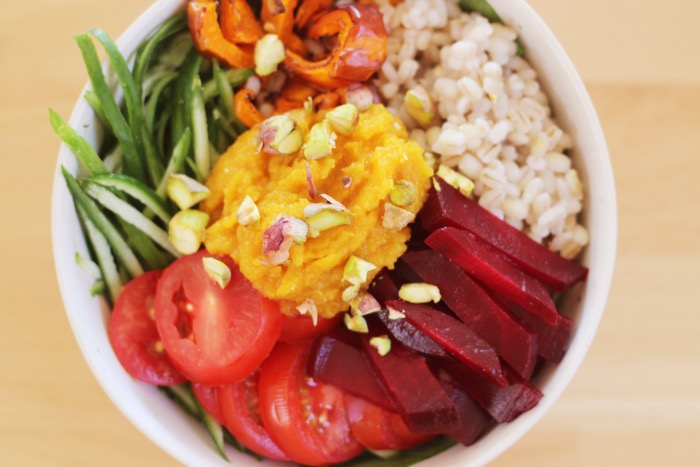 Bewaar, Like, Tweet of Pin!