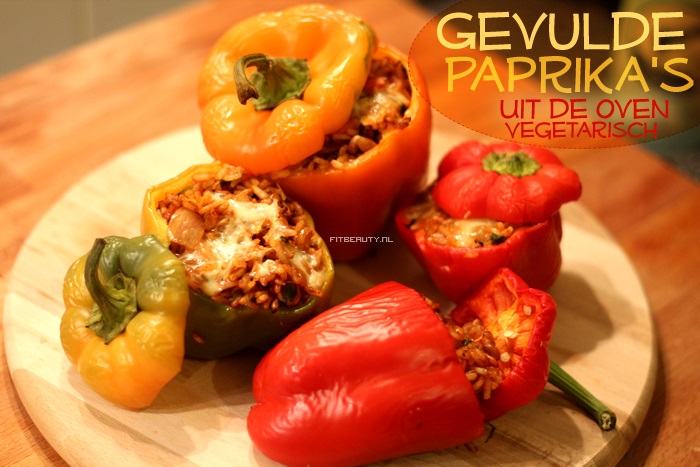 Ik had nog zoveel paprika's over van de markt dat ik er een groot recept mee moest maken vond ik. Elke dag wat stukjes door de salade zou niet genoeg zijn om ze op tijd op te krijgen. Dus heb ik voor het eerst een poging gedaan tot het maken van gevulde paprika's en ze zijn verukkelijk geworden! Als ik dat zo mag zeggen, haha. 
Ik ben nooit heel nauwkeurig met de hoeveelheden bij het avondeten, alles wat over is kun je los eten natuurlijk. Dus gebruik qua hoeveelheden vooral wat je zelf lekker vindt.
Wat heb je nodig voor 2 personen (of voor jezelf alleen een avondmaal + lunch de dag erop)?
4 paprika's (groot, klein, middel maakt allemaal niet uit)
2 kopjes rijst
3 kleine wortels
2 uien
3 teentjes knoflook
bosje peterselie
champignons
1 handje (25 gram) walnoten, gebroken
1 klein blikje tomatenpuree
mozzarella (of geraspte kaas)
olijfolie
peper, zout, paprika poeder
Verwarm de oven vast voor op 180 graden Celcius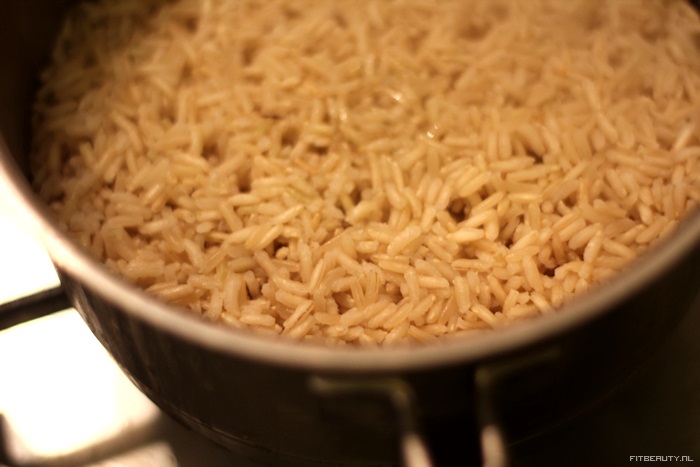 Begin met het koken van de rijst. Ik doe per kopje rijst, anderhalf kopje water. Doe ook een beetje olijfolie in het water bij de rijst, zodat de kans kleiner is dat het gaat plakken. Breng het water vervolgens aan de kook met de deksel op de pan. Haal de deksel NIET van de pan af, ik herhaal: haal de deksel NIET van de pan af. Rijst kookt het beste met stoom, en daarom moet de deksel erop blijven. Als het water eenmaal kookt kun je de deksel er wel schuin op leggen zodat de overtollige stoom eruit kan maar er nog wel stoom binnen blijft. Zet het vuur dan ook laag. Na ongeveer 15-20 minuten (afhankelijk van de hoeveelheid rijst) is je rijst gekookt en kun je er met je vork even doorheen roeren. Je kunt op dat moment ook wat olijfolie toevoegen.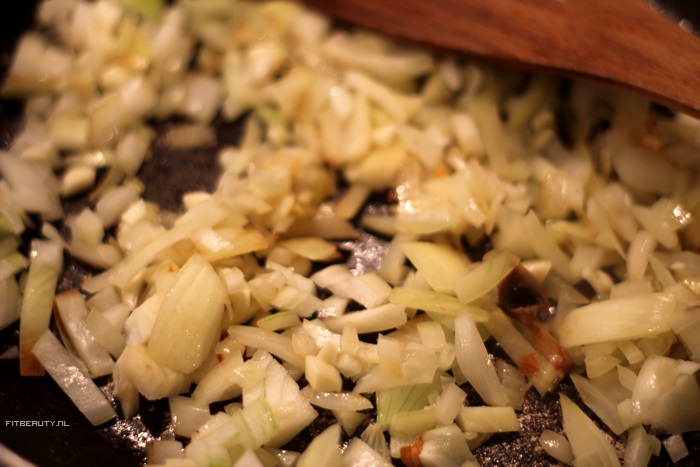 Bak ondertussen de uitjes met knoflook in de olijfolie.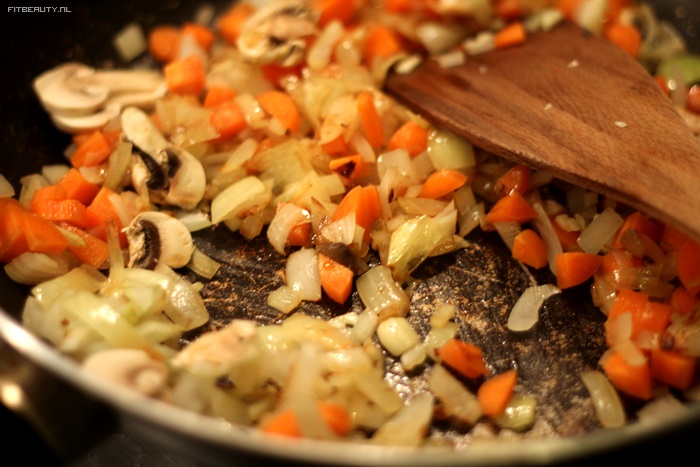 Doe vervolgens de gesneden stukjes wortel en champignons bij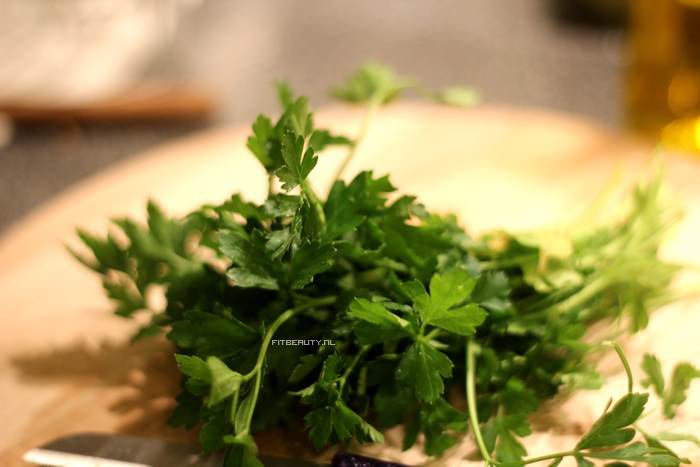 Verse peterselie! Snijd deze fijn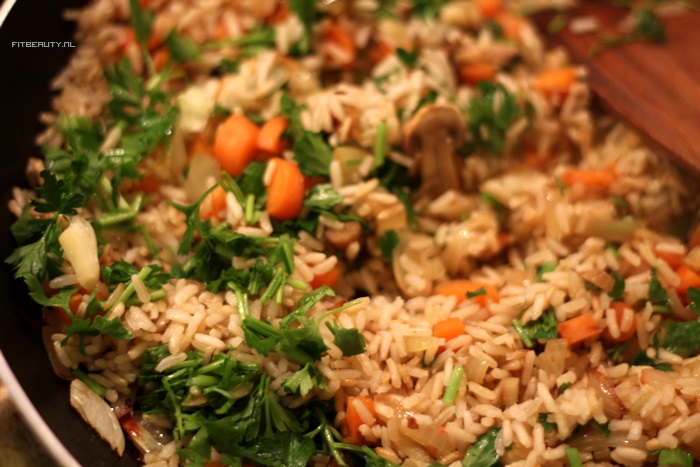 En voeg de peterselie toe aan de pan tegelijkertijd met de gekookte rijst.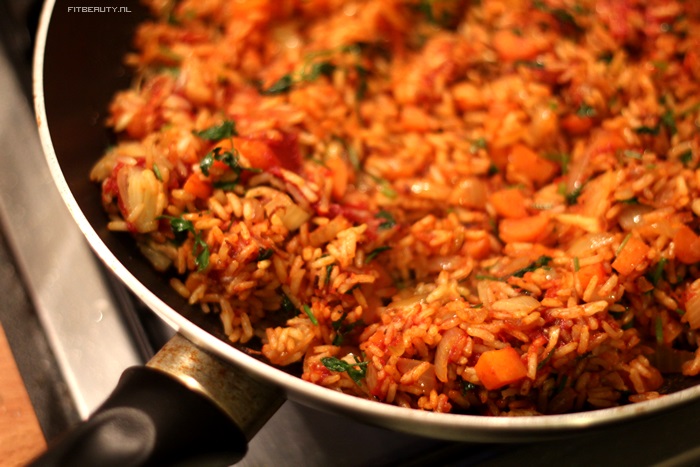 Als het goed gemengd is met elkaar voeg je het blikje tomatenpuree toe.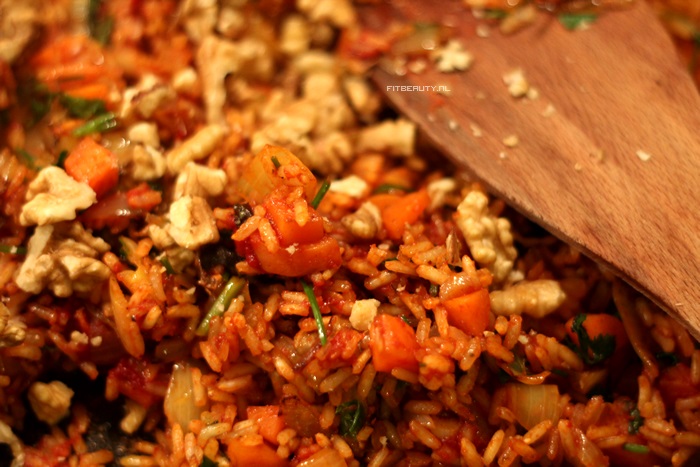 Als allerlaatste doe je de gebroken walnoten erbij en roer je dit erdoor. De walnoten geven een heerlijke "bite" en een notige smaak.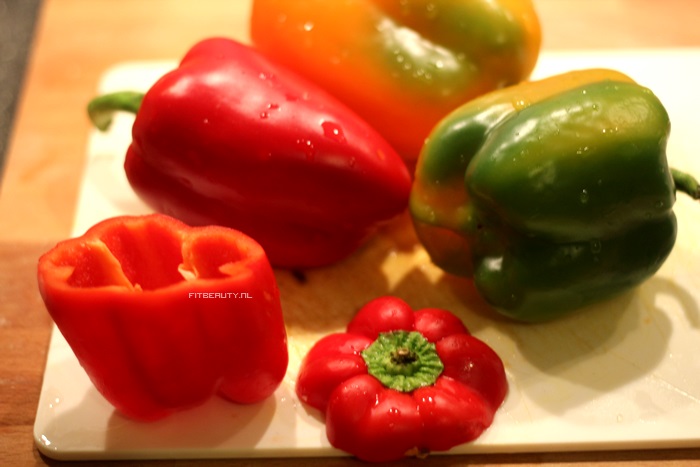 Was de paprika's en snijd de bovenkant eraf. "Hol ze vervolgens uit" voor zover dat nodig is bij paprika's.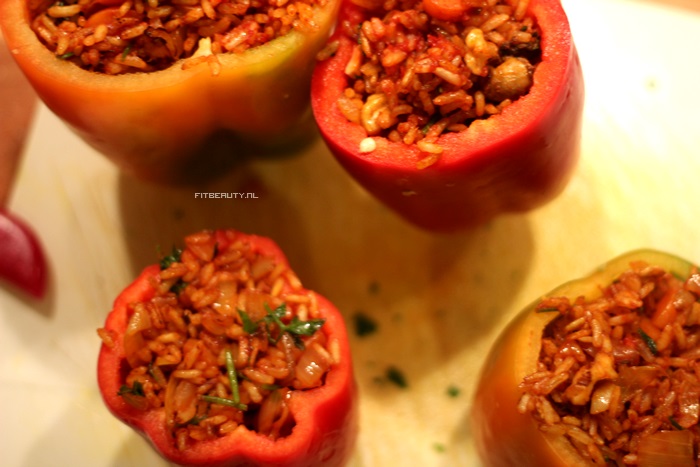 En dan is het tijd om ze te vullen met het heerlijke mengsel! Jummmm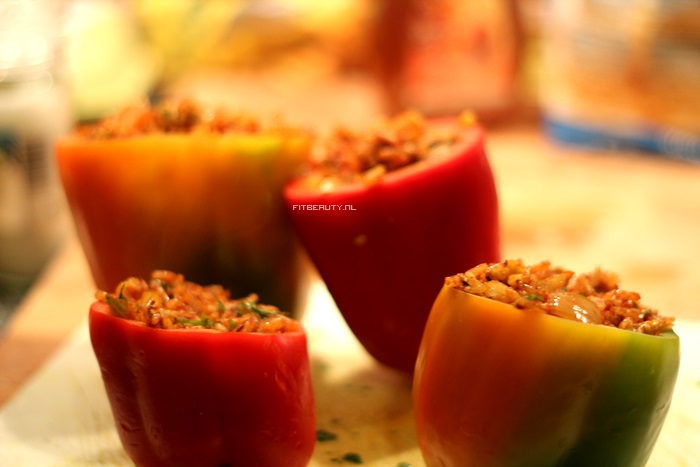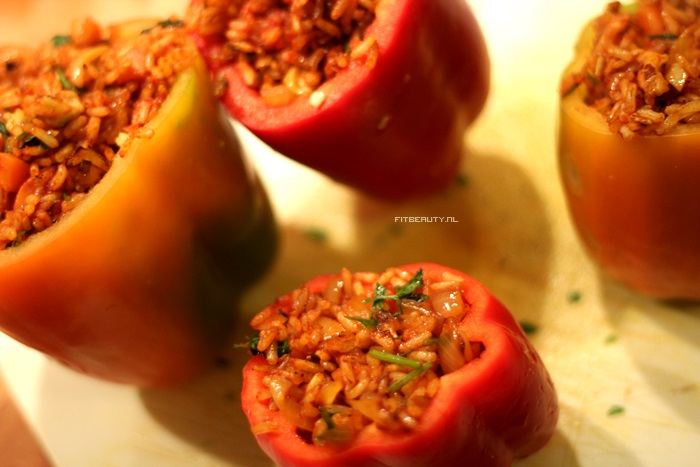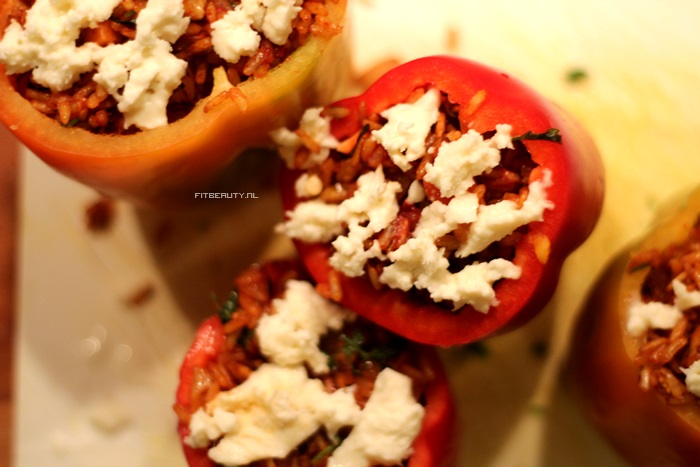 Doe als laatste stukjes mozzarella of geraspte kaas over de gevulde paprika's en stop dit voor 30 tot 40 minuten in de voorverwarmde oven.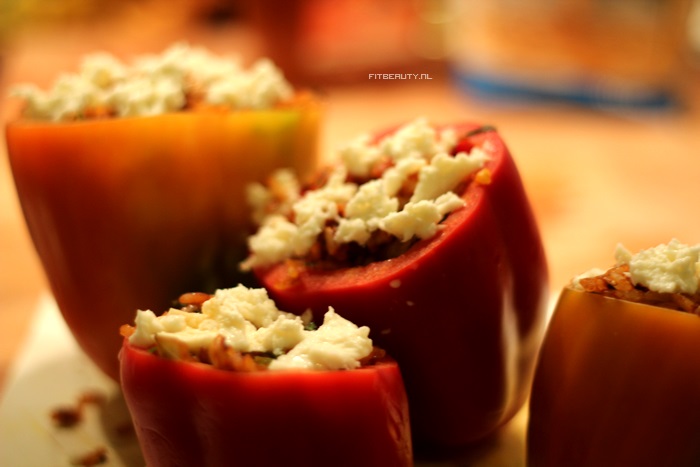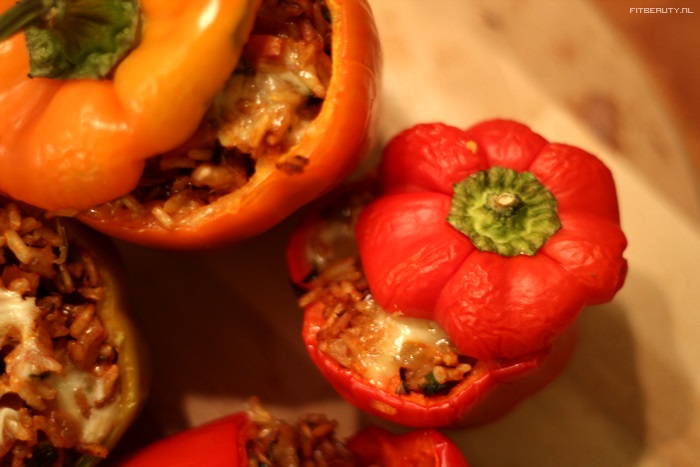 Het resultaat! Heerlijke gevulde, voedzame paprika's uit de oven! Ik kan me niet voorstellen dat deze mislukken 🙂 (tenzij je ze niet op tijd uit de oven haalt dan, haha).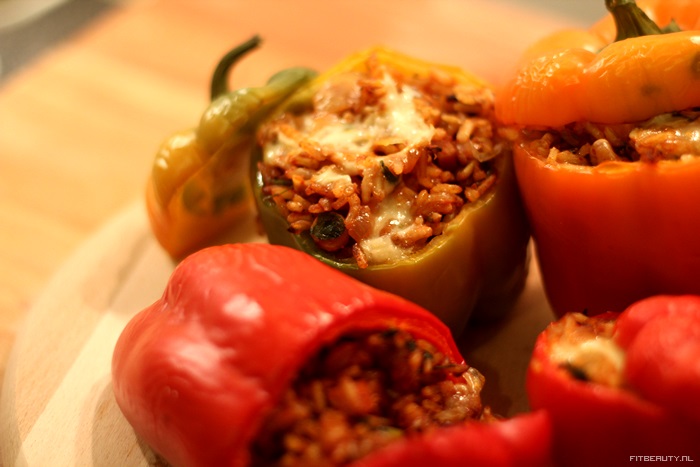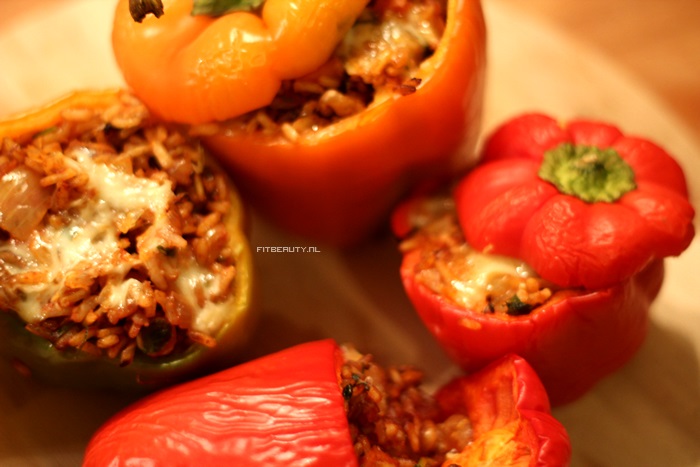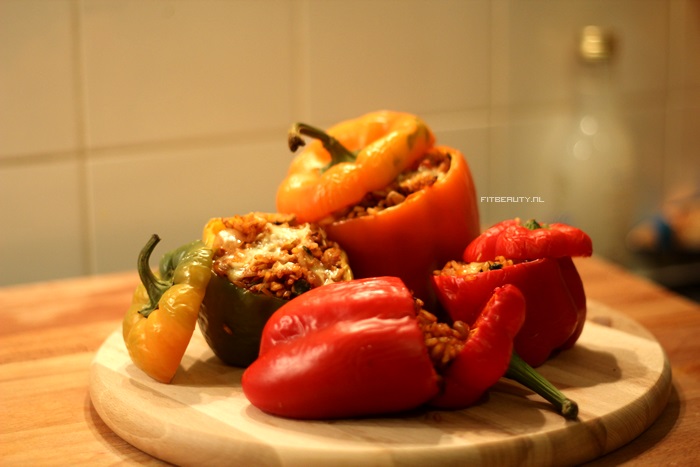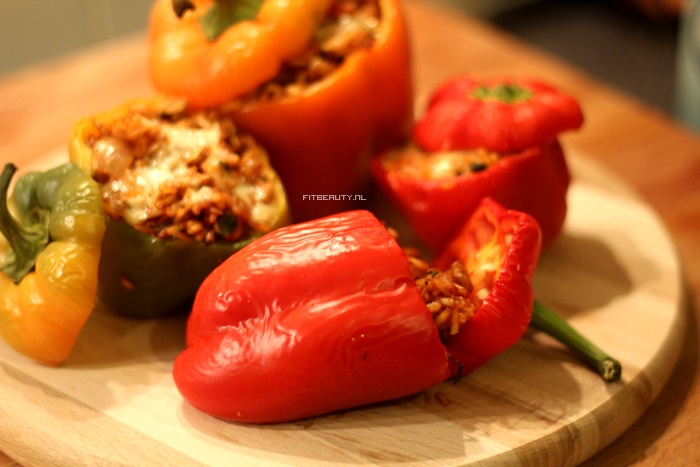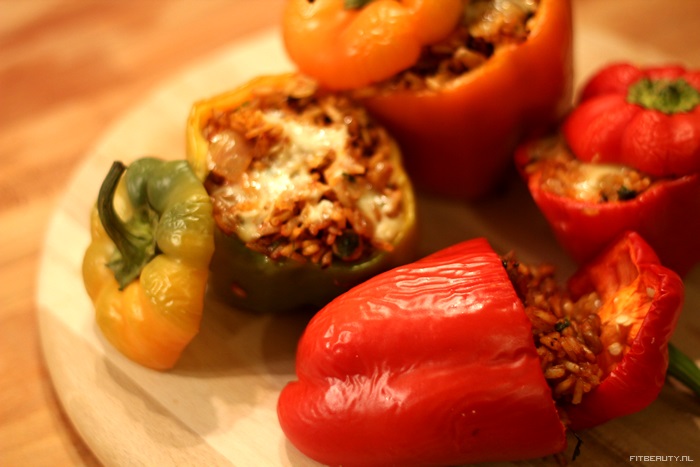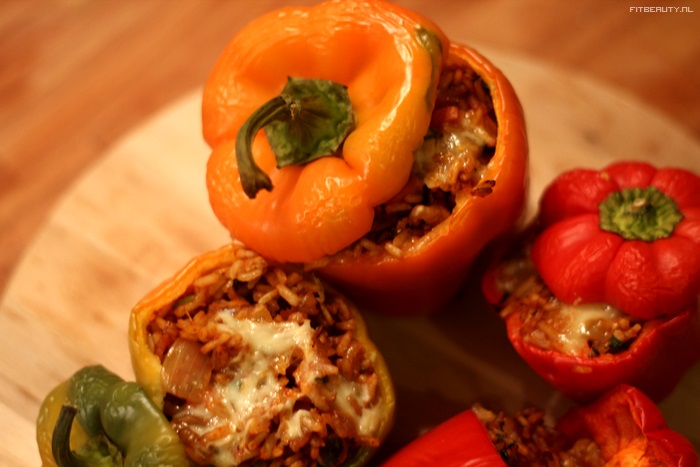 Eetsmakelijk!
Bewaar, Like, Tweet of Pin!