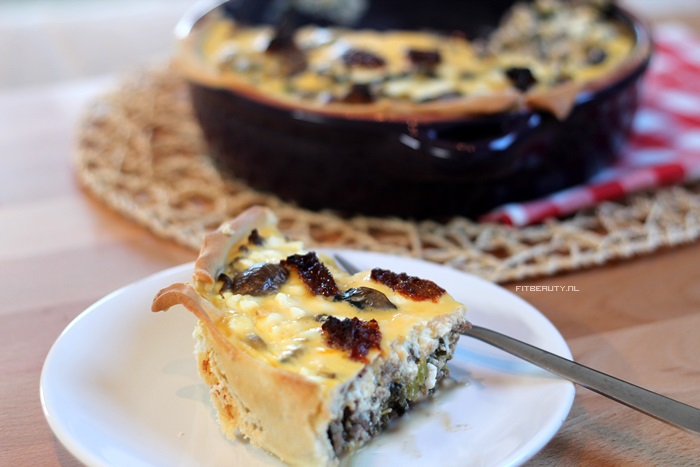 Een beetje experimenteren in de keuken levert vaak weer geweldige recepten op! Zoals nu ook weer met hüttenkäse! Ik eet het vaak op een rijstwafel of cracker met wat jam tot ik een keer besloot het over mijn gebakken ei te doen in plaats van gewone geraspte kaas… en wow! Dat was een nieuw ontdekking voor mij. 
Goed! Wat heb je nodig voor een schaal waar zo'n 4 à 5 mensen van kunnen eten:
5 velletjes hartige taartdeeg (diepvries van supermarkten)
1 pakje Hüttenkäse van 400 gram
1 prei
250 gram champignons
1/2 courgette
30-40 gram spinazie
300 gram gehakt*
4 eieren
100 ml melk (ik heb sojamelk gebruikt)
(olijf)olie om in te bakken
zongedroogde tomaten naar smaak
peper en zout naar smaak
* Je kunt het gehakt weglaten om er een vegetarisch gerecht van te maken
Verwarm de oven vast voor op 190 graden Celcius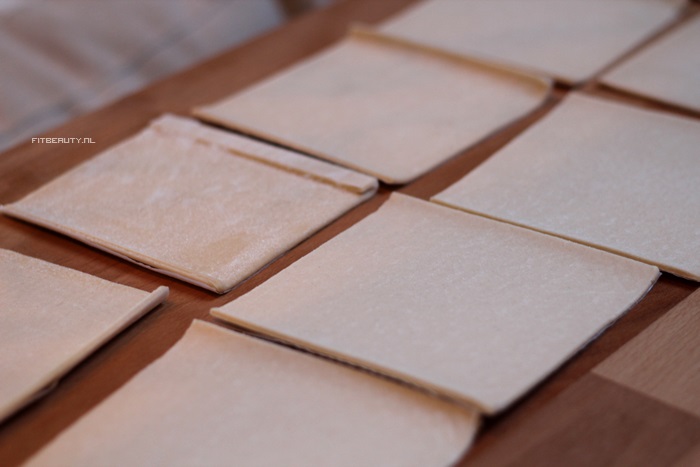 Eerst even de velletjes laten ontdooien, dit kost hooguit 15 minuten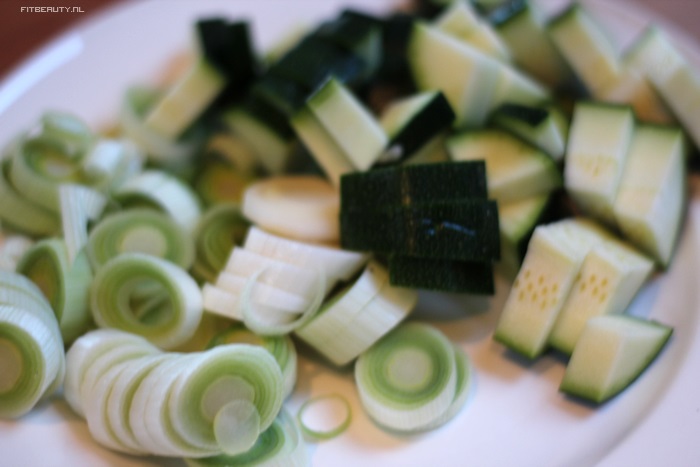 Groente snijden!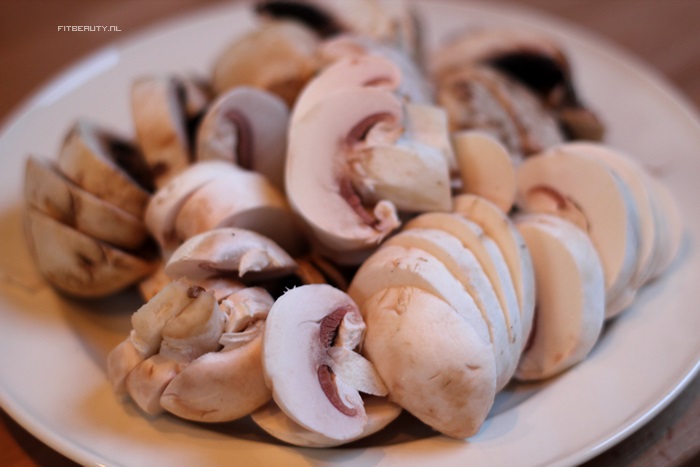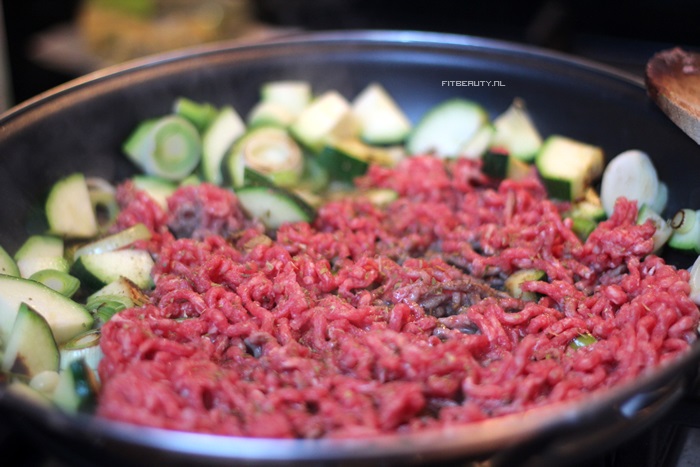 Eerst bak je de courgette en prei zo'n 5 minuten in wat olijfolie, vervolgens kun je het gehakt erbij doen en dit naar smaak kruiden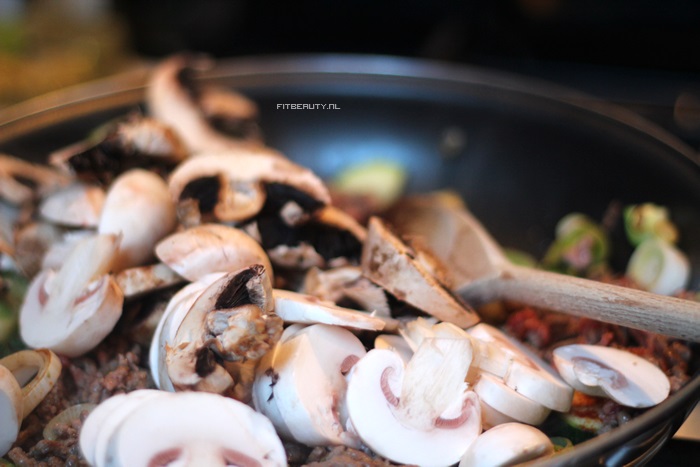 Als het gehakt bijna niet meer rood is, voeg je de champignons toe, bak dit tot de champignons zacht beginnen te worden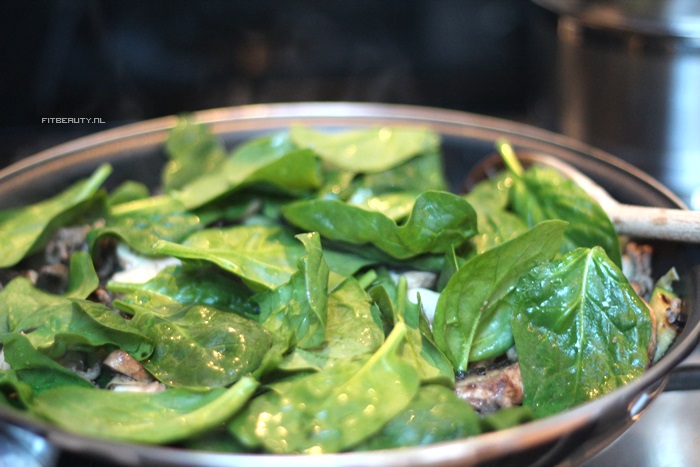 En vervolgens voeg je de spinazie ook toe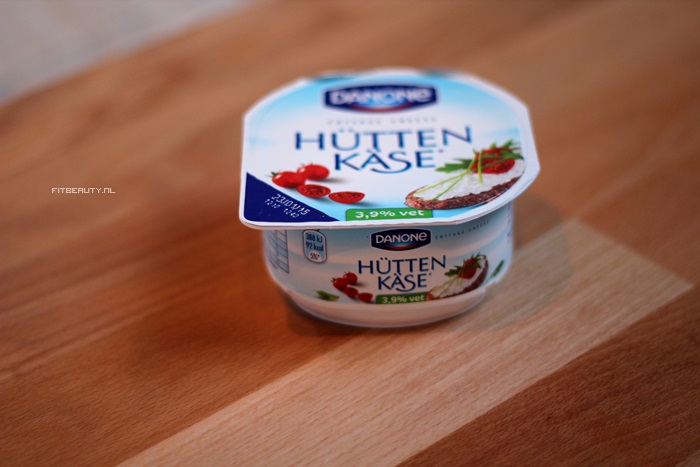 Hello hüttenkäse! Dit is de kleine verpakking die ik makkelijk in mijn tas gooi samen met wat rijstwafels en op het werk eet.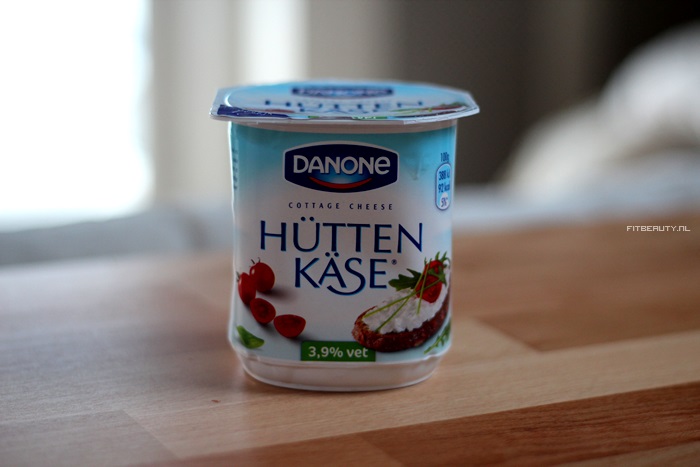 Deze verpakking van 400 gram gaat niet zo makkelijk mee in mn tas, maar dus wel superhandig als je zo'n hartige taart gaat maken. Geloof het of niet, de hele verpakking gaat erin! Haha.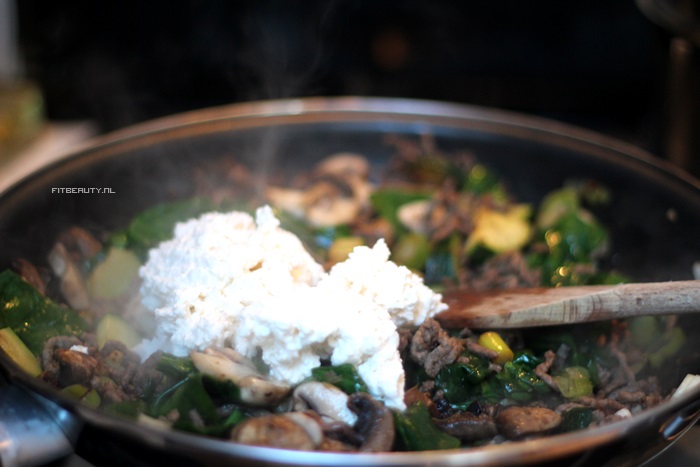 Als de spinazie geslonken is, doe ik 3-4 eetlepels van de hüttenkäse erbij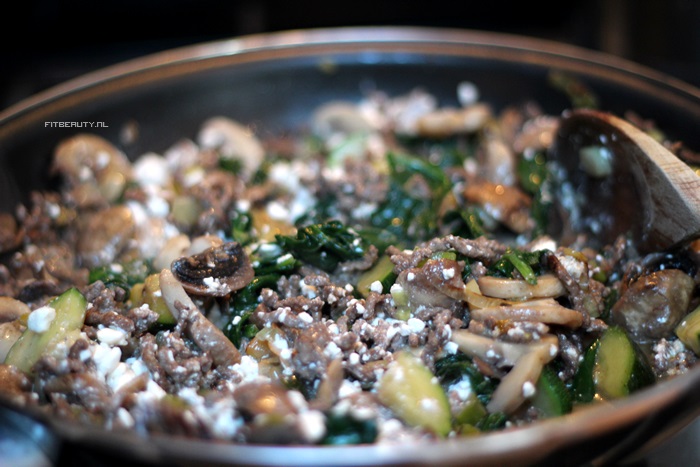 Een beetje mengen. Je zult merken dat er een laagje vocht onderin de pan komt van de  hüttenkäse. Dat is geen probleem, laat het op een laag vuurtje staan zodat het meeste vocht verdampt.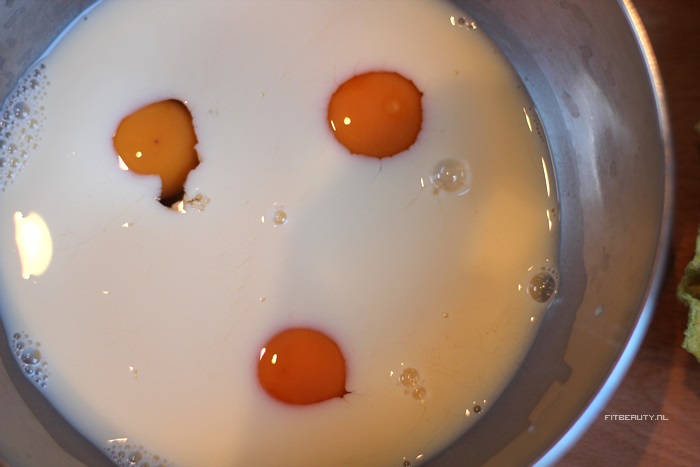 Voor de saus voeg je de melk en eieren bij elkaar in een kom en meng je dit even door met een vork.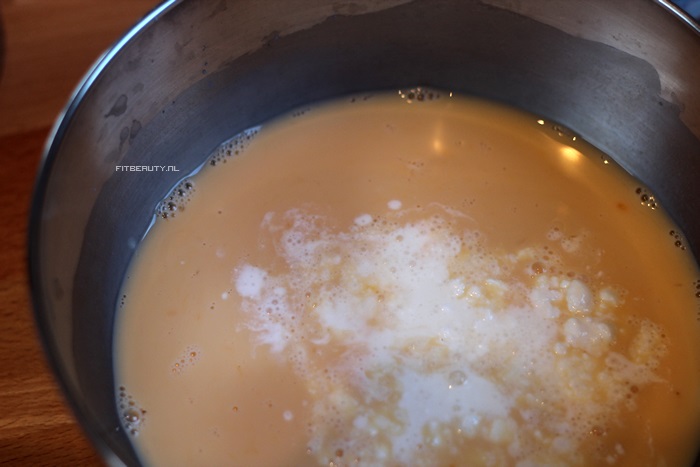 Vervolgens doe je de rest van het overgebleven bakje hüttenkäse erbij en meng je dit ook even door met een vork.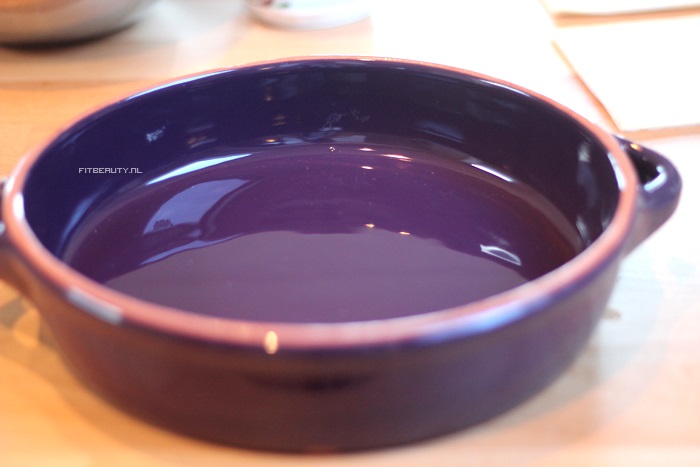 Tijd om de schaal een beetje in te vetten met wat olie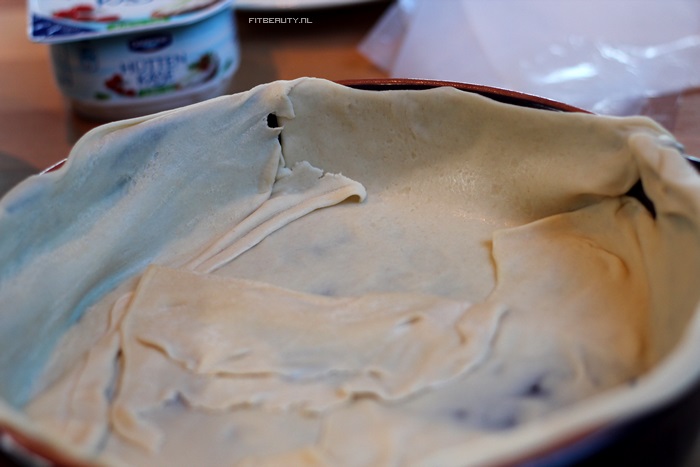 En vervolgens te bekleden met de hartige taart deeg. Ik maak er altijd een puzzel van, het hoeft echt niet mooi te zijn. Wat wél leuk is, is om wat flappen aan de buitenkant eruit te laten steken, dit geeft een mooi effect als de taart uit de oven is.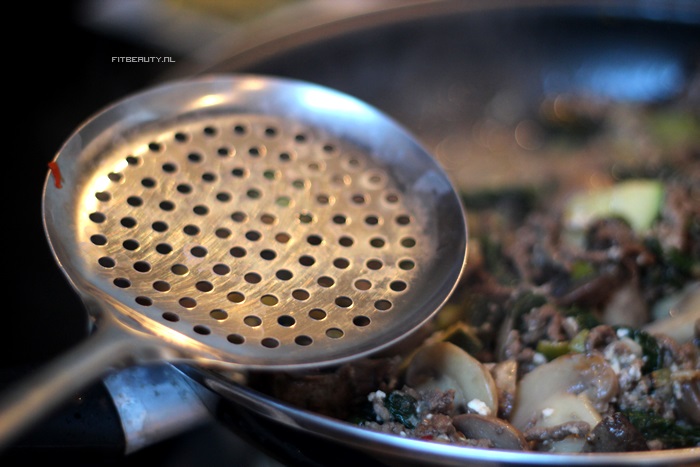 Probeer iets te gebruiken om zoveel mogelijk overgebleven vocht in de pan te laten en alleen het mengsel mee te krijgen in je ovenschaal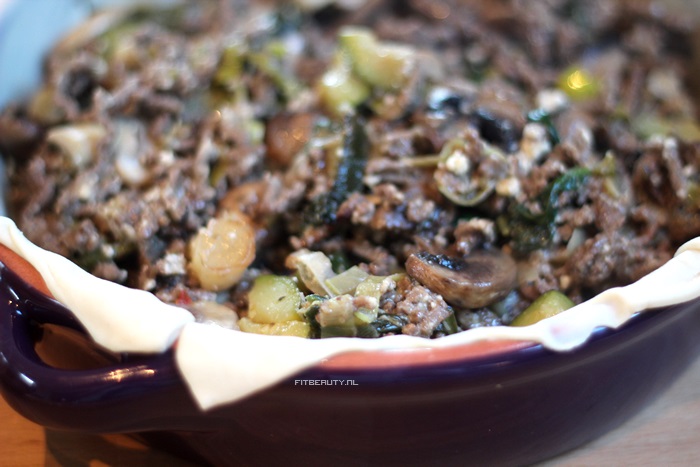 Tada!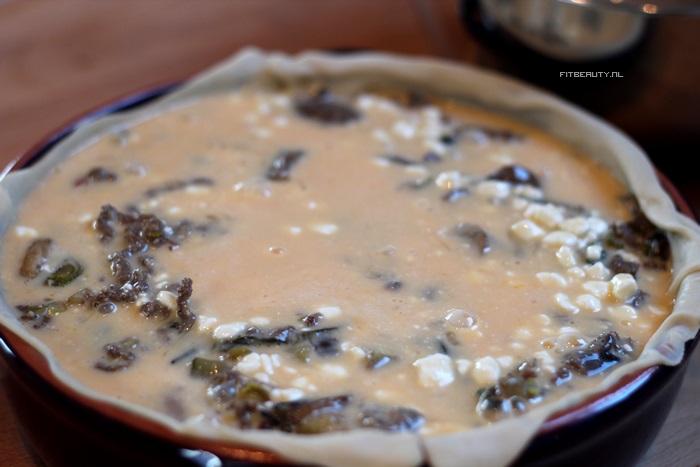 Saus eroverheen gieten 🙂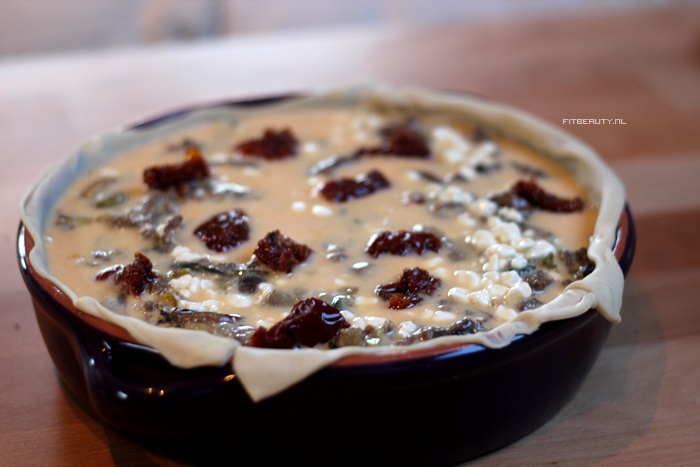 Als laatste heb ik zo'n 4 zongedroogde tomaten in stukjes gesneden en er bovenop gedaan. Geeft toch weer een leuk effect!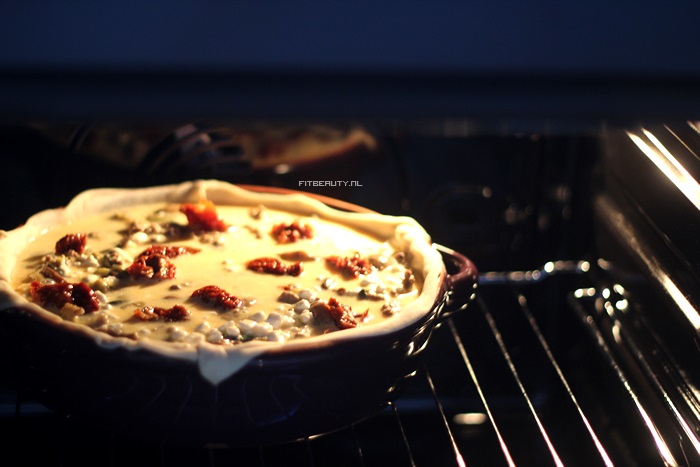 Dit gaat dan voor 30-40 minuten de oven in (190 graden Celcius), houdt de taart in de gaten, per oven kan het namelijk verschillen hoe lang hij erin moet. Na 30-40 minuten kun je hem nog even 5 minuten op de grill stand zetten als je wilt, dan wordt de bovenkant wat geler/bruiner, puur voor het effect!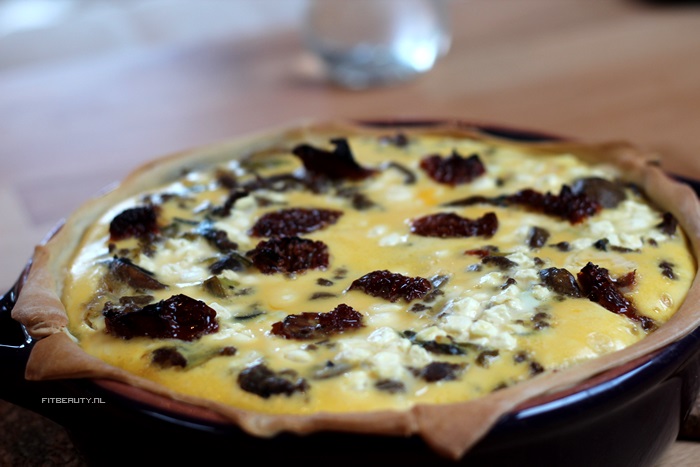 En hij is klaar!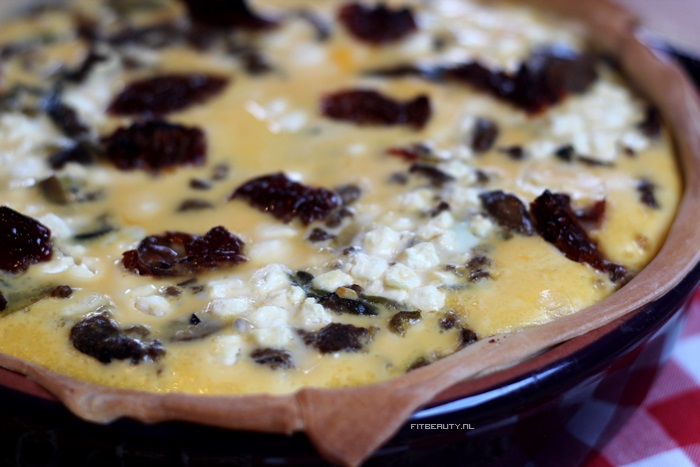 Hij blijft zo lekker kazig!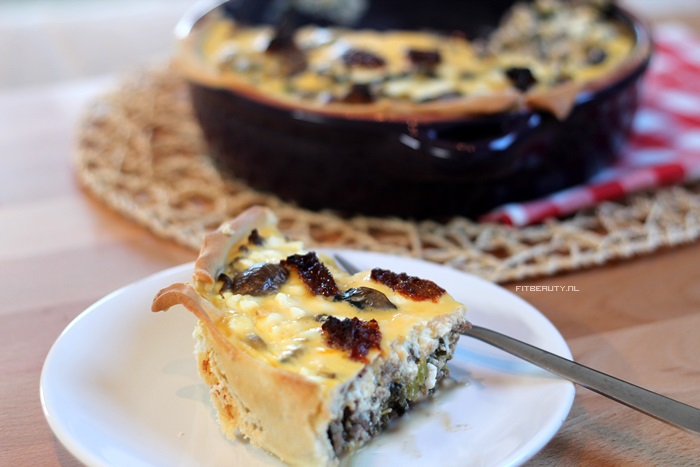 Aanvallen!