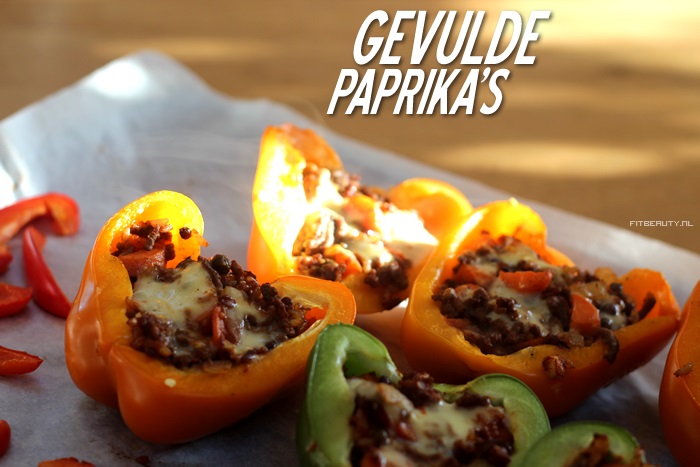 Soms vergeet ik gewoon hoe lekker sommige simpele recepten wel niet zijn! Zoals ook deze gevulde paprika's. Ik heb hier al eerder een recept van gedeeld, maar die waren vegetarisch en deze hebben een andere vulling + vlees. Ik begin alweer te watertanden.. 
Je zou kunnen zeggen dat 2 paprika helften (1 hele) per persoon als portie gezien kan worden als je daarnaast ook nog wat hebt zoals een salade of iets dergelijks. Ik heb met mijn hoeveelheden 6 helften kunnen vullen.
3 paprika's
250 gram gehakt
3 middelgrote wortelen
1 klein blikje tomatenpuree
1 ui
komijn, paprikapoeder, knoflookpoeder, peper, zout
olie om in te bakken
veggie mix*
optioneel: kaas
*Ik kreeg twee varianten Vegi Mix van een merk dat ik nog niet kende in de brievenbus: Lima. En natuurlijk ben ik best voorzichtig en een beetje sceptisch in het begin. Ik probeerde het eerst uit met een simpel wok gerechtje afgelopen zaterdag en dat beviel zó goed dat ik het ook in dit gerecht heb gebruikt. Het is echt heerlijk en verzadigend. Je kunt dit trouwens ook vervangen door zelf zilvervliesrijst of couscous of linzen etc. toe te voegen.
Verwarm de oven vast voor op 190 graden Celcius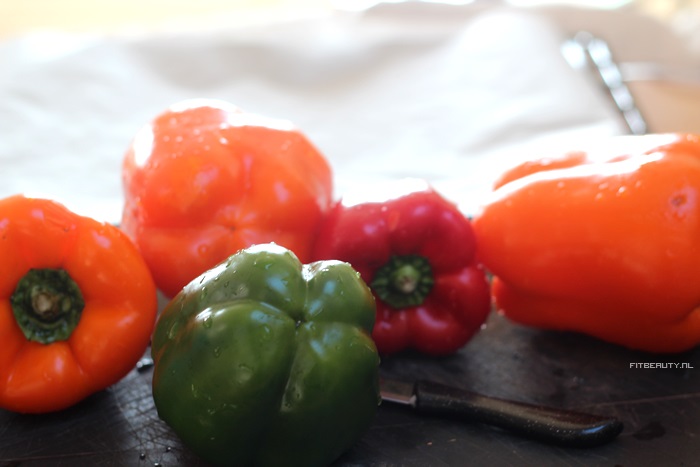 Paprika's gewassen. Ik heb er dus niet 5 gebruikt zoals je hier boven ziet.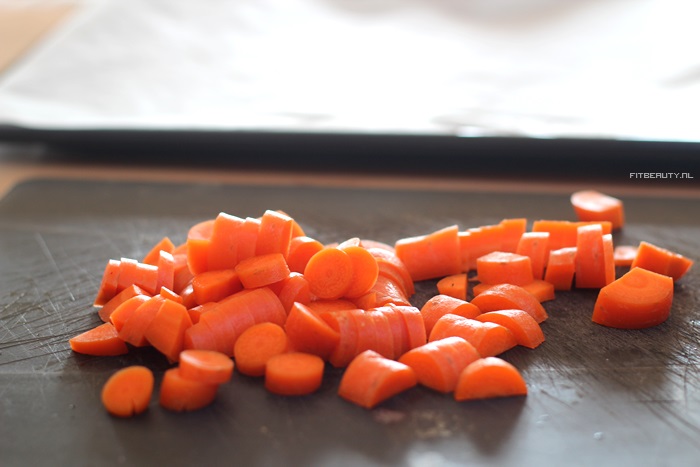 Wortels in kleine blokjes snijden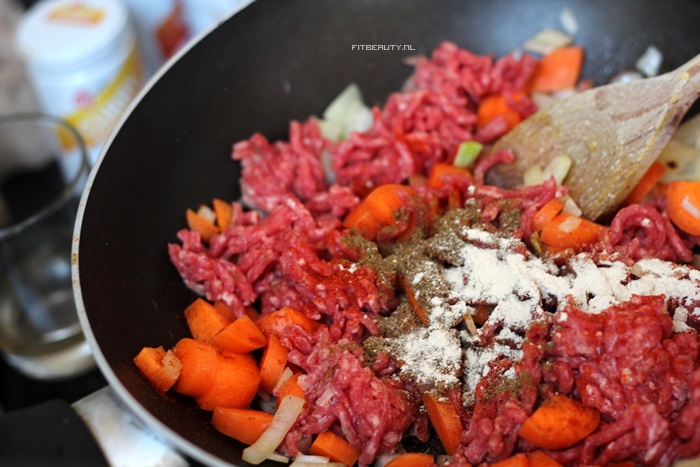 Ik heb eerst het uitje gesneden en in de wok gedaan met wat olie. Vervolgens kan de hele bende erbij; wortels, gehakt, komijn, paprika, knoflook. Dit bak je tot het gehakt niet meer rood is.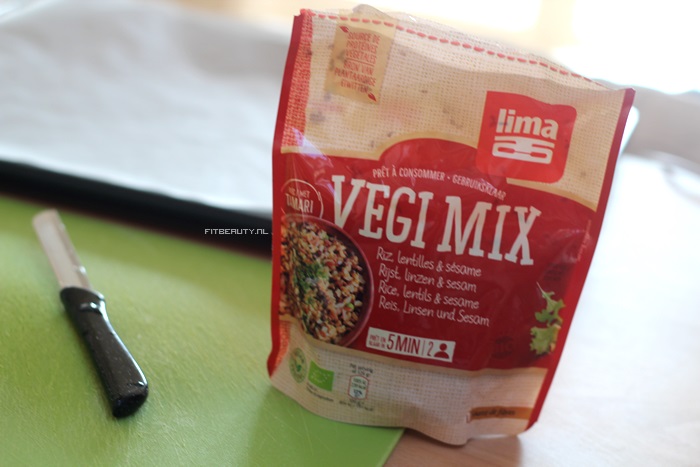 Dit is de Vegi Mix waar ik het over had.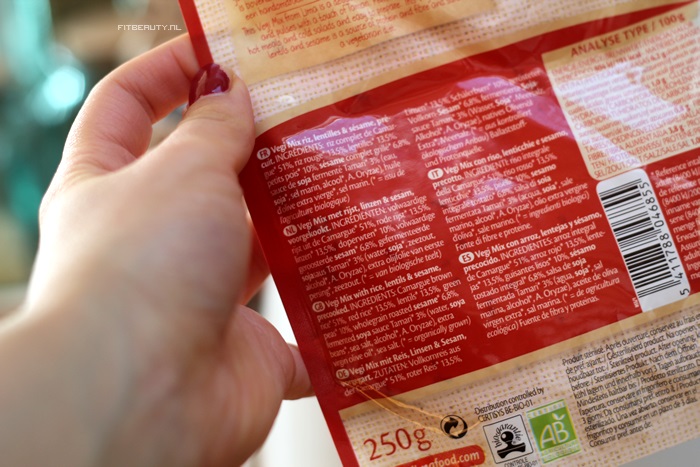 De ingrediëntenlijst! Super belangrijk. Rijst, rode rijst, linzen, doperwten, sesam, sojasaus, olijfolie en zeezout.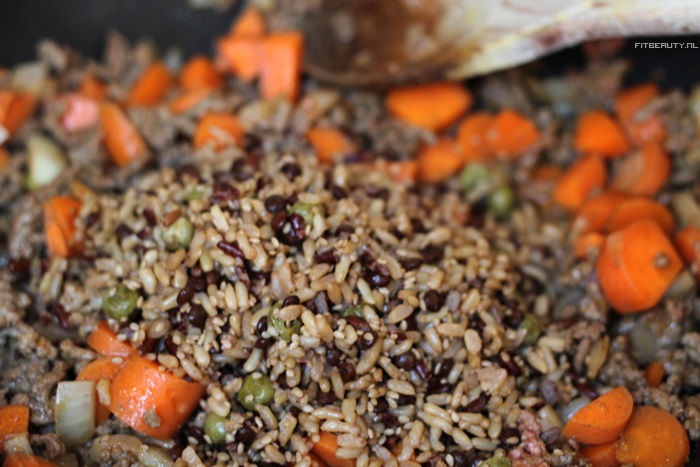 Goodness 🙂 De mix kan erbij wanneer het gehakt doorbakken is.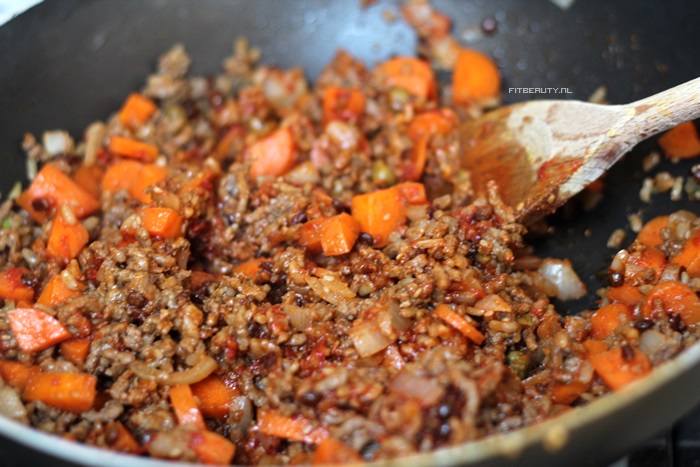 Na zo'n minuutje de mix er doorheen te hebben geroerd kan het blikje tomatenpuree erbij.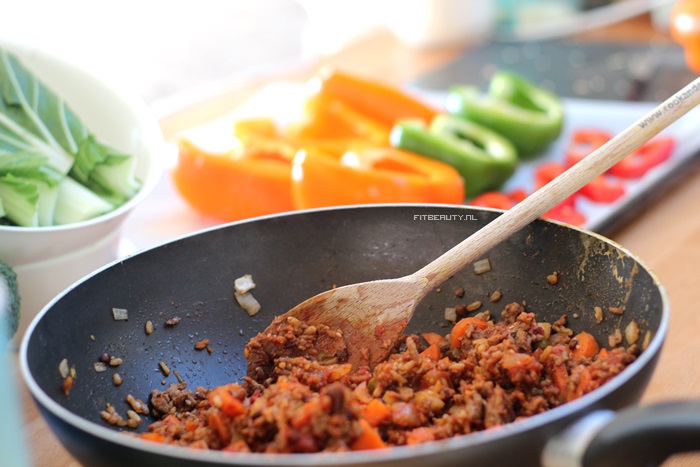 En dan is het tijd om de paprika's te vullen! Snijd ze door de helft en verwijder de pitjes en witte stukjes aan de binnenkant.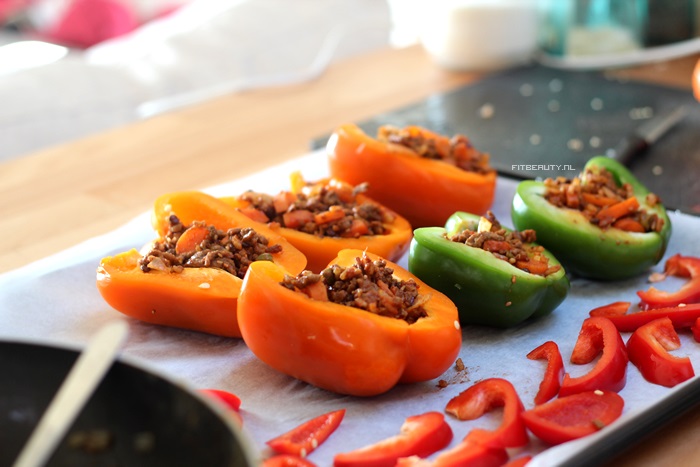 Ik had er nog wat geraspte kaas overheen gedaan voor ik ze in de oven deed. Ze kunnen zo'n 20 tot 30 minuten de oven in.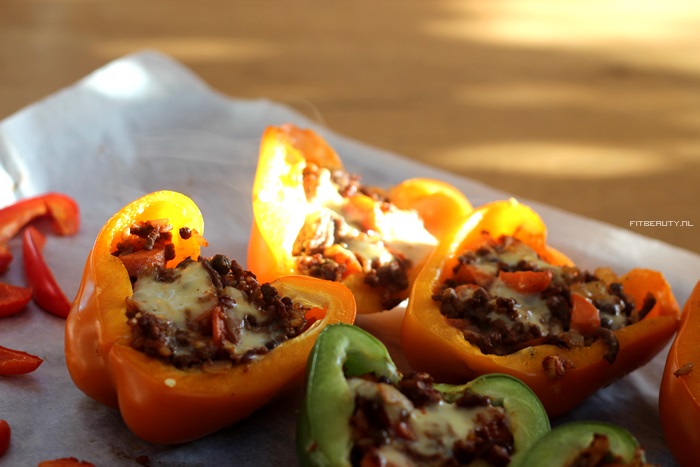 AANVALLEN!!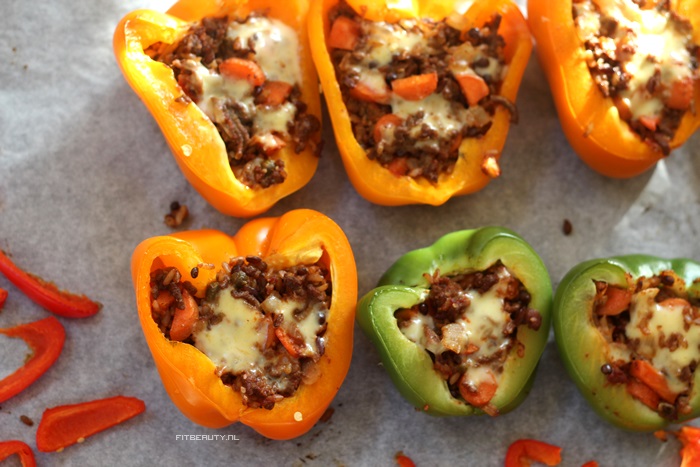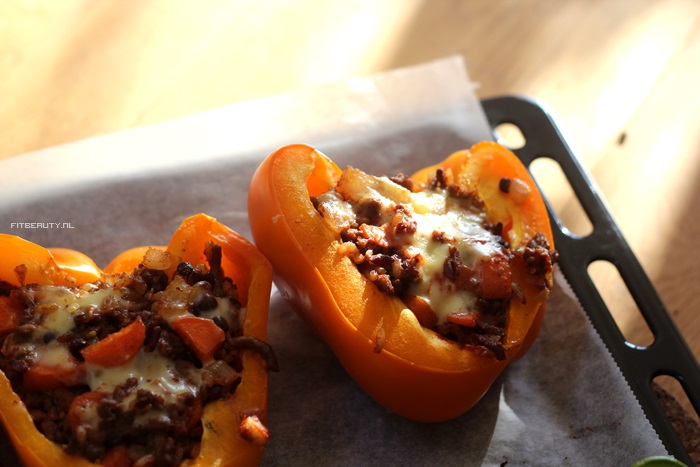 Eetsmakelijk 🙂