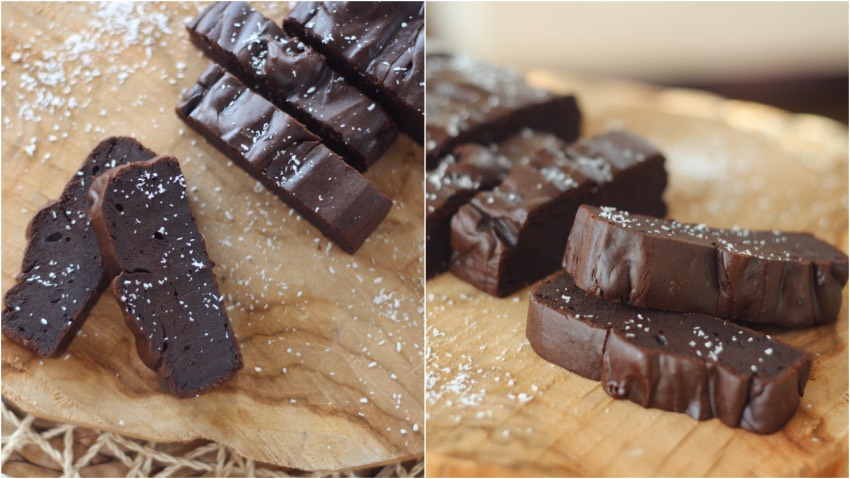 Voor iedereen die écht even een chocolade kick nodig heeft en niet bang is voor een diepe cacao smaak, dan is dit recept waanzinnig!
Geen toegevoegd zooi, extra eiwitten en mega romig. Wat wil je nog meer?
Wat heb je nodig voor de cake?
60 gram vanille of chocolade eiwitpoeder, plantaardig
65 gram cacao
1 theelepel bakpoeder
1/4 theelepel zout
1 banaan, geprakt
2 eieren
80 ml kokosolie
80 ml maple syrup
80 ml koffie of amandelmelk
Verwarm de oven voor op 170 graden Celsius.
Doe alle natte ingrediënten bij elkaar en meng dit goed door met een vork. Je kunt het ook in een keukenmachine pulsen. Doe alle droge ingrediënten in een andere kom en voeg deze vervolgens toe aan de natte ingrediënten. Goed mengen en vervolgens in een ingevette cakeblik (eventueel nog met een velletje bakpapier erin) gieten. Bak dit af in de oven voor zo'n 20-30 minuten. Het kan per oven verschillen hoe lang het duurt voor je cake gaar is, als je er met een vork in prikt en de vork komt er schoon (dus geen natte plaksels) uit, dan is de cake gaar!
Laat hem even afkoelen en dan komt het leukste deel: AANSNIJDEN! Hij is zó zacht, romig maar ook intens qua cacao smaak! I love it! Ik zit hier altijd veel voller van dan een zoete lichte cacao smakende cake. Het is maar net wat je voorkeur is, als je wat minder cacao wilt dan kun je spelen met de verhouding van eiwitpoeder en cacao.
In ieder geval hoop ik dat je er net zo van geniet als ik! Eetsmakelijk!