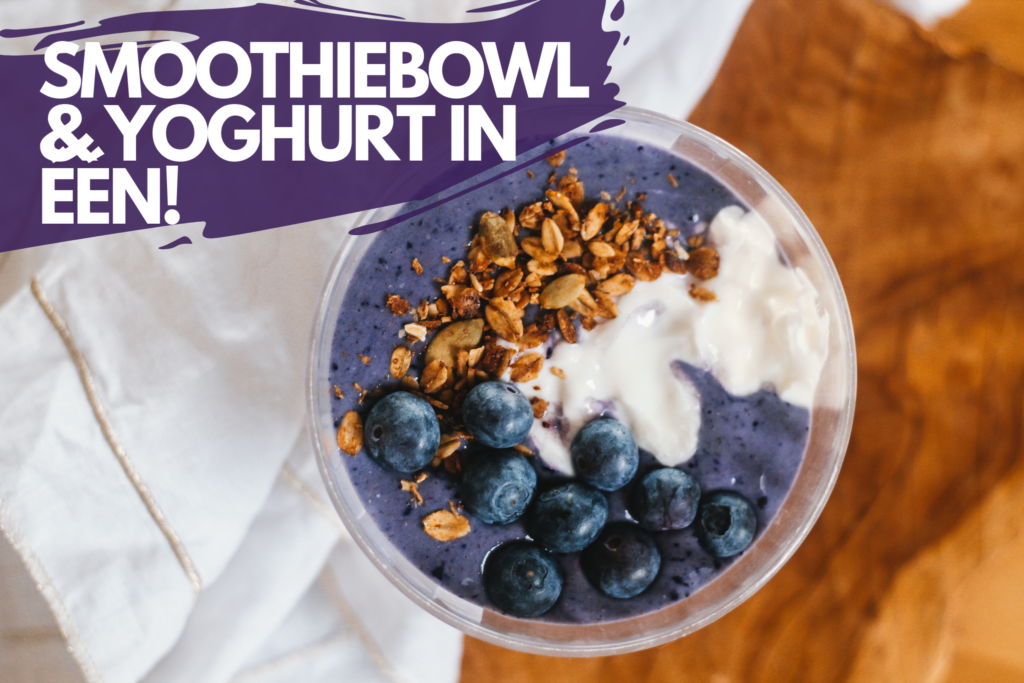 Waarom zou je een smoothiebowl niet combineren met een schaaltje yoghurt met fruit? Dacht ik laatst.
Het leek me heerlijk om een zoete dikke smoothie bij mijn schaaltje yoghurt met fruit te eten en dit recept was geboren! Voel je vrij om elk soort fruit te gebruiken dat je wilt, ik heb bosbessen (of blauwe bessen) gebruikt. Een tip van mij; wanneer de perziken in het seizoen zijn zal deze parfait echt fantastisch zijn met diepvriesperziken en verse perziken! Op naar het recept!
Wat heb je nodig voor 2 personen?
100 ml plantaardige melk
10 gram vegan eiwitpoeder, vanille
4-5 eetlepels diepvries bosbessen/rode vruchten
1 kleine banaan uit de vriezer
1 eetlepel lijnzaad
1 theelepel kaneel
4 eetlepels van jouw favoriete muesli/cruesli
schaaltje (plantaardige) yoghurt of kwark naar keuze
handje bosbessen
Doe alle ingrediënten behalve de muesli/cruesli, yoghurt en verse bosbessen in een keukenmachine en blend het geheel tot er een dikke smoothie ontstaat. Doe de yoghurt in twee schaaltjes en verdeel de smoothie speels over de twee schaaltjes yoghurt. Je kunt er een beetje doorheen roeren of wat yoghurt bovenop bij doen om een leuk gekleurd effect te krijgen.
Top het geheel met bosbessen en je favoriete muesli/cruesli en klaar! Eventueel nog wat honing erbovenop en genieten maar.
Zo simpel kan het zijn! Vooral erg fijn voor de warme dagen – lekker de ochtend beginnen met een koel ontbijt bomvol vitamines, mineralen en essentiële eiwitten (aminozuren, lees er hier meer over!). Maar ook heel goed mogelijk als tussendoortje, lunch en zelfs als toetje! Enjoy!