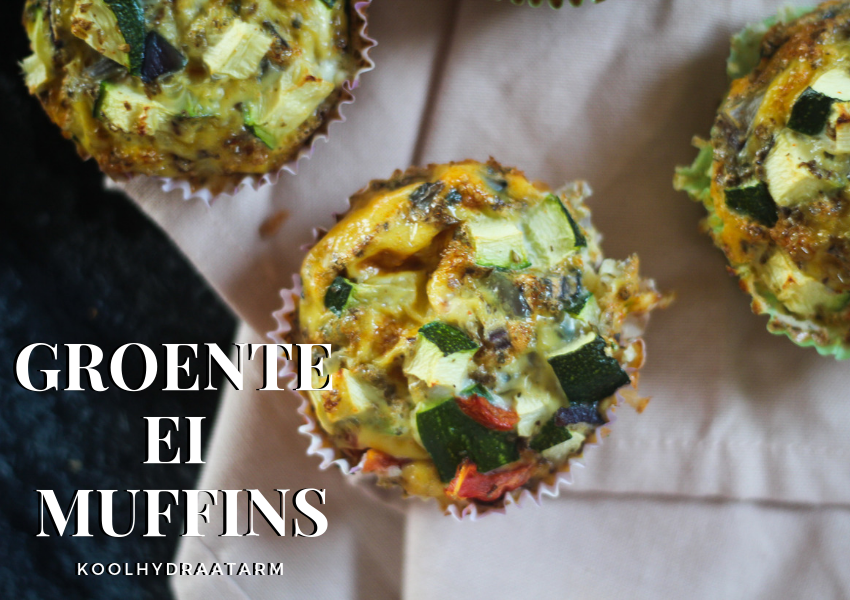 Laten we 2019 in gaan met wat inspiratie voor een gezonde start. Deze heerlijke ei met groente muffins zijn perfect als tussendoortje – voedend, vullend én lekker!
Als je wat minder koolhydraten wilt eten (mijn advies: minder 'witte' zetmeelproducten) dan passen deze muffins daar perfect bij! 
Wat heb je nodig voor 8 muffins?
6 eieren
3 eiwitten
1/2 courgette
1-2 cherry tomaten of 1/2 tomaat
1 kleine rode ui
sap van 1/4 citroen
kruiden naar smaak: peper, zout, oregano, paprika poeder
olie om de bakvorm in te vetten
muffinvormpjes
optioneel: parmezaanse kaas als topping
Verwarm de oven voor op 200 graden Celsius.
Snijd de groente en de uit in kleine stukjes. Doe de eieren en de eiwitten bij elkaar in een kom, meng dit met een vork goed door en voeg daarna jouw lievelingskruiden en citroensap toe. Je kunt nu de groente in de muffinvormpjes doen en het eimengsel eroverheen gieten maar je kunt de groente ook mengen in het eimengsel en het mengsel met een soeplepel in de muffinvormpjes schenken.
Het handigste met muffinvormpjes vind ik om ze in een muffinbakplaat te doen zodat ze hun vorm goed behouden – zoals je ziet op de foto. Vet voor de zekerheid de bakvorm én de muffinvormpjes in met een heel klein beetje olie zodat je de muffins makkelijk eruit kunt halen als ze gaar zijn.
Als je net even wat extra's wilt geven aan je muffins kun je er nog wat parmezaanse (of andere) kaas als topping toevoegen. Voor dit recept heb ik dat niet gedaan, maar voel je vrij! Zet de muffins in de voorverwarmde oven voor 20 tot 25 minuten.
Ik eet 2 muffins als tussendoortje, het liefst na de lunch (rond 16:00 uur) als ik nog even door moet tot het avondeten. Je kunt ze gemakkelijk 3-4 dagen in de koelkast bewaren of zelfs een paar weken in de vriezer. Je stopt ze makkelijk in de ochtend in je tas (wel in een bakje of met aluminiumfolie verwikkeld) voor een gezonde snack onderweg, op kantoor of op school! Enjoy!