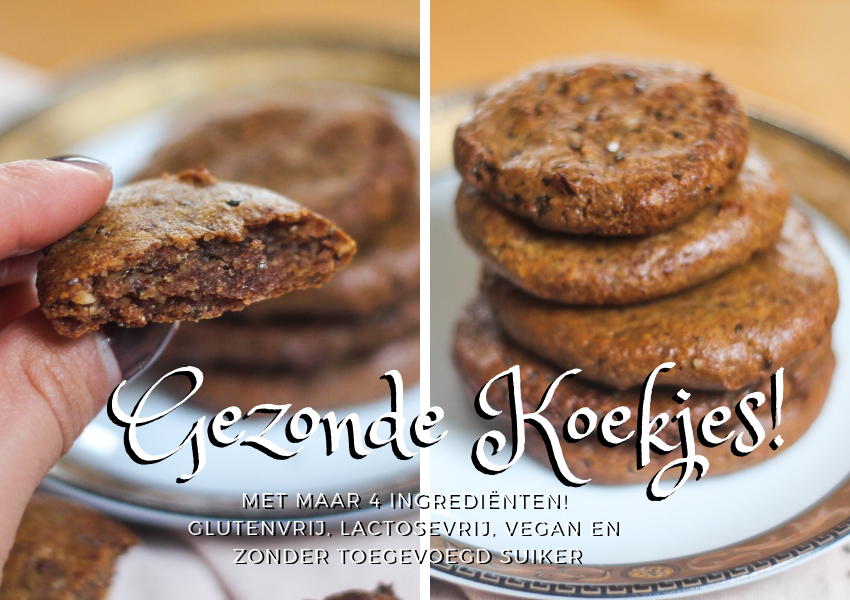 Als je mij ergens gelukkig mee kan maken, dan zijn het wel voedzame lekkernijen! Zo ook deze koekjes die slechts 4 ingrediënten bevatten! Eén en al uit de natuur, om het zo maar te zeggen. Ook handig voor mensen met allergieën of intoleranties aangezien deze koekjes glutenvrij, lactosevrij, veganistisch én zonder toegevoegd suiker zijn. 
Wat heb je nodig voor zo'n 6-8 koekjes?
180 gram walnoten
12 dadels, ontpit
1 eetlepel chia zaad
2-3 eetlepels amandelmelk
Verwarm je oven voor op 180 graden Celsius en plaats een velletje bakpapier op de ovenplaat.
Doe alle ingrediënten bij elkaar in een keukenmachine en blend het geheel tot er een deegbal ontstaat. De ene keer zal de textuur een beetje verschillen van de andere keer, dit heeft vaak te maken met hoeveel vet/vocht er zit in de dadels en walnoten. Hoe langer je het geheel mixt in de keukenmachine, hoe meer de oliën uit de walnoten 'eruit komen' en het een deegbal kan worden. Hoe korter, hoe kruimeliger. Beide even lekker als je het mij vraagt!
Vorm nu de koekjes zoals jij wilt en leg ze op de ovenplaat. Als je alle koekjes hebt gevormd gaan ze de oven in voor zo'n 15 minuten, maximaal 20 afhankelijk van je oven.
Laat ze even afkoelen aangezien ze nog wat slap kunnen zijn wanneer ze heet zijn. Zodra ze afgekoeld zijn krijgen ze een smeuïge bite vol smaak én goedheid voor je lichaam.
Ik hou van dat woord, goedheid.
Lekker met een kop koffie of thee, enjoy!
Vraag je je af hoe het zit met toegevoegd suiker en de term "suikervrij"? Lees dan dit artikel even, voor we onduidelijkheid krijgen!