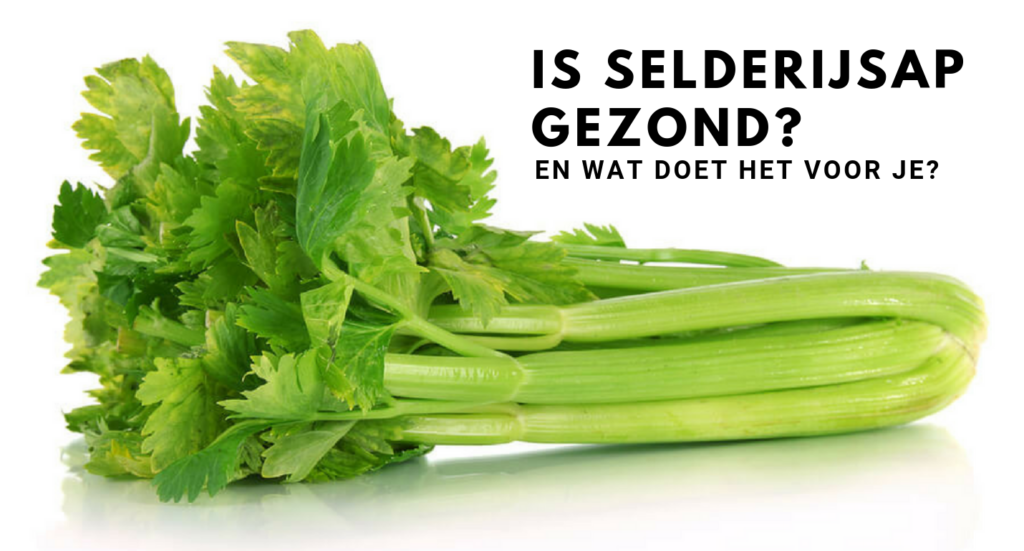 De laatste maanden is selderij sap een flinke hype in de online wereld. Op zich niks mis mee om een hype te hebben rondom groente of fruit of iets anders dat afkomstig is uit de natuur. Maar waarom nou net selderij? Wat is hiermee aan de hand? Antwoorden op deze vragen in het artikel van vandaag!
Lekker!
Wat bevat selderij sap allemaal?
Een hoop! Als eerste bevat een glas selderij sap zo'n 40 kilocalorieën, deze gaan gepaard met de volgende vitamines en mineralen:
Vitamine A, K en C
Bètacaroteen
Flavonoïden
Calcium
IJzer
Magnesium
Fosfor
Kalium
Waar is het goed voor?
Het is belangrijk om het meteen te hebben over sap vs. geen sap. Wanneer je kauwt op selderij en deze eet dan zijn er niet alleen andere processen gaande in je lijf (verteringsenzymen worden aangemaakt etc.) maar krijg je ook de vezels binnen. Bij het juicen van groente en fruit worden de vezels grotendeels gescheiden waardoor je sap krijgt.
Let wel, als je groente of fruit in een smoothie gooit dan worden de vezels wel 'gebroken' maar krijg je ze nog steeds binnen omdat je niks scheidt.
Bloeddruk
Dit onderzoek bekeek verschillende natuurlijke kruiden en extracten om te zien wat effect had bij een hoge bloeddruk (hypertensie en ook wel HTN genoemd in het onderzoek). Het blijkt dat selderijzaad-extract (ja, dat is dus net even iets anders) bloeddrukverlagende effecten kan hebben, erg duidelijk komt er niet naar voren dat het onderzocht is – er wordt namelijk onder andere verwezen naar Chinese wetenschap (1).
According to Chinese theory, Celery is effective for HTN because it acts upon the liver; one type of HTN is associated with liver. In Mainland China, celery was useful in reducing HTN in 14 of 16 patients. The juice was mixed with equal amount of honey and about 8 ounces were taken orally three times each day for up to one week.[30] It has also been reported to reduce systolic and diastolic BP. The difference of BP in human beings before and after treatment has been found to be significant (P<0.05), indicating that seeds of A. graveolens can be used as a safe and effective treatment of high BP.[31] Fresh celery juice can be mixed with vinegar to relieve dizziness and headache and shoulder pain associated with HTN. It is also administered in HTN associated with pregnancy and climacteric.[25]
Selderij bevat fytochemische eigenschappen, dit zijn actieve chemische verbindingen in planten die werken zoals antioxidanten – ze stimuleren je immuunsysteem en vangen vrije radicalen in het lichaam op. Het interessante is dat deze fytochemische eigenschappen de weefsels van de slagaderwand laat ontspannen waardoor het bloeddrukverlagend kan werken (2). Let wel, dit onderzoek is gedaan met ratten – niet met mensen.
All extracts of celery seeds reduced the BP and increased the HR in hypertensive rats.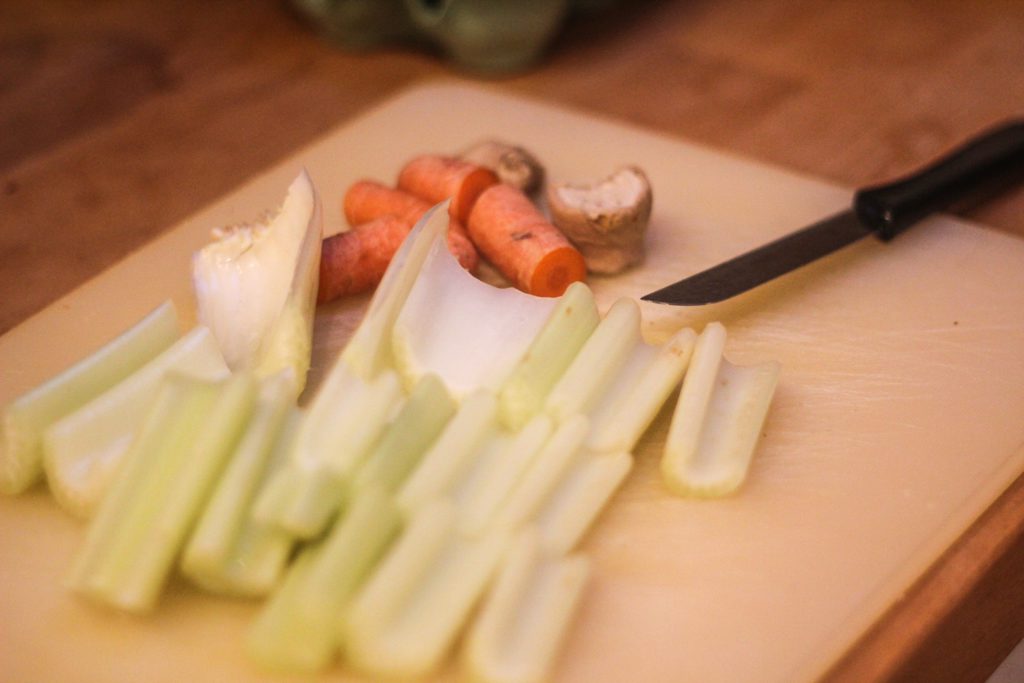 Chemotherapie
Actieve componenten in selderij kunnen bepaalde effecten van medicijnen veranderen. Dat klinkt vaag en heftig, maar dat valt best mee. Uit een onderzoek (met dieren) uit 2009 kwam naar voren dat selderijsap beschermende effecten had wanneer het werd gebruikt in combinatie met doxorubicine, een medicijn dat bij chemotherapie wordt gebruikt om kanker te bestrijden. Het drinken van selderijsap had een positief effect op de behandeling met docorubicine en verminderde schade door vrije radicalen. Het beschermde, net als antioxidanten doen, tegen oxidatieve stress – oxidatieve stress wordt vervolgens weer veroorzaakt door een disbalans van vrije radicalen en antioxidanten (3).
Chronische ziektes
Selderij is één van de belangrijkste bronnen van flavonoïden. In het menselijk lichaam zijn flavonoïden essentieel voor de stofwisseling van vitamine C en in het handhaven van de integriteit van de capillairwanden. Flavonoïden zijn krachtige antioxidanten (Wikipedia).
Er is op dit moment veel vraag naar onderzoeken die de relatie tussen flavonoïden en de preventie van chronische ziektes kunnen aantonen. Er is meer onderzoek nodig maar de eerste onderzoeken, zoals dit onderzoek uit 2014 (4) laat zien dat flavonoïden uit selderij antioxiderende eigenschappen vertoonde in het lichaam én een gunstig effect had op de algehele gezondheid. Het onderzoek werd met behulp van monsters in een lab getest (in vitro) en bij muizen ingebracht. De antioxidanten-activiteit vond plaats in het hart, de lever en de nieren van de muizen.
Ontstekingsremmend
We komen weer terug op de flavonoïden aangezien deze echt geweldig zijn voor het menselijk lichaam. Uit het volgende onderzoek blijkt namelijk dat deze stoffen uit selderij ontstekingsremmend kunnen werken (5). Het onderzoek keek ook naar hoe je deze flavonoïden het beste binnen kan krijgen en juicen kwam erg positief naar voren! Er gaat dus niets verloren qua flavonoïden als je het als sap drinkt.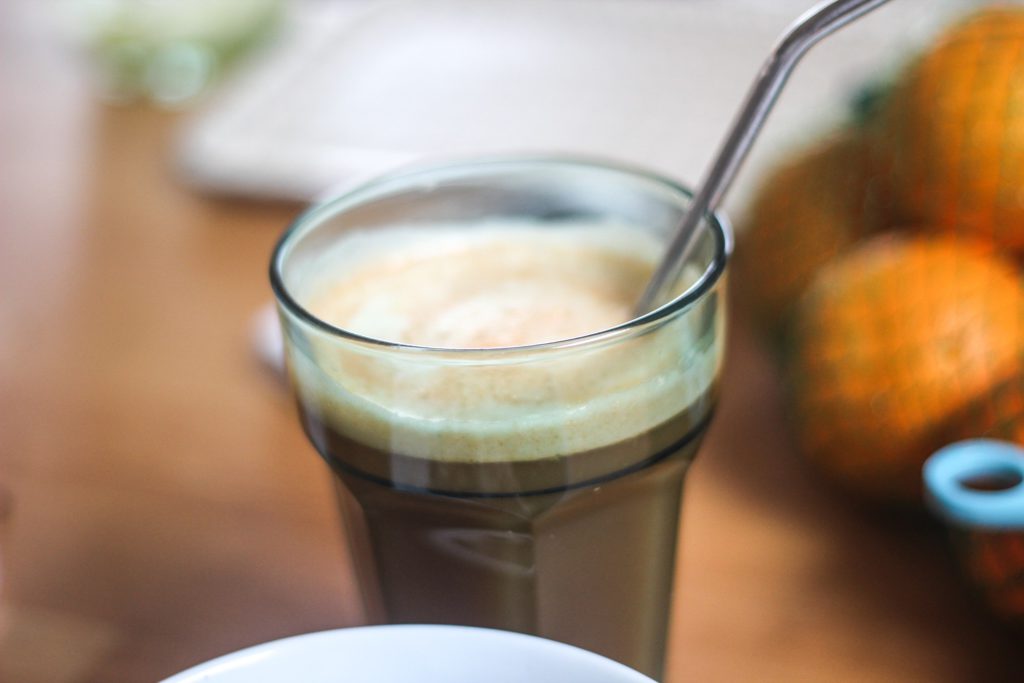 Lekker aan de selderij!
Als je geen juicer hebt, dan kun je het natuurlijk gewoon in een blender gooien en alles, waaronder ook de vezels, binnen krijgen! En mocht je ook geen blender hebben dan zou ik zeggen: lekker gaan kauwen! Dippen in hummus of verwerken in een soepje is ook een heerlijke optie. Hoe dan ook, je kunt er allerlei richtingen mee op.
Ik vind juicen met wortel, gember, citroen en wat munt echt héérlijk!
Eet jij regelmatig selderij? En vind je het lekker?