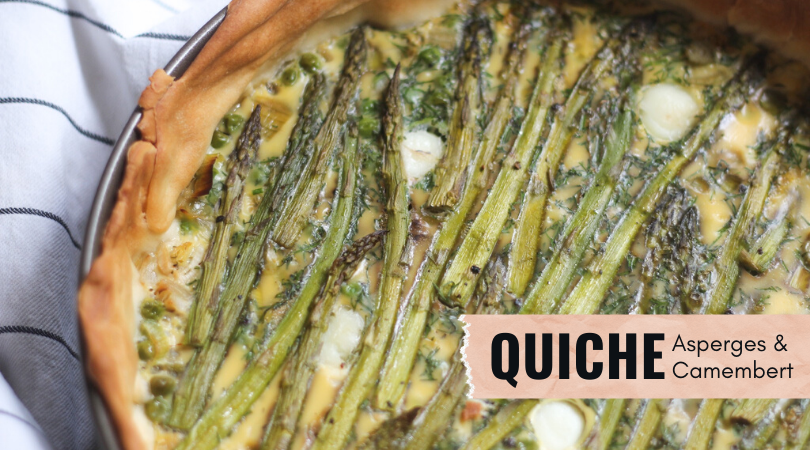 Deze quiche is echt voor de mensen die makkelijk een interessante maaltijd op tafel willen zetten. De combinatie van asperges en camembert is er één die de quiche net wat boeiender maakt en niet te vergeten: hartstikke lekker ook!!
Wat heb je nodig voor een quiche voor 7-8 personen?
1 ui, gesnipperd
1 prei, in schijfjes
350 gram diepvries doperwten
350 gram groene asperges
300 ml havermelk of een andere soort melk
7 eieren
200 gram camembert
handje verse dille, gehakt
peper en zout naar smaak
theelepel gedroogde (dille optioneel)
olie om in te bakken
plakjes hartige taartdeeg
springvorm 26 cm
Verwarm de oven voor op 180 graden Celsius. Snijd de harde onderkant van de asperges af. Snijd ze vervolgens in stukjes tot aan de helft (zie foto's). Bak deze in een koekenpan met wat olie. Haal de toppen na 3 minuten bakken eruit, ze zijn nu beetgaar en zijn later pas nodig voor bovenop de quiche.
Bak de ui mee in de koekenpan tot hij glazig is geworden. Voeg de prei en doperwten toe, bak deze met wat gedroogde dille, peper en zout naar smaak voor 5 minuten in de koekenpan. Snijd de camembert in blokjes en meng deze even door het mengsel zodat het verspreid erdoorheen zit.
Meng de melk, eieren, wat peper en zout en de verse dille in een kom met een garde.
Vet de springvorm in, bedek deze met de plakjes hartige taartdeeg – ook de zijkanten zodat er een mooie hoge rand ontstaat. Vul deze nu met het mengsel uit de koekenpan, giet daar het melk en eieren mengsel aan toe en top het geheel met de asperges.
PS: ik had nog wat mozzarella balletjes, die heb ik er ook bovenop gedaan maar deze hoort niet per se bij het recept.
Zet de quiche voor 25-30 minuten in de voorverwarmde oven, check af en toe of de randjes al goudbruin zijn en prik er met een vork in om te kijken of hij al gaar is (als er geen mengsel aan de vork zit). Het kan zijn dat de quiche wat langer in jouw oven nodig heeft – dit verschilt per oven dus houd het in de gaten.
Laat de quiche even afkoelen als het uit de oven komt en haal hem voorzichtig uit de springvorm. Heerlijk als avondmaaltijd maar ook perfect om koud als lunch te eten bijvoorbeeld!
Enjoy!