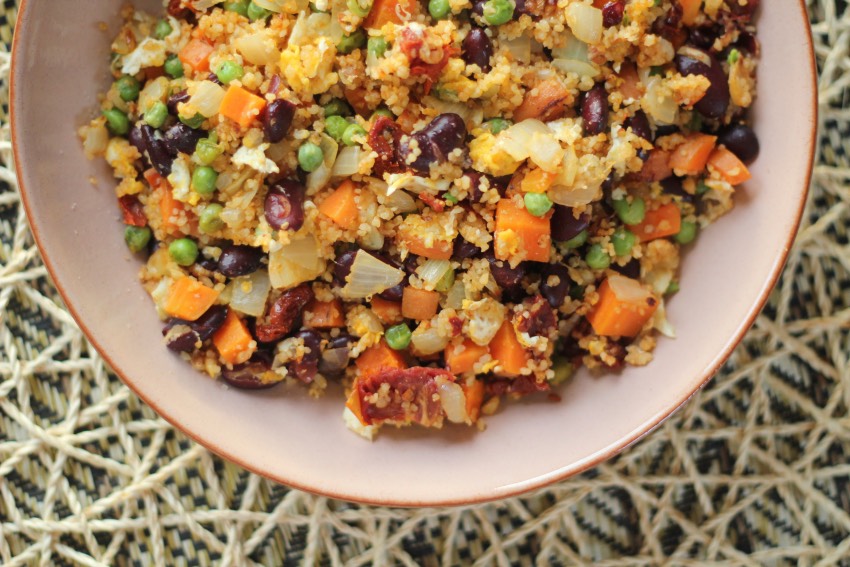 Ik ben dol op couscous. Zó dol op couscous dat ik elke keer weer experimenteer met nieuwe manieren waardoor ik ervan kan genieten. En dat is deze keer goed gelukt, hence het recept dat je nu ziet. Een roerbakcouscous met lekker wat groente én het laatste ingrediënt dat alles perfect samen laat komen: een ei.
Heel simpel te maken, perfect voor een lunch of avondmaaltijdje! Benieuwd?
Wat heb je nodig voor 1 grote eter (ik)?
1 ui
1 wortel
2 'handjes' diepvriesdoperwten (zo'n 80 gram)
50 gram kidney bonen (uit een pot of blik)
4-5 zongedroogde tomaten uit een pot, in stukjes gesneden
50 gram droge couscous
1/4 blokje (kippen)bouillon
1 ei
olie om in te bakken
Doe de couscous in een kom samen met het blokje bouillon en voeg hier kokend heet water aan toe tot de couscous nét onder water komt te staan. Meng het even door met een vork zodat de bouillon 'smelt' en verdeeld wordt, laat het vervolgens zo'n 10 minuten staan.
Verwarm de olie in een pan, snijd de ui in stukjes en laat dit fruiten in de pan. Voeg vervolgens de wortel (ook in stukjes gesneden) en doperwten toe. Als het geheel goed aan het bakken is, voeg je de kidneybonen en zongedroogde tomaten toe.
Vervolgens kan de couscous (die inmiddels kauwbaar is geworden) erbij, meng het lekker door elkaar. Je kunt nu ook kruiden naar smaak toevoegen, ik heb dat niet gedaan omdat ik de bouillon al prima vind.
Als het geheel zo'n 2 minuten aan het bakken is en lekker gemengd is, schuif je een deel ervan opzij om ruimte te maken voor het ei dat je daar gaat losbreken. Meng het ei door het geheel terwijl je hem gaar bakt, als dit is gebeurd is je maaltijd klaar om geserveerd te worden. De zongedroogde tomaten geven een frisse bite, de kidneybonen maken hem vullend, de wortel geeft een lekkere crunch en het ei brengt alles mooi samen. Voor herhaling vatbaar in huize Teni.
Hoop voor jou ook! Eetsmakelijk!