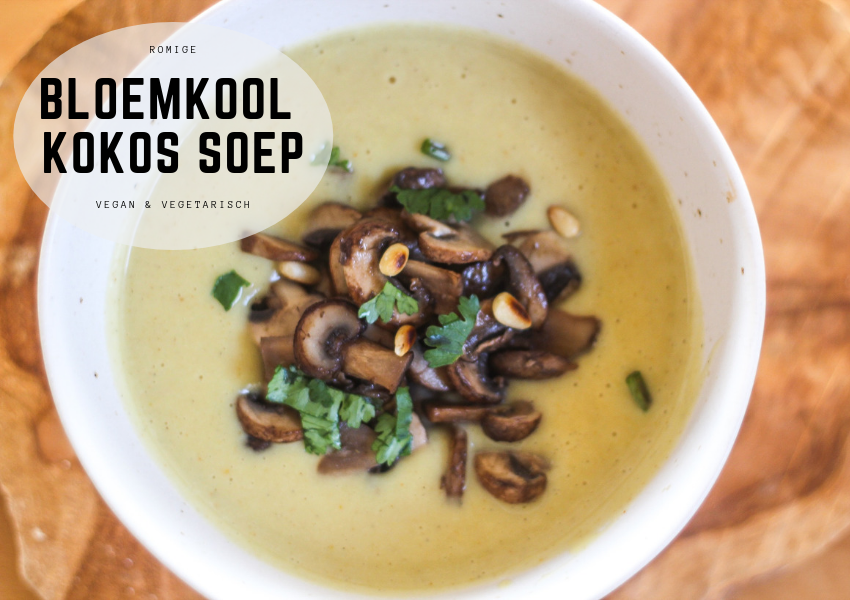 Wat een soep écht lekker maakt naar mijn mening? Hem zo romig mogelijk proberen te krijgen zonder teveel vet en calorieën eraan toe te voegen. De balans mooi weten te bewaren is iets wat ik met veel van mijn maaltijden probeer te doen. Zo ook met deze soep en ik moet zeggen; deze kan niet ontbreken op mijn site! Een heerlijke romige Bloemkool Kokos Soep, het makkelijke is dat ik hier diepvriesbloemkool voor heb gebruikt waardoor je het altijd kunt maken en het binnen no time klaar is!
Handig voor de drukke mama's, studenten en alle andere hardwerkende mensen 😉
Wat heb je nodig voor 3-4 personen?
(Diepvries) Bloemkool, 450 gram
Ui, 2 stuks gesnipperd
Knoflook, 1-2 teentjes geperst/gehakt
Kokosmelk light, 1 blik (450 ml)
Groente (of kippenbouillon voor niet vegan), 1 blokje
Verse gember, 1 theelepel geraspt
Gemalen komijn, 1-2 theelepels
Gemalen kurkuma, 1 theelepel
(Kokos)olie, 1 theelepel
Extra's:
Koriander als garnering
Pijnboompitten, 1 eetlepel geroosterd
Champignons, 200 gram gebakken met wat olie, peper en zout
Doe wat olie in een hoge (soep)pan en bak hier de uitjes en knoflook in met de gemalen komijn en kurkuma tot ze glazig zijn geworden. Voeg vervolgens de kokosmelk toe en breng het geheel aan de kook.
Wanneer de kokosmelk nét begint te koken zet je het vuur op zijn laagst en voeg je de bloemkool en het bouillonblokje toe. Roer het geheel tot het blokje helemaal is opgelost. Vervolgens kun je de soep laten koken op een laag vuurtje met de deksel half op de pan. Laat het zo'n 20-30 minuten op het vuur.
10 minuten voor je de soep van het vuur gaat halen kun je als extra wat champignons bakken, pijnboompitten roosteren en de koriander wassen en fijnhakken. Dit geeft de soep net wat extra's als je het mij vraagt!
Wanneer de bloemkool lekker zacht is geworden is het tijd om de soep te blenden. Dit kan met een staafmixer (voorzichtig aub!) of in een glazen blender. Gebruik liever geen plastic keukenmachine om de hete soep in te doen, iets van glas is altijd beter geschikt voor hete soepen/sauzen. Mix alles tot er een gladde massa is ontstaan en verplaats het weer naar de soeppan. Als je soep nog heet genoeg is (waarschijnlijk wel) kun je het opdienen. Zo niet, dan kun je het vuur weer even aanzetten maar dit is 9 van de 10 keer niet nodig.
Schenk de soep in een kom, doe hier wat champignons, pijnboompitten en koriander bovenop en genieten maar! Zo vullend, zo gezond en een hele fijne 'balans' maaltijd als je daarna een pizza wilt eten bijvoorbeeld 😉 Beetje een grapje, maar ook weer niet.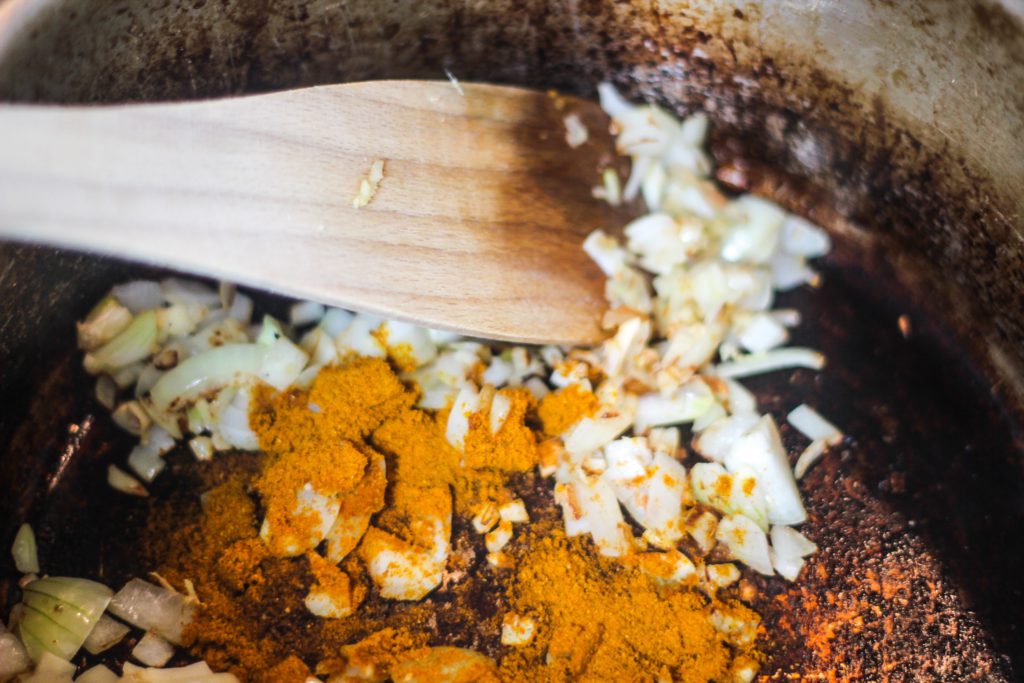 PS: let niet op de zwarte pan – er is iets mis gegaan met het maken van popcorn wat voor altijd een herinnering achter heeft gelaten in de pan 😉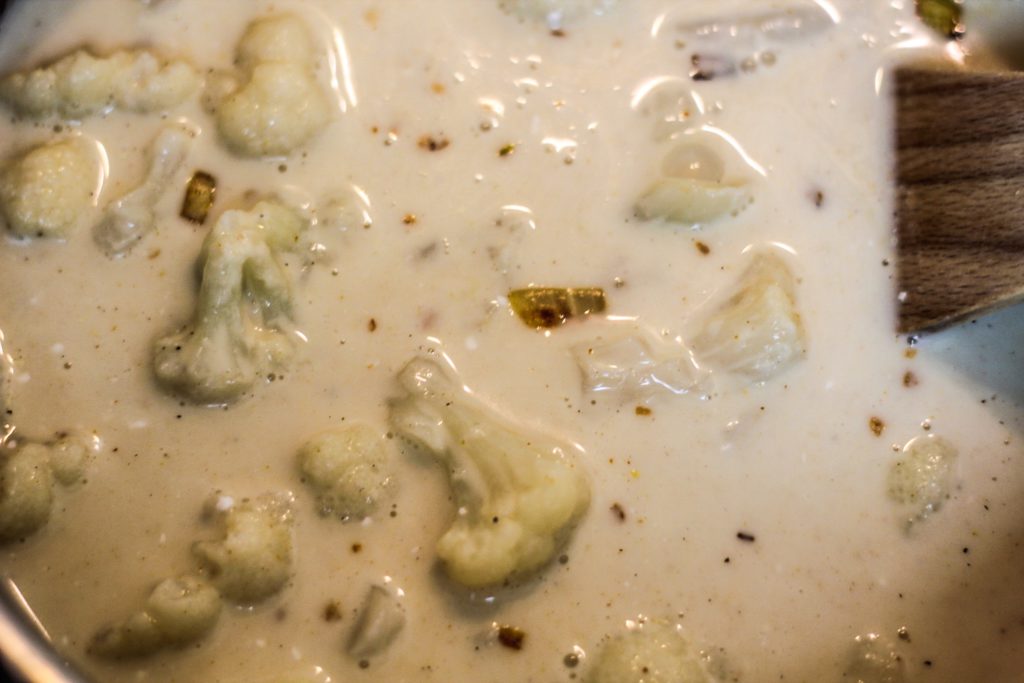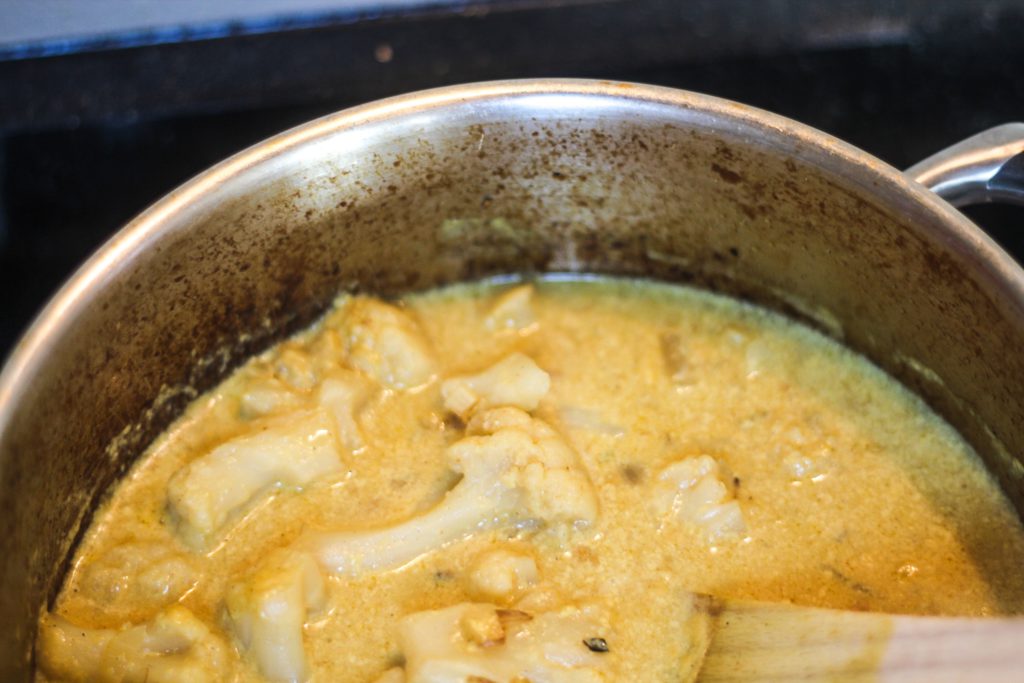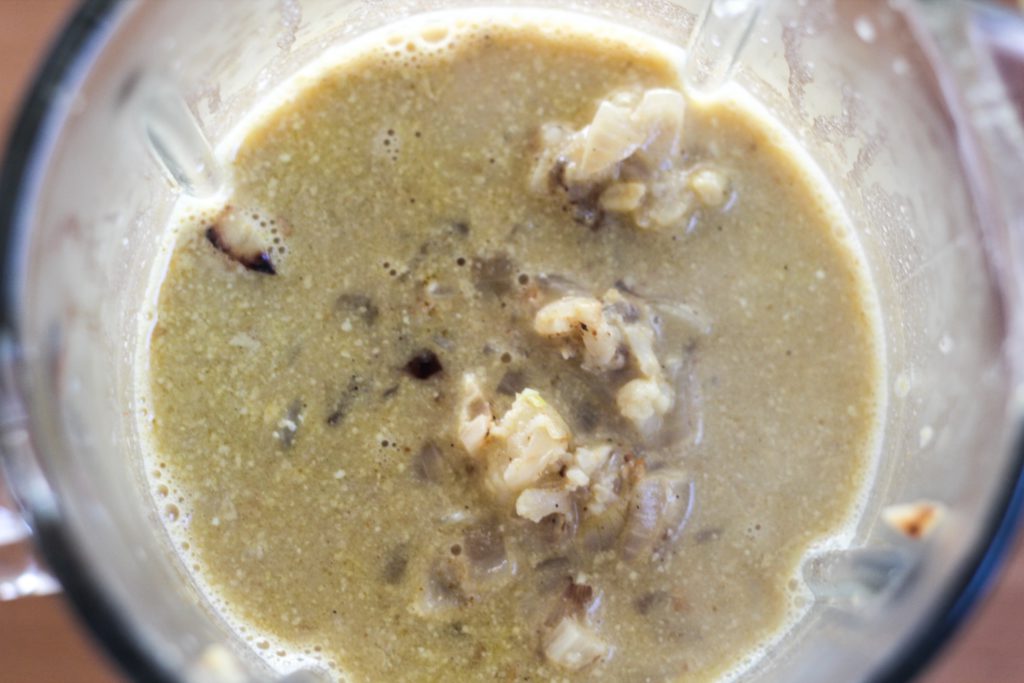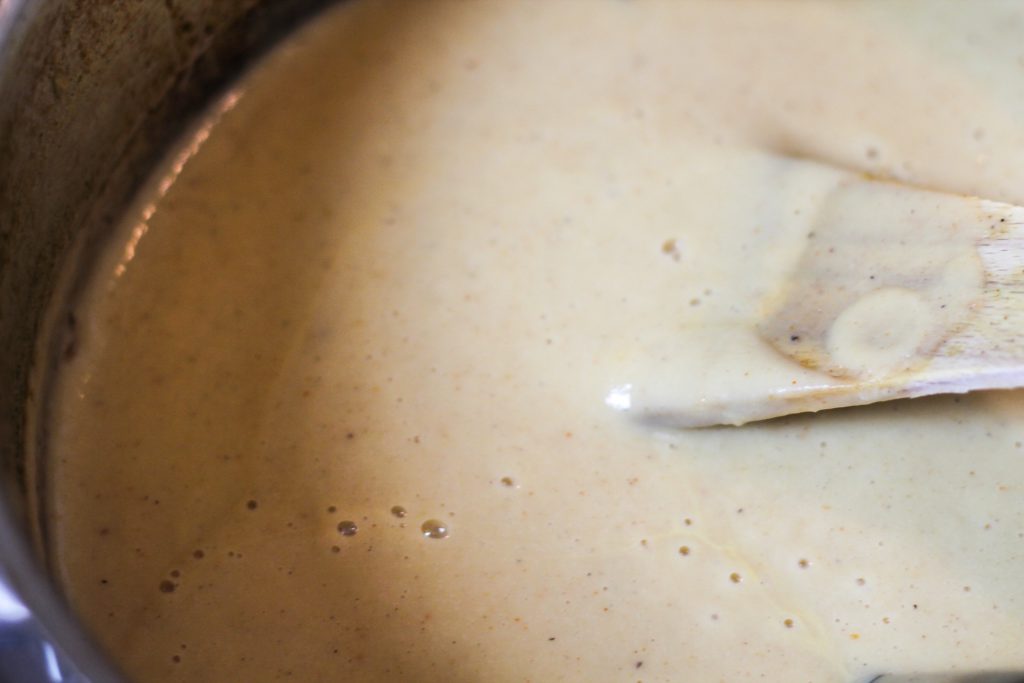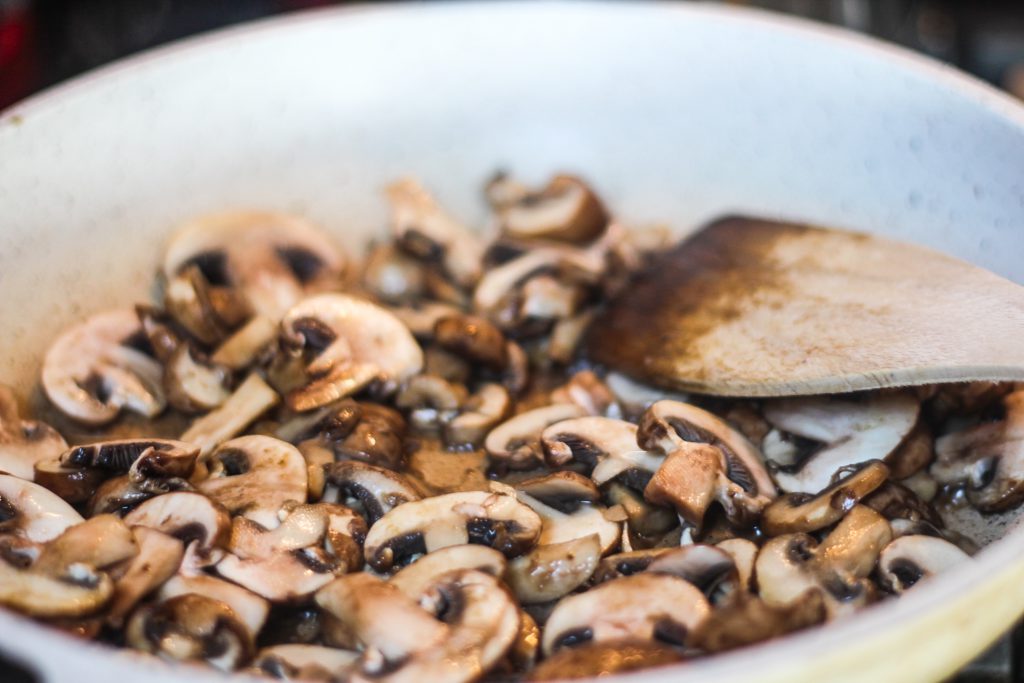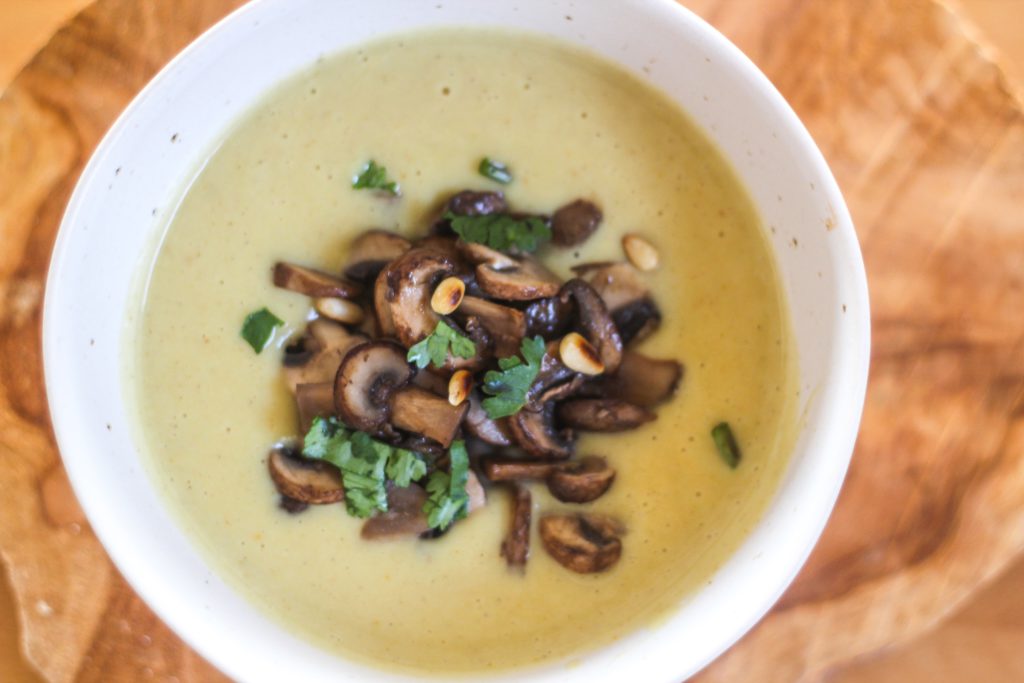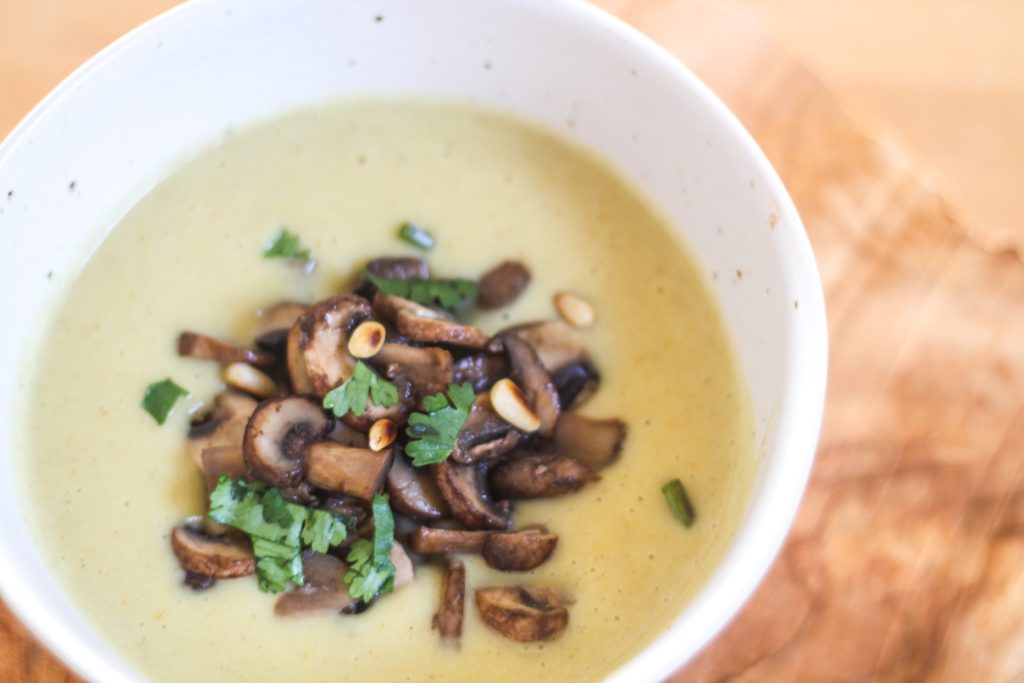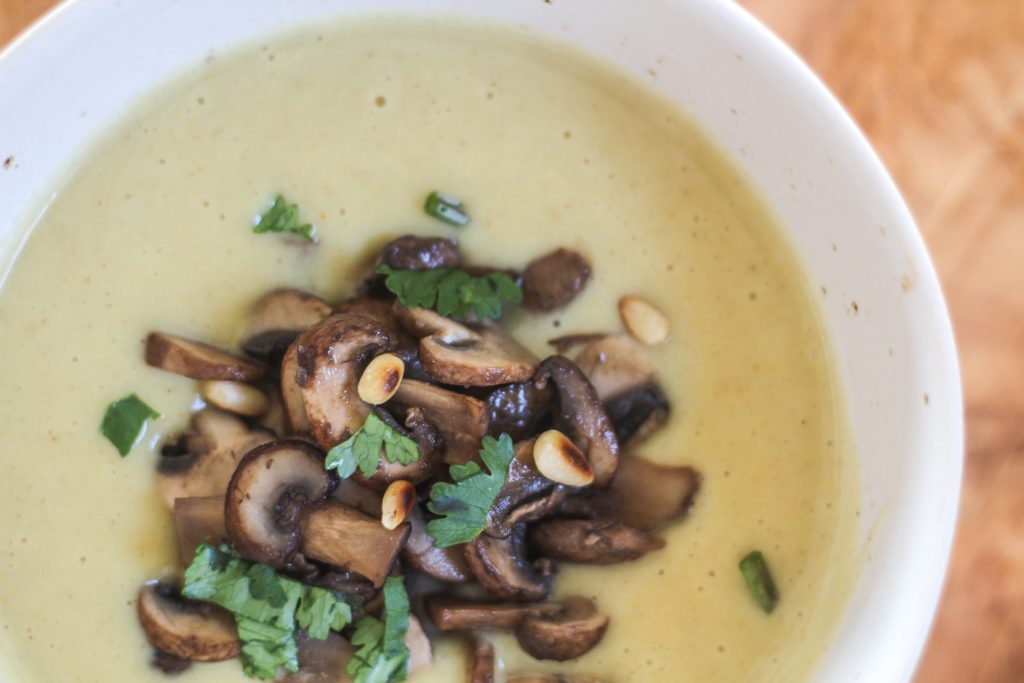 Bewaar, Like, Tweet of Pin!