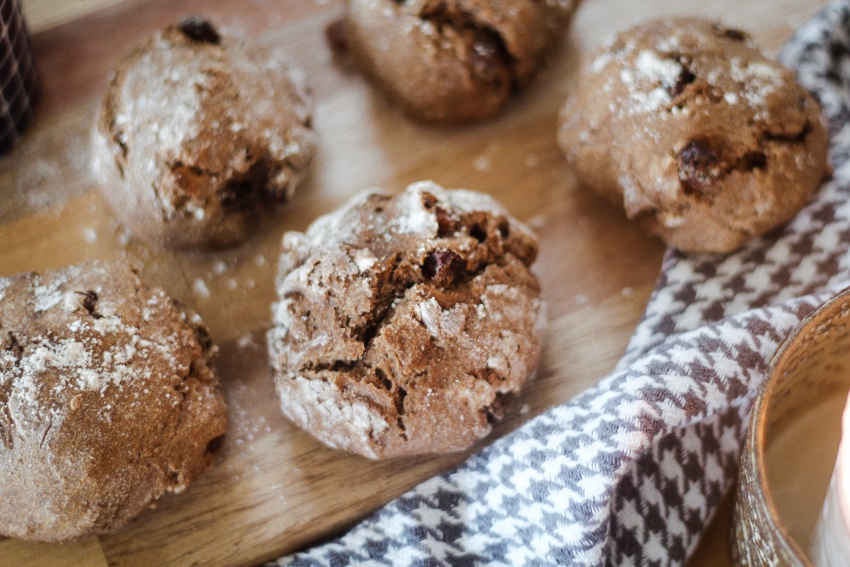 Zelf brood maken is toch het allerlekkerst? En wat dacht je van zelfgemaakte krentenbollen? Sinds ik dit een aantal keren heb gedaan, ben ik verslaafd aan zelfgemaakte krentenbollen en dan vooral van speltmeel!
Ze zijn wat lichter verteerbaar, er zit geen troep in en het voelt elke keer als een gezellige dag wanneer er zelf brood gebakken wordt in huis! Absoluut een aanrader en heel makkelijk te maken Het kán niet mis gaan!
Wat heb je nodig voor 9 krentenbollen?
400 gram (volkoren) spelt meel
handje krenten of rozijnen
de rasp van 1/2 citroen (schil)
de rasp van 1/2 sinaasappel (schil)
320 ml lauwwarm water
4 gram droge gist
snufje zout
2 theelepels kaneel
1/2 theelepel nootmuskaat
Mocht je geen citroen en/of sinaasappel in huis hebben, dan kun je dit ook weglaten.
Voeg alle ingrediënten behalve het water bij elkaar in een kom. Meng dit met een vork. Voeg vervolgens de water toe en kneed het tot een deegbal. Laat het in de kom en bedek deze met een natte theedoek. Plaats de kom op een warme plek in huis en laat het deeg minstens 2 uur rijzen.
Daarna kun je de oven verwarmen op 220 graden Celsius en de krentenbollen op een bakplaat verdelen in 9 kleinere bollen. De krentenbollen hebben zo'n 15 tot 20 minuten nodig in de oven om gaar te worden.
Dan is het feest! Vooral met een laagje boter of een plakje kaas (jep, dat zoete en zoute is zo lekker!) als ze net de oven uit zijn is zó lekker. Enjoy!