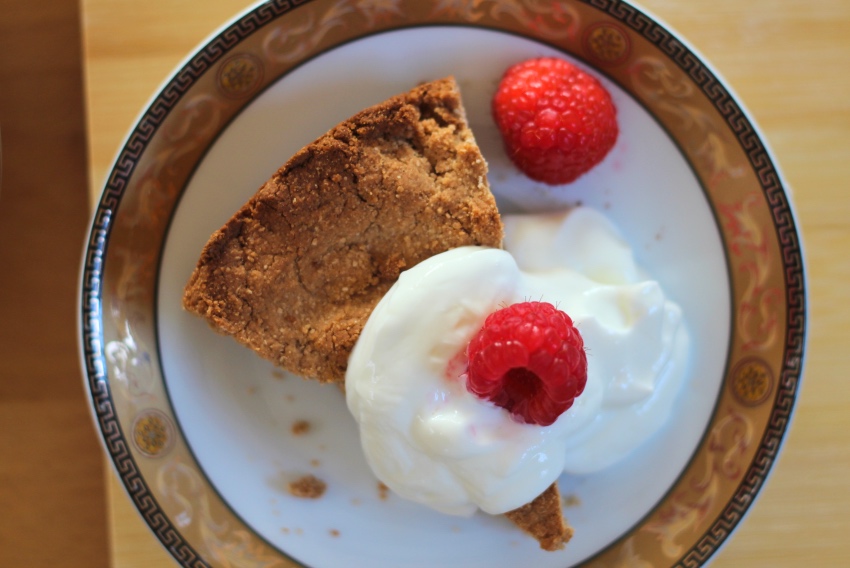 Als je zin hebt in heerlijk zandgebak en je wilt hem 'gezonder' maken door de voedingswaarde te verhogen, dan is dit het perfecte recept voor je! Omdat zandgebak vaak wat droger is, is het heerlijk als je hem combineert met room of kwark. Je kunt er ook koekjes van maken!
Hoe dan ook, het is weer smullen geblazen. Helemaal vrij van geraffineerd suiker en tarwebloem. 
Voordat je begint over geraffineerd suiker, lees even onderstaand artikel over de term suikervrij:
Wat heb je nodig voor ongeveer 6 personen:
130 gram kokosolie of roomboter
90 gram kokosbloesemsuiker
20 druppels stevia of nog eens 100 gram kokosbloesemsuiker
1 ei
2 theelepels vanille extract*
275 gram kokosmeel / amandelmeel / kastanjemeel / rijstemeel (of -bloem) (ik heb een mix van kokos- en kastanjemeel gebruikt)
1,5 theelepel 'baking soda'
*Vanille extract bevat geraffineerd suiker, je gebruikt het echter minimaal. Laat dit weg als je je recept compleet vrij wilt van geraffineerd suiker.
Verwarm de oven vast voor op 180 graden Celsius. Doe de boter, kokosbloesemsuiker, stevia en vanille extract bij elkaar en klop dit met een mixer tot het helemaal gemengd is. Voeg vervolgens het ei toe en mix het nogmaals.
Als laatste doe je jouw vorm van bloem en de baking soda erdoor en mix je het tot het een korrelige structuur heeft dat je kunt kneden tot een deeg. Zet de mixer weg en kneed het geheel met je handen tot er een deegbal ontstaat. Laat deze even 15 minuten rusten, het liefst in de koelkast.
Vervolgens kun je dit deeg naar een bakvorm (even invetten) verplaatsen of het uitrollen en er koekjes uit snijden. Wat je ook kiest, plaats het in de oven voor zo'n 15 minuten en je cake / koek is klaar!
Serveer het met wat room of kwark en wat fruit en genieten maar!