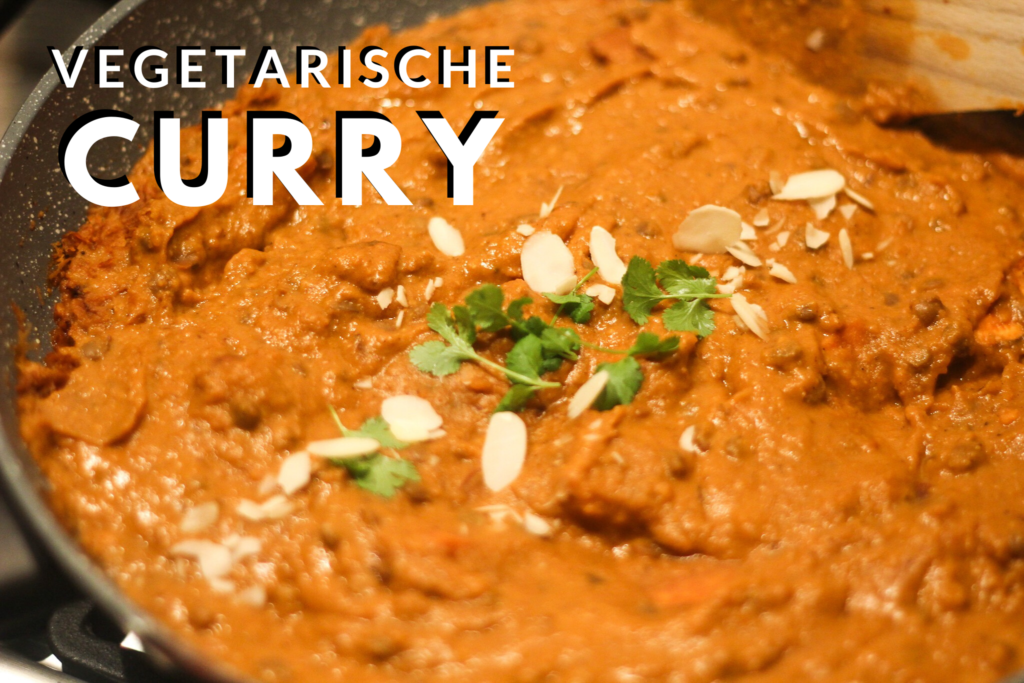 Ik kan niet genoeg curry recepten delen op mijn site – elke variatie is weer zó smaakvol. Vooral deze, waar ik gebruik heb gemaakt van kruiden en een vijzel. Heb je geen vijzel? Geen enkel probleem! Pletten is ook helemaal top omdat alles uiteindelijk toch in de keukenmachine gaat.
Voordat ik te hard van stapel loop – op naar het recept!
Wat heb je nodig voor 4 personen?
Voor de zoete aardappel uit de oven:
1 middelgrote zoete aardappel, in stukjes gesneden
2 teentjes knoflook, geplet
2-3 theelepels garam masala
1 theelepel paprika poeder
peper en zout naar smaak
1 eetlepel olijfolie
Voor de curry:
2 uien, gesnipperd
1 klein blikje tomatenpuree
1 blik kokosmelk
75 gram rode linzen, droog
1 blikje groene linzen, uitgelekt
1/2 blokje groentebouillon
8 stukjes kruidnagel
6 stukjes kardemom
4 theelepels paprikapoeder
2 theelepels garam masala
2-3 eetlepels olijfolie of kokosolie om in te bakken
peper en zout naar smaak
Als garnering:
Amandelschaafsel
Koriander
De zoete aardappel bereiden:
Verwarm de oven voor op 220 graden Celsius. Doe alle ingrediënten van de zoete aardappel bij elkaar in een ovenschaal, hussel het lekker door elkaar en plaats het voor 40 minuten in de voorverwarmde oven. Als de 40 minuten voorbij zijn en de zoete aardappelen lekker zacht zijn haal je de ovenschaal uit de oven en wacht je tot het tijd is om deze toe te voegen aan de curry.
Voor de curry:
Als je een vijzel hebt: doe 4 stukjes kruidnagel en 3 stukjes kardemom in de vijzel en plet alles tot de geur heerlijk vrijkomt. Als je geen vijzel hebt kun je de 4 stukjes kruidnagel en 3 stukjes kardemom het beste pletten op een snijplank met de bolle kant van de lepel. Het gaat erom dat de geuren en smaken vrijkomen.
Verhit de olie in een koekenpan en doe hier de kardemom en kruidnagel bij. Als deze 1-2 minuten hebben gebakken doe je de helft van de overige kruiden erbij (2 theelepels paprikapoeder, 1 theelepel garam masala) en bak dit een minuutje mee zodat alles lekker begint te geuren.
Voeg de gesnipperde ui toe, eventueel nog wat olie erbij als het te droog is geworden in de pan en bak dit op een laag vuurtje tot de ui helemaal zacht is geworden en alle kruiden heeft opgenomen.
Voeg het kleine blikje tomatenpuree toe, meng het er even door en voeg daarna de droge rode linzen toe. Doe een heel blik kokosmelk erbij en zet het vuur hoog tot dat het begint te koken – zet dan het vuur laag om alles te laten sudderen. Dit is dan ook het moment om het halve blokje bouillon toe te voegen en er goed doorheen te roeren zodat hij oplost. Laat dit vervolgens 20-30 minuten sudderen en doe er eventueel wat water bij als het te dik wordt.
Nadat de rode linzen gaar zijn kun je alles verplaatsen naar een blender of keukenmachine – pas wel op, het is heet! Zet je blender of keukenmachine aan en laat het mixen totdat je een dikke gladde massa hebt.
Bereid de overige kruiden op dezelfde manier als eerst (pletten of in de vijzel en dan bakken in de koekenpan met olie) in de koekenpan die nu net leeg is gehaald. Voeg de zoete aardappel toe (zonder de knoflook) en bak dit een minuut mee.
Giet nu de dikke curry over het geheel, voeg de groene linzen uit blik (uitgelekt) toe, roer het geheel lekker door elkaar en laat het op een laag vuur warm worden. Na zo'n 5 minuten is het tijd om te eten! Top het geheel met wat amandelschaafsel en koriander en genieten maar!