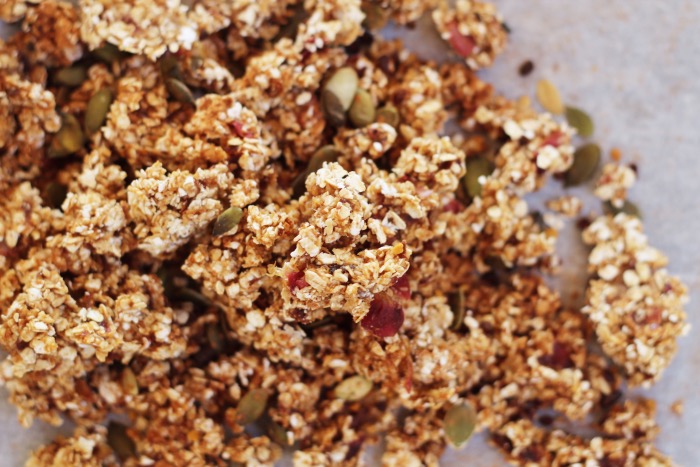 De laatste tijd heb ik zo'n zin in muesli of cruesli en elke keer waag ik weer een poging tot het schap in de supermarkt om tot de conclusie te komen dat er
of heel veel suiker is toegevoegd
of het onnodig veel calorieën bevat
of het niet de ingrediënten combinaties bevat die ik wil
of ontzettend duur is
of andere toegevoegde ingrediënten bevat waarvan ik niet eens weet wat het is
Poeh. Dus ben ik aan de slag gegaan met alles wat ik zelf in huis had om de muesli (dus niet heel crunchy) wél zoet te krijgen, maar zonder suiker, zonder honing, zonder siroop etc. En ook zonder een ei om het te binden, zonder banaan omdat er zoveel recepten zijn met banaan haha. En ook zonder kokosvet of boter. Gewoon heel erg de basis. Heel erg makkelijk. EN HET IS GELUKT! WOOOHOOOO
Wat heb je nodig voor ongeveer 3 porties (dus hier kan ik 3 x mee doen als ik het in mijn yoghurt/kwark doe bijvoorbeeld):
100 gram havermout
100 gram zachte dadels (zo'n 10 stuks)
70 gram druiven
de rest is helemaal optioneel, ik heb nog gebruikt:
kaneel
pompoenpitten
cacao nibs
Verwarm de oven vast voor op 175 graden Celsius.
En mocht je nu denken: SUIKER IS SUIKER, ook in honingvorm. of druivenvorm, of banaan etc. Ja,  ik hoor je, lees dit artikel even: "Je recept is niet suikervrij!"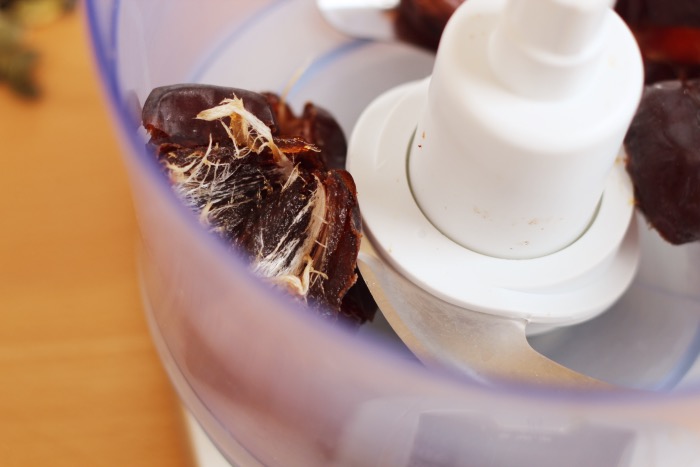 Ontpit de dadels en doe ze in de keukenmachine, puls de machine een aantal keren tot er een soort pasta ontstaat.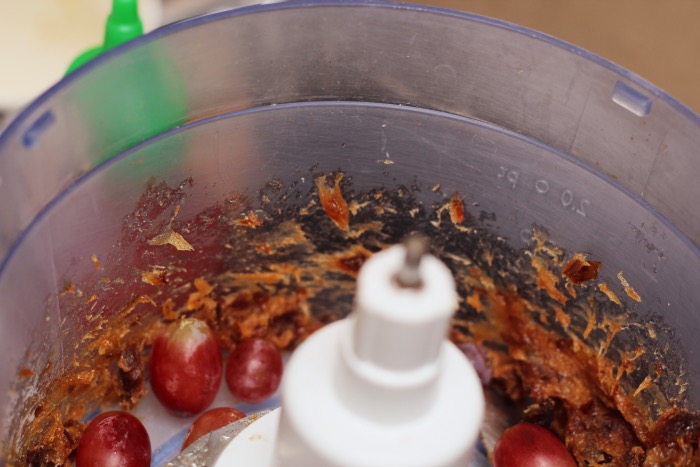 Vervolgens doe je de druiven erbij en zet je de machine weer aan.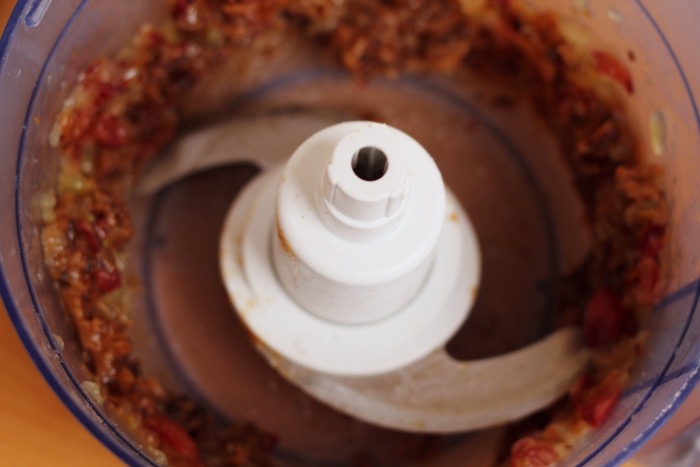 De druiven zorgen voor wat vocht en extra zoetheid zodat het een dikke pasta wordt die je bij je havermout kan doen.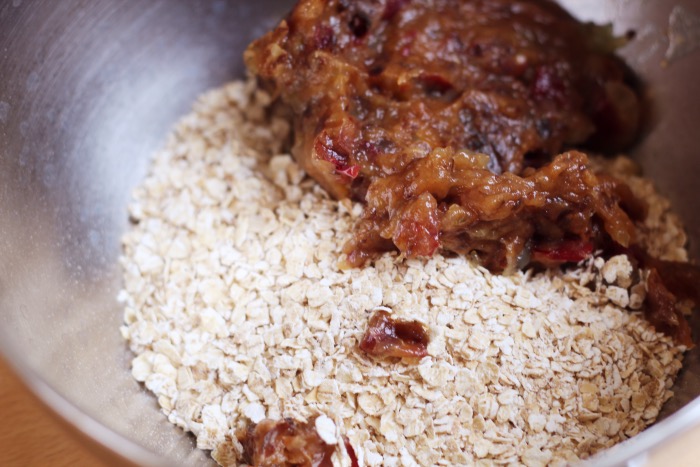 In een kom meng je dit met een vork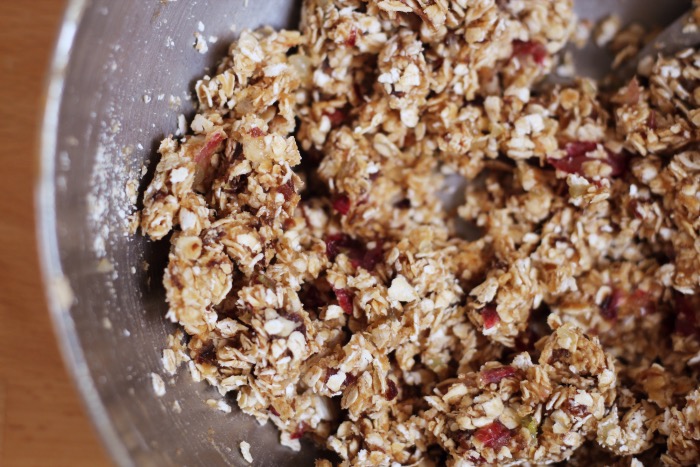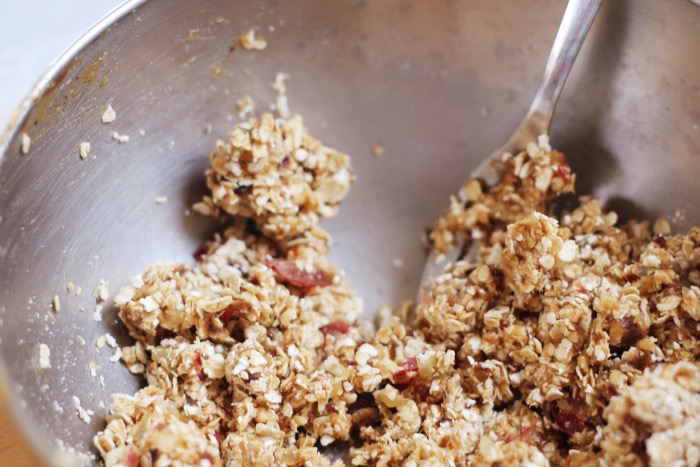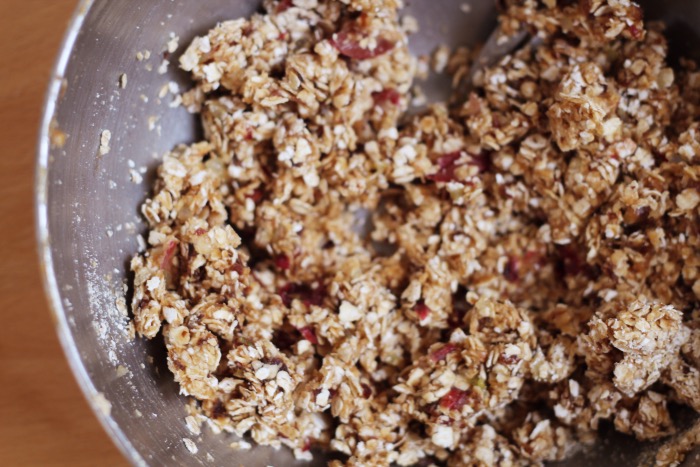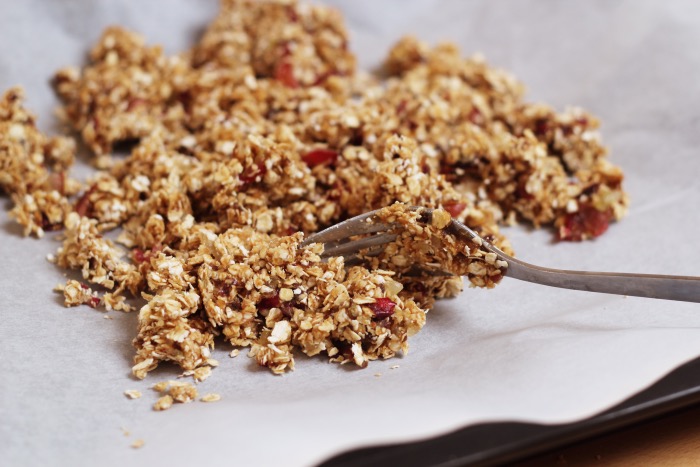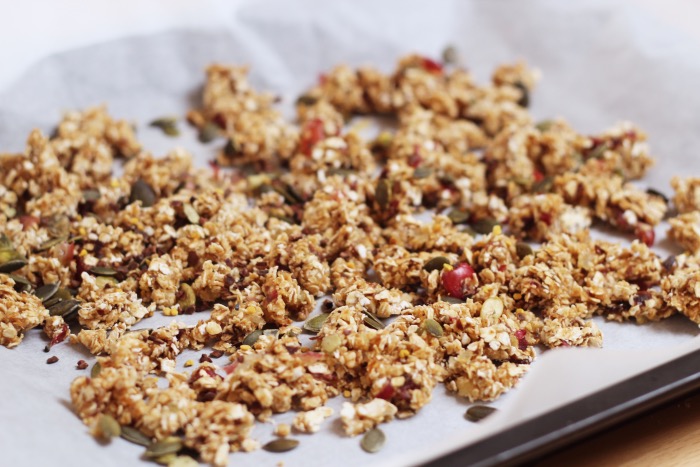 Vervolgens verspreid je het mengsel op een bakplaat bedekt met wat bakpapier. Nu kun je ook jouw favoriete toppings toevoegen, ik had graag nog hazelnoten en amandelen gehad, maar dat had ik niet in huis.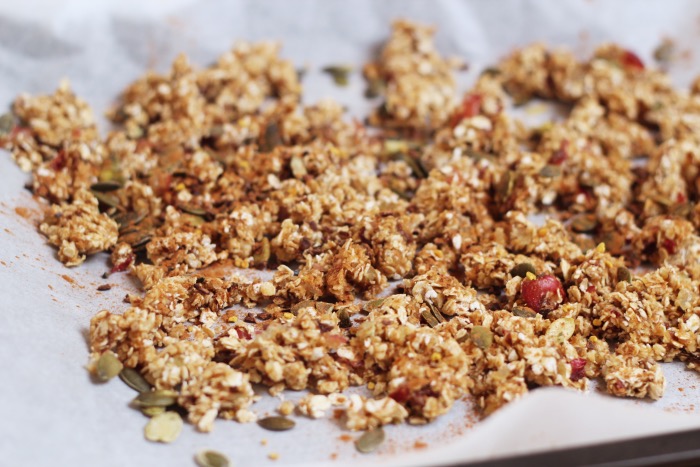 Hier gaat vervolgens flink wat kaneel overheen, de druiven geven hier en daar een mooi rood kleurtje 🙂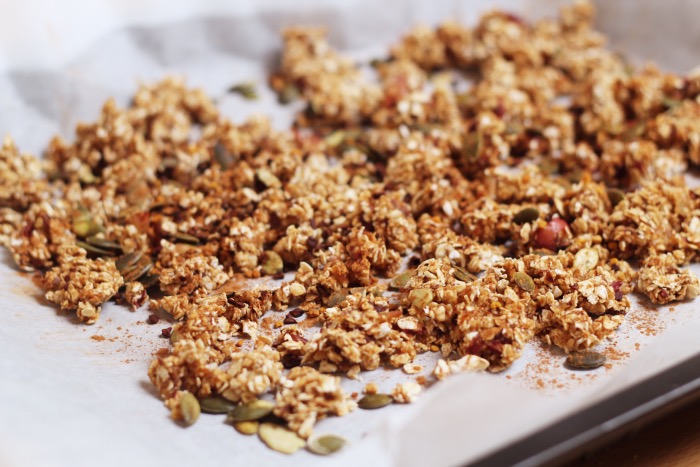 Dit gaat voor zo'n 15 tot 20 minuten de voorverwarmde oven in.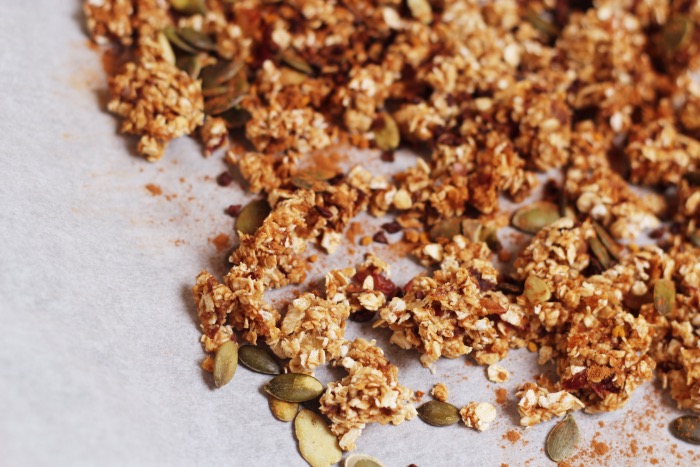 Als het de oven uit komt, laat je het volledig afkoelen, je zult merken dat er hier en daar wat brokken zijn gevormd, dit is extra lekker! Ze zullen niet "crunchy" zijn zoals met cruesli omdat er 1. geen suiker/honing/siroop is toegevoegd en 2. omdat er geen boter/kokosvet is toegevoegd. Dus het blijft wat meer muesli-achtig, maar véél lekkerder dan muesli omdat het niet zo droog is. BONUS!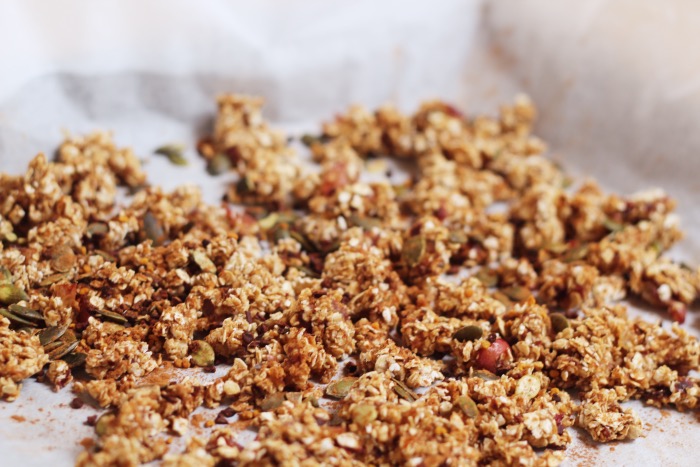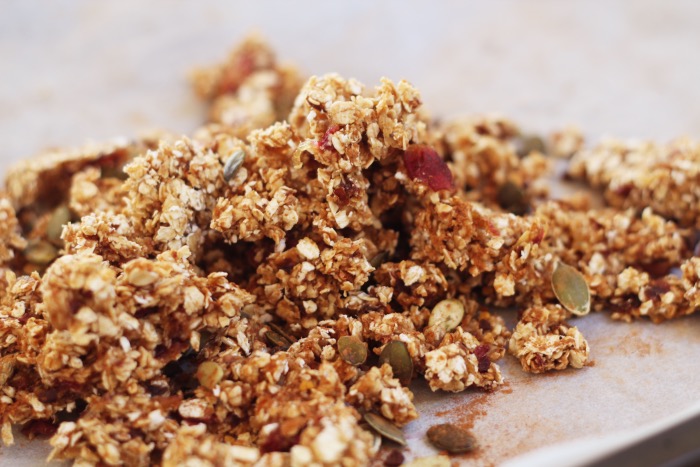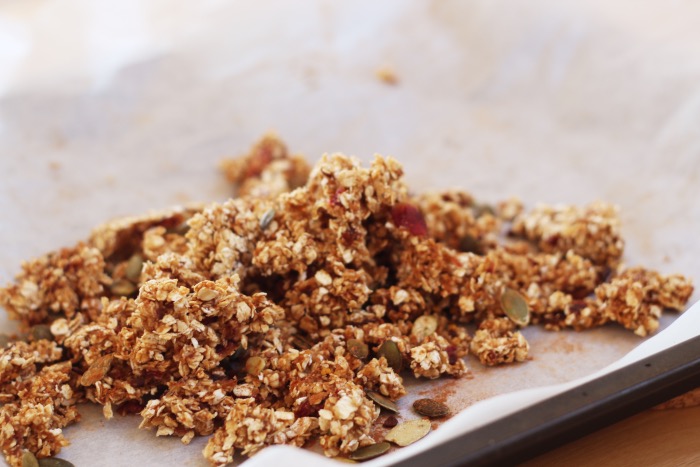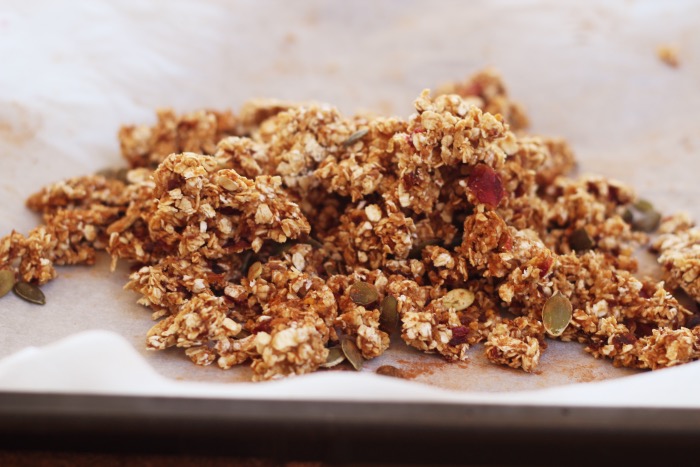 Ik heb dit in een bakje bewaard, aangezien ik een kleine hoeveelheid heb gemaakt zal het toch wel gauw op gaan. Ik zou dit niet langer dan 4 dagen bewaren in het bakje (desnoods in de koelkast). Als je het invriest en het er vervolgens uit haalt ben ik bang dat het nattig is geworden en helemaal niet meer lekker. Dus kleine porties maken en extra van genieten!