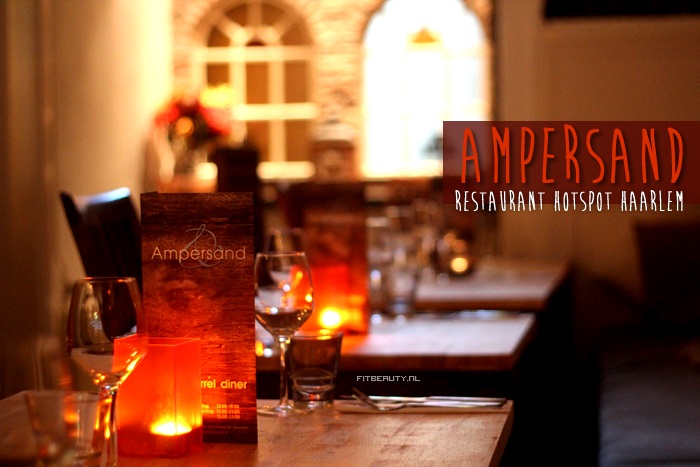 Ik ben héél enthousiast. Maar echt héééééél enthousiast over dit restaurant. Ik zoek namelijk al maanden naar restaurants die bijvoorbeeld suikervrij of glutenvrij koken en deze zijn nog erg schaars in Nederland. Of sterker nog, ik kan ze helemaal niet vinden! Maar ik heb er een te pakken! En hier kun je écht met je meeste allergieën terecht en het eten is verrukkelijk! 
Ik zat midden in mijn suikervrije challenge toen een collega tegen me zei dat ze heerlijk had gegeten in Haarlem en dat het ook echt wat voor mij zou zijn. Ze vertelde dat het restaurant suikervrij, glutenvrij, lactosevrij en nog een aantal allergieën en intoleranties- vrij kookte. Alleen al na het woord "suikervrij" ging het al razen door mijn hoofd. HIER MOET IK HEEN!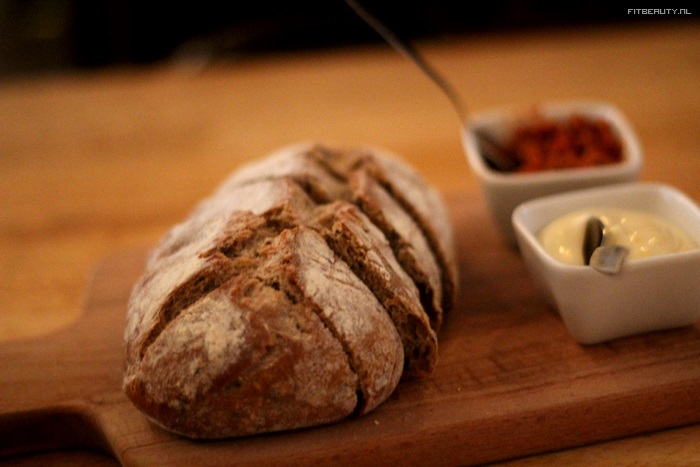 Op maandag vertelde ze me over het restaurant, op dinsdag reserveerde ik en mailde ik de eigenaar of ik foto's mocht maken in het restaurant en op donderdag ging ik er eten met mn moeder en broer. En ik ben he-le-maal te spreken over dit restaurant met ook nog eens een mooi verhaal erachter.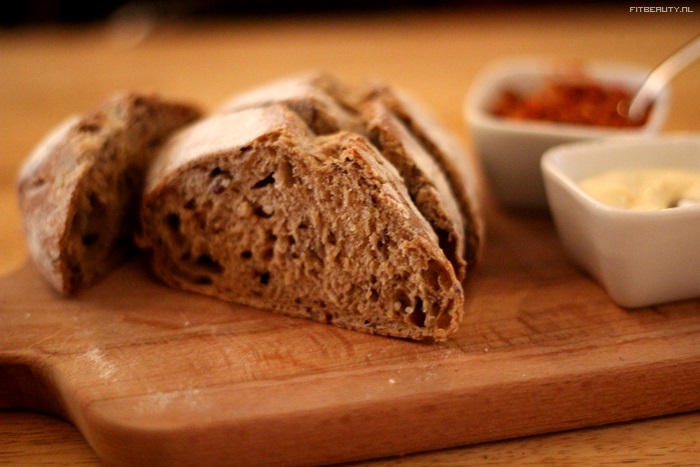 De eigenaar Wesley Staats is in oktover 2013 (je leest het goed: één jaar geleden pas!) dit restaurant begonnen. Hij is op dit moment 24 jaar. Say what!? Binnen een half jaar had hij al de kosten eruit en liep het als een trein. En dat is niet gek, want het eten is er heerlijk. Zo heerlijk, dat in principe niemand weet dat het allemaal suikervrij, glutenvrij, lactosevrij, notenvrij (en vergeef het me, maar ik weet niet meer welke andere allergieën en intoleranties het ook dekt). En daarmee is het het enige restaurant in Nederland waarbij je veilig kunt eten met deze intoleranties en allergieën. Hij heeft er allerlei keuringen en papieren voor moeten behalen en dat is allemaal gelukt.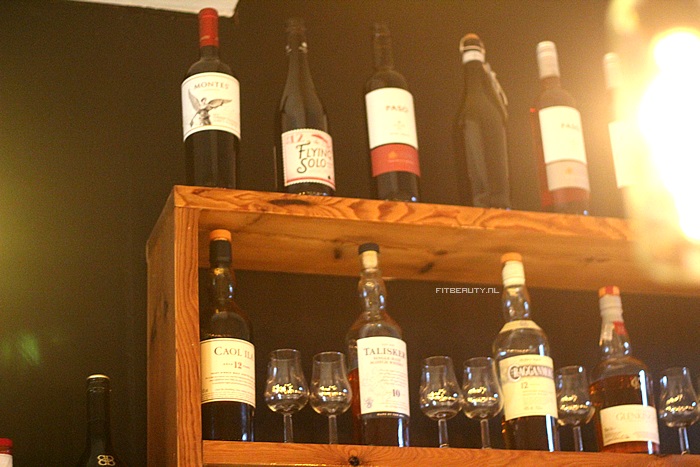 Alle wijnen zijn ook zónder sulfiet! Probeer die maar eens te vinden in de supermarkt, good luck!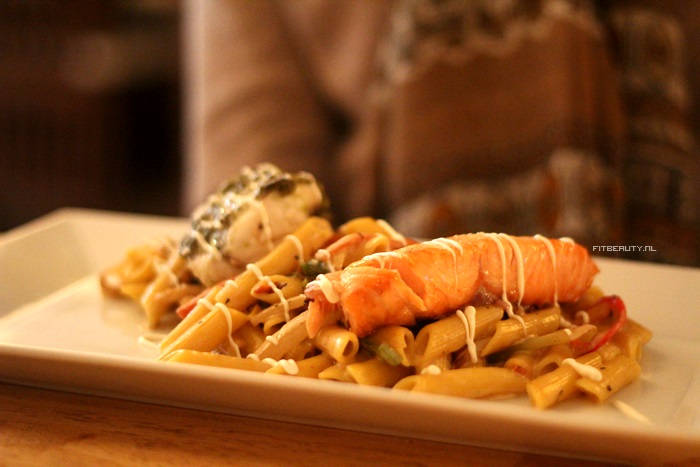 Wesley is zelf flink afgevallen en eet volledig glutenvrij, suikervrij etc. Eigenlijk heeft hij dus een restaurant gecreëerd waarbij hij zelf zou mogen aanschuiven.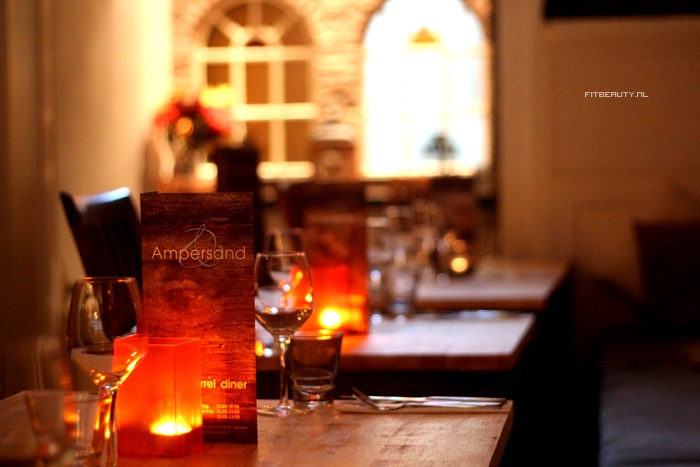 Ik heb een collega die in Haarlem woont, en toen ik hem vertelde dat ik naar Ampersand ging om te eten zei hij "oh daar heb ik ook wel eens gegeten". Even wat achtergrond info: dit is een mannelijke collega, die dol is op frietjes, shoarma en in principe gewoon eet wat hij lekker vindt en altijd grapjes maakt over mijn gekkigheid met eten 🙂
Dus ik dacht; Hè?! Hoe kan dat dan? Ik vroeg hem of hij wist wat voor restaurant het was en wat hij had gegeten, waarop hij antwoordde "Eh, nee. Ik heb biefstuk met frietjes gegeten en het was lekker" Wauw! Ik stond al helemaal klaar om hem eens te vertellen hoe gezond hij wel niet had gegeten, misschien raakte hij nu wel eens overtuigd van mijn "gekkigheid met eten". Toen ik het hem vertelde was hij écht verbaasd, geweldig om dat gezicht te zien! Én die extra bevestiging dat het eten er heerlijk is. Sterker nog; Wesley vertelt het de mensen vaak pas achteraf en staat het ook nergens op de site of op het menu. Dus de "normale mens" heeft niets door en dat is nu precies de bedoeling.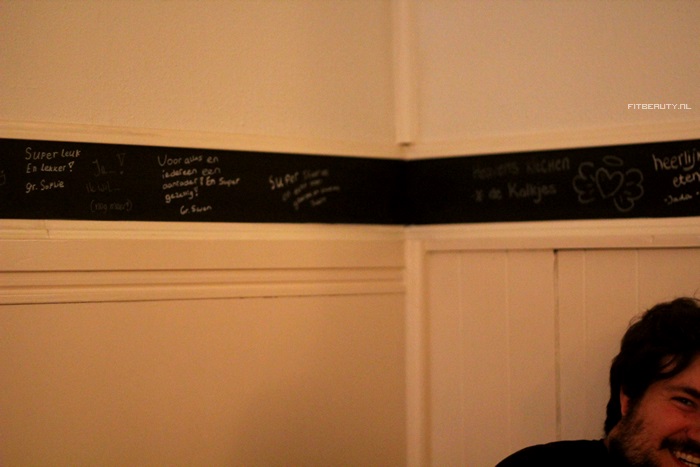 heey dat is mijn broer! Haha.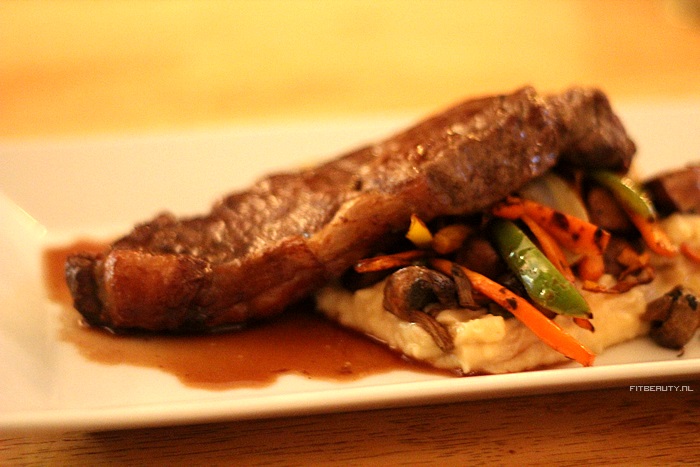 Sausjes, puree, alles is vrij van toegevoegd suiker en dergelijke.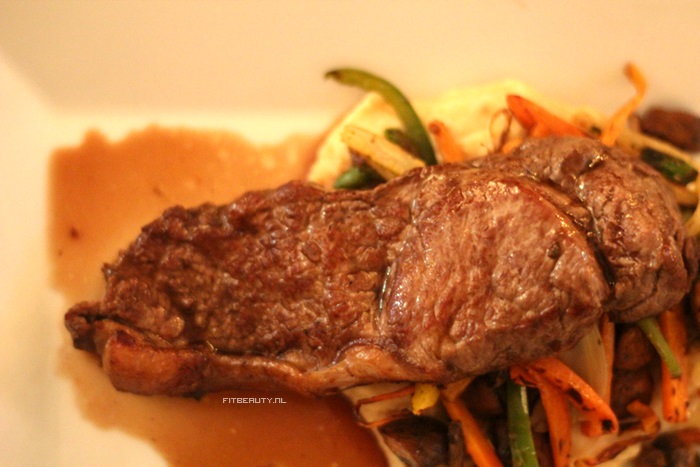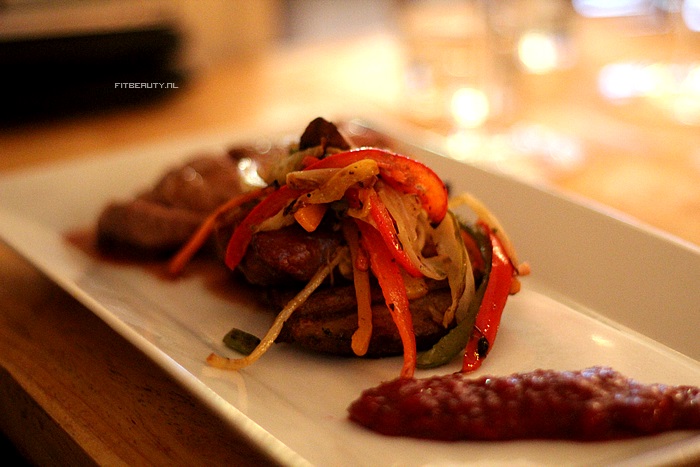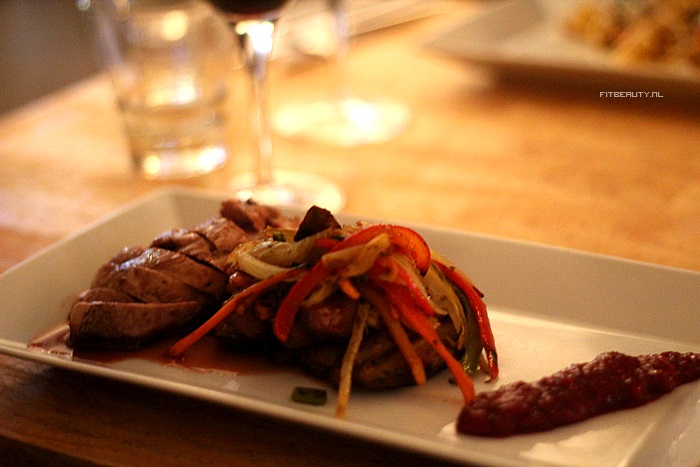 Zeg nou zelf: het ziet er toch héérlijk uit?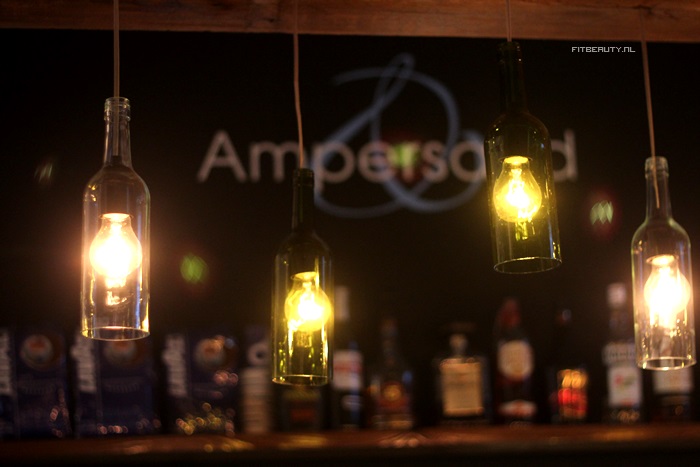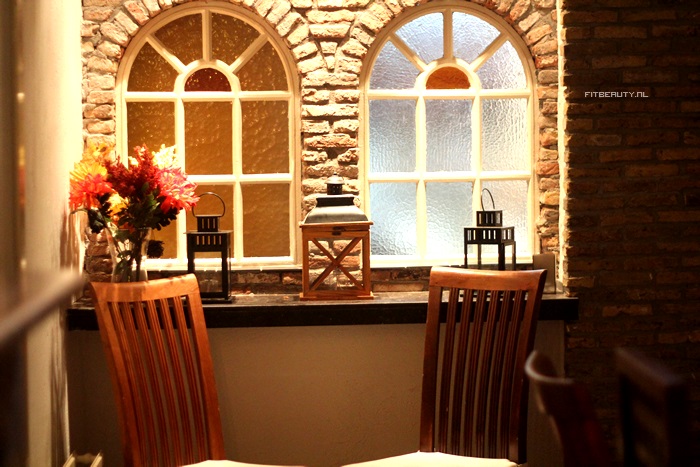 Lekkere huiskamersfeer 🙂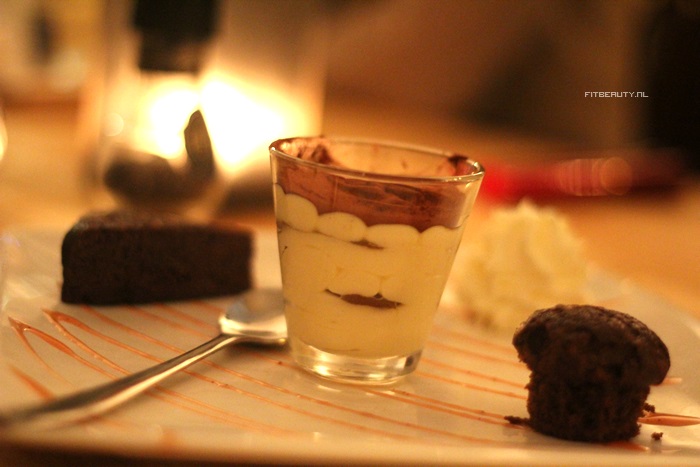 Dit toetje, was goddelijk! Hoe is het toch mogelijk zou je zeggen he? Ik zou zeggen (woon je in de buurt); ga vooral langs! En Wesley legt je graag alles uit! Behalve hoe het brood is gemaakt, want daar heeft hij een patent op! Haha en dat snap ik heel goed want het brood was heerlijk.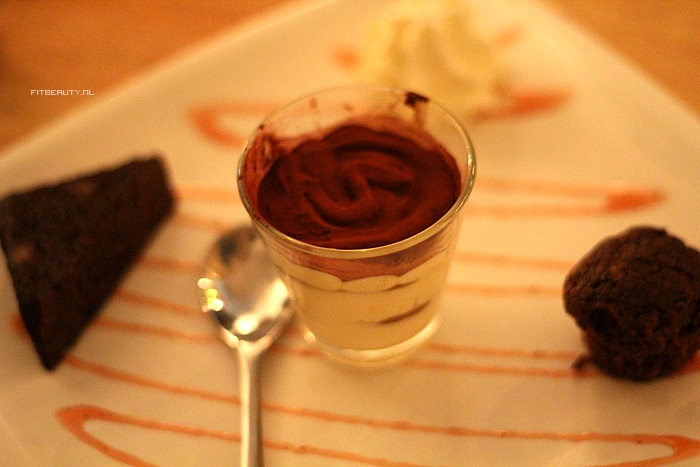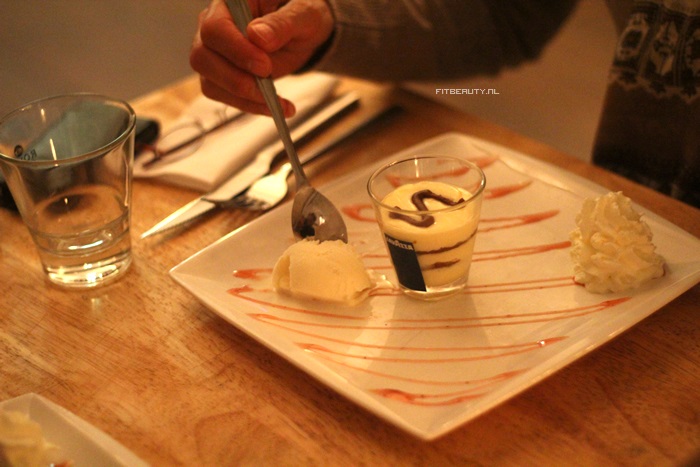 Het restaurant ligt aan de Kleine Houtstraat 62 in Haarlem. Check de site als je wilt reserveren of bellen. 
Ik zeg: voor herhaling vatbaar!