Het is weer maandag morgen, dat betekent dat het overgrote deel van de bevolking naar zijn of haar werk gaat, vaak is dit een kantoorbaan. Onmogelijk dus om slank en fit te worden met een kantoorbaan, toch? Is dit het excuus dat je vaak gebruikt? Dan is het tijd om een nieuw excuus te bedenken (of helemaal geen!!) want deze week staat in het thema van "slank en fit op het werk". Als eerste vandaag: de structuur van de werkdag in je voordeel gebruiken!
Gebruik de werkdag structuur!
Het voordeel van elke dag tussen bepaalde tijden op je werk zijn is dat dit al een vaste structuur heeft in je leven door de weeks. Gebruik dit dus in je voordeel! Het enige wat je dient te doen is een voedingsstructuur in de al bestaande structuur in te bouwen. Je weet natuurlijk niet precies wanneer er stressvolle momenten zijn tijdens het werk, maar je weet waarschijnlijk wel wanneer bepaalde afspraken en vergaderingen gepland zijn. Tijd om georganiseerd aan de slag te gaan!
1. Begin met nagaan hoelaat je wekker gaat in de ochtend, zorg ervoor dat je binnen twee uur nadat je wekker is gegaan je onbijt eet.
Stel je wekker gaat om 6:00 uur, dan heb je ontbeten uiterlijk om 8:00 uur. Of dit in de trein, auto, of op je werk is. Als je het maar doet!   Een aantal verschillende tips en ideeën voor het ontbijt: Weinig tijd in de ochtend? Of ontbijt inspiratie nodig?
2. Dan wordt het tijd om je eerste snack moment in te plannen. Dit mag achter je bureau zijn, probeer een moment uit te zoeken dat je zelfstandig aan het werk bent en op je plek zit. Het liefste 2 tot 3 uur na je ontbijt. Dit kan een stuk fruit zijn, of een bakje yoghurt. Koffie is geen snack! Vergeet ook niet om een glas water erbij te drinken.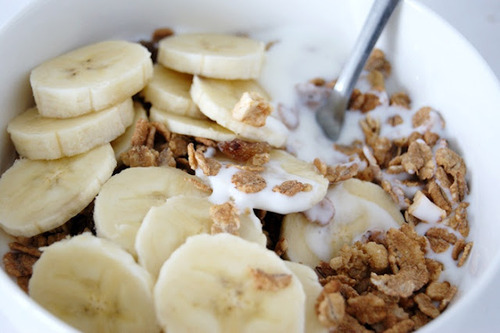 3. Tijd voor de lunch! Ik adviseer je om niet achter je computer of aan je bureau te lunchen. Ga helemaal ergens anders zitten. Het is belangrijk dat je je gedachtes helemaal van je werk af kunt halen en kunt genieten van het eten. Doe desnoods een muziekje op, lees een tijdschrift of houd een praatje met een van je collega's (niet over werk!).  Je zult hierna veel beter uitgerust zijn en kracht hebben om je weer op je werk te storten.
4. De laatste snack op het werk. Dit is meestal tussen 15:00 en 16:00 uur. Je voelt vaak een dipje opkomen, het liefst duik je nu je bed in nadat je een grote avondmaaltijd hebt weggewerkt. Dat kan allebei niet, dus tijd voor een boost! Een banaan, kopje koffie met een koekje (af en toe natuurlijk), twee crackers met honing of een handje rozijnen zijn perfecte snacks voor dit tijdstip. Ze zullen je even een energie opkrikker geven om de laatste uurtjes door te komen.