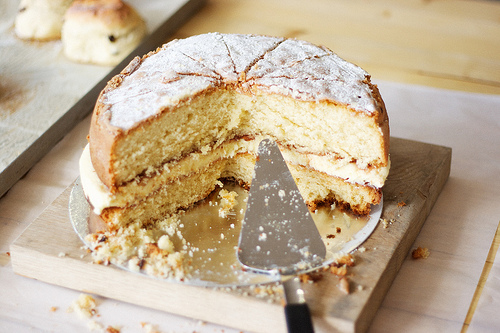 Kennen jullie dat? Dat je een hele tijd super goed bezig bent met gezond eten en regelmatig sporten en dan komt er een verjaardag aan. Er zijn dan wel eens momenten dat je trek hebt in een stukje gebak en dit ook verdient. Maar er zijn ook wel eens momenten dat je er totaal geen trek in hebt, vooral niet omdat je weet dat je de dag ervoor keihard hebt lopen zweten in de sportschool.
En dan, bied de gastvrouw je een stuk aan, wanneer je weigert trekt ze een wenkbrauw op en zegt ze "je bent toch niet op dieet he!"
Hoe ga je dit nu uitleggen. Je wilt niet onbeschoft overkomen maar je wilt ook niet een stuk gebak eten terwijl je er geen trek in hebt.
"Nee ik ben niet op dieet, ik heb er geen trek in"  Dat is wat ik altijd probeer.. Maar vaak werkt het niet.
"Ach schei toch uit, een stukje gebak doet je echt geen kwaad" krijg je dan als reactie. Oftewel, er wordt gewoon van uit gegaan dat je wél op dieet bent, terwijl je net zei dat dit niet zo was.
En vaak krijg je daarna nog "Ik heb uren in de keuken gestaan om dit allemaal te maken, proef gewoon een stuk!"
Nu wordt er op je schuldgevoel gewerkt. Op dit moment spoken er allerlei dingen door mijn hoofd
– gewoon een stuk op je bord nemen zodat ze weer blij is en het uiteindelijk niet opeten.. –  of
– een stukje op je bord nemen en het even later wanneer de gastvrouw niet kijkt, aan je buurman of buurvrouw geven –
Niet echt de beste oplossingen. Dus wat doe ik tegenwoordig? Ik ga net zo hard op het schuldgevoel van de gastvrouw werken, "Ik heb al maanden zo hard gesport en ontzettend goed op mijn voeding gelet, gister heb ik zelfs mijn record verbroken op de loopband. Als ik nu dit stuk gebak eet ga ik me heel erg slecht en rot voelen"..
Klaar, einde discussie. En op deze manier ben ik eerlijk geweest en heb ik niet sneaky naar een uitweg gezocht.
Als je altijd maar vriendelijk wilt zijn en toestemt met dingen waar je geen zin of trek in hebt, wordt je doel telkens een stapje verder weg gelegd. Kom voor jezelf op, zodat iedereen weet dat wanneer jij 'ja' zegt tegen iets, dit ook echt 'ja' is. En andersom natuurlijk, nee is nee.