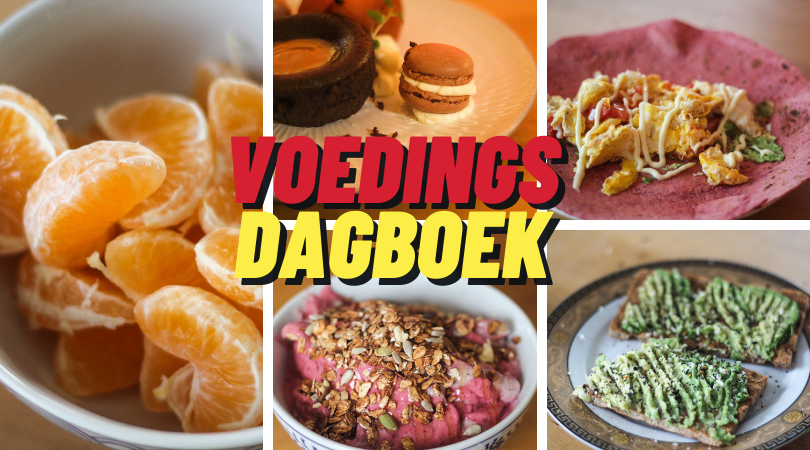 Tijd voor weer een nieuw voedingsdagboek vol lekkers! Of moet ik zeggen "Teni-lekkers". Soms zijn deze voedingsdagboekjes in elkaar zetten een soort therapie voor me. De handelingen ken ik allemaal, maar er doorheen gaan, de foto's bewerken, de teksten erbij zetten en nagenieten van de dingen die ik heb gegeten is precies het proces dat me soms de rust geeft die ik nodig heb.
Klinkt gek voor een voedingsdagboek intro, dus laten we maar gewoon naar de foto's!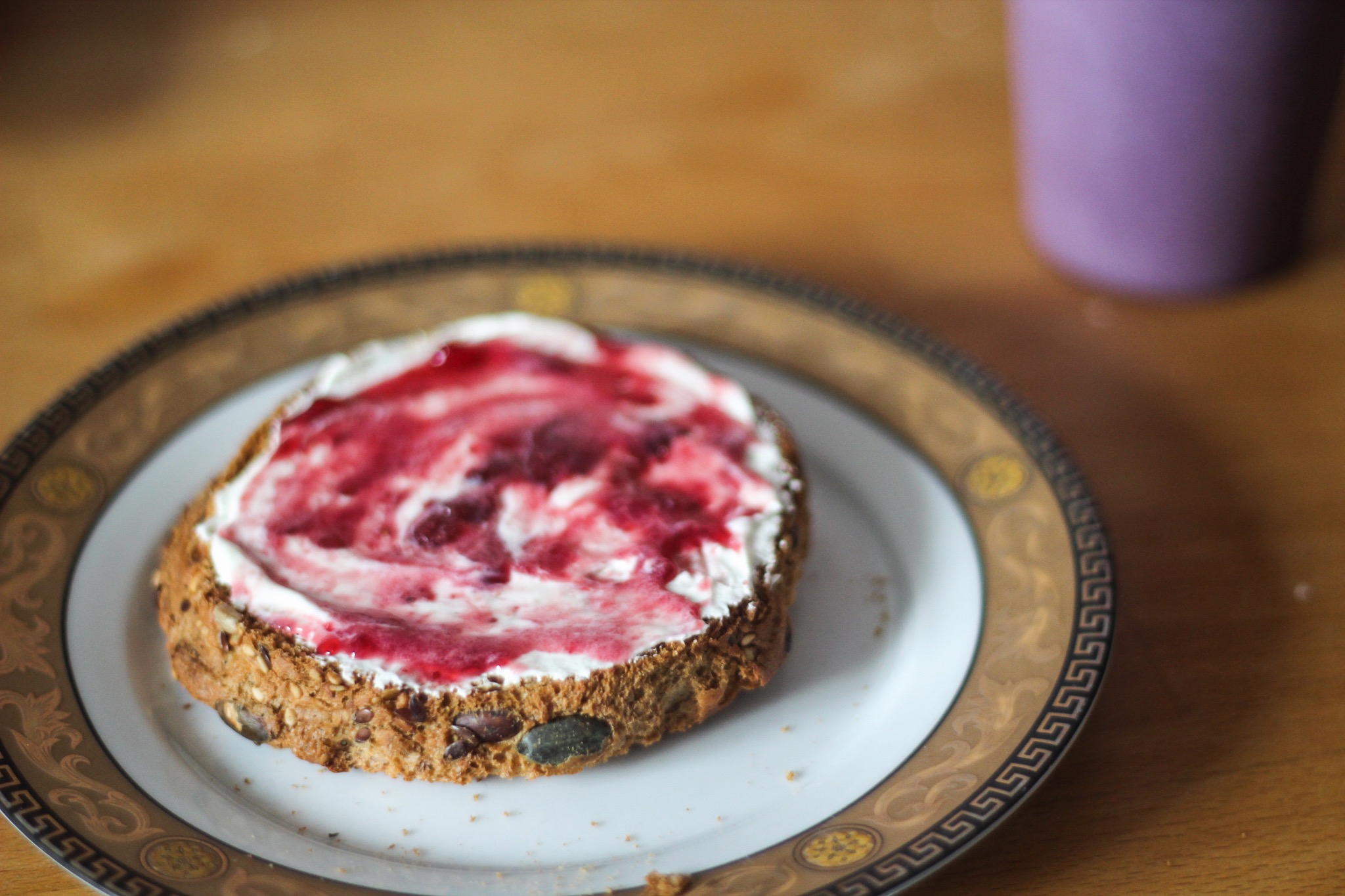 Spelt beschuit van de Lidl met zuivelspread en jam, de combi die ik weer helemaal heb herontdekt de afgelopen maand.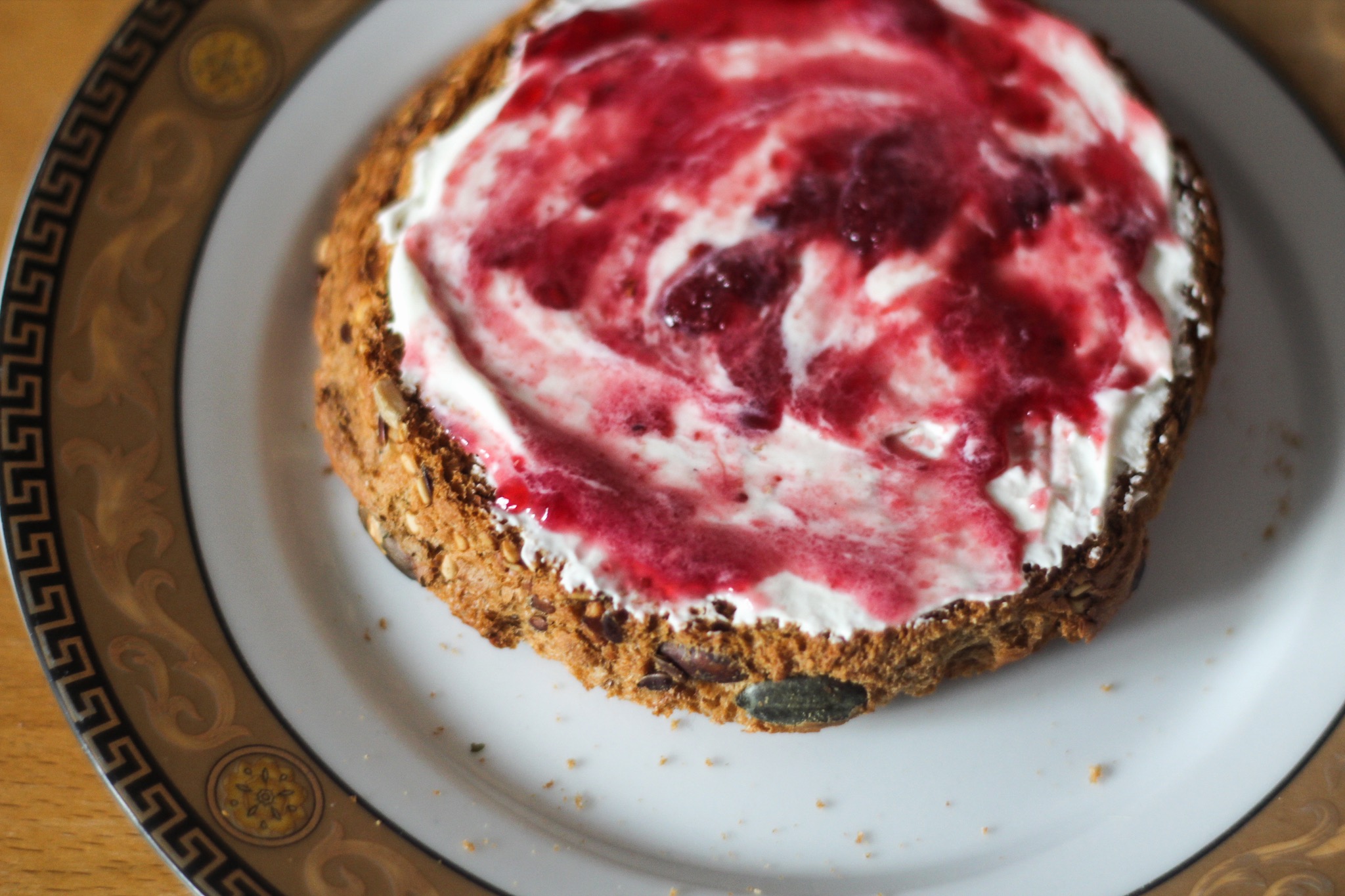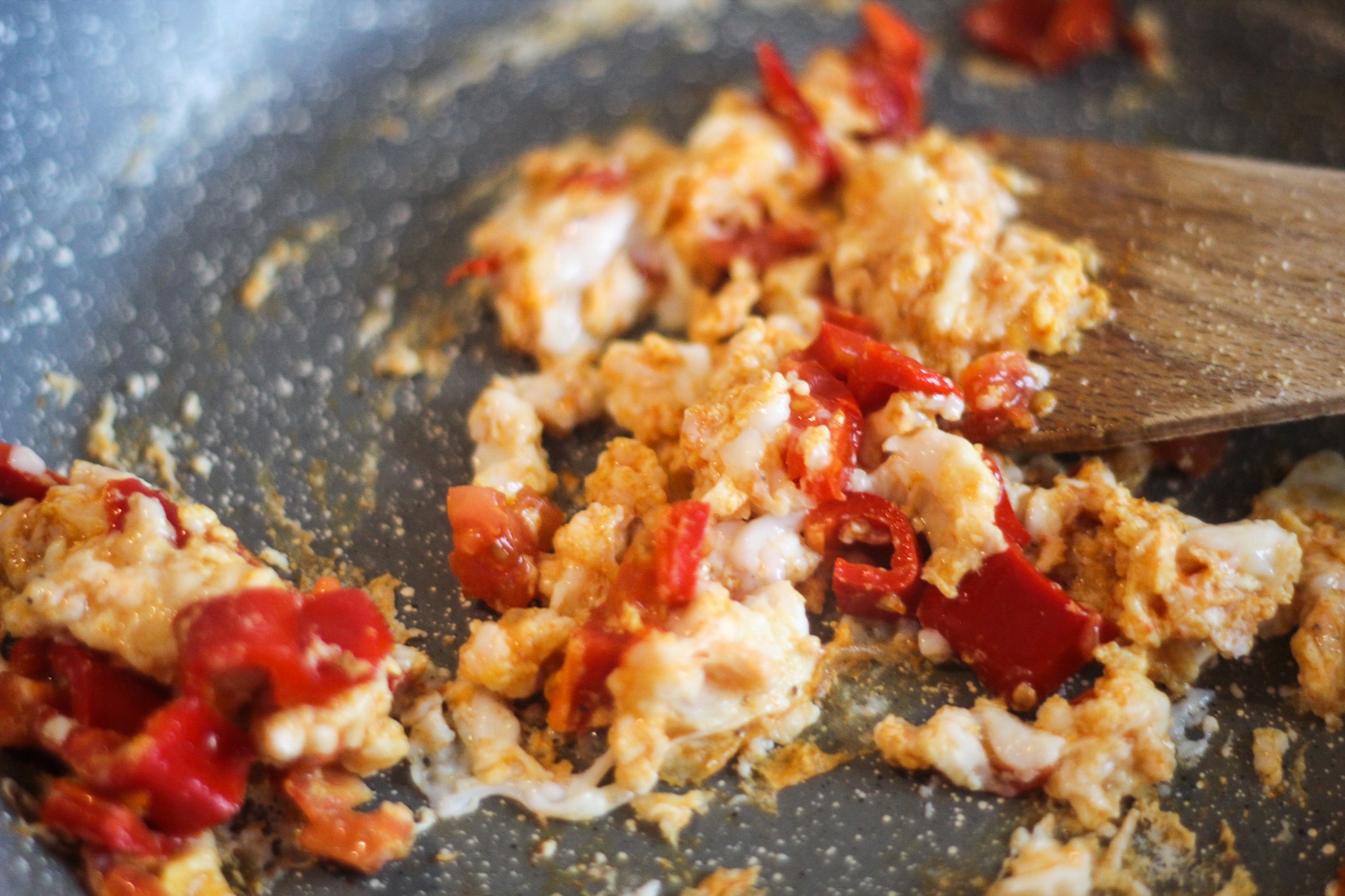 gebakken ei met tomaat en paprika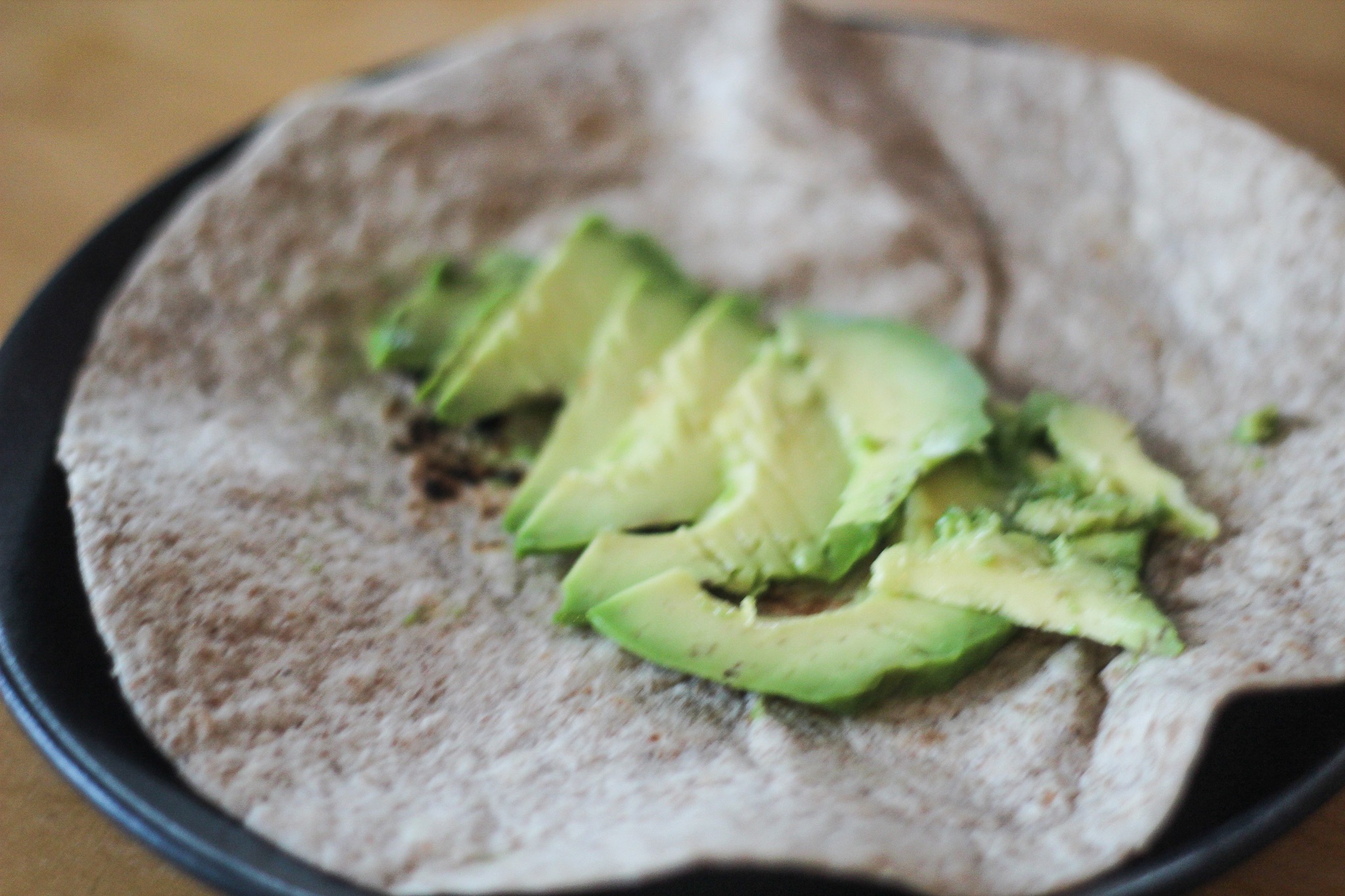 Op een volkoren wrap met avocado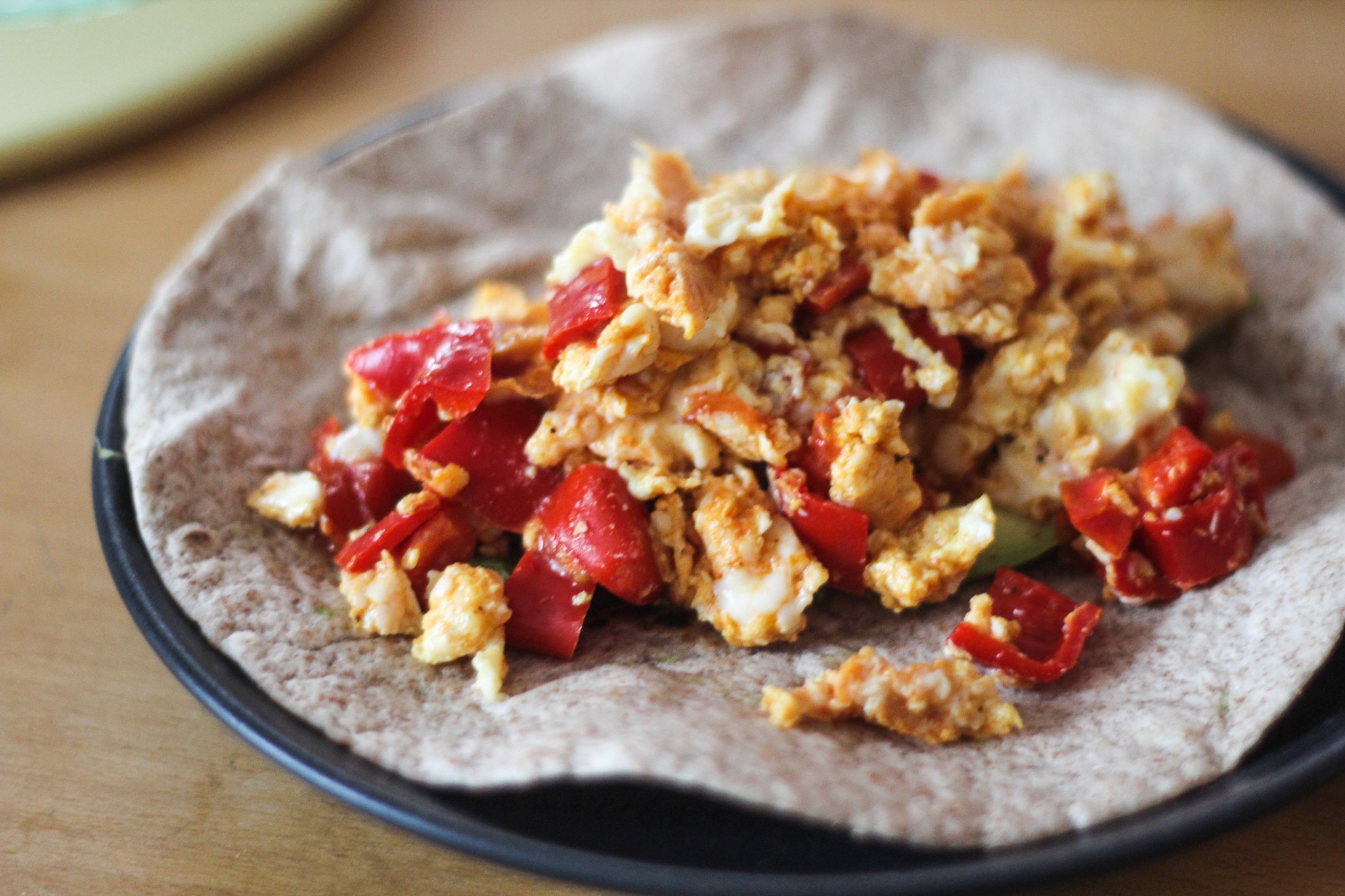 Jum!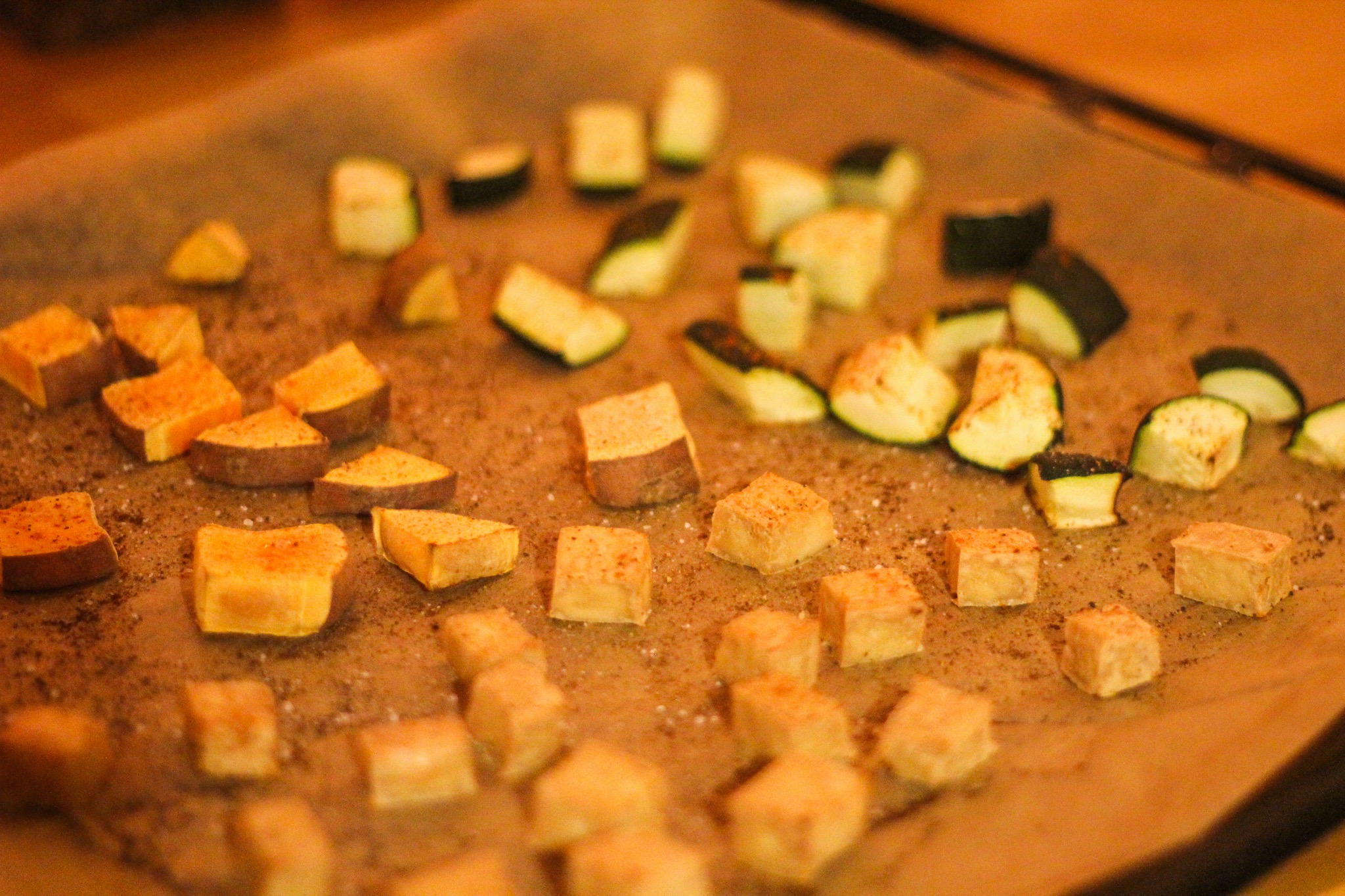 Tofu, zoete aardappel en courgette uit de oven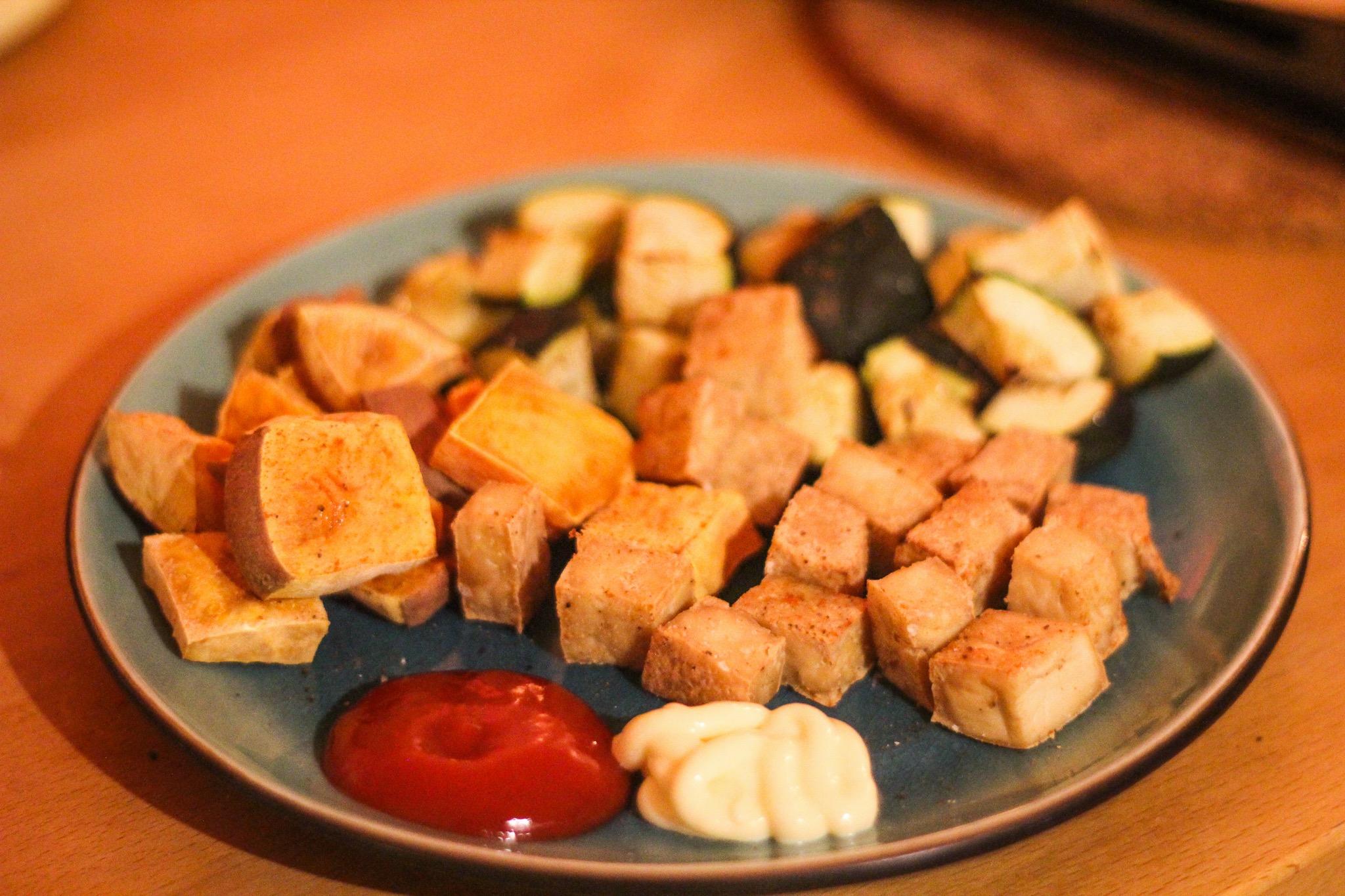 Met wat ketchup en mayo en klaar. Simpel en heeeeel saai, maar prima als je restjes moet opmaken.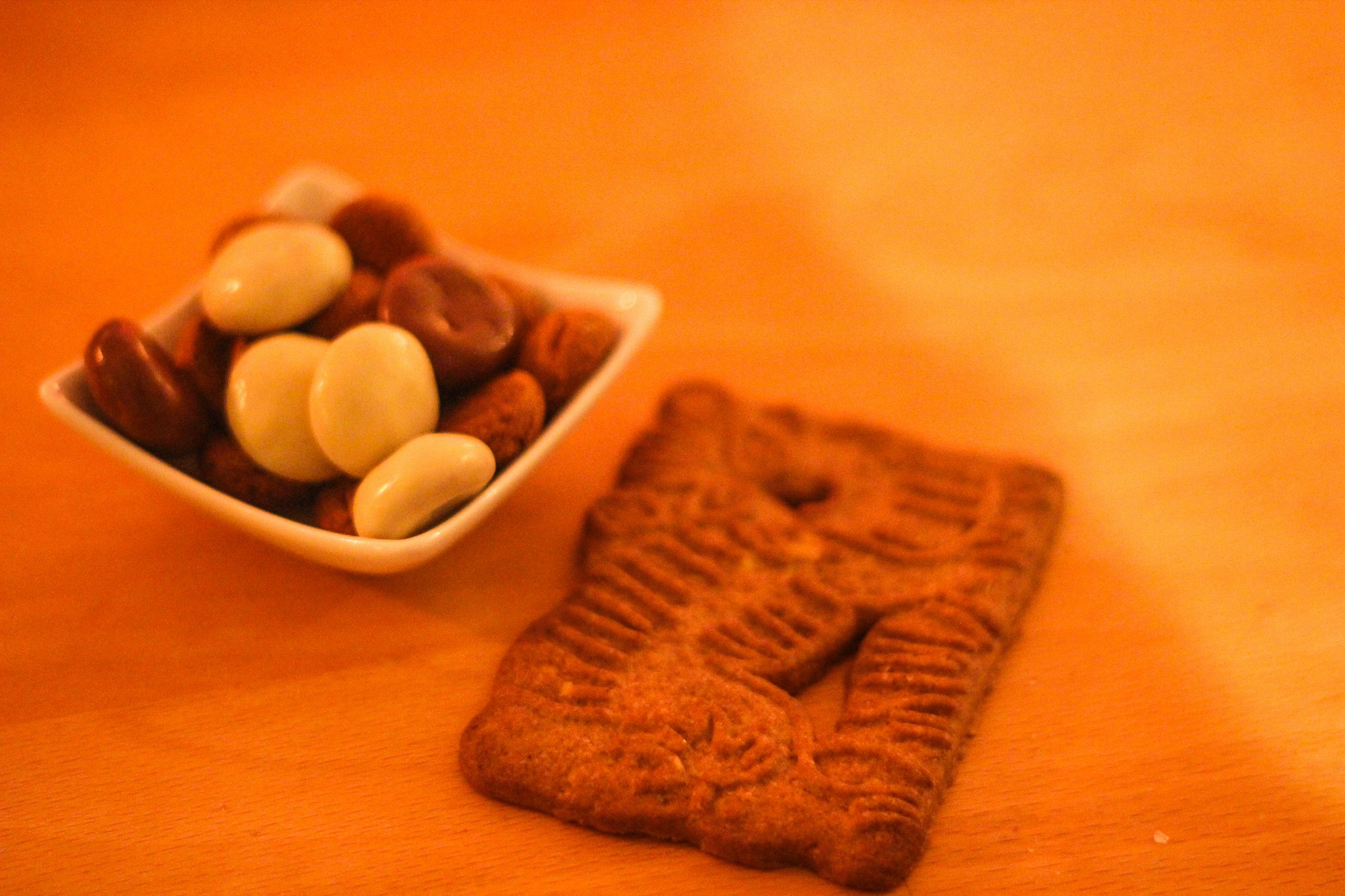 Speculaas en (chocolade) kruidnoten met een kop thee.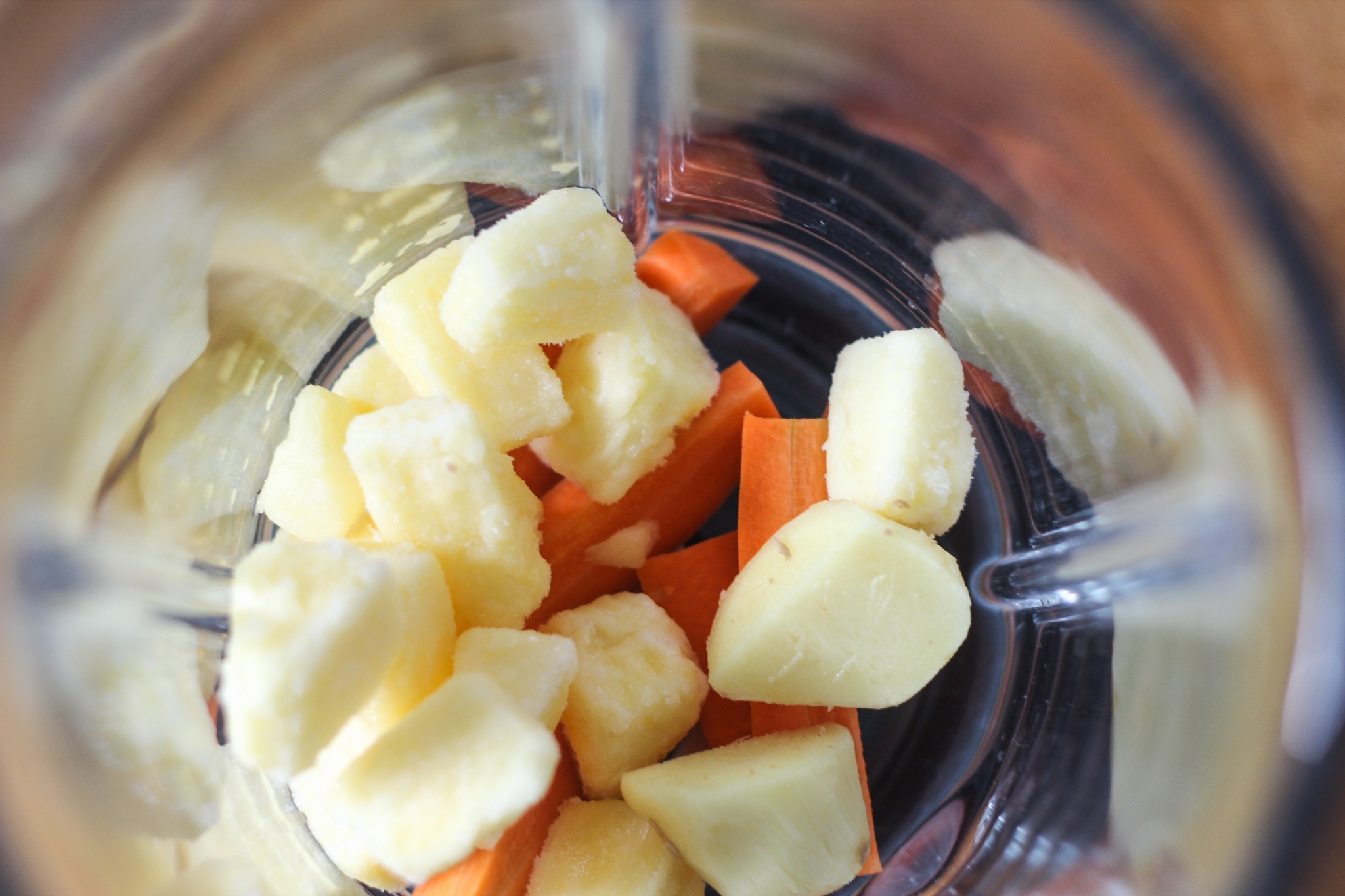 Smoothie met ananas, wortel, gember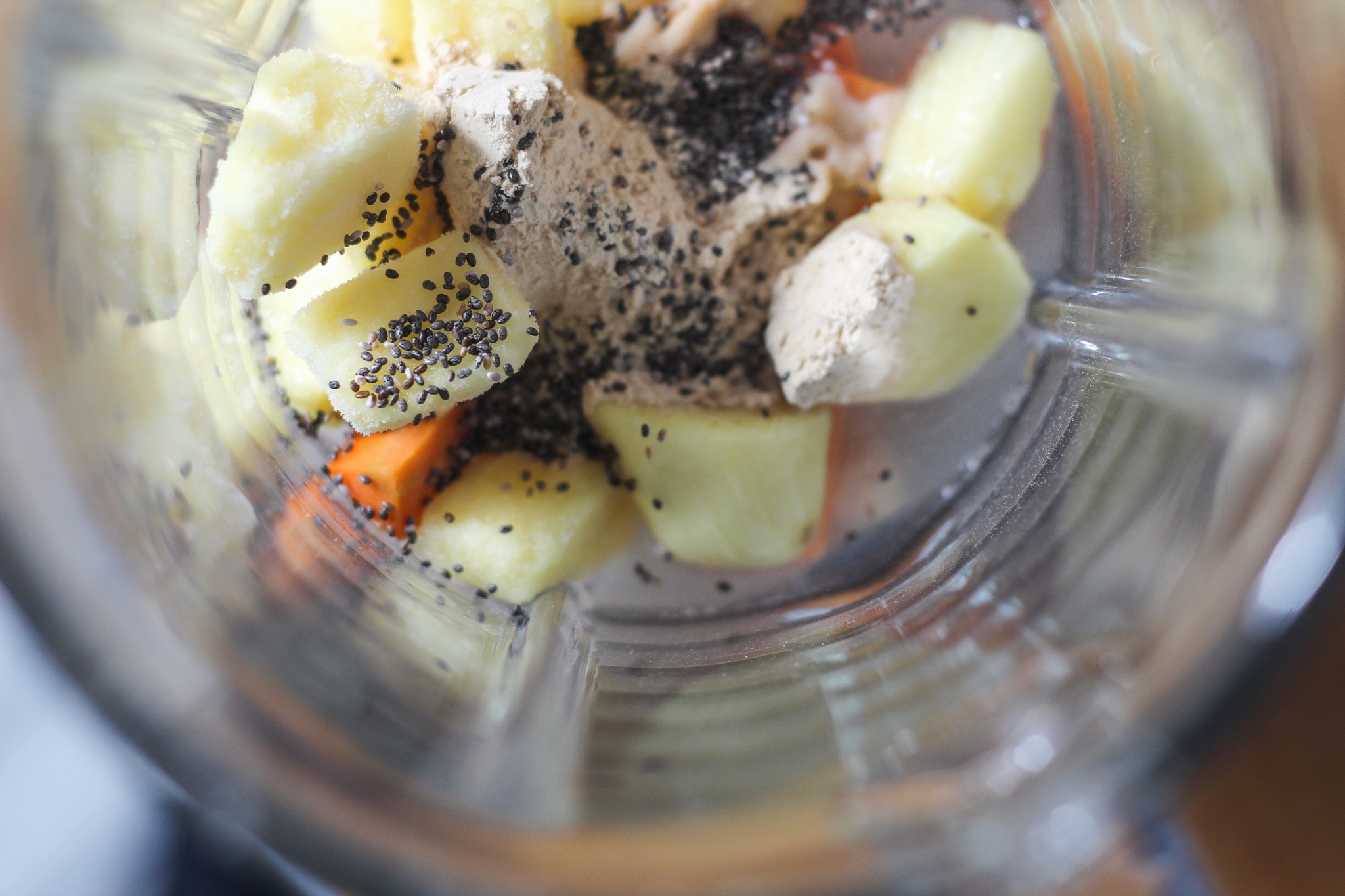 chiazaad en eiwitpoeder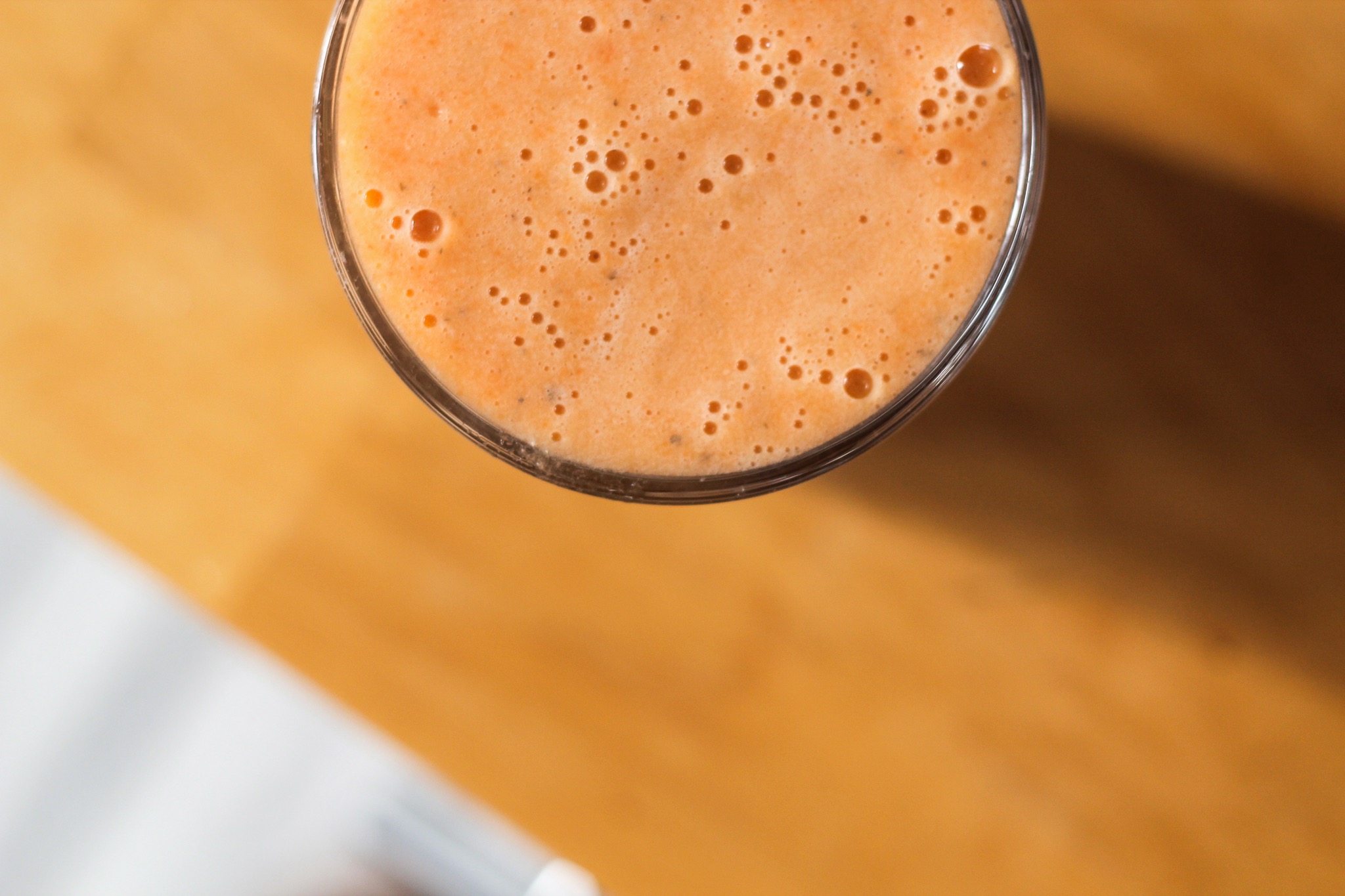 Water erbij en blenden maar, heerlijk!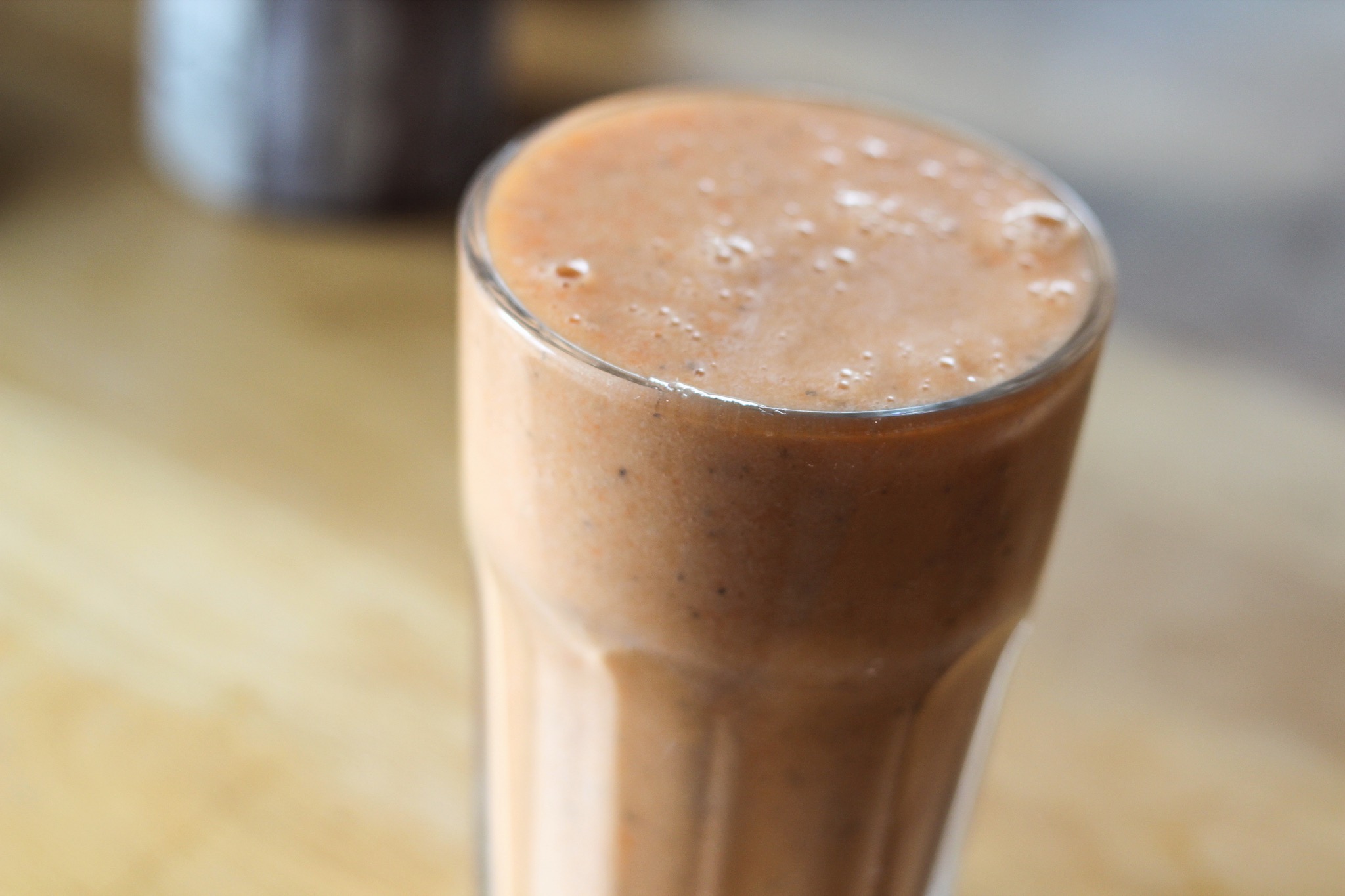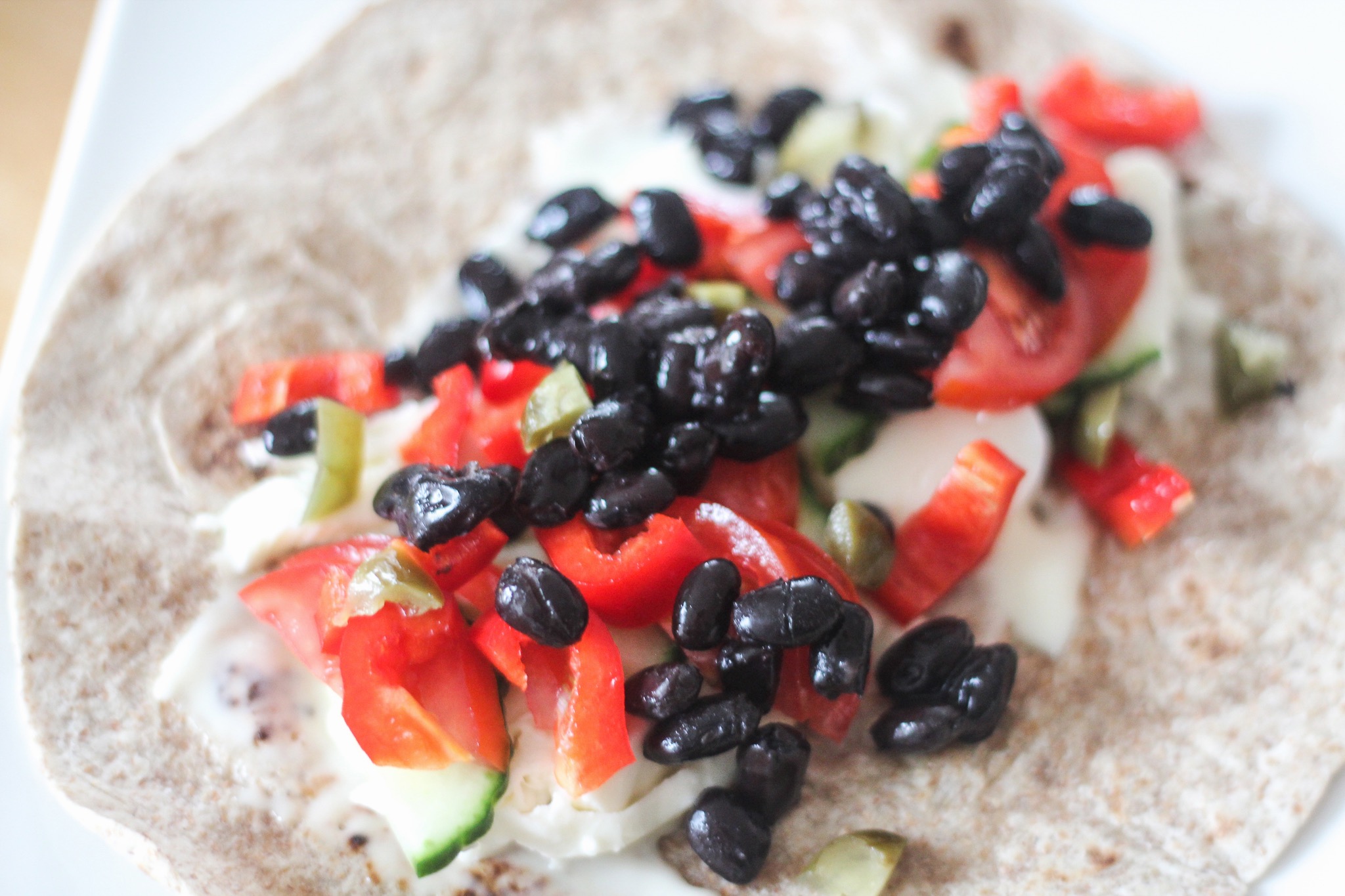 Volkoren wrap met smeerkaas, zwarte bonen, mozzarella, komkommer, tomaat, paprika en jalapeno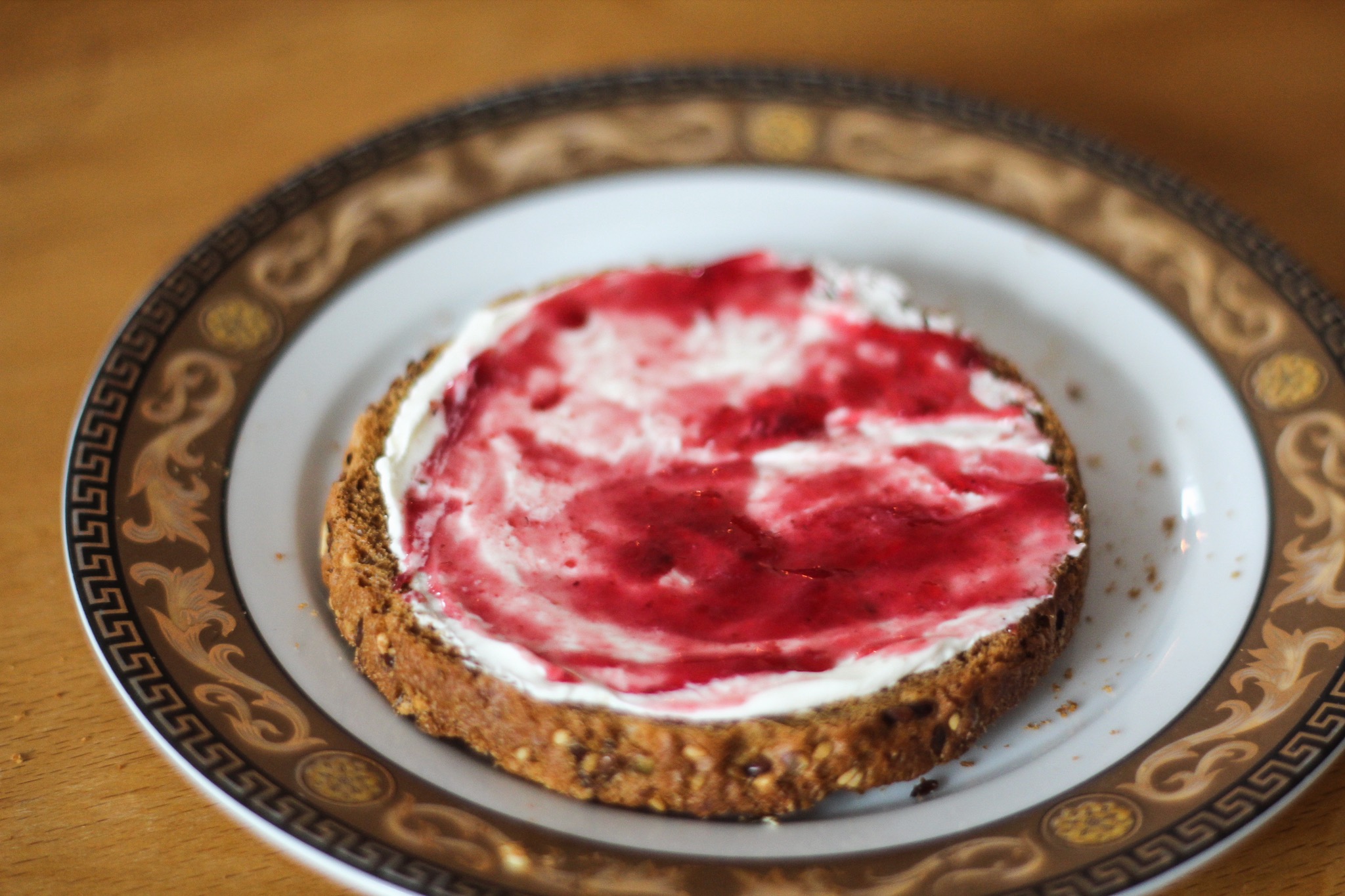 Daar is het beschuitje weer met zuivelspread en jam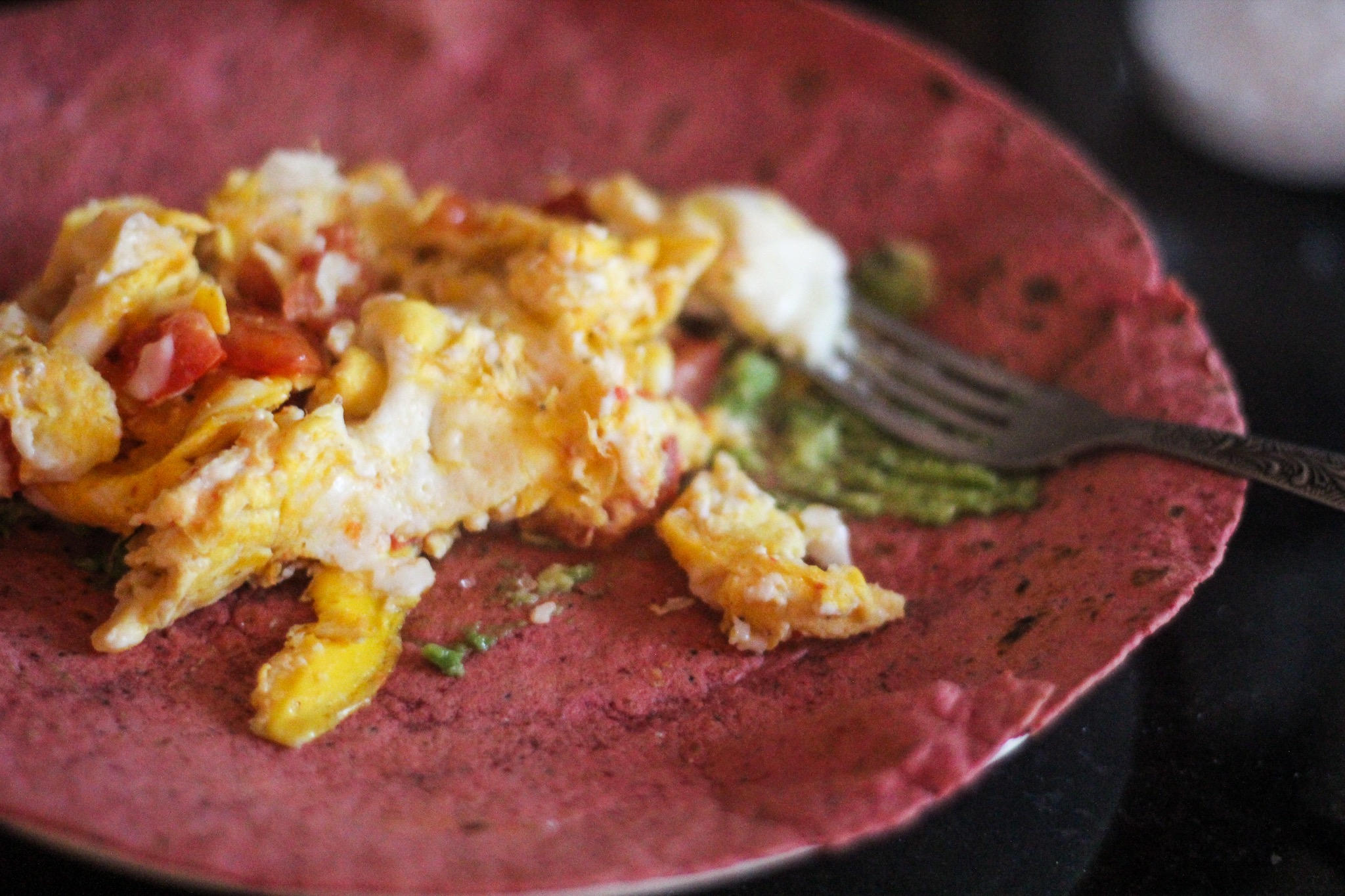 Bietenwrap met avocado, tomaat en ei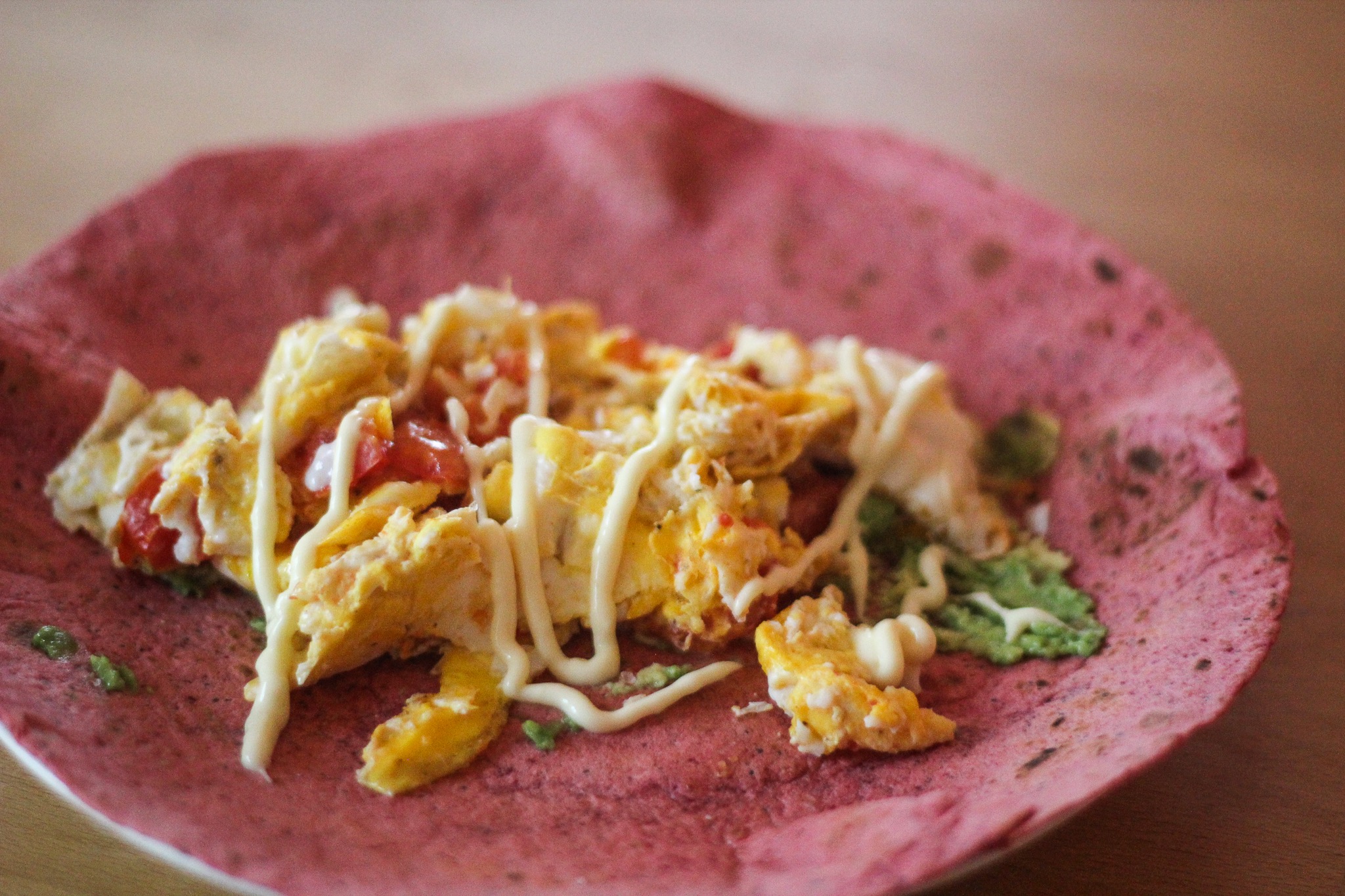 En mayo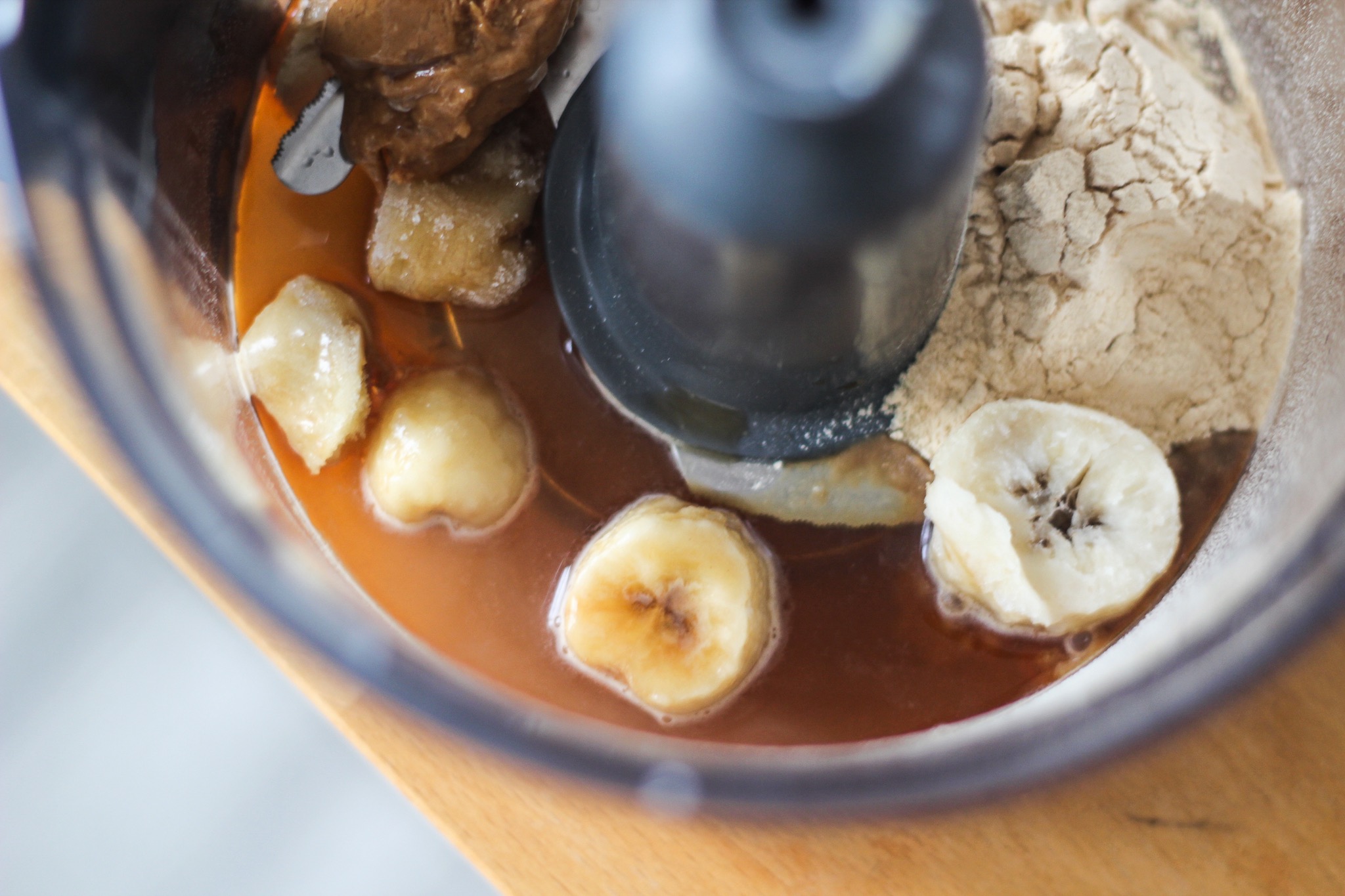 Koffie smoothiebowl aan het maken met een shot espresso, banaan uit de vriezer, eiwitpoeder en wat pindakaas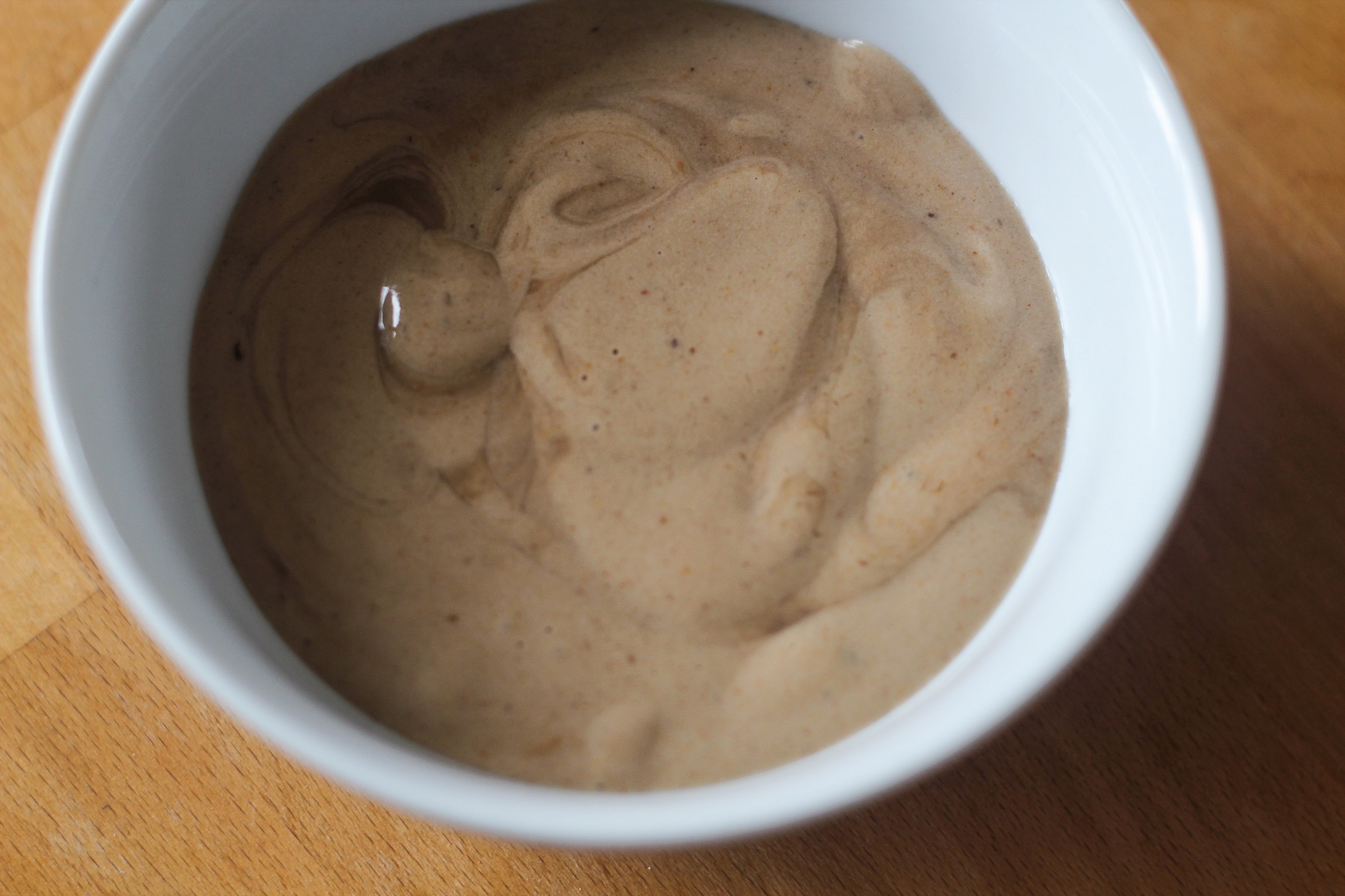 Zo romig en lekker!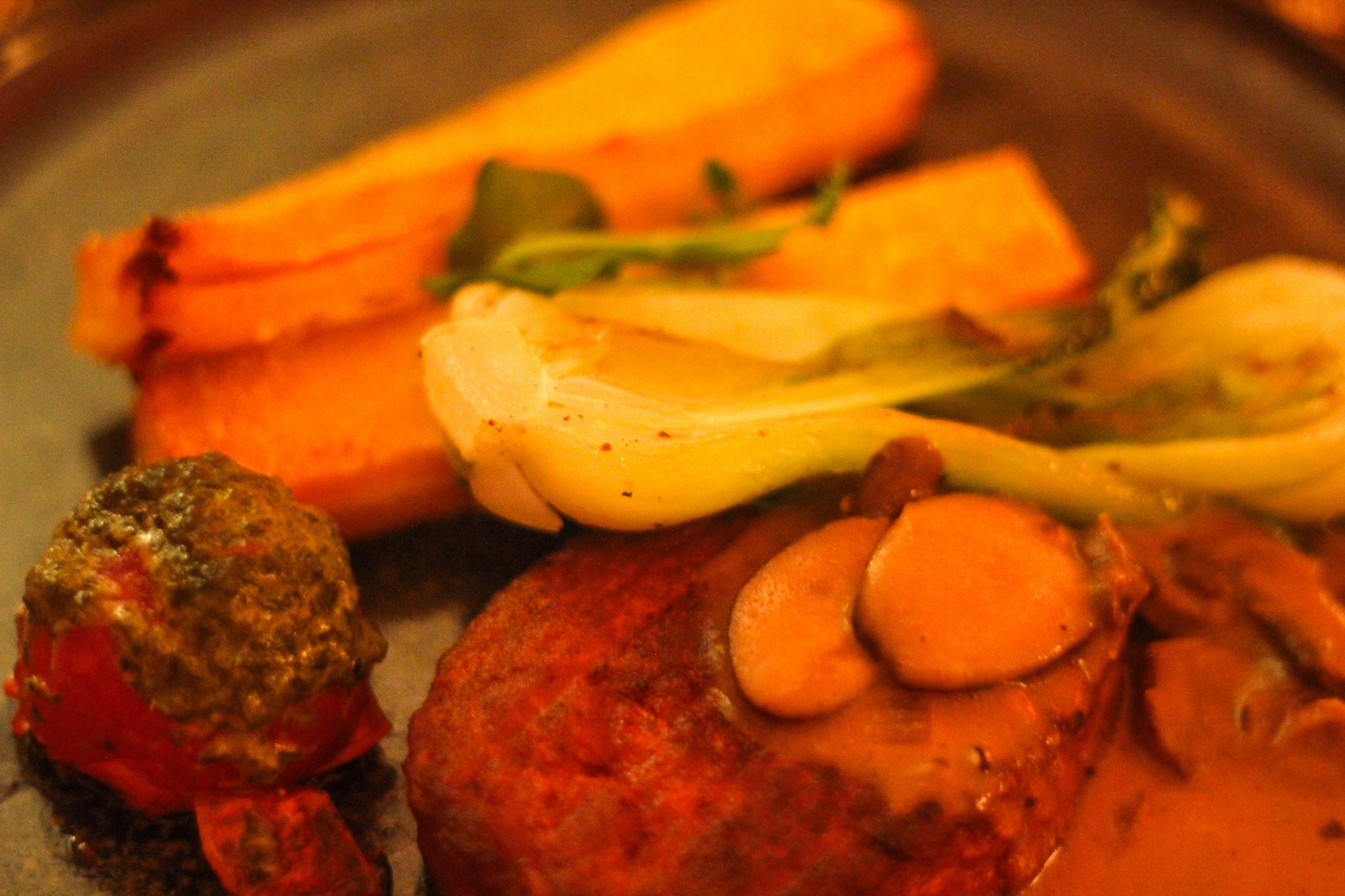 Heerlijke vegetarische maaltijd bezorgd gekregen van De Heeren van Ambacht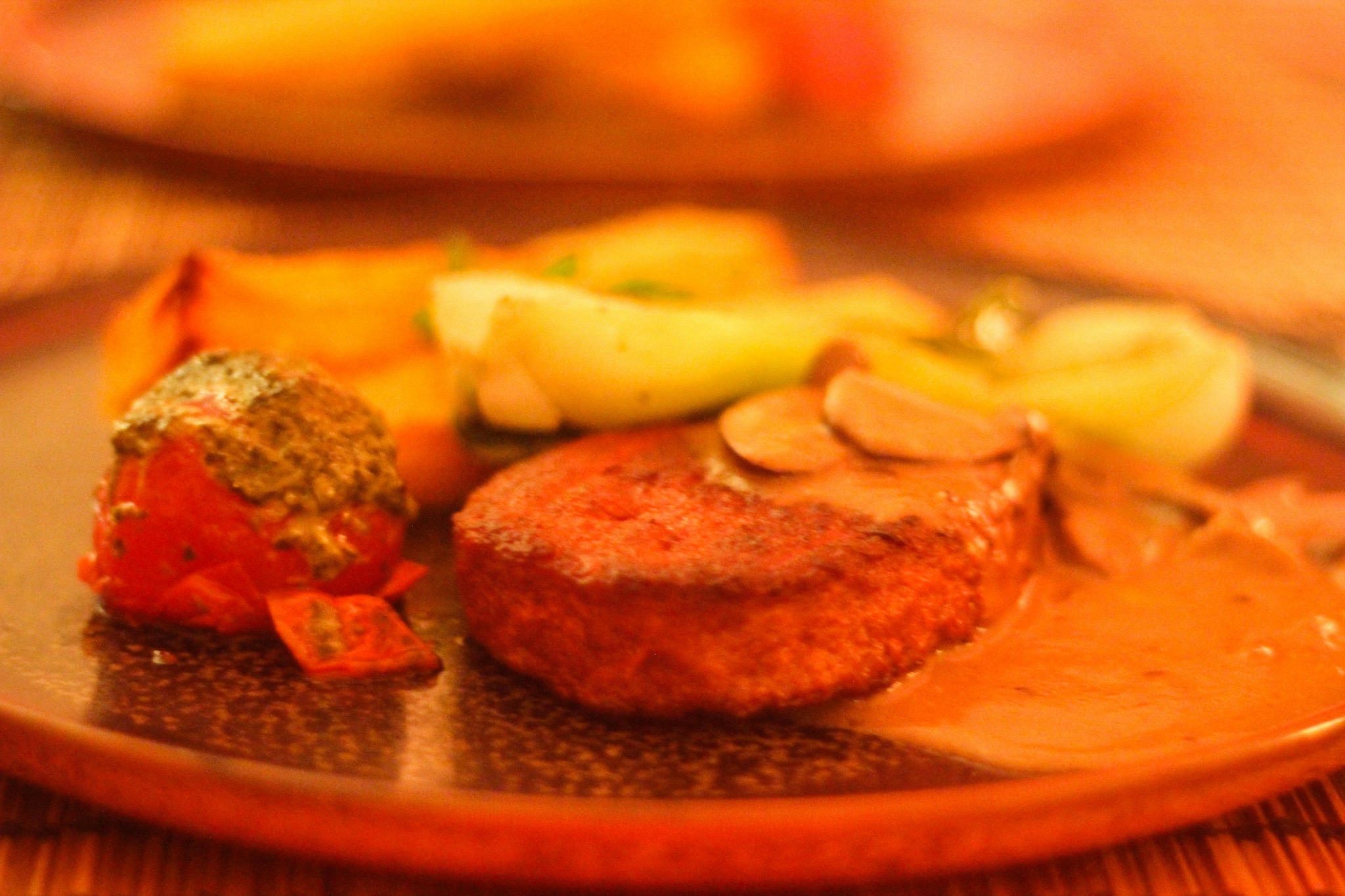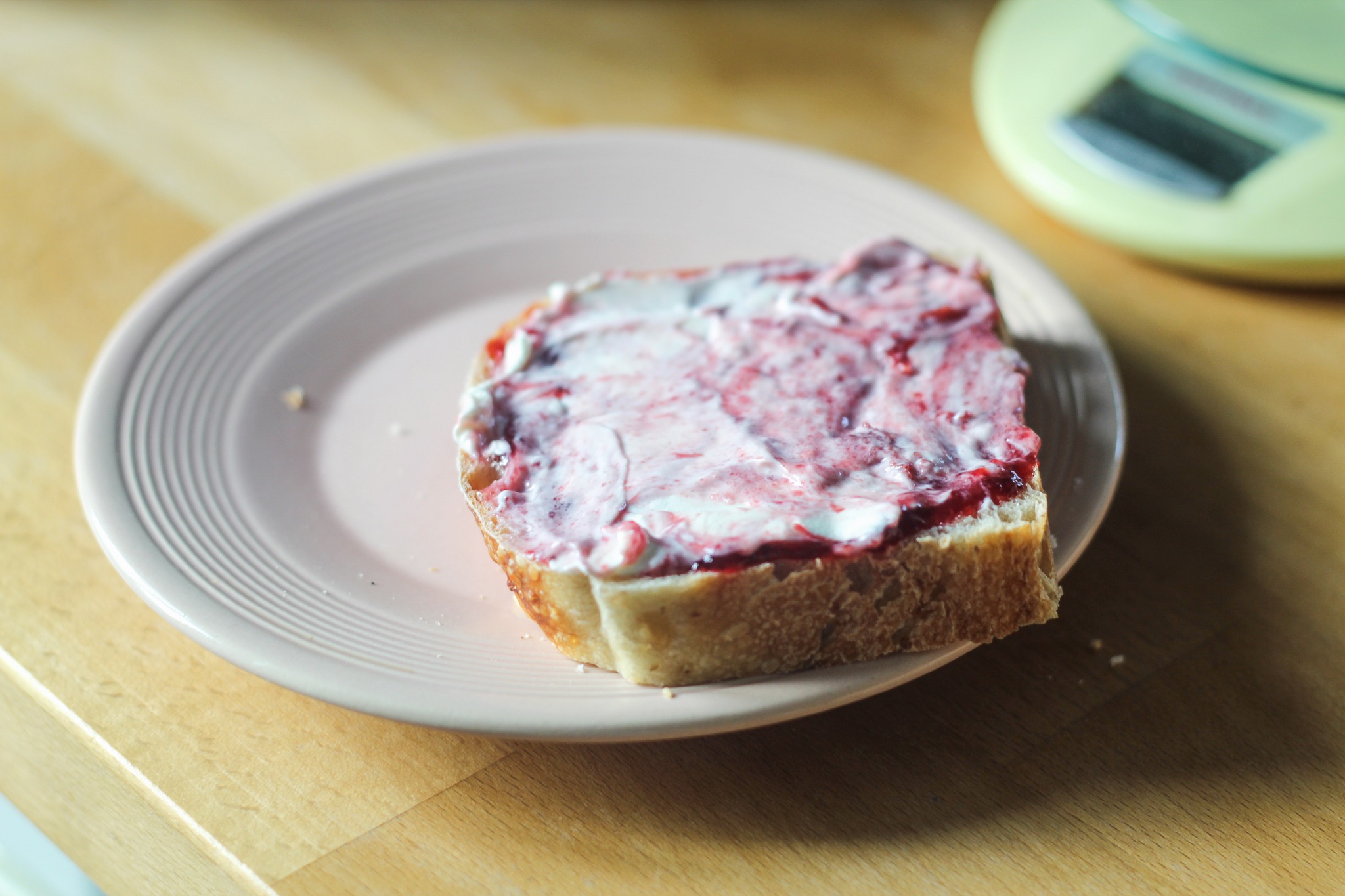 Haverbrood met zuivelspread en jam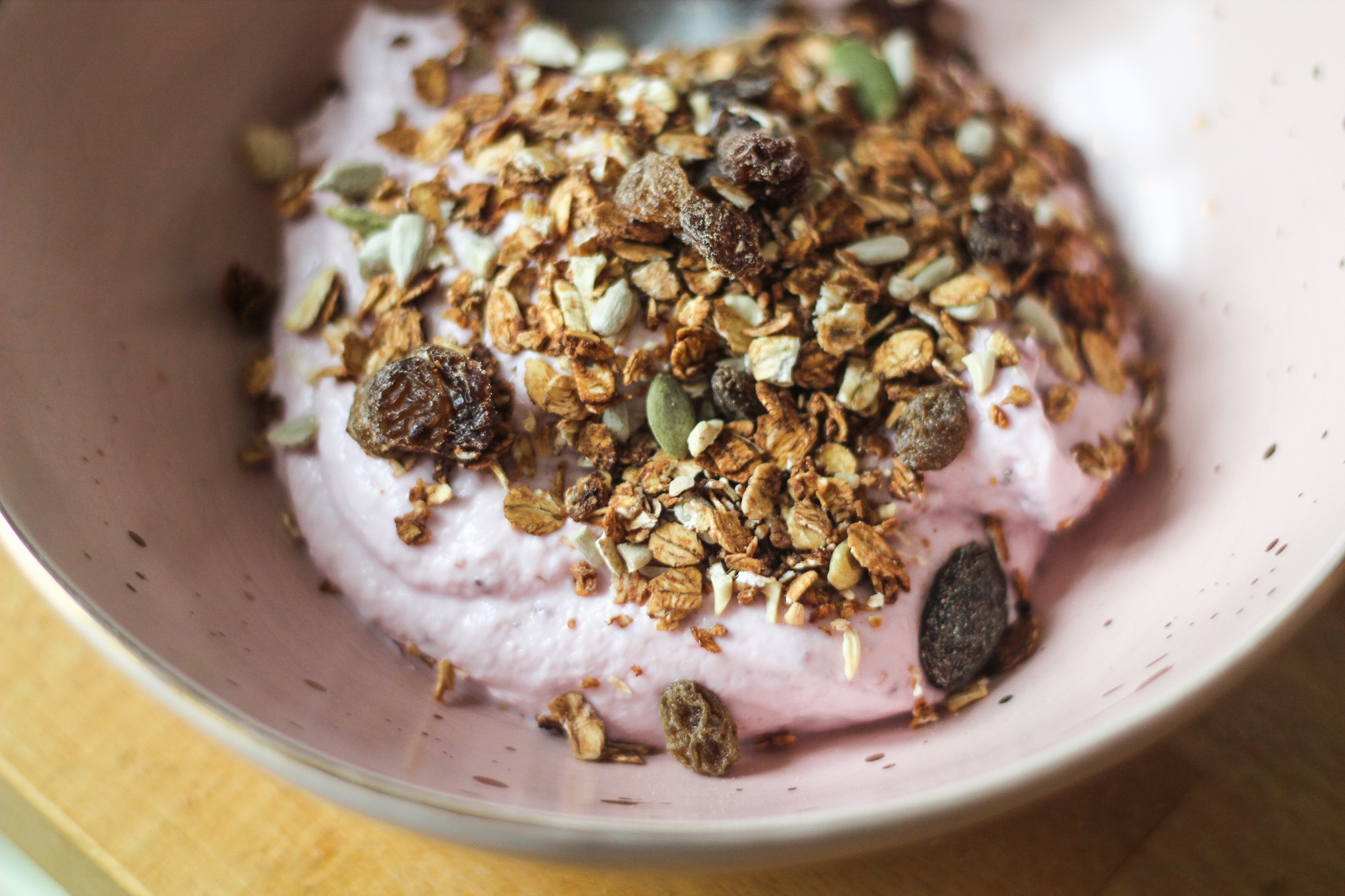 Aardbeien skyr met granola van Yesper's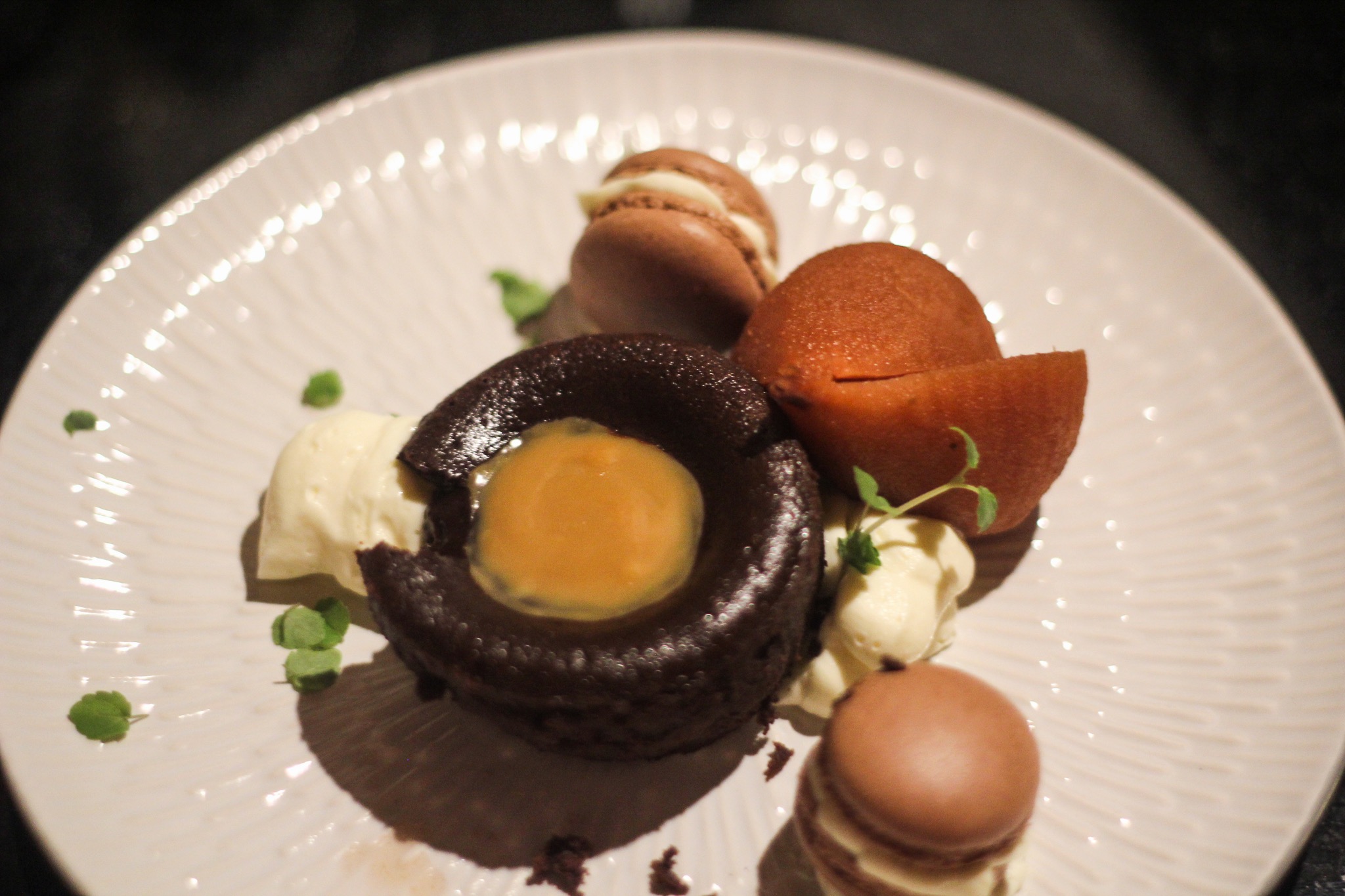 Het toetje van de Heeren van Ambacht aten we de volgende avond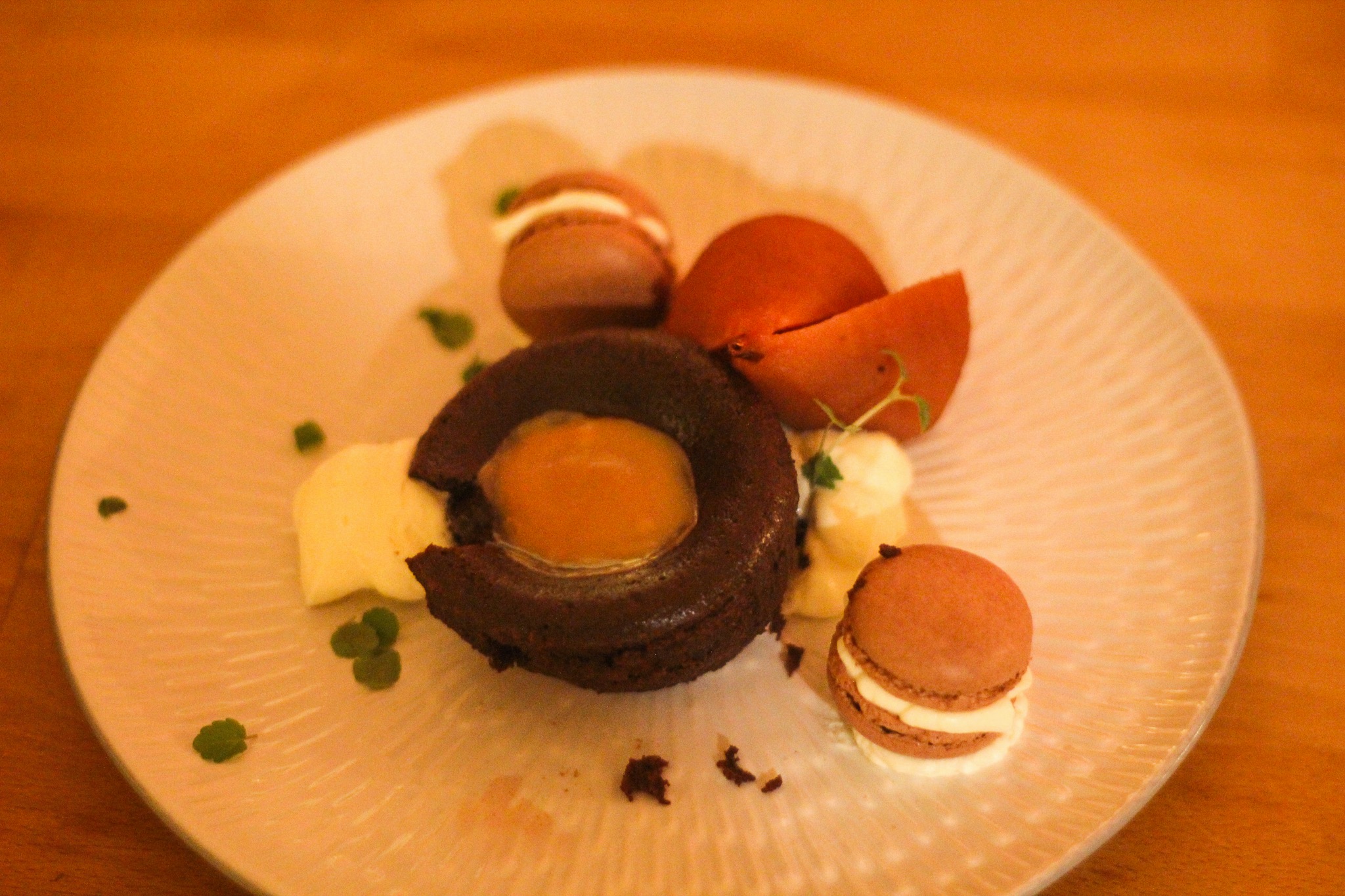 Echt een feestje om zo thuis 'uit eten' te zijn.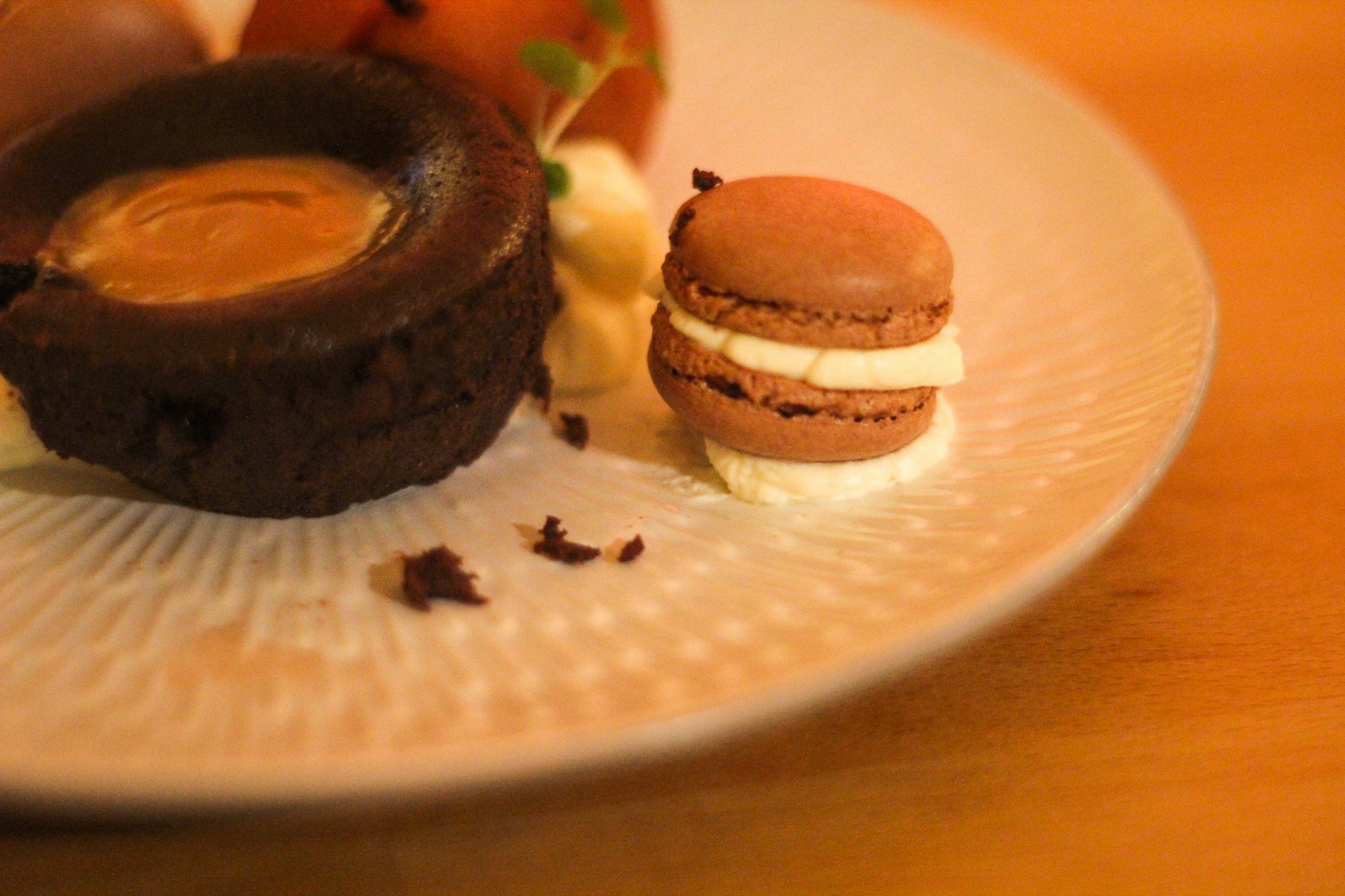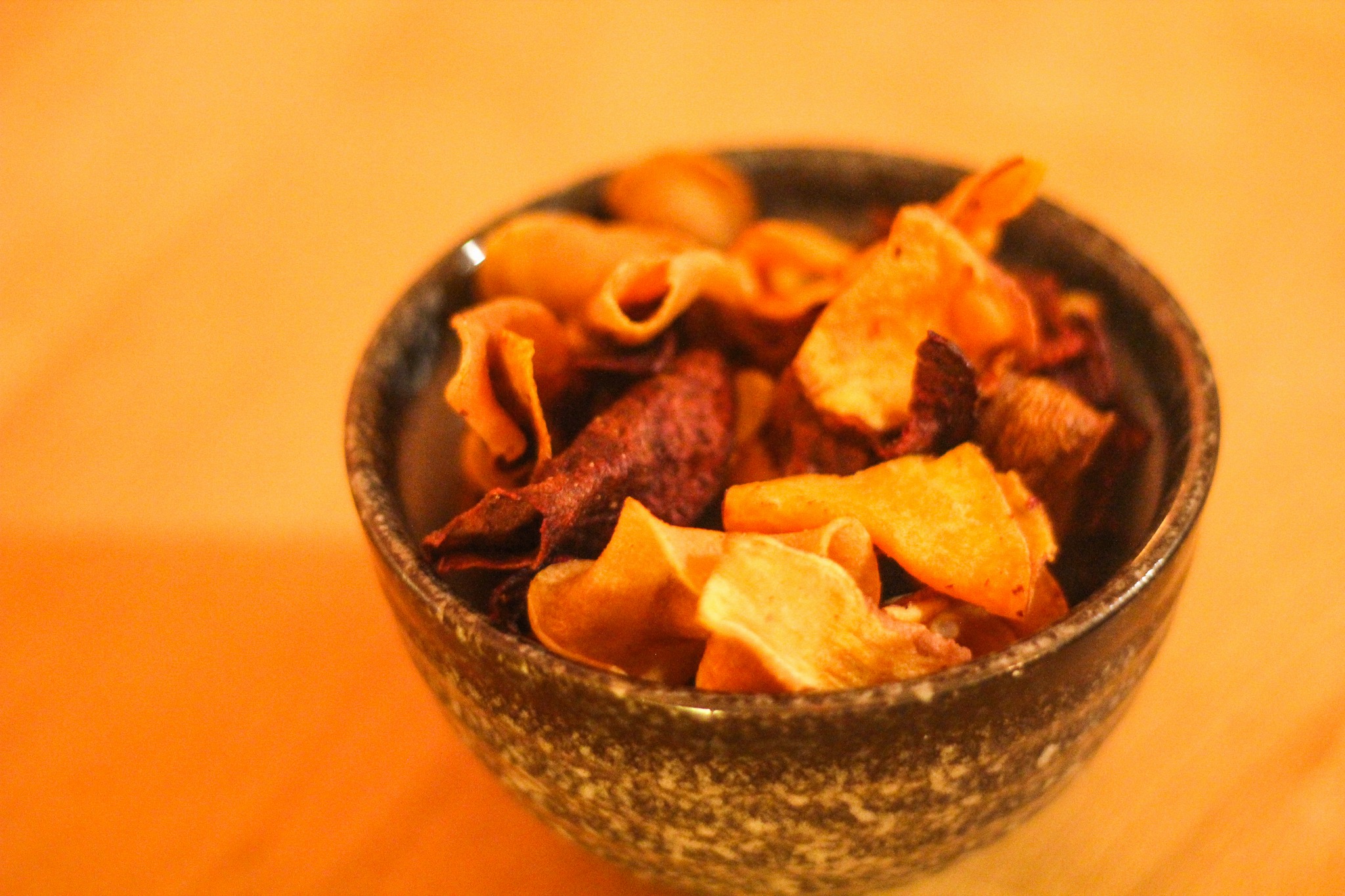 Groentechips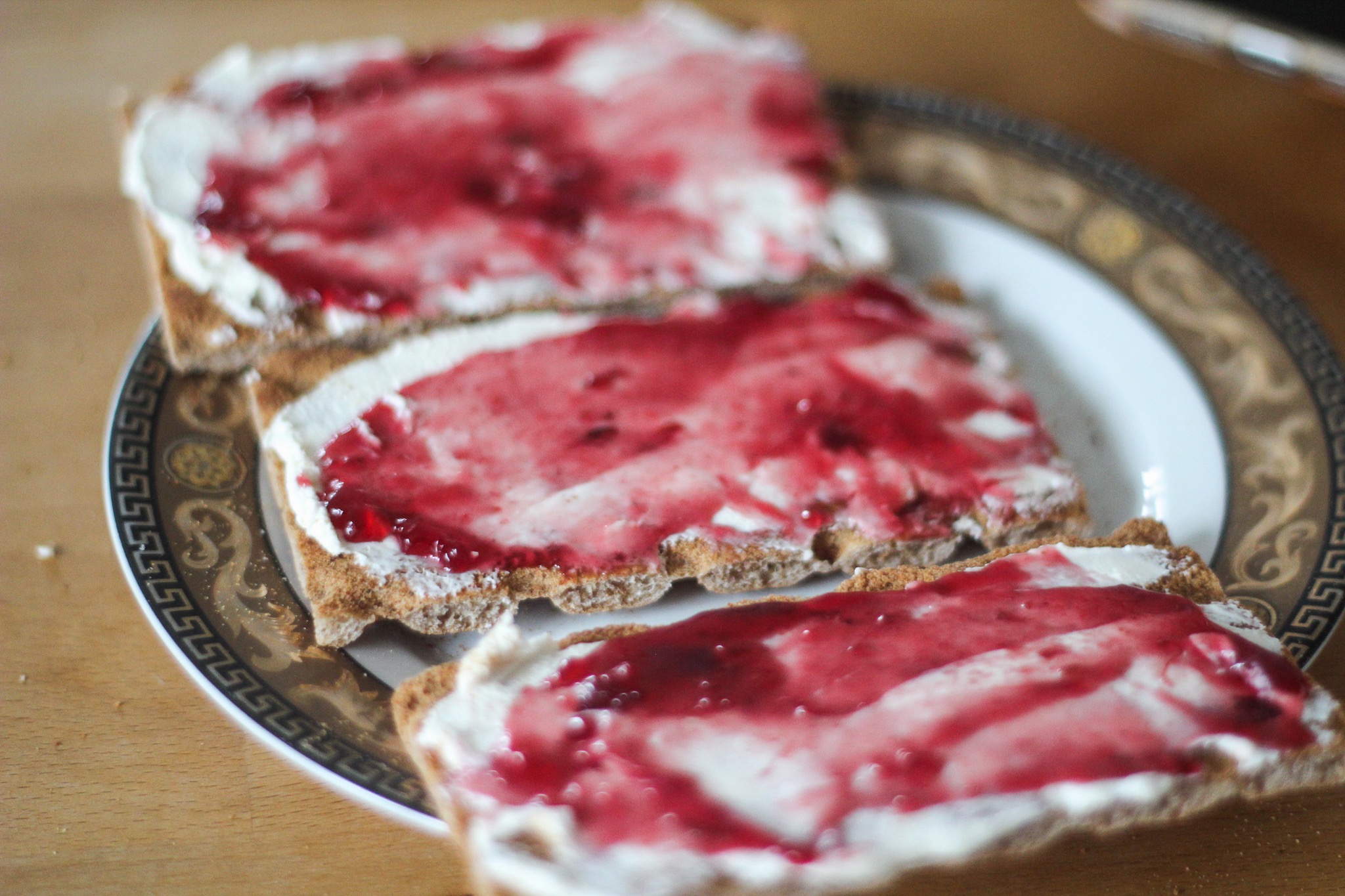 Zelfde topping, andere basis: volkoren crackers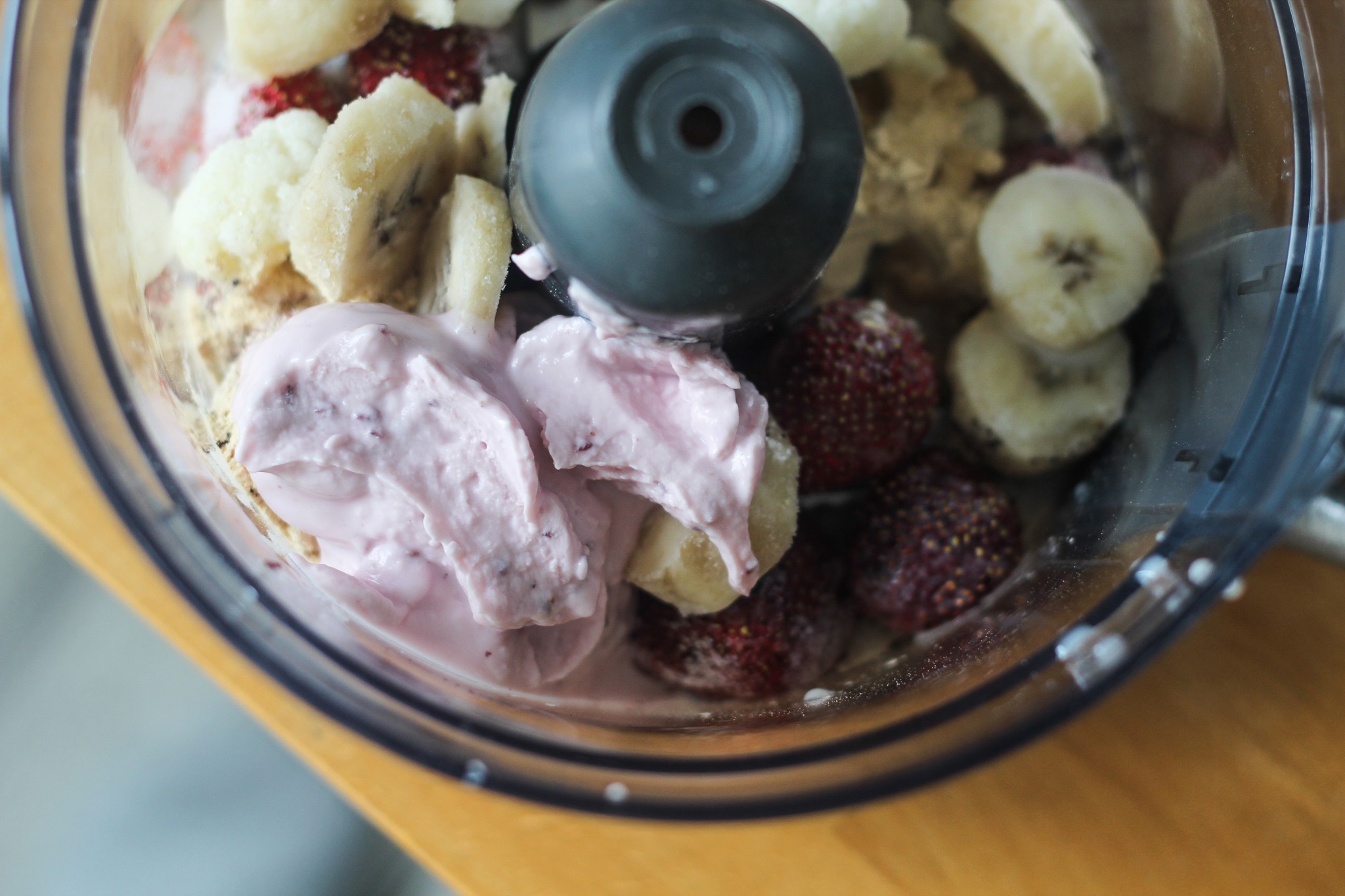 Aardbeien en banaan uit de vriezer, aardbeien skyr en wat water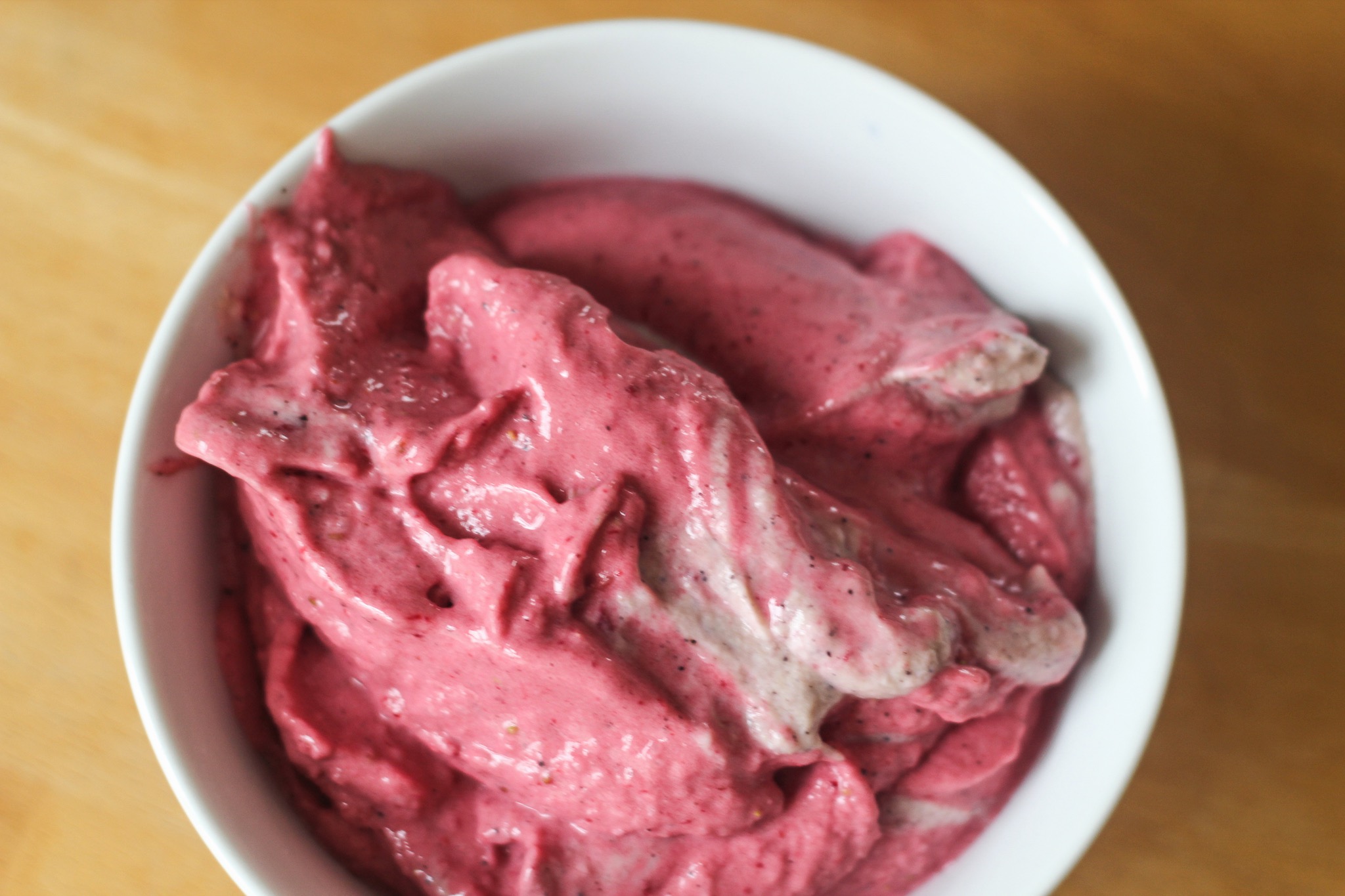 Smoothiebowl!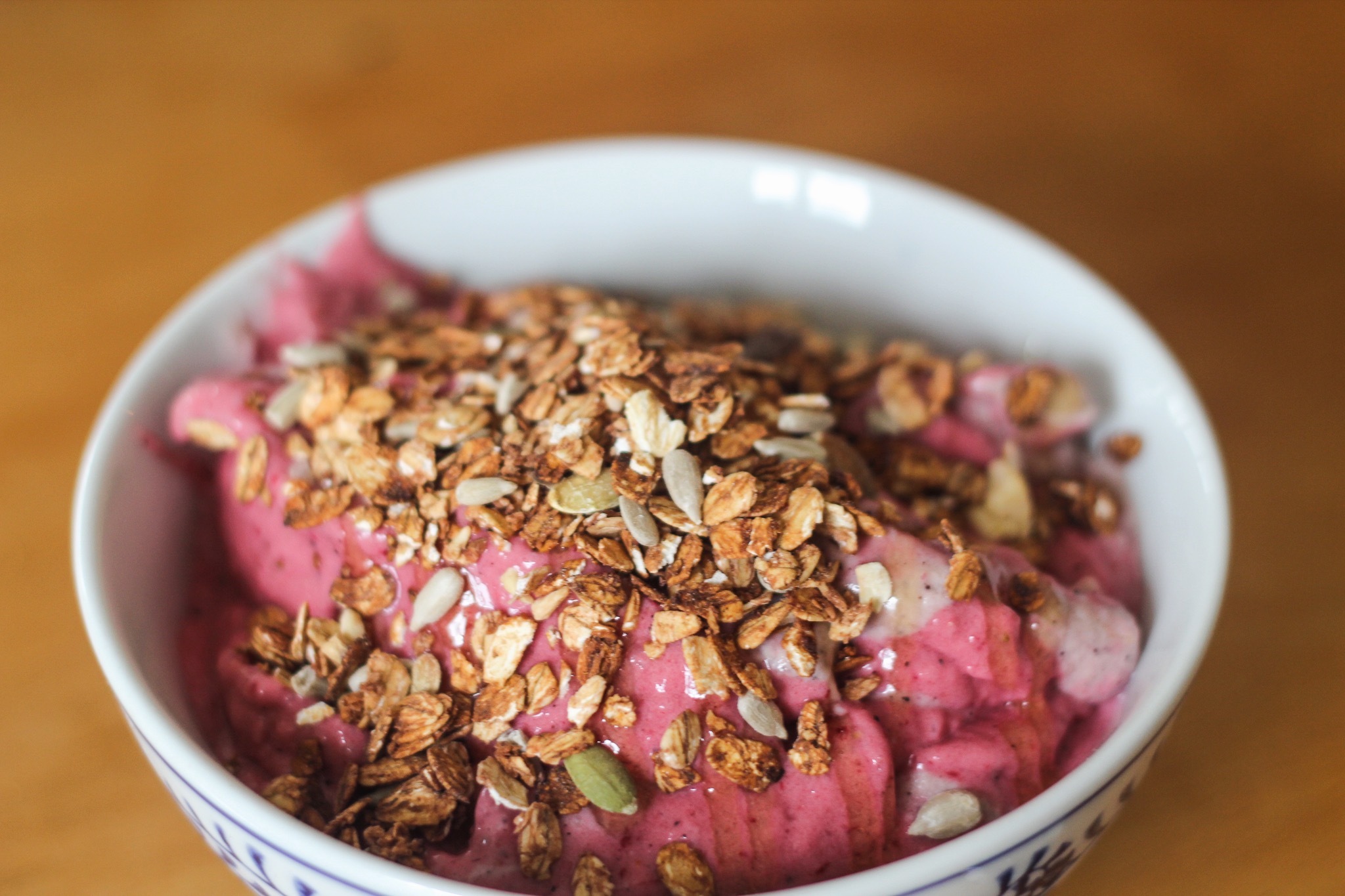 Getopt met granola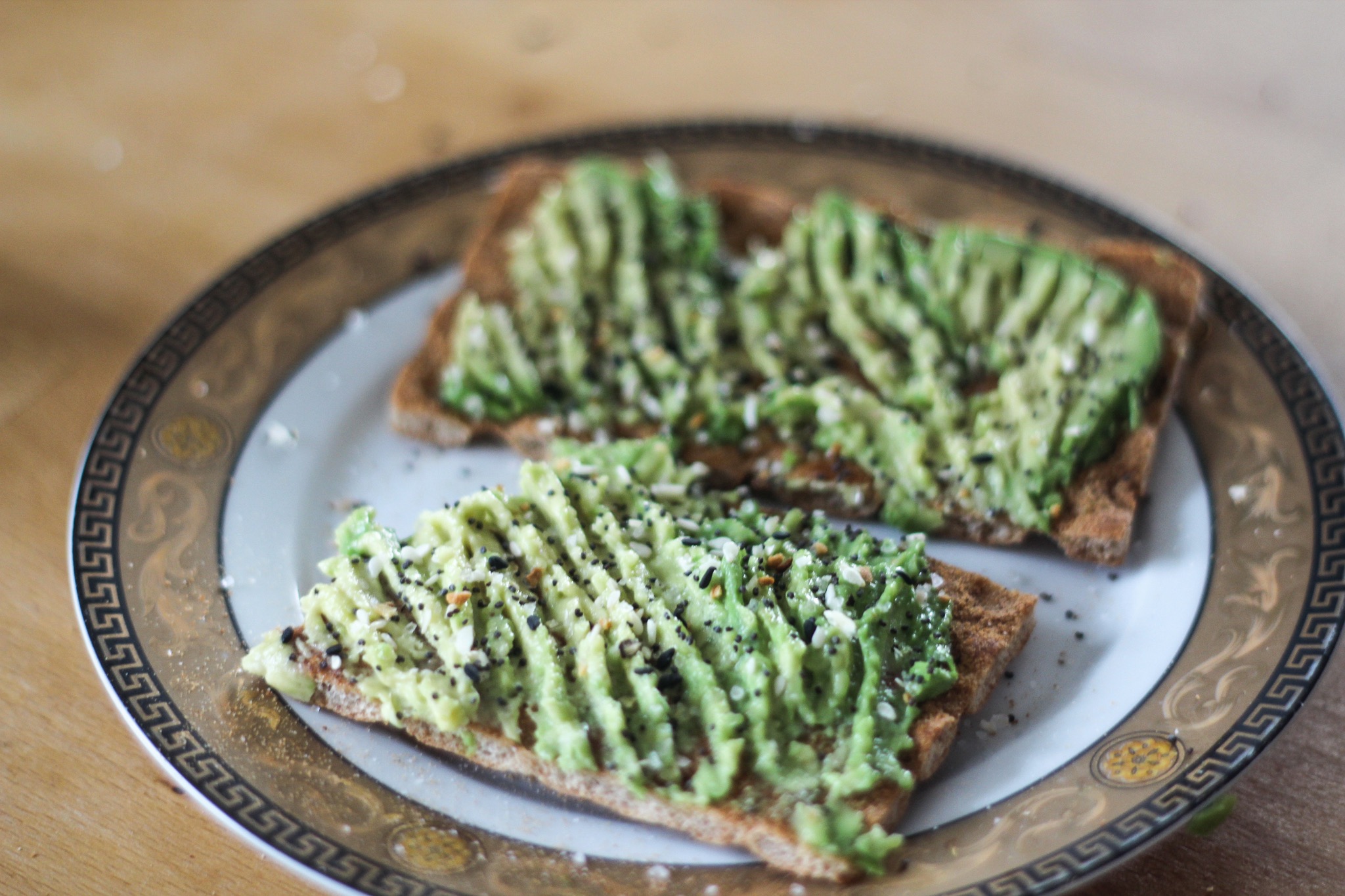 Crackers met avocado en de 'everything but the bagel' kruiden.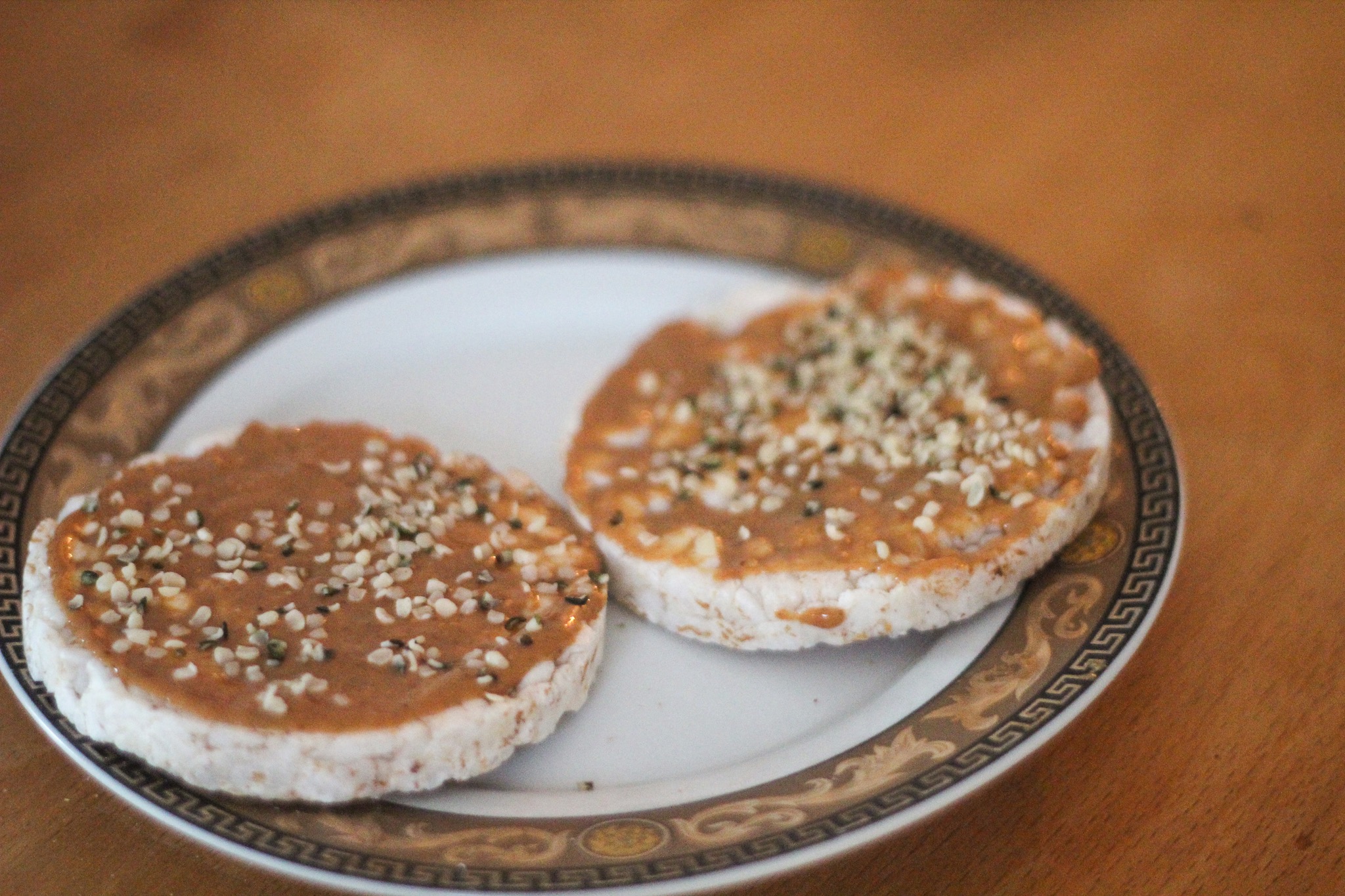 Rijstwafels met pindakaas en hennepzaad.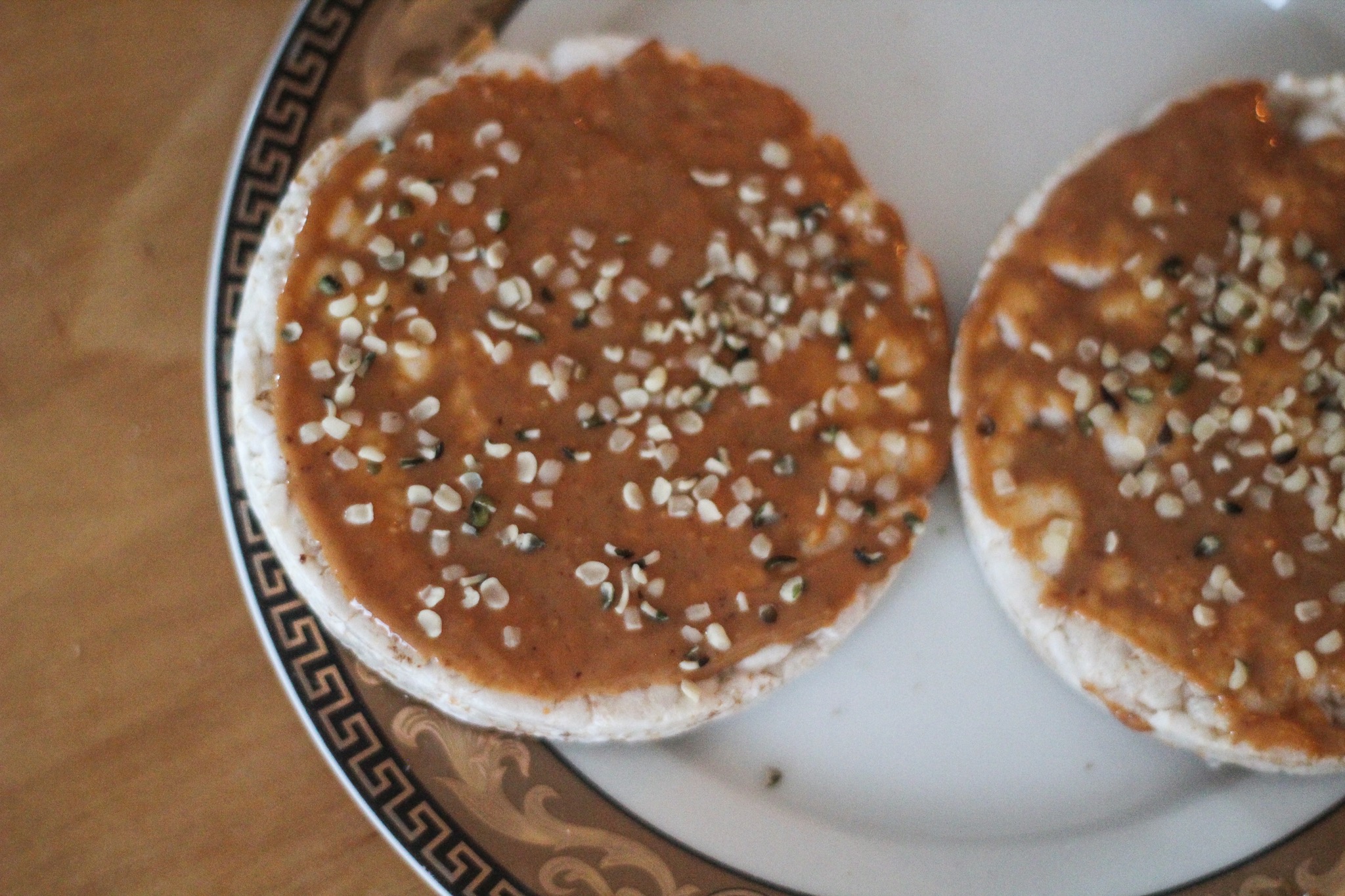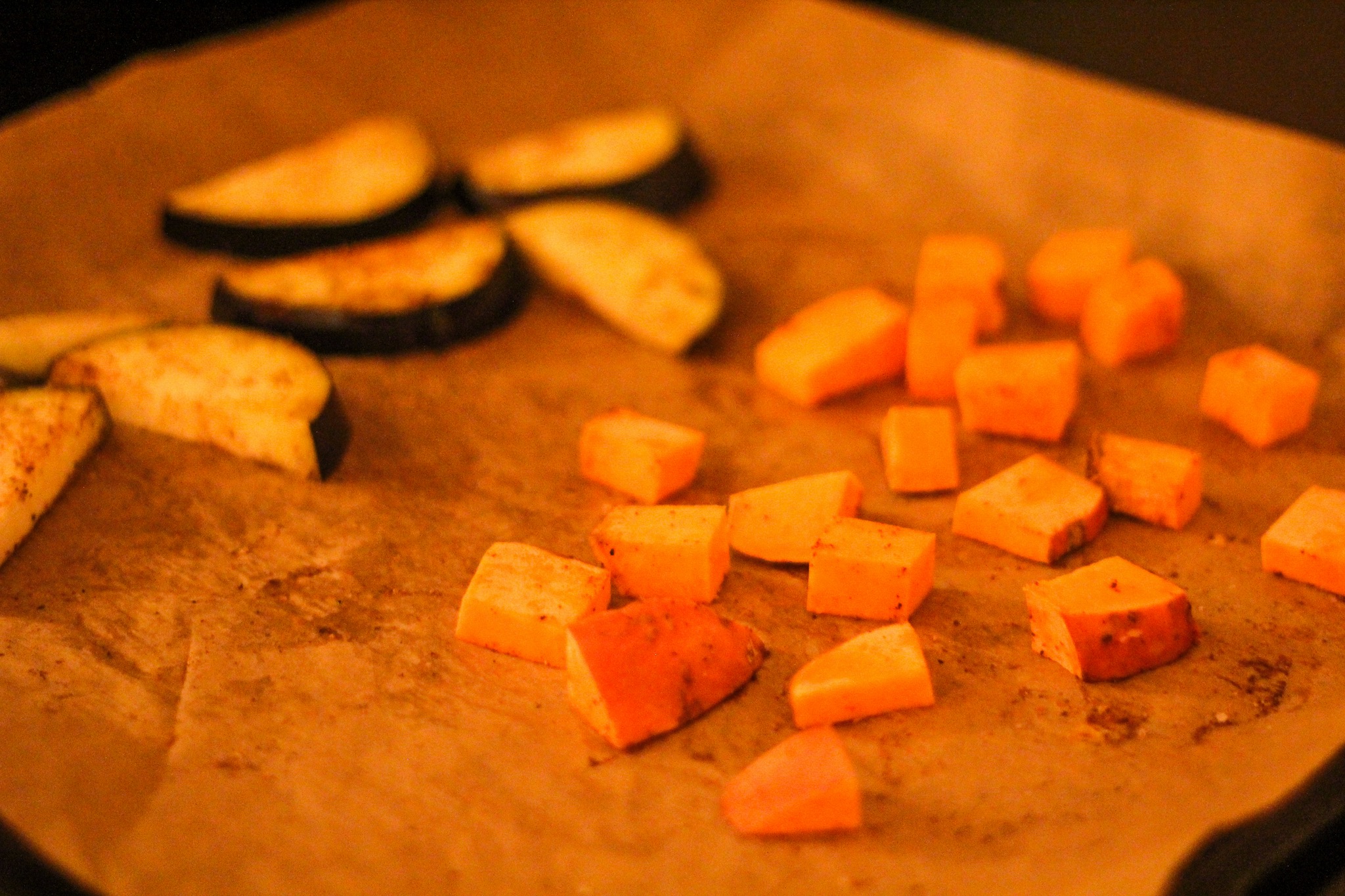 Aubergine en zoete aardappel uit de oven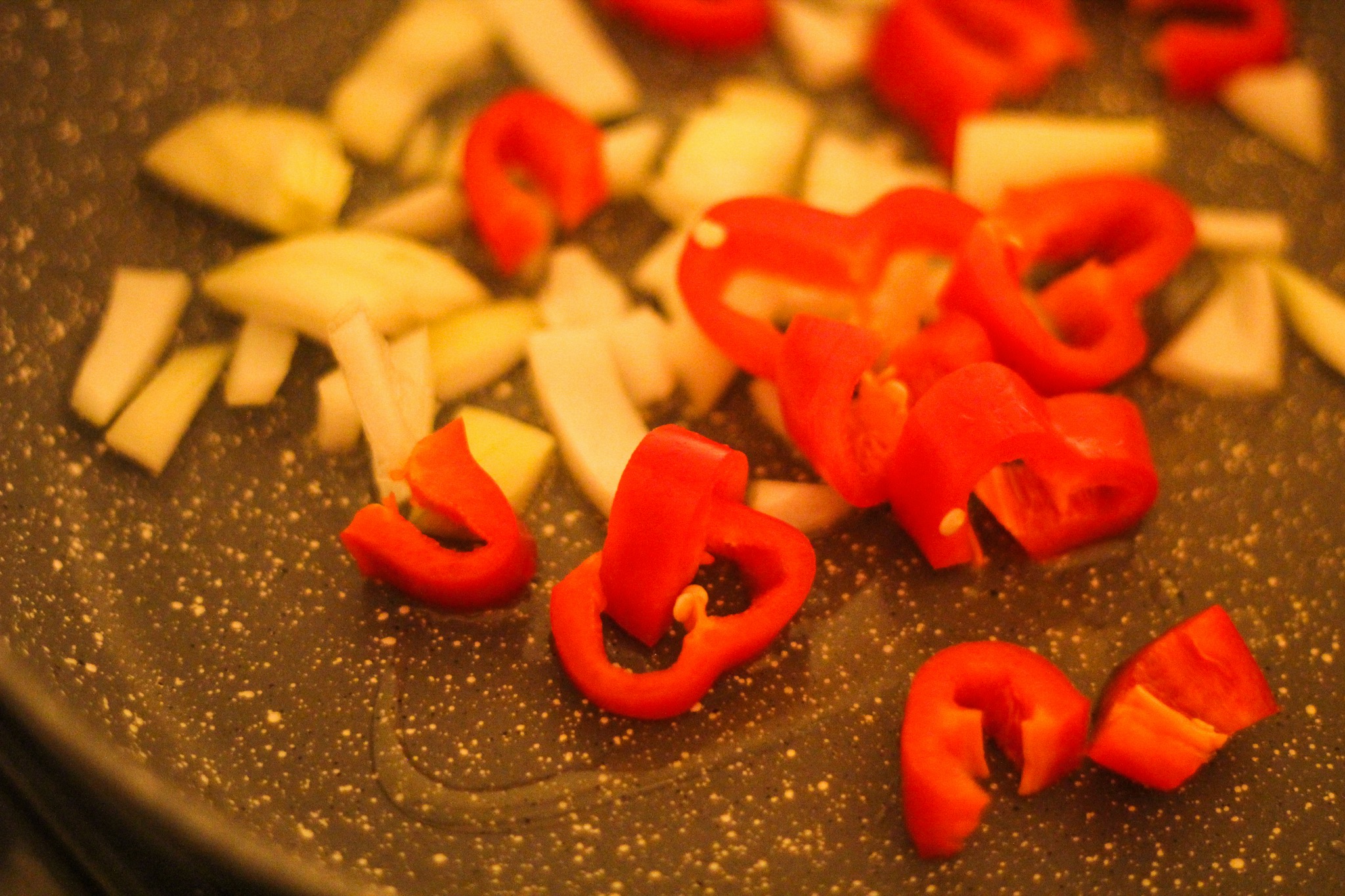 Gebakken ui en gebakken paprika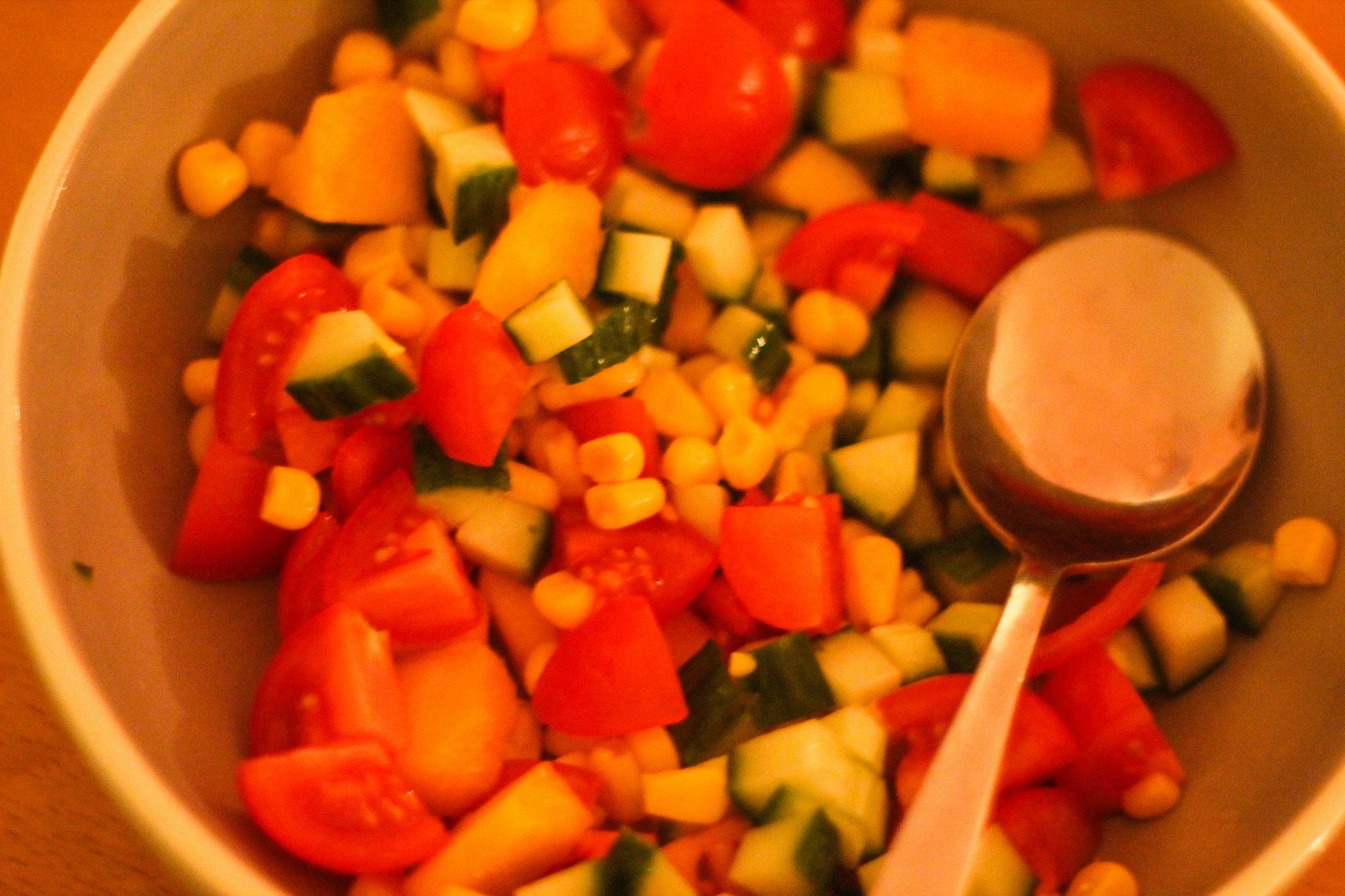 Salsa van tomaat, komkommer, mango, mais, peper, zout en citroensap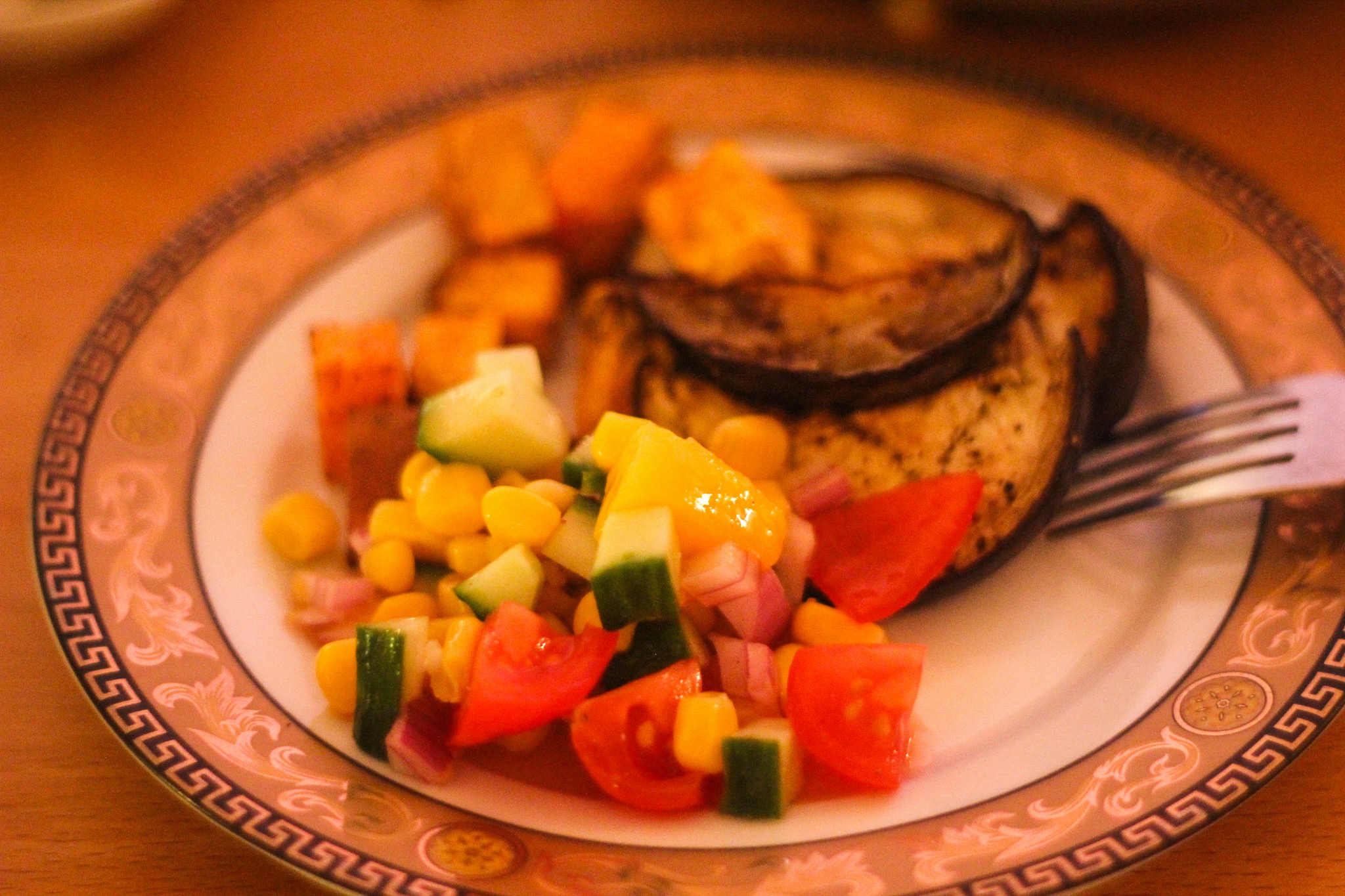 Zoete aardappel en aubergine erbij, dit in een wrap en klaar!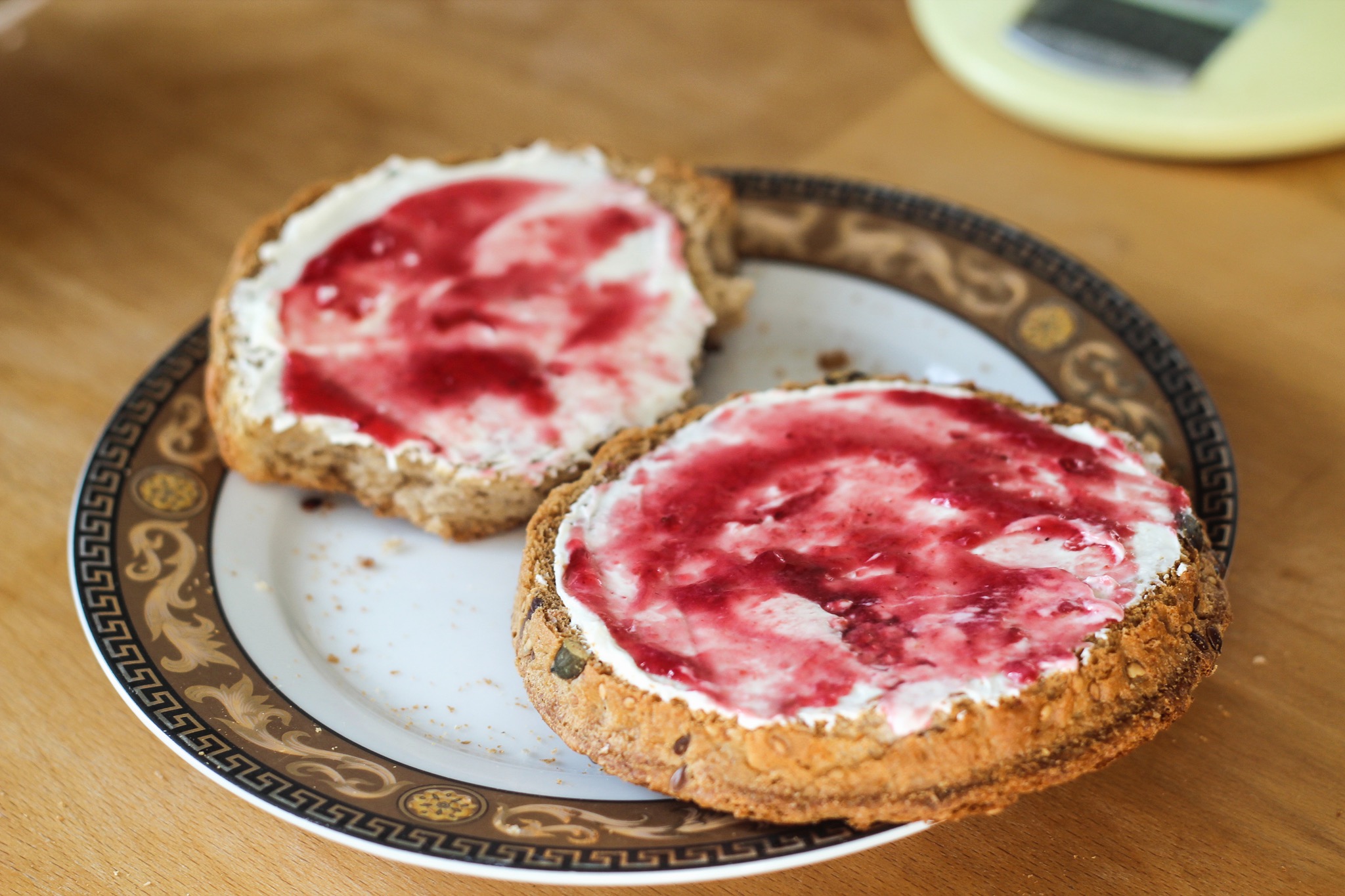 Daar zijn ze weerrrr! Beschuitjes met zuivelspread en jam.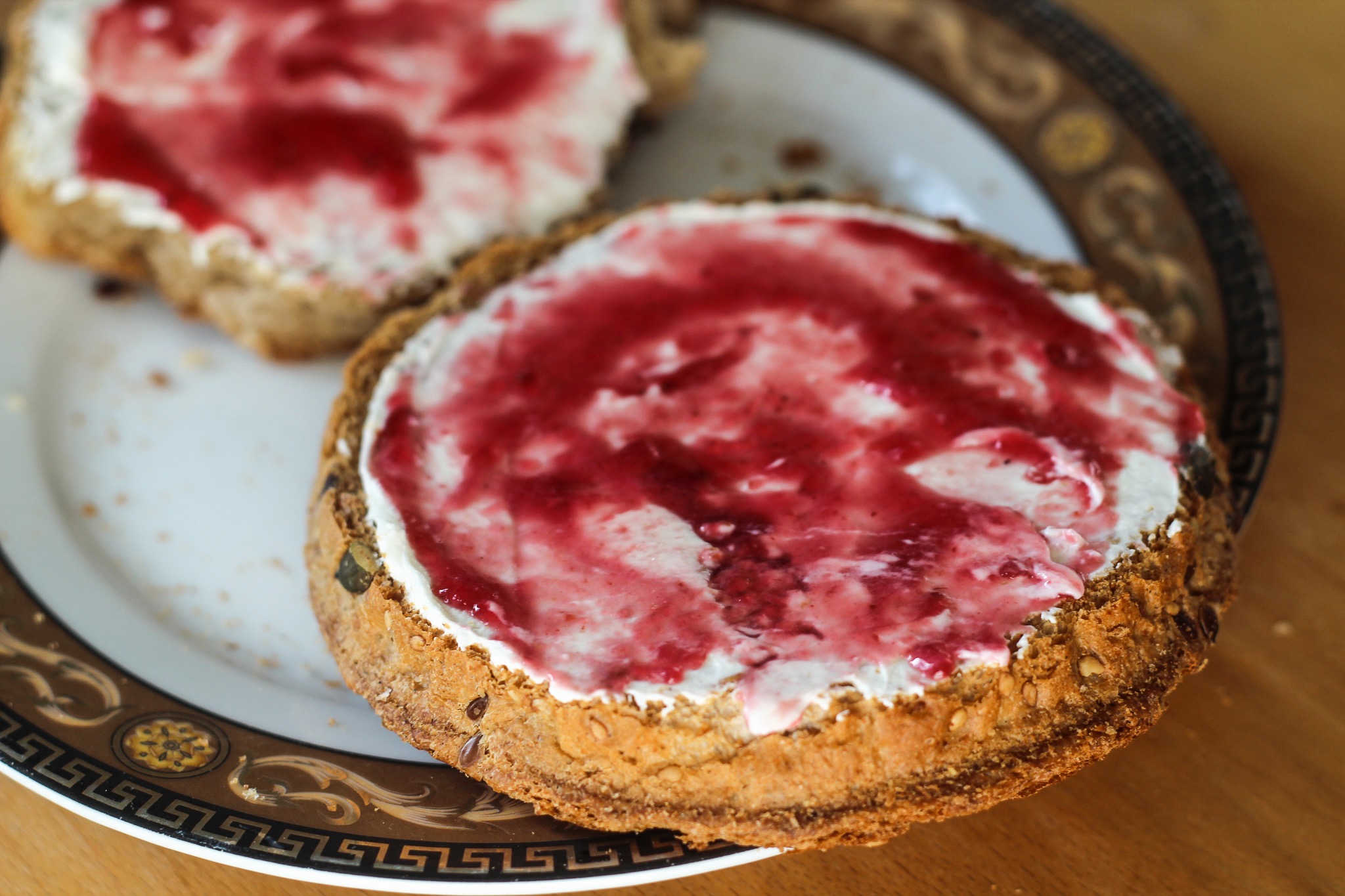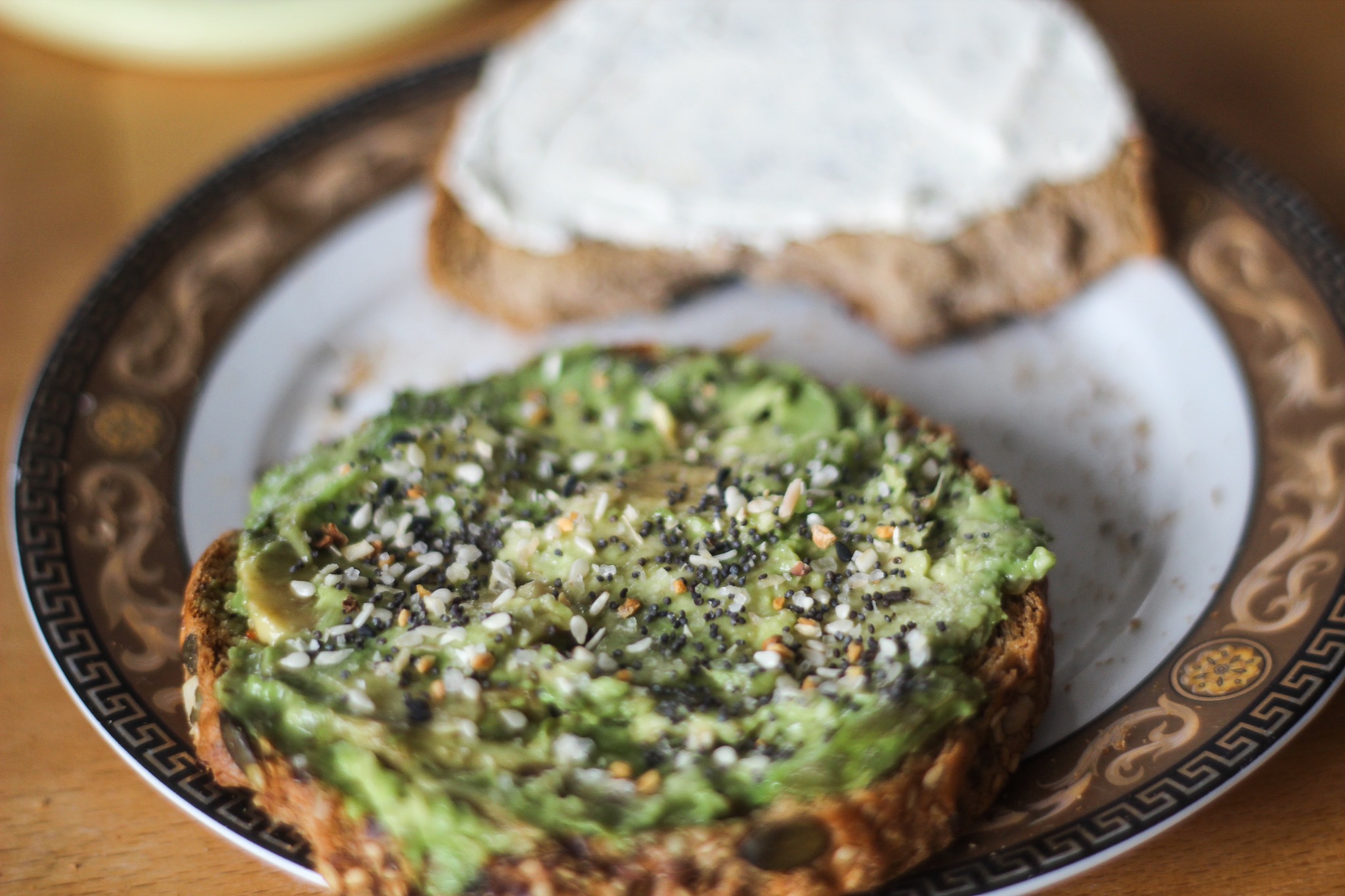 Ook even iets anders op die beschuitjes: Avocado met 'everything but the bagel' kruiden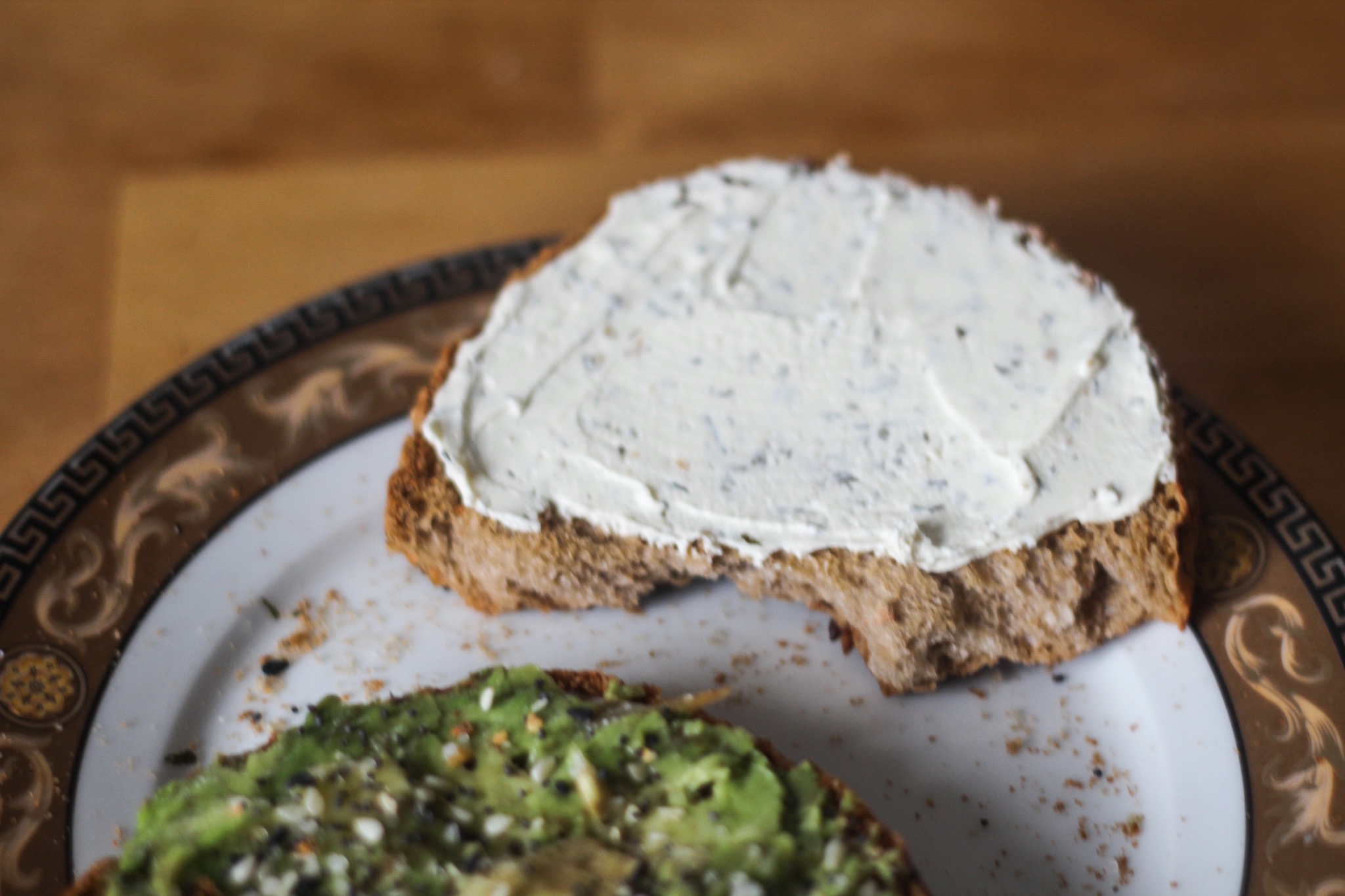 En een beschuitje met zuivelspread gekruid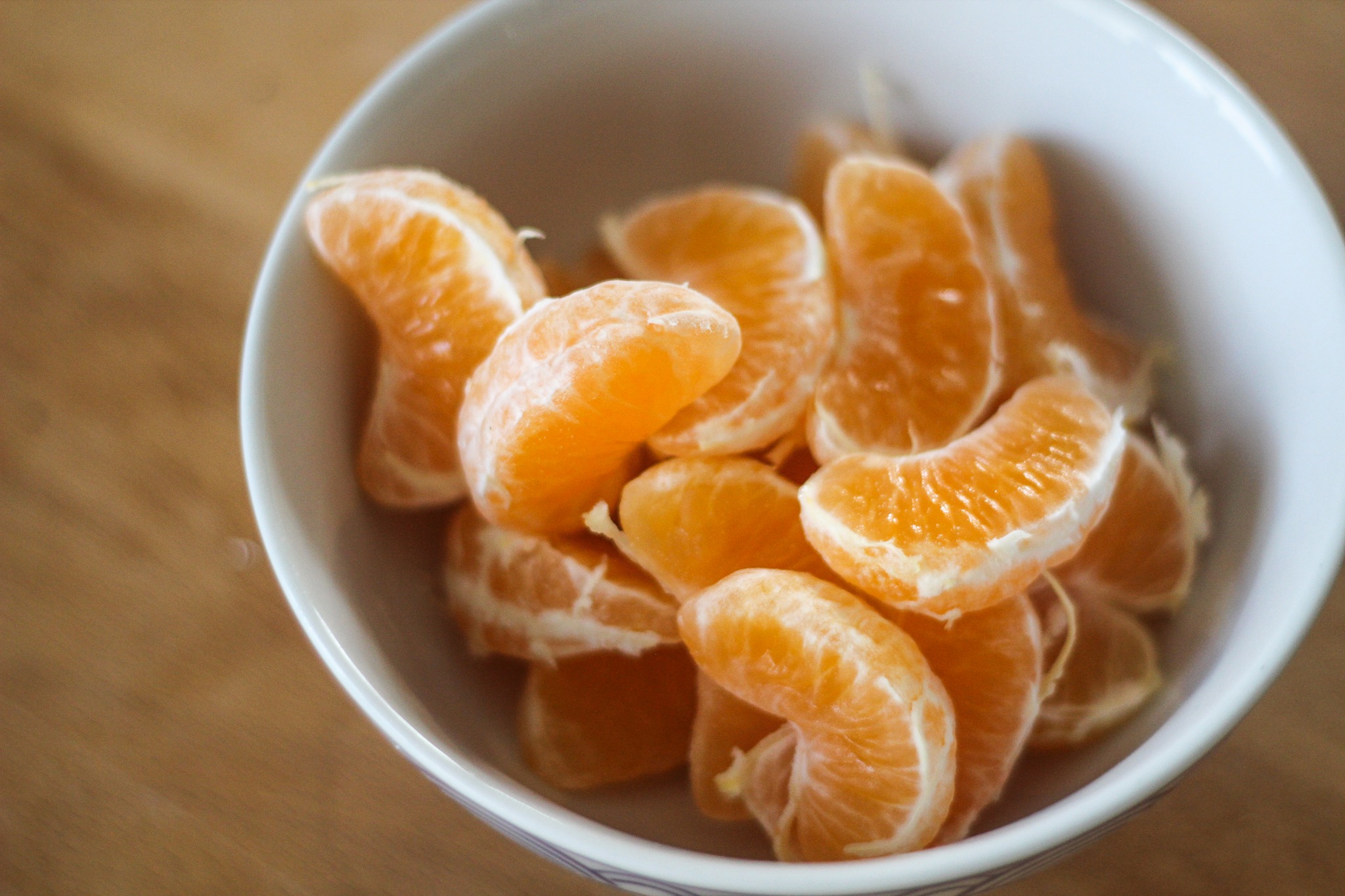 3 mandarijntjes uit de TooGoodToGo box van de Lidl!
Zo, mijn genietmoment zit er weer op. Tot volgende week bij een nieuw voedingsdagboek!