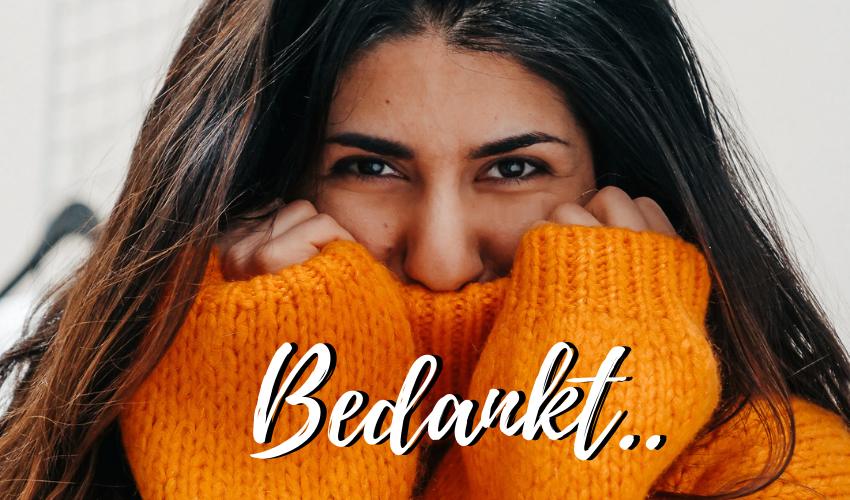 Dit artikel is voor de vriendinnen die nog steeds in mijn leven zijn en me zo dierbaar zijn. Het zijn er een paar en dat is meer rijkdom dan ik me kon wensen. <3
Bedankt dat je in mijn leven bent en wilt blijven.
Zelfs als mijn leven zo een andere wending krijgt dan de jouwe en andersom.
Ik voel dat je altijd aan mijn zijde staat.
Bedankt dat je me altijd omhoog weet te tillen, of het nu door een kaartje een appje een voice memo of wat dan ook is.
Ook wanneer je zelf door een moeilijke tijd gaat.
Dankjewel dat je zo'n stabiele factor blijft in mijn leven, ook al is de frequentie dat we elkaar zien niet iets dat stabiel te noemen is.
Bedankt dat je alle barrières van tijd en afstand breekt wanneer we elkaar weer zien en het voelt alsof niets is veranderd.
Bedankt dat je me deze vriendschap laat ervaren, zonder oordel, zonder regels van hoe het zou moeten.
Zonder afbakeningen.
Bedankt dat je me altijd weer warm verwelkomt als we samen komen.
Bedankt voor je geduld, je eeuwige geduld wanneer ik weer eens enorm aan het stressen ben om dingen die uiteindelijk niet zo belangrijk zijn als connectie, liefde en vriendschap.
Bedankt dat je in me gelooft ook al begrijp je niet helemaal wat ik aan het doen ben met mijn leven.
Bedankt dat ik in onze vriendschap de ruimte had te veranderen, ik begrijp wat voor een mens je moet zijn om de ander hier de ruimte voor te kunnen geven en dat is één van de dingen die jou zo bijzonder maakt.
Als mens, als vriendin.
Bedankt dat ik me veilig kan voelen bij je – dat ik me niet groot hoef te houden als het slecht gaat maar vooral ook dat ik me niet kleiner hoef te maken als ik mijn geluk wil uiten.
Een sterke vrouw en een sterke vriendschap is ervoor nodig om elkaar te kunnen ondersteunen, hoe goed het ook gaat met de ander, hoe slecht het ook gaat met jezelf.
Die wisseling van dienst hebben we allebei in beide richtingen meegemaakt en het laat maar zien hoe sterk de band is.
Bedankt dat vergeving ook een onderdeel mag zijn in onze vriendschap.
Ik hoop dat ik kan geven wat jij nodig hebt, ook al weet ik dat dit andere dingen zijn dan die ik nodig heb.
Ik hoop dat we altijd zullen blijven communiceren, eerlijk en oprecht maar vooral zonder schaamte en oordeel.
Zodat we, wat het leven ook naar ons gooit, elkaar altijd weer kunnen vinden in de basis die onze vriendschap heeft laten creëeren.
Ik besef me maar al te goed dat zulke vriendschappen niet zomaar ontstaan en ook niet zomaar blijven voortzetten.
Bedankt dat je aan me trok wanneer ik wilde opgeven.
Bedankt dat je me altijd in je gedachte hield, wanneer ik niet meer wist of iemand aan me dacht.
Bedankt dat je me hebt laten geloven in vriendschap, ook al dacht ik dat ik het alleen prima trok.
Bedankt dat je me de afgelopen maand, één van mijn zwaarste maanden ooit, niet hebt laten vallen.
Bedankt dat ik mijn tranen met je kon delen en egoïstisch kon zijn met mijn verdriet.
Bedankt, vanuit de grond van mijn hart.
Ik zal er ook voor jou zijn. Niet omdat je er voor mij bent, maar om de persoon die je bent in deze wereld.
Bedankt, A, L, P & N.