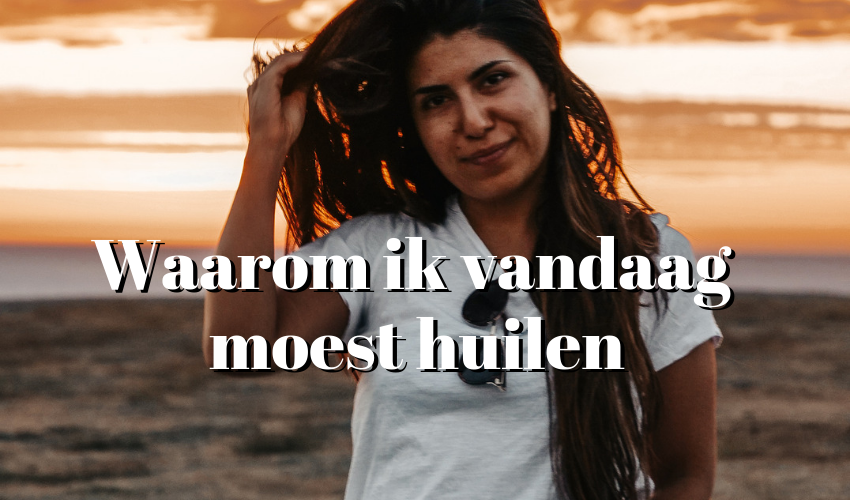 Ik had vooruit gewerkt voor de maand december, maar dit artikel moet tussendoor omdat mijn vingers niet anders konden dan typen over wat er vandaag is gebeurd.
Het is alweer een hele tijd geleden dat ik mijn hart heb gelucht op mijn site. Dat ik mijn hart heb uitgestort op mijn site. Online, ja.
Ik ben absoluut voorzichtiger geworden met hetgeen dat ik deel want hoe je het went of keert, het voorzichtiger worden komt naarmate je langer je leven online gooit en het publiek dat leest groter wordt. Op een gegeven moment raak je een muur waarbij je denkt "Waarom zou ik dit nog delen? Het is uiteindelijk mijn leven en ik vind het wel prima zo zonder bemoeienis en gezeik van anderen".
Maar dan, komt er weer dat ene bericht.
Het bericht van dat meisje dat een oud artikel las over vriendschappen en zich niet zo alleen voelde in het loslaten van een huidige vriendschap die meer pijn doet dan geluk brengt.
Het bericht van het meisje dat jaren kampt met anorexia en de kerstperiode vreselijk vindt, maar door het e-book en de artikelen op mijn site ineens weer een helder moment kreeg en genoot van deze dagen.
Het bericht van dat meisje.. En bij dit bericht moet ik sinds vandaag de hele tijd in vlagen om huilen, van het meisje dat een jaar geleden het artikel las waarin ik besloot dat mijn leven niet meer in het teken van afvallen stond. Ze las het stuk over een bezoekje aan je oma waar je zenuwachtig over bent omdat je dan weer koekjes en taartjes moet eten..
En vanochtend afschuwelijk nieuws kreeg..
Dat haar oma was overleden, ze stuurde het bericht enkele uren erna om me te bedanken. Ik kon alleen maar huilen.
Ze vertelde dat zij het meisje was uit het artikel dat ik schreef. Dat alles herkenbaar was, behalve dan het deel over blogger zijn. Ze vertelde dat ze sinds dat artikel had besloten om wél weer regelmatig langs te gaan bij haar oma, ondanks alle lekkers waar ze zo tegenop zag. Dat ze maar een uurtje langer zou gaan wandelen of extra zou genieten van dat lekkers omdat ze het zelf toch niet in huis zou halen, dat ze hoe dan ook alles zou bedenken en doen om de bezoekjes aan haar oma niet meer uit te stellen of af te zeggen.
Ik wist gewoon niet meer waar ik het moest zoeken vandaag. Mijn knieën knikten en ik voelde dat al mijn zorgen die ik de laatste tijd heb in perspectief kwamen.
Zorgen om werkdruk, om geld, om samenwerkingen, om negatieve comments, om cijfers, om likes en volgers, om subscribers, ze vielen allemaal weg. Alle 'werk-zorgen'.
Ze vielen allemaal weg. Compleet.
Alles kwam in perspectief. Alles maakte even niet meer uit, als dit kon gebeuren doordat ik simpelweg vanuit mijn hart mijn eigen struggles en overwinningen in het leven uitschrijf – dan maakt de rest me niet uit.
Schaamte, negatieve comments, bemoeienissen, bedrijven die mijn site niet 'professioneel' vinden en niet willen samenwerken – het maakt niet uit.
Daarom wil ik vandaag dit vanuit mijn hart schrijven en met jullie delen. Natuurlijk heb ik toestemming gevraagd aan het meisje die me het bericht heeft gestuurd en het mooie is dat ze vond en hoopte dat dit bericht anderen wakker zou schudden die in dezelfde fase zitten als zij een jaar geleden, toen ze het artikel las.
En dat hoop ik ook.
Je kunt het artikel hier teruglezen:
Want wat is het leven waard, als je het niet durft te leven uit angst?
Bewaar, Like, Tweet of Pin!