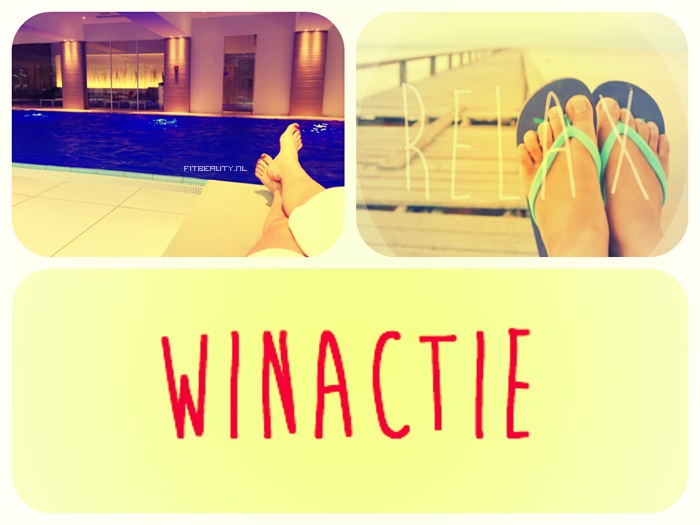 Ik heb de perfecte winactie in het teken van de-stressen, van jezelf houden en tijd maken voor jezelf! Vorige week schreef ik een artikel waarin ik uitlegde hoe stress invloed kan hebben op je gehele hormoonhuishouding, je stofwisseling, je vetverbranding etc. Allemaal leuk en aardig, maar hoe komen we van stress af? 
Dat willen we allemaal wel weten. Net als dat verschillende factoren bij verschillende mensen stress veroorzaken, is het omgekeerd ook hetzelfde. Bij iedereen kan een andere methode werken om van stress af te komen. Een algemene methode is elke dag even bewust te relaxen. Je hoeft niet direct te gaan mediteren, maar relaxen kan op vele verschillende manieren. Het begint met het jezelf te gunnen. 
Ik weet dat er zoveel te doen valt, voor school, voor werk, voor het huis, voor de kinderen, etc. etc. Je kunt je bijna egoïstisch voelen als je de tijd neemt om in alle drukte even te relaxen. Of misschien voel je je wel schuldig door de tijd voor jezelf te nemen terwijl er zoveel andere mensen ook je aandacht nodig hebben. Maar geloof me, als jij niet goed voor jezelf zorgt, doet niemand anders dat. En daarbij; je wilt ook een goed voorbeeld neerzetten voor je omgeving, vooral als je kinderen hebt, toch? Tijd investeren in jezelf is dus belangrijk! En als het daarbij ook bijdraagt aan het omlaag krijgen van je stress levels, dan beloof ik je dat je je véél lekkerder in je eigen vel zult voelen.
En dan nu heel praktisch bekeken: wat is nou een perfecte manier om tijd in jezelf te investeren, je gedachtes even te laten voor wat ze zijn en flink te relaxen? Een spa! Samen met SpaOnline.com origaniseer ik deze winactie voor jullie!
Wie?
Via SpaOnline.com kun je verschillende spa's in Nederland en België met elkaar vergelijken en hierbij kun je ook gelijk boeken. Ook handig: je ziet meteen waar je een aanbieding kan krijgen, dat scheelt weer centjes. En wat ik vooral erg prettig vind is dat je er reviews kunt lezen van anderen voor je iets boekt. 
Oja, en nog iets vooruitstrevends van de site is dat je er (naast mail en telefonisch contact) ook gewoon kunt chatten met de klantenservice. Als je bijvoorbeeld een snelle vraag hebt waarbij de drempel om te bellen toch net wat te hoog ligt. Handig!
Hoe werkt het?
Je kiest een spa uit die je wilt bezoeken, je hebt de keuze uit meer dan 200 aanbiedingen.
Vervolgens kies je een aanbieding
Je logt in en betaalt voor je boeking (géén reserveringskosten)
Vervolgens print je je voucher uit en deze neem je mee naar de spa waar je hebt geboekt!
De winactie!
Wat kun je winnen? Één lezer of lezeres wint 2 dagentrees naar keuze via SpaOnline.com. Dus als je hebt gewonnen mag je de site doorstruinen en zelf een spa kiezen waar je de 2 dagentrees van wilt ontvangen. Bij de meeste spa's zijn de vouchers één jaar geldig, dus er zit geen datum aan verbonden, handig!
Hoe doe ik mee?
Dit is weer een facebook winactie! Wat moet je doen om kans te maken op de twee dagentrees naar keuze?
Die winactie duurt vanaf dinsdag 13 mei tot en met donderdag 15 mei tot 20:00 uur. Na 20:00 uur zal ik uit de comments op Facebook een gelukkige winnaar of winnares uitzoeken! Op vrijdag 16 mei zal de winaar/winnares bekend gemaakt worden!
Reminder:
En vergeet niet wat ik in het begin van het artikel noemde: tijd investeren in jezelf is belangrijk voor jou, maar ook voor je omgeving. Vergeet niet dat mensen die van jou houden, gelukkig worden door jou gelukkig te zien!