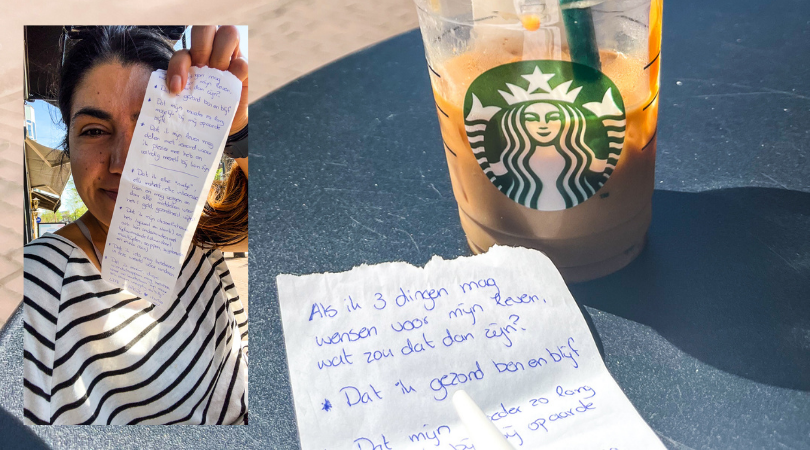 Op een prachtige zaterdagmorgen besloot ik naar de sportschool te fietsen. Terwijl ik fietste door Amsterdam waren de terrasjes gevuld, overal was er geroezemoes en gezelligheid en mijn hart maakte een sprongetje. Ik besloot mijn BLISS te volgen en bij de Starbucks tegenover mijn sportschool eerst even een ijskoffie te drinken in de zon. Normaal gesproken..
..heb ik altijd pen en papier bij me om wat gedachtes op te schrijven, maar deze keer waren het 3 pennen en geen papier.
Ik vroeg aan de barista of hij een stukje papier had zodat ik wat gedachtes kon opschrijven omdat ik mijn notitieboekje was vergeten. Hij had geen vel papier maar wel een stukje bon van de kassa die hij ongedrukt eruit kon scheuren. Ik was allang dankbaar!
Een klein stukje, dus ik moest intentioneel zijn met mijn papier. Geen dagplanning, to-do lijst of boodschappenlijst!
Het eerste wat in me op kwam was de vraag:
Als ik 3 dingen mag wensen voor mijn leven? Wat zouden deze dingen dan zijn?
Ineens viel alles weg en werden mijn 3 dingen helder. Terwijl ik in het dagelijkse leven vooral bezig ben met bepaalde carrière doelen, droomlichaam, etc. Daar stond niets van in mijn top 3. In mijn top 7 kwam wel meer hierover naar voren. Ik vroeg op Instagram of jullie interesse hadden in mijn wensen en toen ik deze deelde stroomde mijn DM vol met mensen die hadden gescreenshot of zelf geïnspireerd raakten om dit voor henzelf uit te schrijven.
De afgelopen week krijg ik vaker de vraag -wat er ook alweer op dat briefje stond-. Ik besloot er dit artikel aan te wijden, voor jullie, voor mij, voor wie het ook maar nodig heeft om even stil te staan bij het leven; bij zijn of haar leven en echt van binnen af gaat vragen wat belangrijk is. Het is een persoonlijke vraag en het gaat er dus ook echt om wat jij wilt voor jouw leven, niet wat je voor een ander wenst of denkt dat je moet willen.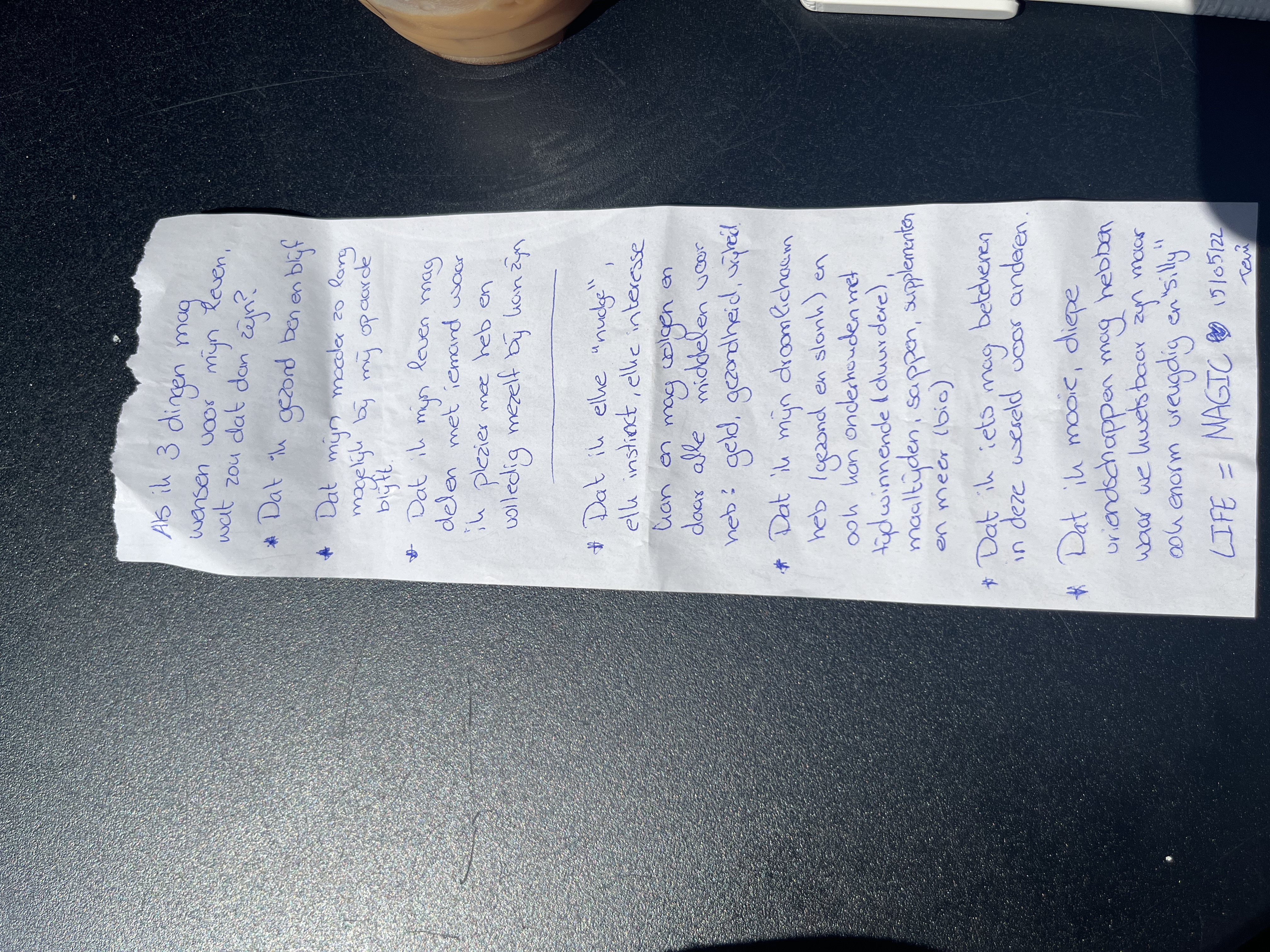 Ik hoop dat dit artikel bij je terecht komt op het juiste moment in je leven om jezelf deze vragen te stellen. Dat het een sprankeltje inspiratie kan geven om even stil te staan bij wat jij wilt!