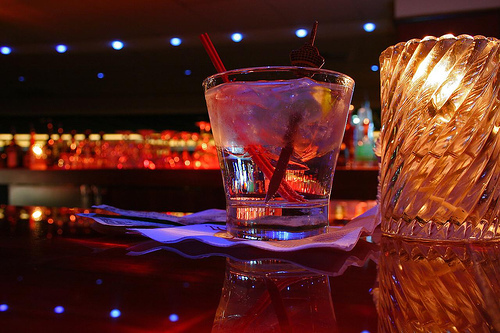 Ga je van het weekend lekker drankjes doen met je vrienden of vriendinnen en heb je eerlijk gezegd niet zoveel zin om helemaal tipsy te worden? Wat zou je vóór het uitgaan het beste kunnen eten?
Eigenlijk maakt het niet heel veel uit, zolang je maar iets eet. Uit onderzoek is gebleken dat wanneer je een uur voordat je drankjes gaat doen een maaltijdje eet, er maar 64% alcohol in je bloed terecht komt in vergelijking tot iemand die niets heeft gegeten. Dat is best een groot verschil!
En nog iets, de mensen die hadden gegeten voordat ze gingen drinken voelden zich minder dronken en verbrandden de alcohol veel sneller (2 uur sneller) dan de mensen die niets hadden gegeten.  Het alcohol verliet het lichaam van de 'eters' 30 tot 50% sneller!
Eten voor het drinken helpt niet alleen bij het minder snel dronken worden, maar ook bij het sneller nuchter worden.  Nu het begrijpelijk is waarom het verstandig kan zijn om wat te eten voor je gaat drinken, is natuurlijk de vraag; wat te eten?
Een maaltijd waar koolhydraten, vetten en eiwitten in zitten zorgt ervoor dat het alcohol 25% sneller je bloed verlaat. In hetzelfde onderzoek werden de mensen in 3 groepen verdeeld, de eerste groep kreeg veel koolhydraten te eten, de tweede kreeg veel eiwitten en de derde veel vetten. Wat bleek? Het type maaltijd maakte niets uit, de alcohol verliet het lichaam veel en veel sneller (45%) dan bij mensen die niets hadden gegeten.
Dus eigenlijk, is het best simpel: Het maakt niet uit wat je eet, áls je maar wat eet. En natuurlijk is het wel zo fijn dat je niet een te grote maaltijd eet voor je uitgaat, want na een grote maaltijd kan het wel eens zo zijn dat je liever even een dutje gaat doen. En wat je natuurlijk helemaal niet wilt, is iets eten waardoor je een opgeblazen gevoel krijgt. Dat is een big no-no!
Daarom de volgende tips!
Drink géén melk; melk zorgt voor veel ruis in je darmen. Je kunt behoorlijk opgeblazen raken van melk.
Eet géén peulvruchten; bonen, kikkererwten etc. Ook deze voedingsmiddelen zorgen voor een opgeblazen gevoel.
Eet kip; kip is rijk aan eiwitten, en heeft niet teveel vetten. Je zult je verzadigd voelen, maar niet bomvol.
Eet yoghurt; yoghurt wordt langzaam opgenomen in je lichaam en bevat in tegenstelling tot melk niet de ingrediënten die je zo opgeblazen laten raken (o.a. lactose).
Eet liever geen brood, of iets anders met veel vezels; vezels hebben veel vocht nodig om hun werk goed te kunnen doen. Nu er een avondje drankjes doen op de planning staat betekent het dat je lichaam even met wat minder vocht moet doen. Wanneer je wel genoeg vezels eet maar niet genoeg water drinkt, kun je last krijgen van obstipatie.
en als laatste: drink water water water ! De alcohol die je gaat nuttigen drijft vocht weg uit je lichaam, dit merk je vooral de dag erna wanneer je ontzettend veel dorst hebt. Drink voor je gaat slapen zeker 2 glazen water want wanneer je de volgende dag niet genoeg water in je lichaam hebt, zal je lichaam aan het kleine beetje vasthouden.
En mocht je bezig zijn met wat kilo's kwijt te raken, maar wil je toch graag met je vrienden en vriendinnen mee uit. Vooral doen! Hier wat tips qua drankjes keuze, zodat je lekker een avondje kan genieten zonder dat je alles in een avond verpest qua afvallen!
Likeuren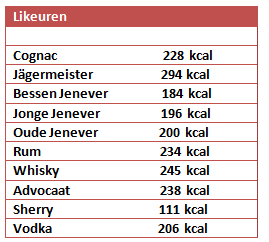 Bier en wijn
De berekeningen van de Likeuren, Bier en wijn zijn gedaan op basis van 100 gram.
Mixjes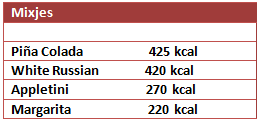 De berekeningen van de mixjes zijn gedaan op basis van de hoeveelheid die je normaal gesproken krijgt in een glas.