Bananen zijn populaire 'pre-workout' snacks. Je kunt ze niet alleen heel makkelijk meenemen (ze hebben al een schil, je hoeft ze niet in een bakje te vervoeren), maar ze zijn ook nog eens zoet, bevatten koolhydraten en zijn makkelijk te verteren. Al met al dus de perfecte som voor een pre-workout, toch?
Maar er is meer aan de hand met een banaan..
Koolhydraten
Net zoals met ander fruit zijn ook bananen een goede bron van koolhydraten. Een middelgrote banaan bevat zo'n 27 gram koolhydraten (1). Koolhydraten worden ofwel tot suiker (glucose) afgebroken voor energie ofwel tot suiker (glucose) omgezet als opslag.
Het eten van koolhydraten kan je glycogeen opslag vullen – dit is een opslagplaats in je lijf (spieren en lever) die als eerste wordt aangesproken als er sprake is van fysieke activiteit. Dit is vanuit de evolutie voornamelijk bedoeld om uit het niets ineens weg te moeten rennen van een wild dier bijvoorbeeld, maar in hedendaagse tijd voor als je gaat sproten (2).
Dan wordt eerst je glycogeen opslag gebruikt tot deze leeg is, dan gaat je lichaam over op andere bronnen (zoals vet) uit je lichaam om energie uit te halen.
Het eten van koolhydraten voor het sporten kan vooral handig zijn voor workouts die van langere duur zijn; zoals fietsen, hardlopen, zwemmen en andere varianten van cardio. Hierdoor kan je dus het aanspreken van de glycogeen voorraad in je lijf uitstellen omdat je lichaam al de juiste snelle/simpele koolhydraten van de banaan tot zijn beschikking heeft voor energie – dit kan je sportprestatie aanzienlijk verbeteren omdat de energie van de banaan veel sneller beschikbaar is in je bloed (3).
Uit een mini onderzoek (11 mensen) bleek dat het eten van iets met koolhydraten, 15 minuten voor het hardlopen, het uithoudingsvermogen verhoogde en de tijd tot uitputting verlaagde met 13% (4).
Omdat bananen relatief veel koolhydraten bevatten zijn ze weer niet zo geschikt voor mensen die sporten terwijl ze een koolhydraatarme leefstijl hanteren (of op een ketogeen dieet zitten).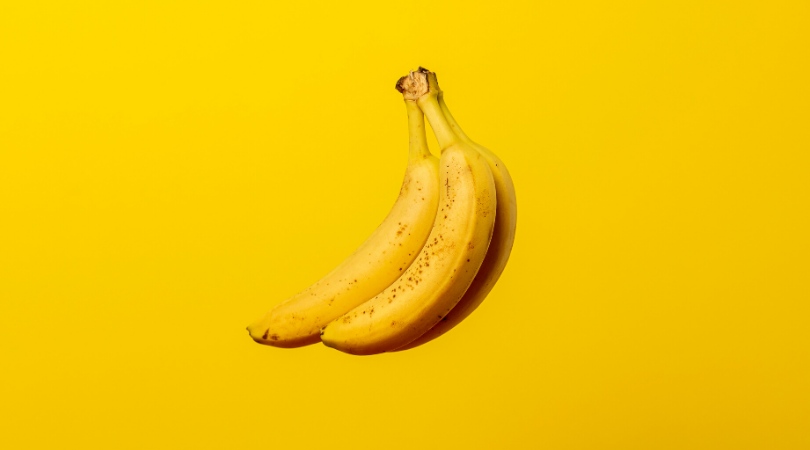 Makkelijk te verteren
Bananen bevatten ook wat vezels, deze zorgen ervoor dat de suikers die daarmee gepaard gaan minder snel je bloedbaan in komen dan wanneer je bijvoorbeeld een tabletje druivensuiker neemt (die bevat natuurlijk helemaal geen vezels). Het voordeel van de vezels is dat het de suiker toevoer in je lichaam kan stabiliseren en je hierdoor voor een langere periode de energie toevoer ervaart in plaats van één grote piek met een grote daling als gevolg. Hierdoor kun je dus lekker door je workout heen aangemoedigd worden door de koolhydraten uit de banaan 😉 (5)(6).
Bananen worden ook vaak geadviseerd aan mensen die zich misselijk voelen, over moeten geven of last hebben van diarree (7)(8), dat is iets wat niet per se met sporten te maken heeft maar ik kon het niet laten om het toch nog even te benoemen.
Uit een klein onderzoek bleek dat de mensen die krampen hadden tijdens het sporten vaak minder kalium in hun bloed hadden dan de mensen die minder tot geen krampen hadden (14).
Het eten van een banaan voor het sporten kan dus in al deze opzichten helpen: voor de spierspanning, tegen krampen, je vochtbalans, je energie etc.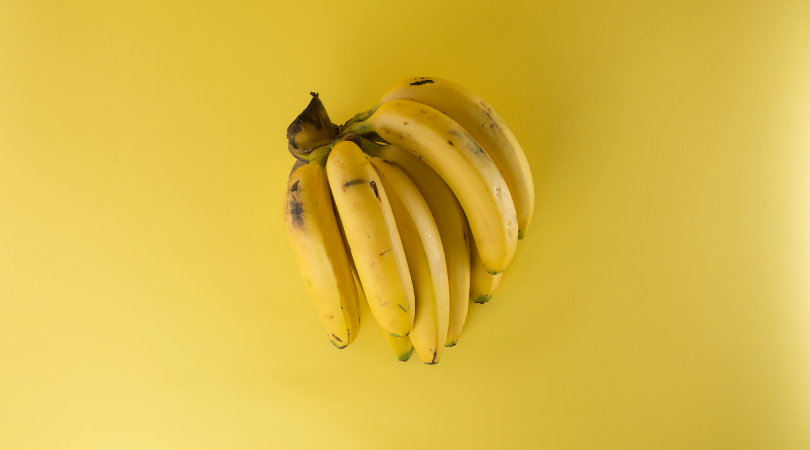 Dus ja, een banaan is het perfecte voedingsmiddel (en ook nog eens natuurlijk) om te eten voor het sporten. Van de juiste koolhydraten tot kalium, allemaal elementen die belangrijk zijn voor de sport. Daarnaast zijn ze ook nog eens makkelijk te verteren waardoor je niet met een volle en zware maag hoeft te gaan sporten.
Je kunt een banaan los eten maar ook combineren met een eiwitrijk voedingsmiddel zoals yoghurt of pindakaas voor een super pre-workout!