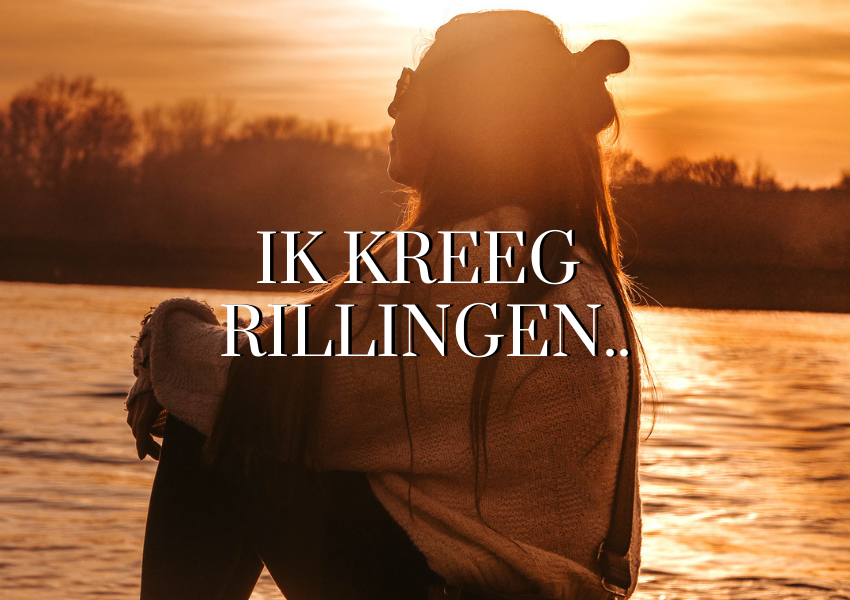 10 dagen na dato krijg ik gedurende de hele dag

een video

onder mijn neus aanbevolen door YouTube. Na hem 6 keer te hebben genegeerd, klik ik er de 7e keer op zonder te weten wat er in de titel staat. Ik krijg een rilling ook al weet ik niet wie Lotte van der Zee is, maar iets in me brengen mijn vingers naar het toetsenbord en wil ik een belofte samen maken, samen met jullie. 
Ik wil dat je me iets belooft. Nee, eigenlijk – ik wil dat je het jezelf belooft net zoals ik het vandaag ook mezelf ga beloven.
Beloof me alsjeblieft dat je met elke cel van je lichaam vandaag zult en gaat leven; nu zult leven, nu leeft.
Verspil geen tijd en energie meer aan de maandagen waarop je wenst dat het vrijdag was. Open je ogen en wees dankbaar dat je mag leven.
Zie de zonsopgang en kom hem tegemoet met een lach. Stop met het grijpen naar je telefoon de eerste seconde nadat je wakker bent.
Leer jezelf te stoppen wanneer je begint te klagen over het vroege opstaan. Maak gebruik van de situatie en probeer de zonsopgang te zien.
Beloof jezelf dat je vandaag een extra stap zet om te leven in het nu.
Dat je de mooie dingen gaat zien in de kleine dingen van het leven.
De uren in de auto wanneer je van de ene plek naar de andere rijdt terwijl je lievelingsmuziek op staat.
De rustige avonden.
De standwandelingen.
De stadwandelingen.
Al de keren dat je zo hard hebt gelachen dat je buik er pijn van deed.
De warme douches op de koude winterse dagen.
Je heerlijke bed die elke avond maar weer klaar voor je staat, waar je veilig in mag slapen.
Beloof jezelf dat je vandaag gaat leven in het nu.
Bewaar je lievelingsparfum niet alleen voor de 'speciale gelegenheden'. Draag het!
Koop dat zomerse jurkje dat je altijd hebt gewild en wacht niet tot je de perfecte benen hebt.
Kijk naar jezelf in de spiegel en wees dankbaar dat je hier mag zijn.
Je hele leven heb je misschien wel gehoord dat je niet in die bikini mag tenzij je buik plat en strak is. Maar weet je wat?
Heb lak aan wat de media, of misschien zelfs een familielid, hierover heeft gezegd.
Draag die bikini en voel de vrijheid in de zomer! Je lichaam verdient ook wat frisse lucht!
Blijf lekker eens thuis op een vrijdag- of zaterdagavond.
Doe dat dure masker op en geniet van het feit dat je het jezelf gunt.
Doe de lekkerste geurkaars aan, zelfs als je alleen thuis bent – jij alleen al bent het waard om een lekker ruikend huis te hebben, niet alleen wanneer je gasten hebt.
Lach naar vreemden op straat en geniet van het moment dat iemand teruglacht.
Wees vriendelijk, altijd.
Vriendelijkheid is zo onderschat.
We dealen allemaal met onze eigen problemen, niemand zijn/haar leven is perfect, ook de persoon waarbij jij denkt dat hij/zij alles voor elkaar heeft.
Ieder heeft zijn eigen rugtasje, je bent niet de enige.
Dat besef zou je compassie moeten geven en we vergeten het wel eens. Laat dit die herinnering zijn om vriendelijk te zijn.
We dragen allemaal pijn met ons mee en uiten dat soms helaas richting onze omgeving.
Vriendelijkheid breekt door zoveel heen en het kost niet zoveel moeite.
Het doet ertoe.
Wees iemand met een schouder om op te huilen maar vergeet ook niet dat jij ook toestemming hebt om bij iemand uit te huilen.
Wanneer je van iemand houdt, wees zo eerlijk als maar kan. Speel geen spel, het brengt je niet verder.
Laat je niet tegen houden door de 'wat als' mentaliteit. Het brengt een toekomst vol spijt en verbittering.
Knuffel je vader, knuffel je moeder. Echt, knuffel ze. Alsjeblieft.
Vertel je broer en/of zus hoeveel je van ze houdt.
Kies voor wat jij belangrijk vindt en oordeel niet over wat anderen kiezen.
Focus je op je eigen pad, op je eigen gevoel van geluk – wanneer je naar de ander gaat kijken en oordelen, zit er een wond bij jou die je eerst dient te helen door te focussen op jezelf.
Haal anderen niet omlaag, je zult je er niet beter door voelen.
Wees dapper genoeg om het leven te kiezen waar jij gelukkig van wordt in harmonie met de wereld.
We kunnen dit leven maar een keer ervaren, make it count.
Voor je het weet is het over.
Zullen we elkaar beloven dat we het vandaag gaan proberen? Niets hoeft perfect te zijn, de intentie en de moeite om het te proberen zijn al voldoende. 
Ik beloof het jou en ik beloof het mezelf om het vandaag te proberen.